07 September 2018 Newsletter

Dear Planning Planet Member,

Please find below this weeks newsletter. We hope that you find it adds value to your day. Please visit our sponsors as they keep our servers running and without them, we will cease to exist...
PROVEN PRACTITIONERS VIA PLANNING PLANET PREMIUM
Welcome to our latest newsletter!
May we just remind you of Proven Practitioner - our first PP Premium Product - we thank those of you who have already supported this unique initiative which we at PP feel addresses, for minimum outlay, a critical element of a career in Project Controls: that of having your skills independently endorsed by a global entity renowned for excellence in Project Controls with a community of 150,000 personnel in the industry!
Proven Practitioner is EVEN much more than that!
For a monthly subscription of just £7.50 we not only enable you to assess your skills at your own pace we will send you access to the GUILD CaR developed by 600 senior practitioners which define best practices at any level enabling you to perform tasks you may be unsure about with complete confidence. You can assess yourself whenever you like and you will confidentially be able to see your improvement! The CaR will remain invaluable for your whole career in Project Controls at EVERY level of competence.
A Proven Practitioner subscription
Enables practitioners to become more effective in their role in their own time.
Offers an independent endorsement from a globally respected organisation based on each assessment you take!
Achieve that promotion
Gain that new job
Learn new skills
Sign up here and have the first month free NOW at this unbelievably low INTRODUCTORY PRICE!
COMPETENCY MEASUREMENT REPORTS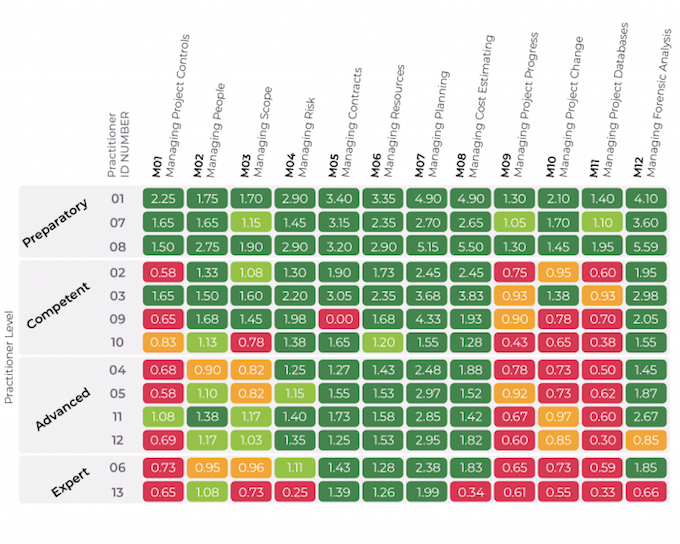 We are now offering Project Controls Competency Measurements for our members!
From this report, you will recieve a summary, similar to the one presented above, showing your teams, companys or projects "Competency Performance Index" across the full Project Controls capability arena. This gives management a valuable and confidential insight to aid their internal career path development.
If you are interested in transforming Project Controls capability and team measurement, and would like to find out more, click here.
UPCOMING MEETINGS AND EVENTS
Our Project Controls Gatherings are a great opportunity for our members to discuss industry issues, share ideas and form new connections. Here is a list of our upcoming gatherings...

These meetings may just form the beginning of lasting professional relationships. Don't miss out! Follow the links above to sign up.

What should I do if I can't see a meeting near me?

If you don't see an event near you listed above, why not create your own? Just email james.williams@planningplanet.com to get started.

To make sure these events can be as successful as possible, please forward this to your friends and colleagues so they can also get involved.
HOW TO AUDIT YOUR PRIMAVERA P6 GLOBAL ACTIVITY CODES
"How can I prepare a report to see which projects use my Global Activity Codes? ie: Can I prepare a report where I can see all the "Global Activity Codes" used in each project in my Primavera P6 database?"

This article explains how to use Activity code in Primavera P6 and how to build a report to audit P6 Activity codes. Take a look here.
GET INVOLVED IN THIS PP FORUM DISCUSSION
Planning Planet Discussion Forum...

'Is there a consensus for the best practice for implementing a revised baseline for a schedule that has already been progressed?'

Join the discussion here and share some knowledge.
THE GUILD OF PROJECT CONTROLS' ROLE DESCRIPTORS

Have you taken a look at the Guild of Project Controls' Role Descriptors yet?
This is the perfect tool for those who want to find out the baseline knowledge required for their role and level of seniority - think of it as a job descriptor for all roles and levels of competence.
If you are a Guild Member, do give it a try here, or if you would like to find out more about becoming a member of the Guild, click here.
TRANSFORMING YOUR BUSINESS WITH EXECUTIVE DASHBOARDS
| | |
| --- | --- |
| | Data visualization through a powerful executive dashboard tool helps you take business analytics to the next level. Not only are you able to reveal hidden trends and identify risks, but you can also visually display them for all team members to easily understand and consume. Instead of working in individual data silos, the data is brought together in a centralized place equipping the management team to make quick, informed, and strategic decisions. Read more here! |
DO YOU NEED TO VIEW AND ANALYZE PRIMAVERA P6 SCHEDULES?

You can now view Primavera P6 schedules without having your own P6 software.
Read more about PrimaveraReader, the viewer for XER, XML and XLS schedules on Planning Planet's website
PRODUCTION RATES: SHEET PILING WORK
Understand what is possible in easy and hard ground using a crane and drop-hammer or vitro-hammer...

Read it here.

Planning Planet PREMIUM is the title we are giving a number of member only products we are developing to help you - our community of Project Controls Practitioners.
For £7.50 a month subscribers have access to online self-assessments where they can measure and visualise their skill levels. If subscribers wish to improve and fill knowledge gaps this subscription supplies tools that will help them improve and re-assess whenever they want to prove the improvement they have made.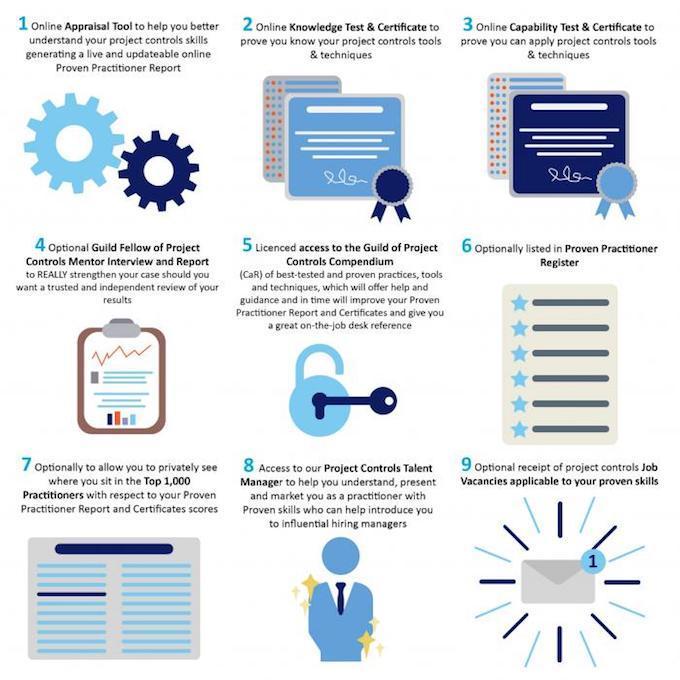 The subscription supplies a certificate proving you KNOW the tools and one proving you can APPLY the tools.
Get involved here!
CLARIZEN: HOW TO CREATE A PROGRESSION PLAN FOR YOUR TEAM MEMBERS
| | |
| --- | --- |
| | With 87% of Millennials stating in Gallup research that personal development opportunities are a key factor in their professional satisfaction it is clear that a dedicated project manager should be focusing on providing those for his workforce. While previously, sending employees away on a vaguely work-related seminar once every two years might have passed for professional development, in the current environment something far more tailored is required. Read more. |
HELP NEEDED! WHY ARE REMAINING LATE UNITS SHOWING BEFORE DATA DATE AND AFTER COMPLETION OF THE PROJECT?
Planning Planet Forum Discussion...

Can you help?

Get involved in the discussion here.
ARE YOU FOLLOWING US ON SOCIAL MEDIA?
Let's get social! We'd love to connect with you on our social media platforms. Not only can you easily get in touch with us on our LinkedIn, Facebook, Twitter, and Instagram, we also share a lot of useful information including event alerts, news, job opportunities and interesting blog posts. Following us will also help to get you connected with others in the industry!

Build your network and keep up to date by following us on social media, just click the icons to get started.
ORACLE CONSTRUCTION AND ENGINEERING INNOVATION LAB HIGHLIGHTS THE WORKSITE OF TOMORROW
Digital transformation is swiftly reshaping the construction and engineering landscape.

Advances in technology are continually emerging, and organizations are working to understand the potential benefits of technologies such as the internet of things (IoT); artificial intelligence (AI); machine learning; augmented reality (AR); drones; next-generation building information modeling – and whatever tomorrow brings. Read more.
THE GUILD OF PROJECT CONTROLS COMPENDIUM AND REFERENCE
The Compendium and Reference (CaR) is a document which forms The Guild Standards.

We have where possible offered advice as to previously written material which is in the public domain and proven to be of such quality that it can be used as a reliable reference of "best tested and proven practice". The CaR forms the knowledge domains and reference for all Guild Certifications and is a living document being continually improved, supplemented and updated by the Guild community to reflect improvements to practices, opinions and methods in our chosen profession. The Guild is ready to receive suggestions at any time for updates to the CaR Standards.

Take a look here.
PRODUCTION RATES: FOUNDATION WORKS
Construction Production Rates and Build Times...

Understand the fundamentals about bored piling; pre-drilling, founding levels, casing and build and cycle times.

Read the wiki page here.

WOULD YOU LIKE TO ADVERTISE ON PLANNING PLANET?
We want to give more of our members the opportunity to advertise on our site. There are many reasons why this would be beneficial to anyone wanting to advertise their goods or services, including:
Advertise your webinars, blogs and seminars
Access to our large and growing community of over 150,000 members via our global newsletter
Full partner profile listing on our website
Logo and strapline listing on our main home page
A quarterly newsletter dedicated to you!
Banner advertisements in a chosen discussion forum
We are offering two levels of interaction with our community, PP SILVER ADVERTISER and PP GOLD ADVERTISER.
Click here to get started!
WHY EARLY CLIENT FEEDBACK IS NECESSARY
When you set on for a journey, you are not always aware of what exact path you need to take. But how wisely you proceed in your journey is what causes the difference. If you are vigilant enough and decide logically whether to go left, right or straight for every turn you come across; you can easily avoid deep U-turns. Taking that surprise U-turn might leave you drained. Possibly you are out of resources, or maybe still at the same place where you started (even after working hard day and night)...

All project managers will understand this analogy. Your every project has its own challenges and there is no standard path that fits all. Then how do you overcome the pitfalls and sharp u-turns?

Read more here!
PREFERRED PROGRESS MEASUREMENT TECHNIQUE
Planning Planet Discussion Forum...

What is your preferred progress measurement technique in P6?

What are the pro's and con's of physical vs duration?

Get involved in the discussion here.
GUILD OF PROJECT CONTROLS LIBRARY: ENSURE YOUR PROJECTS' SUCCESS BY IMPROVING AND IMPLEMENTING PROJECT CONTROLS, GOVERNANCE AND CAPABILITY
Projects regardless of their type, industry and nature have failed for as long as humans have been trying to deliver projects on time.Until the current changes in Corporate Law, failure whilst not exactly tolerated did not cause too much concern at board level in past years. Now failures must be accounted for and the accounts need to show just what impact to either the bottom line or the shareholders funds that such project failure causes.

Read more here.

WOULD YOU LIKE TO BECOME A GUILD OF PROJECT CONTROLS CORPORATE MEMBER?
This is our effort to help YOU - the employers of our community. Becoming a Corporate Member will allow you to:
Better understand your ENTIRE Project Controls environment in terms of workforce
Assess the competence of all your staff to fully understand their strengths and weaknesses
Use the experience of our huge community in order to run your team much more efficiently
Raise the morale of your staff as they will have much more confidence in their ability
Recruit the best possible personnel
Transform your profits!
All of the above is carried out with YOU in control!
With a Corporate Membership, you will have access to many of our services including Role Descriptors, Self Assessment, Competency Review with possible comparison with other organisations and Compendium Desk Reference and so many more.
Interested? Click here.
GUILD ASSESSMENT CENTRE
Have you tried the Guild of Project Controls' Assessment Centre?

From this tool you will be able to ascertain your strengths and weaknesses against the many years of research that the Guild has ascertained are the Standards required for your role.

Further, for the first time you will know how you stack up in terms of skills in the Project Controls industry whatever your role.

Give it a try here!
ORACLE HELPING LAs TRANSIT SYSTEM GET IN SHAPE FOR THE 2028 OLYMPICS
The Los Angeles County Metropolitan Transportation Authority is used to challenges. It's the second largest transportation system in the United States. The Authority handles everything from light and heavy rail lines to freeway repairs and emergencies, bus transportation, and repairs to traffic lights and potholes.

But even experienced executives within the department knew things would get interesting once Los Angeles was named the host city for the 2028 Summer Olympic Games. Read more.
GUILD OF PROJECT CONTROLS LIBRARY: DEVELOPING A FORENSIC DELAY CLAIM
A sound baseline programme and a complete supporting network are essential to accurately monitor and assess progress for any form of forensic critical path delay analysis. When not available, our experience and capability of interrogating contemporaneous records allows us to understand the delay issues and their potential impact.

There are two major forms of analysis; which are known as: (a) Retrospective and (b) Prospective

Read more here.
LEE R LAMBERT EXPLAINS WHAT THE PMP DOES AND DOES NOT DEMONSTRATE
Thoughts on the PMP Credential by one of the original authors...

"Following my intimate involvement in the creation and implementation of the Project Management Professional (PMP) Certification program, I have concluded that the big question on most peoples minds is what does having passed the Project Management Institutes' (PMI) PMP exam tell the world?"

Continue reading here.
PROJECT CONTROLS EVENTS
We will be attending Project Controls events at these locations this year, if anyone wishes to attend or sponsor or speak or simply to come help us please do email james.williams@planningplanet.com and he will put you in touch with the relevant people. We look forward to meeting you throughout the year.

Tehran, Iran – Sep 02
Abuja, Nigeria – Oct 24/25
Almaty, Kazakhstan – Oct 26/27
Moscow, Russia – Oct 31
PC Expo London – Nov 13-14
Melbourne, AU – Nov 28
Kuwait city, Kuwait – Nov 30
Rio, Brazil – December 06
Porto, Portugal – Mar 19
PROJECT CONTROL ACADEMY VIDEO: PERFORMANCE-BASED COST FORECASTING (EAC/ETC)
What cost forecasting formula/ method do you use at every stage of your project?

Check this video to learn what performance-based cost forecasting formula (EAC/ETC) is recommended at every stage of your project.

WOULD YOU LIKE TO BECOME A GUILD REGISTERED CONSULTING PARTNER?
This is our effort to help YOU and our community. It is about having a product in your portfolio that any organisation with a Project Controls environment will be interested in. This is a GLOBAL opportunity:
You represent GPC to the client - YOU are our REGISTERED PARTNER
There will have to be screening by us but essentially if you are an established consultancy OR have considerable skills and knowledge CALL US ON THE NUMBERS BELOW
Your client is yours - we recognise this and will protect your relationship if required
We have fixed costs - your margin and you total deliverables are up to you!
The Guild of Project Controls offers a solution - which evaluates a Project Controls environment by Assessing and grading the competency of individuals - a 'stake in the ground' - a report to document the actual competence of my team.
If you are interested in becoming a Guild Registered Consulting Partner, click here.
ARE YOU TAKING FULL ADVANTAGE OF PLANNING PLANET?
See who you know from within our 150,000+ membership pool!

Take a look at the worlds first and only competence based credentials supported by a career path, role descriptors, self-assessment tools and online compendium desk reference of best tested and proven tools and techniques for project controls practitioners.

Join other members who share their thoughts and ideas in the form of blog posts.

100,000+ questions and answers to the topics we struggle with (mostly software!) on a day to day basis.

A knowledge-base that can be contributed to or utilized by anyone with skills and/or interest in planning, scheduling or project controls. No Wiki page or article is owned by its creator or any other editor, and its content relies upon collaboration and teamwork. How can you contribute?

What is needed to come up with a production rate? A duration of time, the manhours involved, and an amount of work produced? Take a look and get involved.

This has been dusty and quiet place for some time now. We have been liaising with recruiters, headhunters and talent managers plus a ream of corporate leaders and very soon we will have the largest live repository of project controls jobs in the world. Check back soon.

Check out our Silver and Gold partners and see if you'd like to be included there also.
GUILD OF PROJECT CONTROLS LIBRARY: ESTIMATING AN EXTENSION OF TIME CLAIM USING FORENSIC DELAY ANALYSIS
Guild of Project Controls Library:

Having been provided with a list of files, estimating how long it will take to perform the requisite analysis to provide a solution which has been arrived at rigorously and accurately will require time...

Read more here.
TRAIN MY REPLACEMENT?
This article, ignoring the political comment, embodies the right approach to training and supporting your peers. It also fulfills the best slogan in the world, from the Boy Scouts of America, "Do a Good Turn Daily." Chris Carson says one of my first bosses told me that if I wanted to advance in my career, I had to constantly train my replacement. An interesting thought...

Read more here.
ARE YOU INTERESTED IN BECOMING A GUILD ENDORSED TRAINING PROVIDER?
Are you an experienced Practitioner in Project Controls? Or are you already involved in Project Delivery Training or Project Management software sales, support, and installation? Whichever your current situation here is a unique business offer for you!
The Guild of Project Controls (GPC) has released a comprehensive Certification in Project Controls covering ALL levels of Competency AND all areas of Project Controls - either individually in the form of Planning and Scheduling, Cost Management, Forensic Analysis and Project Controls itself.
Our unique offer to you is that this initiative is supported by Planning Planet (PP) the world's largest website catering for practitioners in Project Controls - we are part of the same Organisation. PP members (120,000+globally) invested their time in the Guild, tested and approved our Standards, Certification tests and maintain that the Guild reflects the operation and knowledge required to be proficient in Project Controls itself.
WE WILL UTILISE THE PLANNING PLANET WEBSITE TO PROMOTE YOU WHEREVER YOU ARE SAFE IN THE KNOWLEDGE THAT THERE IS A PP COMMUNITY IN YOUR AREA.
All this and our Guild COMPETENCY assessment tools where our ETP partners can offer potential clients a method whereby skills can be independently assessed and training requirements documented!
We do not seek thousands of Endorsed Training Partners (ETP), we seek a cohesive delivery team for our training. Click here to find out more and become a Guild Endorsed Training Provider!
Thank you for reading our short message.
If you'd like to help the small but enthusiastic team of people helping with this newsletter please do get in touch with us via PPadmin@planningplanet.com We know we have a long way to go to make this informative and an anticipated bi-weekly "read" so do get in touch and get involved.
Regards...
The Planning Planet Team
To unsubscribe please email ppadmin@planningplanet.com please ignore the unsubscribe link below