Tips on using this forum..
(1) Explain your problem, don't simply post "This isn't working". What were you doing when you faced the problem? What have you tried to resolve - did you look for a solution using "Search" ? Has it happened just once or several times?
(2) It's also good to get feedback when a solution is found, return to the original post to explain how it was resolved so that more people can also use the results.
Problem on EPPM: Application Blocked by Java
Hello Colleagues,
I'm using P6 R8.2 Client-Server Based Version. I got a problem when I tried to use EPPM web based as shown in the picture below. This never happen before I updated version of internet browser and Java Application which I can't remember that what I used.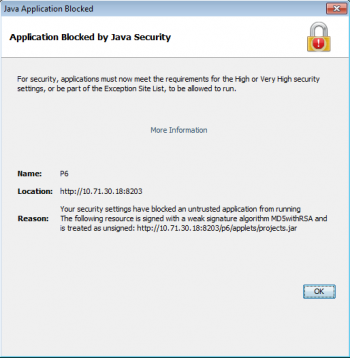 Anyone had faced this problem before? How to solve it?
Thank you in advance.
Note: I used IE version 11 and Java version 8 update 201