03 May 2019 Project Controls News

Dear Planning Planet Member,

We hope that you find this adds value to your day and if you'd like 1.5 million views for your content, blog, product or service please check this out...
MANAGING SCHEDULES AND COST IN FIJI
The team from HKA Tech have implementing PMWeb for the Fiji Government's Ministry of Economy.

Implementation took less than three months across a range of functionality, including program/project management, planning/prioritisation, estimating, scheduling, procurement, contract management, risk/issue management, general governance and long-term asset management. Read More...
BESPOKE ORACLE P6 TRAINING RATHER THAN THE "STANDARD" COURSE?
What kind of Oracle Primavera P6 training do YOU want?

RPCuk and Oracle have partnered to develop an innovative new training model.

COMING SOON to Leeds - Read more...

To find out more please contact Mark Horne at: p. 01943 222 001
THE TOP 20 REASONS WHY CONSTRUCTION PROJECTS EXPERIENCE COST OVERRUN
Have you ever wondered why so many construction projects experience cost overrun by as much as 10% to more than 100%?

Why do costs overrun?

Check this post to figure out the top 20 causes of the cost overruns in construction projects - Read more...
PROJECT CONTROLS STANDARDS IN CHINA
Guild of Project Controls News...

We are pleased to be able to report that the Chinese Government have been translating the Guild of Project Controls' Compendium of Best Tested & Proven Practices and plan to have their very first COMPETENCY certification in Project Controls in Beijing on 29 June 2019.

Watch this space for more exciting news in relation to this.
PCGlobal believe in collaboration and collective ways to deliver the very best candidates to clients major projects worldwide.

PCGlobal / Pinnacle Recruitment are currently based in Waterloo collaborating in order to efficiently deliver the highest possible 360 recruitment service to global major projects. Those that use us, know that, ALL our candidates are assessed & we will only introduce candidates when they have proven to us, that they are of the right level of competency, this is measured by the Guild of Project Controls to coincide with clients expectations & needs.

(1) The Talent we deliver: Assessed candidates within Planning & Scheduling, Cost Estimating / Cost Management, Claims, Risk and Project Controls.

(2) Job Descriptions: We offer a Job descriptor services so you are sure that your need is more than a generic profile, to suit each projects sequences & professional expertise

(3) The Process: We deliver top talent in a unique & exclusive way, we ONLY work with professional companies, carefully selected for our collaborations. This process is only available to us thanks to the amazing work & tools now on the market by the Guild of Project Controls & Planning Planet. We have lots of opportunity for you to boost your next career move & help you develop your personal expertise. Please get in touch & have a professional, confidential conversation with us.

PCGlobal & Pinnacle Recruitment:

Here to help you find the very best candidates Contact: careers@projectcontrols.com or David Logie – Major Projects on UK: 0207 401 8888

We look forward to working with you all #Collaboration #WorkingTogether #Delivering100%
WHAT IS ROOT CAUSE ANALAYSIS?
ROOT CAUSE?

A root cause is defined as a factor that caused a nonconformance and should be permanently eliminated through process improvement………

Root cause analysis is defined as a collective term that describes a wide range of approaches, tools, and techniques used to uncover causes of problems………
HAVE YOU TRIED SCHEDULE CLEANER?
Facilitating secure sharing and control of confidential data in P6® schedules.

ScheduleCleaner is a toll that allows users to remove or anonymize sensitive data from Primavera® P6®, XER schedules before sharing them with project stakeholders.

Why not do the same when working with Microsoft® Project plans?

Meet ProjectCleaner

A Microsoft® Project add-in that allows you to remove or anonymize sensitive data in .mpp files.
HOW TO BUILD MEGAPROJECTS BETTER
A variety of factors account for poor productivity and cost outcomes.

Among them are the following:

Poor organization. Decision-making and procurement processes do not have the speed and scale required. Inadequate communication. Inconsistencies in reporting. Flawed performance management. Unresolved and Contractual misunderstandings. Read more...
HAVE YOU PUT AWAY THE KEYBOARD AND THOUGHT ABOUT THE CRITICAL PATH?
Does my software tell me my critical path or does my brain and experience?

CPM is a language of logic and like all languages must be correctly understood and used for it to properly communicate and provide direction.

Perhaps we need to think more and type less?

Relationships are the brain of CPM - read more
SCOPE DEFINITION - TO WORRY OR NOT TO WORRY?
A project scope defines what the project is meant to achieve.

A project scope should concisely summarize the information and schedule of the project.

Though that may seem straightforward enough, knowing how to define a project scope properly is a key skill which all managers need to know. Read more...

FANCY A BIT OF SAFRAN?

Capital projects, shut-down and turnarounds, maintenance – whatever the project, there's a product to help. Safran PROJECT and Safran RISK...
A NEW KIND OF GANTT, WTF?
A new kind of gantt: What are the benefits of a modern gantt chart?

In fact, one could argue that the key to success in project management is not in defining the project at the beginning, but in handling the inevitable changes along the way. Read more...
LISTEN IN ON A WEBINAR ABOUT MANAGING THE CHANGE THAT WILL MAKE YOU LATE?
How to create an actionable change plan along with how to generate understanding and best mobilize support and participation in the change.

The session will include proven, real world examples for fostering change and engagement. We will also cover how to develop a "work backwards" approach that will focus your plan on the needs. - Read More...
SCHEDULE READER RELEASED NEW VERSION - SEE WHATS NEW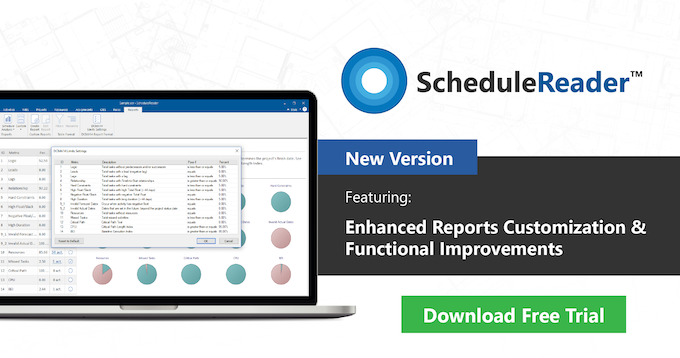 ScheduleReaderTM version 6.5 is out and some of the most interesting upgrades include:
New customization options to the DCMA14 Schedule Assessment Report
Using the new customizing dialog, users can change the criteria for all (previously predefined) fourteen metrics calculated in the report.
Users can now additionally see which project metrics are positive as well as the details of the activities and relationships that do not meet the set criteria in the specific report.
Ability to Import Multiple Baselines from XML Files
Users will be able to assign baselines to each project from the master project plan in the XML file format.
Read more and download the Free Trial of the latest version here
OUT-OF-SEQUENCE - ITS NOT A BAD THING RIGHT?
Schedulers understand how schedule project logic deprecates as the job takes on a life of its own, and develop workarounds to keep project logic usable.

This practice involves thinking outside the box but managing out-of-sequence schedules is where the best schedulers show their true skills - Read the full article
GHOST SCHEDULES ARE EMPLOYED BEHIND THE SCENES ON CONSTRUCTION PROJECTS...
| | |
| --- | --- |
| | We had so many emails about this we wanted to include it for a third time so clearly it is a hot topic... Contractors use "ghost schedules" to record their original plan when owners refuse to approve early completion schedules or fail to promptly grant time extensions, as well as to manage the activities of subcontractors and suppliers to earlier finish dates than the official project schedule. Read more... |
WHAT IS DRAG? PUTTING THE "CRITICAL" BACK IN CRITICAL PATH ANALYSIS
NEW METRIC ...critical path drag... ?

Is there a difference between critical path scheduling and critical path analysis and what does DRAG have to do with any of that?

What is is the maximum amount of time that one can shorten the activity before it is no longer on the critical path or before its duration becomes zero - Read the article.
IF FLORIDA IS FOR YOU AND YOU CAN PLAN 1 YEAR IN ADVANCE - REMEMBER THIS
Construction CPM Conference next event is January 19-22 2020 at Disney World Florida.

Three Full Days Where Professional Planner Schedulers Gather to Discuss and Improve Critical Path Method Analysis Knowledge.

More information at www.ConstructionCPM.com.
HOT FORUM POSTS
| | |
| --- | --- |
| | Here are some HOT Planning Planet Forum posts. Why not join the conversation? |
CONTRACT MANAGEMENT USING SOFTWARE
Watch the ARES 30-minute webinar to learn about contract management and the PRISM Contracts & Invoice Management modules.

This webinar covers the step-by-step process of awarding contracts, creating invoices for contracts, approving invoices, and invoice payments.

While PRISM can handle contracts both pre-award and post-award, this webinar focuses on the administration of a contract once it has been awarded. Read the full post...
VARIATIONS AND HOW TO KEEP VARIATIONS FROM BECOMING CLAIMS OR DISPUTES
James Zack of James Zack Consulting, LLC

20 MAY - Management of Variations and Construction Claims Course, is up and running and ready for action. Go ahead and check it out.

Advanced Management of Complex Changes and Claims in Construction - 2 DAYS, is up and running and ready for action. Go ahead and check it out.
GLOSSARY OR TERMS - WORTH KNOWING?
The word "glossary" comes from the Greek "glossarion," with its root being "glossa," meaning "obsolete or foreign word."

Therefore, it is a collection of obsolete or foreign words defined (so what's the point?).

Here is a useful list of terms that we found useful courtesy of Clarizen - Read them...
"PROVEN PRACTITIONER" A PLANNING PLANET PRODUCT
Do you seek PROMOTION or do you want to better UNDERSTAND YOUR Stengths and SKILLS (in private) or do you seek that NEW ROLE?

Proven Practitioner provides ALL THE TOOLS YOU NEED

Go to Premium and sign up!
COMPETENCY MEASUREMENT REPORTS FOR YOU, YOUR TEAM or YOUR COMPANY
We are now offering CONFIDENTIAL Project Controls Competency Measurements for our members!

From this report, you will receive a summary, similar to the one presented above, showing your teams, company's or projects "Competency Performance Index" across the full Project Controls capability arena. If you are interested in transforming Project Controls capability and team measurement, and would like to find out more, click here.
PROJECT CONTROLS ROLE EXPECTATIONS

Have you taken a look at the Guild of Project Controls' Role Descriptors yet? - This is the perfect tool for those who want to find out the baseline knowledge required for their role and level of seniority - think of it as a job descriptor for all roles and levels of competence. Give it a try here, find out more here.
PROJECT CONTROLS MENTOR TOOLBOX
RATES, NORMS & DURATIONS
What is needed to come up with a production rate?

A duration of time, the manhours involved, and an amount of work produced this section of Planning Planet is here to document this.

What information do you have that you can share?
ALTERNATIVE TO PRIMAVERA AND ASTA?
A superior alternative to the "most popular" software for us as planners?

Spider Project offers numerous unique functional features and is the only PM software that optimizes resource, cost, and material constrained schedules and budgets for projects and portfolios.
PROJECT CONTROLS GATHERINGS COORDINATOR WANTED
If you wish to help us (using your email system) with our regional networking gatherings please get in touch with us... we have hundreds of people asking for gatherings and need someone to coordinate emails etc...

Email PPAdmin@planningplanet.com for details

We are holding meetings near you so do get in touch.
GET IN FRONT OF ONE POINT FIVE MILLION PROJECT CONTROLS PEOPLE
If you would like your product, service or software or yourself to be put in front of the global (or local) Project Controls Community then you should consider subscribing to the Planning Planet Project Controls Market Place.

What is this?
ARE YOU FOLLOWING US ON SOCIAL MEDIA?
Let's get social!

Build your network and keep up to date by following us on social media, just click the icons to get started.
THE GUILD OF PROJECT CONTROLS COMPENDIUM AND REFERENCE
The Compendium and Reference (CaR) is a document which forms The Guild Standards.

We have where possible offered advice as to previously written material which is in the public domain and proven to be of such quality that it can be used as a reliable reference of "best tested and proven practice".

The CaR is a living document being continually improved, supplemented and updated by the Guild community to reflect improvements to practices, opinions and methods in our chosen profession. The Guild is ready to receive suggestions at any time for updates to the CaR Standards.

Take a look here.

WOULD YOU LIKE TO ADVERTISE ON PLANNING PLANET?
We want to give more of our members the opportunity to advertise on our site. There are many reasons why this would be beneficial to anyone wanting to advertise their goods or services. We are offering two levels of interaction with our community, PP SILVER ADVERTISER and PP GOLD ADVERTISER.
Click here to get started!
ARE YOU TAKING FULL ADVANTAGE OF PLANNING PLANET?
See who you know from within our 150,000+ membership pool!

Take a look at the worlds first and only competence based credentials supported by a career path, role descriptors, self-assessment tools and online compendium desk reference of best tested and proven tools and techniques for project controls practitioners.

Join other members who share their thoughts and ideas in the form of blog posts.

100,000+ questions and answers to the topics we struggle with (mostly software!) on a day to day basis.

A knowledge-base that can be contributed to or utilized by anyone with skills and/or interest in planning, scheduling or project controls. No Wiki page or article is owned by its creator or any other editor, and its content relies upon collaboration and teamwork. How can you contribute?

What is needed to come up with a production rate? A duration of time, the manhours involved, and an amount of work produced? Take a look and get involved.

This has been dusty and quiet place for some time now. We have been liaising with recruiters, headhunters and talent managers plus a ream of corporate leaders and very soon we will have the largest live repository of project controls jobs in the world. Check back soon.

Check out our Silver and Gold partners and see if you'd like to be included there also.
ARES PRISM EVENTS - IF YOU ARE A USER THEN CHECK THESE OUT
Upcoming PRISM Events:

CIM Convention April 28 – May 1, 2019 in Montreal, QC, Canada

PMIAC May 27-28, 2019 in Melbourne, VIC, Australia Global Petroleum Show June 11-13, 2019 in Calgary, AB Canada

AACE Annual Conference June 16-19, 2019 in New Orleans, Louisiana, USA
THANK YOU FOR READING OUR MESSAGES
If you'd like to help the small but enthusiastic team of people helping with this newsletter please do get in touch with us via PPadmin@planningplanet.com We know we have a long way to go to make this informative and an anticipated bi-weekly "read" so do get in touch and get involved. If you are reading this I am impressed, ha ha....
Regards... The Planning Planet Team
To unsubscribe please email ppadmin@planningplanet.com please ignore the unsubscribe link below