10 August 2018 Newsletter

Dear Planning Planet Member,
Please find below this weeks newsletter. We hope that you find it adds value to your day. Please visit our sponsors as they keep our servers running and without them, we will cease to exist...
UPCOMING MEETINGS AND EVENTS
Our Project Controls Gatherings are a great opportunity for our members to discuss industry issues, share ideas and form new connections. Here is a list of our upcoming gatherings...

Please note that the Project Controls gathering in Derby, UK has recently changed date - the new date is listed above.

These meetings may just form the beginning of lasting professional relationships. Don't miss out! Follow the links above to sign up.

What should I do if I can't see a meeting near me?

If you don't see an event near you listed above, why not create your own?

Just email james.williams@planningplanet.com to get started.

To make sure these events can be as successful as possible, please forward this to your friends and colleagues so they can also get involved.
HOW TO ASSIGN RESOURCE / RESOURCE LOADING / MAKE RESOURCE PLAN IN PRIMAVERA P6
After you have created a schedule in Primavera P6, you may need to assign resources to your activity to make the resource plan.

This blog post simply explains the process with visual aids to help you with the process.

Click here to read more.
TYPES OF SCHEDULE DELAYS IN CONSTRUCTION PROJECTS
A 2016 report on worldwide Construction Claims states the global average value of a construction delay dispute to be a staggering US$46million, a trend that has climbed upward from 2010. The report also indicates that the average dispute took 15.5 months to reconcile. Although claims and disputes are the inevitable result of delays to a project, for those new to project controls a good starting place is understanding the different types of schedule delays that can occur.

The causes of delays on large-scale construction projects are many and varied - this blog post explores the different types of schedule delays faced in construction projects. Read more here.
THE GUILD OF PROJECT CONTROLS' ROLE DESCRIPTORS

Have you taken a look at the Guild of Project Controls' Role Descriptors yet?
This is the perfect tool for those who want to find out the baseline knowledge required for their role and level of seniority - think of it as a job descriptor for all roles and levels of competence.
If you are a Guild Member, do give it a try here, or if you would like to find out more about becoming a member of the Guild, click here.
FIVE PILLARS OF PROJECT CONTROLS
The aim of every project controls team should be to deliver actionable information at the right time, format and context. After all, this information is the basis for decision making and is critical for all types of projects regardless of size and complexity.

This white paper explores the fundamental elements required to deliver a mature, effective and robust project controls capability. Download the FREE White Paper here.

Planning Planet PREMIUM is the title we are giving a number of member only products we are developing to help you - our community of Project Controls Practitioners.
If you are not yet a member do please create an account - is it simple and free.
PREMIUM Planning Planet products are for individuals who care about their career, their competence and most importantly, always seek to improve their capabilities because of ambition - in short these individuals have the will to REALLY succeed.
We at PP know this covers the majority of our members and we are proud to launch our first Planning Planet PREMIUM Product, 'Proven Practitioners'
Click here to find out how you can become a Proven Practitioner with Planning Planet Premium!
FIVE IMPORTANT LESSONS MOST PROJECT CONTROLS PROFESSIONALS LEARN TOO LATE IN THEIR CAREER
In this video training, Shohreh Ghorbani, the Founder and Director of Project Control Academy shares the lessons she has learned from years of working with experienced Project Control teams in various organizations and industries.

Click here to watch the video.
ARE YOU FOLLOWING US ON SOCIAL MEDIA?
Let's get social! We'd love to connect with you on our social media platforms. Not only can you easily get in touch with us on our LinkedIn, Facebook, Twitter, and Instagram, we also share a lot of useful information including event alerts, news, job opportunities and interesting blog posts. Following us will also help to get you connected with others in the industry!

Build your network and keep up to date by following us on social media, just click the icons to get started.
TOP 15 BOOKS TO LEARN PRIMAVERA P6
Mastering a new project portfolio management software such as Oracle's Primavera P6 is both challenging and fulfilling. For that reason, we made a list of 15 books and instruction manuals to help you master the software and improve your practice.

Click here to read the full blog post, brought to you by PrimaveraReader, the must have P6 companion tool for viewing Primavera schedules.
THE GUILD OF PROJECT CONTROLS COMPENDIUM AND REFERENCE
The Compendium and Reference (CaR) is a document which forms The Guild Standards. We have where possible offered advice as to previously written material which is in the public domain and proven to be of such quality that it can be used as a reliable reference of "best tested and proven practice". The CaR forms the knowledge domains and reference for all Guild Certifications and is a living document being continually improved, supplemented and updated by the Guild community to reflect improvements to practices, opinions and methods in our chosen profession. The Guild is ready to receive suggestions at any time for updates to the CaR Standards.

Take a look here.
UNDERSTANDING DRIVING RELATIONSHIPS
| | |
| --- | --- |
| | Proper scheduling requires an understanding of driving relationships. These are the most important relationships in the schedule because they drive the start and finish dates of the activities that follow. So it stands to reason that all critical path relationships are driving. In Primavera P6, driving relationships appear on the Gantt Chart as solid lines: red for critical path and black for non-critical activities. When "crashing" the schedule we must focus on driving relationships in order to move up the start dates of critical path activities, thereby shortening the project duration. Continue reading. |

WOULD YOU LIKE TO ADVERTISE ON PLANNING PLANET?
We want to give more of our members the opportunity to advertise on our site. There are many reasons why this would be beneficial to anyone wanting to advertise their goods or services, including:
Advertise your webinars, blogs and seminars
Access to our large and growing community of over 150,000 members via our global newsletter
Full partner profile listing on our website
Logo and strapline listing on our main home page
A quarterly newsletter dedicated to you!
Banner advertisements in a chosen discussion forum
We are offering two levels of interaction with our community, PP SILVER ADVERTISER and PP GOLD ADVERTISER.
Click here to get started!
COMPETENCY MEASUREMENT REPORTS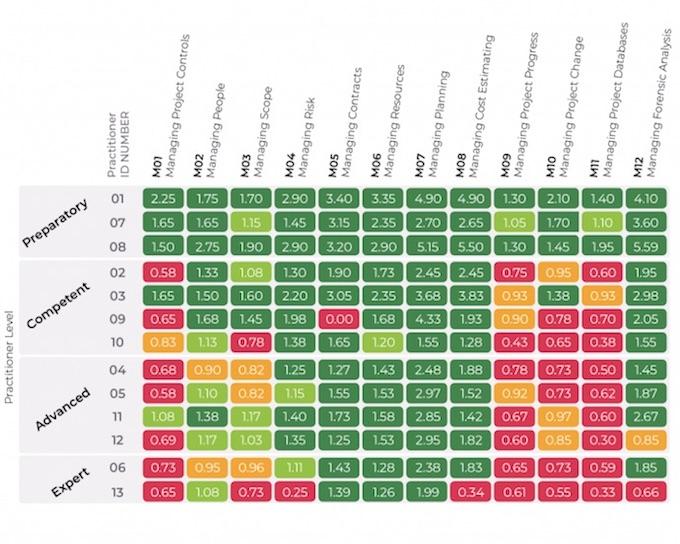 We are now offering Project Controls Competency Measurements for our members!
From this report, you will recieve a summary, similar to the one presented above, showing your teams, companys or projects "Competency Performance Index" across the full Project Controls capability arena. This gives management a valuable and confidential insight to aid their internal career path development.
If you would like to find out more, email james.williams@planningplanet.com
TURBO-CHART NOW AVAILABLE AS MONTHLY AND ANNUAL SUBSCRIPTIONS
Turbo-Chart is the easiest and fastest way to create time location charts for linear projects, and it is now even easier to use with new subscription-based pricing at USD $499/year or USD $59/month.

Click here for online payment!

Alternatively, try a 14-day full-featured free trial.
DISRUPTING WITH INTENT: BECHTEL'S DAVIL WILSON ON INNOVATION IN ENGINEERING & CONSTRUCTION
The Oracle Construction and Engineering blog is launching a brand new series called "Trailblazers" that will explore the frontiers of innovation in construction and engineering. Throughout this series, we'll share insights from innovation leaders into the state of innovation in the project delivery world, how to foster new ways of thinking within an organization, the most promising emerging technologies in E&C, and more.

Click here to read the first installment featuring David Wilson from Bechtel.
NEW EARNED VALUE MANAGEMENT WITHIN ORACLE'S PRIMAVERA UNIFIER
Oracle's Primavera Unifier provides a best-in-class cloud-based solution for managing capital projects and facilities of any size in every vertical market. Watch this on-demand webcast to learn about the new Earned Value Management capabilities including:

Reconfigured integration with Primavera P6 to synchronize resources, roles, and activities
Enhanced cost rating functionality at project level
Enhanced Activity Sheet that supports multiple P6 Projects, including Resource Assignments and daily spreads
Activity Sheet displays current project and baseline
Earned Value Management graphs and tables by WBS and CBS

Watch the webcast here.

WOULD YOU LIKE TO BECOME A GUILD OF PROJECT CONTROLS CORPORATE MEMBER?
This is our effort to help YOU - the employers of our community. Becoming a Corporate Member will allow you to:
Better understand your ENTIRE Project Controls environment in terms of workforce
Assess the competence of all your staff to fully understand their strengths and weaknesses
Use the experience of our huge community in order to run your team much more efficiently
Raise the morale of your staff as they will have much more confidence in their ability
Recruit the best possible personnel
Transform your profits!
All of the above is carried out with YOU in control!
With a Corporate Membership, you will have access to many of our services including Role Descriptors, Self Assessment, Competency Review with possible comparison with other organisations and Compendium Desk Reference and so many more.
Interested? Click here.
GUILD ASSESSMENT CENTRE
Have you tried the Guild of Project Controls' Assessment Centre?

From this tool you will be able to ascertain your strengths and weaknesses against the many years of research that the Guild has ascertained are the Standards required for your role. Further, for the first time you will know how you stack up in terms of skills in the Project Controls industry whatever your role.

Give it a try here!
RETAIN OR OVERRIDE: THE QUESTION IS LOGICAL
Retained logic or Progress Override, one of the most emotive subjects when it comes to discussing how to update a schedule, all driven by one issue, performance out-of-sequence work. The author reviews the three schedule calculation options offered by Oracle's Primavera P6, 'Actual Dates', 'Retained Logic' and 'Progress Override' and their effect on the earned value calculations. Six scenarios have been developed and tested on an activity within two identical schedules, one with an out-of-sequence activity and one without an out-of-sequence activity. The results of the effects on the earned value cost profile for each individual scenario are presented along with summarization of the results in a clear and concise manner.
Using SWOT analysis as a basis, the paper concludes with a recommendation for a 'best tested and proven' practice for fellow practitioners, project management, to adopt when performing schedule updates, and for software solution providers to consider for their future releases of their products. Read the full featured paper here.
RISK QUANTIFICATION SEMINAR
The fact that today's projects are increasingly complex, high-paced, and risky limits the effectiveness of investment decisions and later project controls when not implemented correctly. However, complex projects need not mean complex risk quantification methods; there are simple and easy to understand processes that bring clarity and reliability.

This seminar will allow you to capitalize on the expert's knowledge and experience to build your knowledge and competency as well as decision making and risk management skills, which will support more effective investment decision making and project control. Sign up to the seminar here.
EARNED SCHEDULE - AN IMPROVEMENT TO EVM SCHEDULING METRICS
Earned Value Management (EVM) is a powerful tool for evaluating the schedule and cost performance of projects and predicting future results. However, existing earned value schedule performance metrics does not do a good job with schedule performance evaluation and prediction.

Use of "Earned Schedule" enhances the earned value management 's ability to better represent and forecast schedule information.

You cannot rely solely on Earned Value schedule performance metrics (SPI & SV) to assess the schedule performance and predict future schedule results. The reason is two fold... Continue Reading
PROJECT CONTROLS EVENTS
We will be attending Project Controls events at these locations this year, if anyone wishes to attend or sponsor or speak or simply to come help us please do email james.williams@planningplanet.com and he will put you in touch with the relevant people.

We look forward to meeting you throughout the year.

Tehran, Iran – Sep 02
Lima, Peru - Oct 19-20
Abuja, Nigeria – Oct 24-25
Almaty, Kazakhstan – Oct 26-27
Moscow, Russia – Oct 31
PC Expo London – Nov 13-14
Melbourne, AU – Nov 28
Kuwait city, Kuwait – Nov 27-29
Rio, Brazil – Dec 06
Porto, Portugal – Mar 2019
Santa Cruz, Bolivia - Mar 2019
Western USA - Mar 2019
THE POWER OF PROJECT CONTROL
What exactly do we mean by 'Project Controls' and what are the fundamental processes underpinning it?

This blog post explains such questions with a fresh and simple viewpoint, whilst exploring how practitioners can ensure success of the Project Control.

Read the full blog post here.

WOULD YOU LIKE TO BECOME A GUILD REGISTERED CONSULTING PARTNER?
This is our effort to help YOU and our community. It is about having a product in your portfolio that any organisation with a Project Controls environment will be interested in. This is a GLOBAL opportunity:
You represent GPC to the client - YOU are our REGISTERED PARTNER
There will have to be screening by us but essentially if you are an established consultancy OR have considerable skills and knowledge CALL US ON THE NUMBERS BELOW
Your client is yours - we recognise this and will protect your relationship if required
We have fixed costs - your margin and you total deliverables are up to you!
The Guild of Project Controls offers a solution - which evaluates a Project Controls environment by Assessing and grading the competency of individuals - a 'stake in the ground' - a report to document the actual competence of my team.
If you are interested in becoming a Guild Registered Consulting Partner, click here.
ARE YOU TAKING FULL ADVANTAGE OF PLANNING PLANET?
See who you know from within our 150,000+ membership pool!

Take a look at the worlds first and only competence based credentials supported by a career path, role descriptors, self-assessment tools and online compendium desk reference of best tested and proven tools and techniques for project controls practitioners.

Join other members who share their thoughts and ideas in the form of blog posts.

100,000+ questions and answers to the topics we struggle with (mostly software!) on a day to day basis.

A knowledge-base that can be contributed to or utilized by anyone with skills and/or interest in planning, scheduling or project controls. No Wiki page or article is owned by its creator or any other editor, and its content relies upon collaboration and teamwork. How can you contribute?

What is needed to come up with a production rate? A duration of time, the manhours involved, and an amount of work produced? Take a look and get involved.

This has been dusty and quiet place for some time now. We have been liaising with recruiters, headhunters and talent managers plus a ream of corporate leaders and very soon we will have the largest live repository of project controls jobs in the world. Check back soon.

Check out our Silver and Gold partners and see if you'd like to be included there also.
A GUIDE TO SCHEDULING GOOD PRACTICE
The purpose of the project schedule is to provide a useful 'road map' that can be used by the project manager and the project team to assist them in completing the project successfully. The schedule becomes a dynamic tool developed by the project scheduler, with input from the project manager and project team that reflects their vision of how the project will be performed and reacts appropriately to changes in progress, scope, etc., as they are incorporated into the project schedule over the life of the project. A well developed project schedule model is a dynamic tool that can be used to predict when the project work that remains to be completed can reasonably be expected to be accomplished.

This paper is designed to provide guidance on 'generally accepted good practices' for the development of an effective, dynamic project schedule. Read more here.
SCOPE CREEP, UNREALIZED BENEFITS, AND FAILED PROJECTS... IT'S YOUR OWN FAULT!
Most people are aware of the usual suspects in project failure, yet we continue to pontificate over them year after year. As a PMO Director it is your responsibility to strategically plan for the maturity of requirements management. As a Project Manager, you may be the last chance to ensuring a project is positioned for success.

So now what?

Read more here.
MAPPING PRIMAVERA P6
If you work for the main contractor or doing an EPC contract, then there is already a well-established project controls systems and procedures applied enterprise wide, all the projects use the same approach and methodology, all you have to do is just learn it and fellow the procedures. Now when you work for a subcontractor it become tricky, although there are already systems and procedure in place, you need to fellow the main contractor specifications.

This blog shares a generic approach that is agnostic to the client's tools, it is not a step by step tutorial as every client has a different systems and terminology, but you can adapt it to your particular case. Read more.
ARE YOU INTERESTED IN BECOMING A GUILD ENDORSED TRAINING PROVIDER?
Are you an experienced Practitioner in Project Controls? Or are you already involved in Project Delivery Training or Project Management software sales, support, and installation? Whichever your current situation here is a unique business offer for you!
The Guild of Project Controls (GPC) has released a comprehensive Certification in Project Controls covering ALL levels of Competency AND all areas of Project Controls - either individually in the form of Planning and Scheduling, Cost Management, Forensic Analysis and Project Controls itself.
Our unique offer to you is that this initiative is supported by Planning Planet (PP) the world's largest website catering for practitioners in Project Controls - we are part of the same Organisation. PP members (120,000+globally) invested their time in the Guild, tested and approved our Standards, Certification tests and maintain that the Guild reflects the operation and knowledge required to be proficient in Project Controls itself.
WE WILL UTILISE THE PLANNING PLANET WEBSITE TO PROMOTE YOU WHEREVER YOU ARE SAFE IN THE KNOWLEDGE THAT THERE IS A PP COMMUNITY IN YOUR AREA.
All this and our Guild COMPETENCY assessment tools where our ETP partners can offer potential clients a method whereby skills can be independently assessed and training requirements documented!
We do not seek thousands of Endorsed Training Partners (ETP), we seek a cohesive delivery team for our training. Click here to find out more and become a Guild Endorsed Training Provider!
LINKS, LAGS AND LADDERS: THE SUBTLETIES OF OVERLAPPING TASKS
| | |
| --- | --- |
| | Precedence diagrams use boxes to represent the basic network elements - the task (or activity). Tasks have durations giving the period of time required to perform the work they represent and may have other descriptive data attached to them. The other key element of precedence networks is the dependency (or link), which defines the logical relationship between the tasks. A link is shown in a precedence network diagram as a line. |
UNDERSTANDING AND BALANCING PROJECT CONSTRAINTS: A KEY TO PROJECT SUCCESS
Project success is often defined by these constraints; scope, time and cost. They are constraints because they are limited. The article's focus is on scope, time and cost. These competing project constraints have to carefully be monitored, controlled and balanced by the project team to ensure a successful project delivery.

A good understanding of these constraints precedes a successful project monitoring & control effort which in turn precedes a project that is delivered on time, within budget and meets agreed scope requirements. Now let's understand it…. Read more.
Thank you for reading our short message.
If you'd like to help the small but enthusiastic team of people helping with this newsletter please do get in touch with us via PPadmin@planningplanet.com We know we have a long way to go to make this informative and an anticipated bi-weekly "read" so do get in touch and get involved.
Regards...
The Planning Planet Team
To unsubscribe please email ppadmin@planningplanet.com please ignore the unsubscribe link below