Guild Assessment Centre
WHAT IS THIS?
We have been asked by many members how can they find out where they are in their chosen career and here is our document which we know will help you to find out.
A few years ago we ran a self-assessment on PP and tens of thousands filled in the document. Now, with the benefit of the Guild here is a MUCH SUPERIOR document for all of you to complete.
This tool is available to Guild of Project Controls Members and Guild Corporate Supporters.
WHAT DO I ACHIEVE FROM COMPLETING THIS?
From this document you will be able to ascertain your strengths and weaknesses against the many years of research that the Guild has ascertained are the Standards required for your role.
Further, for the first time you will know how you stack up in terms of skills in the Project Controls industry whatever your role.
IS IT WORTH MY TIME TO COMPLETE IT?
We're letting you utilise this document and the senior practitioners who helped create this think you will be impressed by the quality of questions but most importantly you will BENEFIT FROM THE EXERCISE.
HOW TO DO THIS...
When you "Take the Test", click on the relevant option circle; choose the action that BEST or MOST ACCURATELY DESCRIBES how you use or apply each attribute or competency. Be as realistic as possible in your responses, for the more realistic you are, the more accurate, reliable and precise the SWOT Analysis generated by this instrument will be.
There is no time limit, you can take the assessments in any order and you may start or stop at any time and then resume later. The entire assessment normally takes 45 – 75 minutes then refer to "How the Scoring is done" below to understand the results.
HOW THE QUESTIONS ARE ASKED IN THE TOOL...
Here is a graphic showing two questions from the tool as they relate to "Creating the Logical Relationships & Sequence Activities". The first question, or competency, being about "Date Constraints" with the second about applying "Leads and Lags". Across the top you will see the 6 possible options you can chose from to show how you use or apply your ability and competence in these instances:
HOW THE RESULTS ARE COMMUNICATED...
Here is a sample image showing the self-assessment results for the 15 questions posed in regard to "Managing Project Progress". The spider chart shows (confidentially) your assessment of your own skills compared to practitioners of similar experience profiles as well as how it compares to the Guild of Project Controls' expectation for you at the various competency levels; Professional, Specialist, Master and Expert levels (as documented in the Guild Role Descriptors)...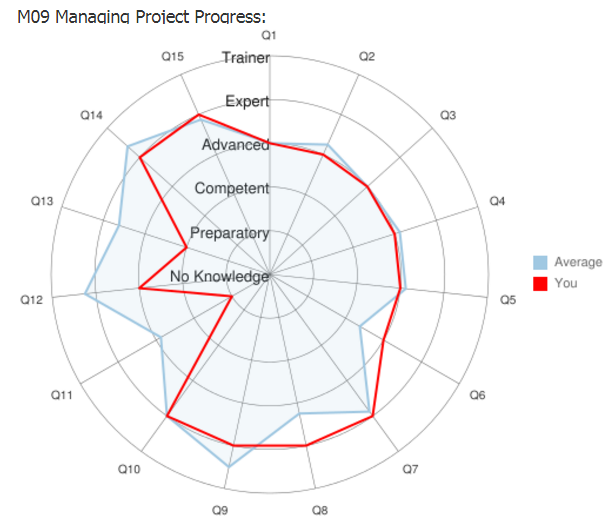 The above results would show you where you are strong and where you are less-strong. For example, it indicates that I have:
Master Level capability in questions / areas Q1-Q6 and Q12, and
Expert Level capability in areas Q7-Q10 and Q14 and Q15
Specialist Level capability in the Q13 area, and
Professional Level capability in the Q11 area
The benefit being that I know from the assessment report that Q11 and Q13, my low scoring items, were...
Q11 - M09-4 - Assessing and Interpreting Progress Data (Assess Trends Achieved & Performance Analysis) - How the various formulas for both historic and forecasting, analyse the results generated by the relevant formula, and assess what are "good" or "bad" values and interpret what those values are telling us.
Q13 - M09-5 - Project Performance Forecasting (Check Schedule Accuracy, Assess Milestones & Completion Dates) - How to validate the accuracy of the schedule, and assess progress against interim milestones and completion dates using earned value formulas and be able to propose preventative/corrective actions based on the analysis of float and SPI and other KPI's.
I know that I can then look at the relevant subject matter in the Guild Compendium & Reference and gain a better understanding of the various tools & techniques in question - a great way of confidentially understanding what you are good at AND a means to know what to look at in order to improve.
The Guild also allows you to have your assessment validated by an independent Guild Assessor (who is a senior real-world practitioner) via a Skype or face to face interview if you wish to have your own assessment validated.
HOW THE SCORES ARE CALCULATED...
There are a total of 6 possible responses for each of the questions:
| | |
| --- | --- |
| YOUR RESPONSE OPTIONS | POINTS |
| "I have no knowledge of this attribute" | 0 points |
| "I know and understand how to use it" | 1 point |
| "I can or have applied or used this attribute" | 2 points |
| "I can analyze whether this attribute has been used correctly" | 3 points |
| "I can evaluate the work of others to determine if it has been used correctly" | 4 Points |
| "I can create or adapt this attribute to new or different applications" | 5 points |
As you can only select one choice for each attribute, you need to select the highest value level which MOST ACCURATELY DESCRIBES how you use or apply that attribute or competency. The maximum or perfect score you could "earn" would be 1,845 points (i.e. 369 X 5 points) so do not expect to get 100% as that would be unrealistic.
HOW TO UNDERSTAND MY SCORES AND WHAT SENIORITY / CAPABILITY LEVEL I MIGHT EXPECT TO BE...
The following table provides a guide and shows how your length of experience should relate to the practitioner "Level" and gives a guide to the scores you should expect to be achieving:
YOUR EXPERIENCE DURATION
EXPECTED
LEVEL
MINIMUM EXPECTED / NECESSARY
PERCENTAGE SCORE
~ 1 years of relevant work (more)
Professional
Less than 20%
~ 5 years of relevant work (more)
Specialist
Greater than 40%
~ 8 years of relevant work (more)
Master
Greater than 60%
~ 8 years and ~2 years managerial (more)
Expert
Greater than 80%
~ 15 years and ~7 years leadership position (more)
Fellow
Greater than 90%