Plan and Schedule: Planner and Scheduler
While working in a mega-project with one of the biggest North American construction outfit, a number of our construction planners/schedulers were brushed aside more than a few times by their respective foreman (supervisor).
Two foremen sarcastically said they need no plan or schedule. One added that planners and schedulers are just pencil pushers who are good only in recording what they have already done.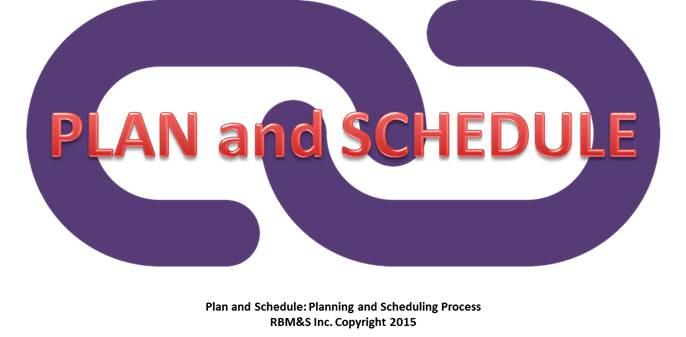 The field foremen even insinuated that these office boys and girls are somehow taking the limelight from the people who really do the job.
The general feeling of these field supervisors is they can plan and schedule the job themselves without an office worker hovering over their heads and looking over their shoulders (Frago, R., 2004.Project Y: Planners and Schedulers).
It will surely make project management professionals cringe, troubled by such sharp, yet honest commentary.
I suddenly imagined Jacky Chan and Chris Tucker singing the familiar song "War: What is it good for? Absolutely nothing!" but the foremen replacing the word war with the word "plan or schedule." Funny but the implications are dead serious.
Let us throw it on the table for all readers to reflect on. Do you have anything to say? Do you agree or disagree to the foremen?
Does this mean that the foremen failed to see that planning and scheduling have values? The big question to such criticism then is: "Why? What made them feel that way?"
Project Planning
Regardless of how talented one is in doing things, it will not effectively amount to anything without a plan. One can walk all day because he is very good at walking but I tell you, he will not reach exactly where we want him to go.
He has to know where he is going. He has to plan and make a decision where to go, schedule what he needs to do and when to do them.
Without a plan, the project would not know where it is going. If no direction and timeline are set, no workable schedule is possible. The project will not reach its destination nor complete final deliverables.
If the project does not get to where it is going, then it is a failure. This is in simple terms, the whole rationale why planning and scheduling is important. The two processes supports each other.
Since planning formulates what need done in the future, it is a necessary input into the scheduling process. It is a part of business decision making process. It is putting a cross hair on organizational targets.
When we execute the schedule and it hit a snag, it can force the project to change the schedule forecast. This change will have to feedback to the plan. The plan then has to adjust as needed. Cutting this connection and isolating one process from the other is one of the gravest mistakes a project manager can make.
New project management practitioners however, must understand that planning is much more than just stating goals and objectives. It includes determining the most effective ways of reaching the end goals and in-between deliverables.
Planning answers all the other questions like "who, what, where, why, and how." It can also try to provide limited answer to the question of when, by identifying some key milestone and key target dates like First Oil, Construction Start, and Mechanical Completion. It does not require a definite beginning and an end.
An ordinary plan can be open ended in terms of timing. The question of when in planning is more a high-level checklist. The schedule shows the entire logical menu. A plan is more of a summary, and is an incomplete and partial preview of the proposed schedule.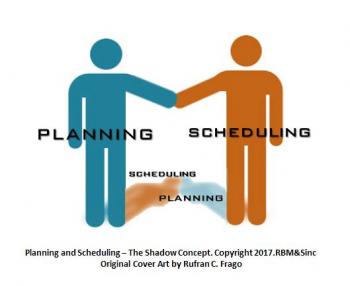 Planning and Scheduling
The husband and wife syllogism of planning and scheduling is a good analogy. It was an ideal and fundamental point of view of interdependency. Planning and scheduling are from a single fabric (Frago, R., 2015.Draft Manuscript\Plan to Schedule, Schedule to Plan).
They are very much connected. We plan to schedule, we schedule to plan. Nobody could deny or ignore this deep-rooted relationship ((Frago, R., 2015.How to Create a P50 Risk-based Baseline Schedule-Draft Manuscript).
Every time someone talks about a plan, he will have to talk about the schedule, for what is a plan without thinking about the schedule?
The plan is the schedule's shadow and vice versa. There is no going around this shadow concept if one is serious about his objectives.
It is like Mutt and Jeff, Batman and Robin, one and zero, plus and minus, where each one provides better appreciation of the other. The concept applies to all aspects of life's undertakings. It is difficult not to frown when anyone say, "Focus on planning. Forget about scheduling. All you need is to be a good planner." I'm sure one can find a better narrative.
Say your water heater at home has just crossed its twelve-year usage. You and your wife reflected on it, studied your budget and after looking at the equipment maintenance history, concluded that it needs replacement.
After looking up how much it cost, both of you agreed to replace it next year. In the meantime, you also plan to save enough money pay for the equipment and its installation. The question of timing follows right away in cascading level of details to answer the question when.
From the plan, the purchase and installation can be set for August next year. It can be the first Monday of August next year, or August 10 (10 am to 12 pm) next year. A scheduled monthly saving of CAD 200 must be put in place such that the amount by August next year is more than enough to pay for the water heater installation cost. You now have a plan and a schedule.
Just imagine planning something without even thinking about a schedule to execute. Is it not an exercise in futility? Attaining an objective becomes improbable if not impossible.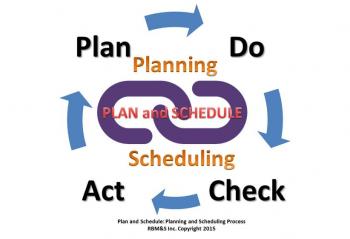 If anyone is thinking of keeping planning or scheduling out of the picture, then in effect, he is planning to fail. Funny that I've mentioned it but planning to fail is in fact a plan! … However, even if it were, who would do such a thing?
Project Scheduling
The project schedule is another important tool needed for a successful project. Again, the rule is simple: "Projects must plan to schedule and schedule to plan." This rule can never be over-emphasized. It has to be underlined repeatedly!
Scheduling pertains to the start and finish dates, to answer the vital question of when?
A schedule defines the project timeline and the activities that comprise it. A schedule is only a schedule if there is a beginning and an end that defines the whole integrated schedule including all the activities that lies therein. A schedule is an output of the plan.
Let us all think about it and reflect.
One has to know the purpose of a schedule to appreciate why it is important. Otherwise, we can all join and sing the same tune with the foremen. It is an indispensable management tool. I have listed more than twenty items of everything that raced through my head at this instant.
Compare your list and decide what you think are most prominent to you.
Purpose of a Project Schedule
1. Forecasting tool (a schedule is more an output than an input)
2. Risk-based management tool (Quantitative and Qualitative Risk Analysis and Treatment)
3. Project controls tool (in more ways than what's already listed)
4. Scope management tool (crosscheck scope completeness)
5. Change management tool (capture what has changed and delineate agreed-to changes)
6. Recording and reporting tool (provides project history)
7. Integration tool
8. Cost control tool; effective cash flow relies on the schedule because time is money.
9. Reflects project strategy
10. Helps identify project misalignment and facilitate correction
11. Helps organize the project (provides structure, grouping and responsibility)
12. Serves as an element of the overall contractual instrument
13. It is a communication tool.
14. Ensure effective time management; e.g. test the most reasonable logical sequence for the shortest time completion
15. Identifies critical path
16. Quality Management tool; e.g. test completeness of scope
17. Optimizes resources and enhances ability to prioritize works
18. Benchmarking input, tool and output
19. Problem solving tool; e.g. troubleshooting a project
20. Calculation tool; e.g. project length, maximum number of resources, etc.
21. Scenario (What-if) tool
22. Presentation tool
23. Many others
If one or a combination of those listed fails, then the project planner/scheduler deserved the sarcastic reaction made by the foremen.
Good Planners and Schedulers
In view of the abovementioned situation, one of my peers suggested firing the planners, schedulers and the foremen if they don't come to terms.
Of course, it is a remedy easily said than done. It might turn out to be the final recipe for a complete project failure.
It is almost like saying, no plan, no execution, and no project. Who would buy the slogan "No planner: No scheduler: No Foreman" will actually result in "No Problem"? I know that it is a statement of frustration and sarcasm to underline a point.
Projects are in short supply of good planners and schedulers. One observer pointed rightly that many are heavy on theory and short on practicality.
They do not have the right experience. One can imagine a restaurant cook who quickly learned to operate the scheduling tool in a month's time and now hired as a senior planner in one of the biggest projects out there.
We now have a person who has twenty years cooking experience and one month scheduling experience. A situation like this can be a big risk to the project.
Although most of the breakthroughs in construction come from another sector, the general feeling on specialization requires that candidates belong to the same industry category as the project. If it is oil and gas upgrader construction project, the probability of getting the right planners come from a pool belonging to similar industries; which is Oil and Gas, is sometimes difficult.
On few occasions such as labor shortage, projects knowingly bring in wet-behind the ear personnel as juniors. Although risky, this is an acceptable move as long as job mentoring and training program designed to bring newcomers quickly to successfully bear skill requirements is in place.
Issues to Consider
Planners & schedulers, who have the habit of staying within the confines of their offices most of the time, will not feel the work beat of job. They remain unfamiliar with the construction areas they are responsible for. In doing so, they will not get the best information because they did not win the much needed respect from their construction foremen and supervisors.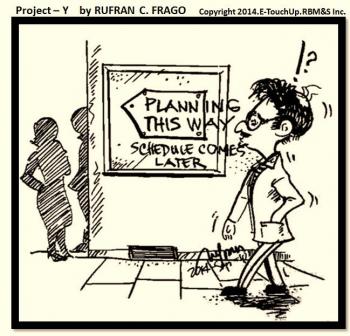 Planners & schedulers who choose to wait in their respective offices to get words on progress so they be able to tick their report checklist are asking for troubles and sharp criticisms. Foremen do not appreciate planner's and scheduler's passive existence. This is precisely why they feel the way they do. They start to think they could do a better job planning and scheduling the work themselves than letting others regurgitate the information, reporting and stealing their thunder.
Recommendations
A Planner/scheduler needs to improve his ability to accurately analyze project situation and forecast.
He has to get out of his cocoon, rub shoulder with the front line people who do the actual work and translate valuable inputs into strategy, plan and schedule. He must know what equipment is scheduled for erection, touching and feeling them if need be.
He gathers inputs from all players, especially the frontlines, in order to improve execution. He has to be instrumental in finding solutions to project problems/issues.
He must be able to identify project risks. Recognizing what the risks are enable the project to complete safely on time, according to prescribed quality and well within budget.
Well-informed planners should shape the discussion, influence decisions, plan, monitor, and control courses of actions to make the project more predictable. They should not be bench-sitters or cheerleaders. They must be proactively seeking to improve project certainty.
As one project director keeps shouting from his corner, "We want to improve predictability!"
The process becomes truly important only and only if, the people who carry the planning and scheduling torch know how to preserve its usefulness, guaranteed to highlight their importance.
Source:
Frago, R., (2016).Draft Manuscript\Plan to Schedule, Schedule to Plan. ISBN 978-0-9947608-2-1.
Rufran C. Frago - Author (110415)
Related articles authored by Rufran Frago
ANNOUNCEMENT! The paperback and Kindle edition of the book "Risk-based Management in the World of Threats and Opportunities: A Project Controls Perspective" are now available. Please follow the hyperlinks for more information.
The book provides new/additional knowledge to project management practitioners (beginners to experts), risk management specialists, project controls people, estimators, cost managers, planners and schedulers, and for students of undergraduate courses in Risk Management.
The sectional contents offer practical and common sense approach to identifying/managing risks. It is a must have for company managers, directors, supervisors, aspiring industry professionals, and even those students fresh from high school. The material is especially design to start with the foundational principles of risk gradually bringing the reader to deeper topics using a conversational style with simple terminologies. Grab a copy now.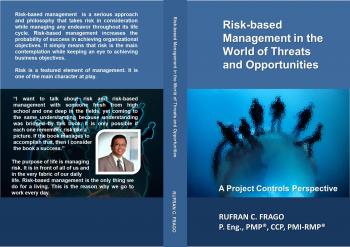 Source: Frago, R., 2015.Risk-based Management in the World of Threats and Opportunities: A Project Controls Perspective