Hexagon
EcoSys Enterprise Project Performance Software
Confidently Plan and Execute Projects and Portfolios
EcoSys is Hexagon's Enterprise Project Performance solution created in 2005 by the original developers of Primavera's enterprise project management system (now known as P6). Years of experience collaborating on with leading individuals and organizations running the world's most demanding projects have taught us important principles to follow as the nature of projects and business constantly evolves.
Simply delivering quality projects on time and on budget is no longer an acceptable benchmark of success. Instead, project performance today requires a broader perspective. Do our project portfolios deliver the intended strategy? Are business goals and financial objectives being met? Only by selecting the right projects, in conjunction with exceptional project delivery, can you meet and exceed the performance results demanded today.
Yet the scale and complexity of today's projects and portfolios have made it difficult to achieve and maintain high levels of performance. The difference between how most engineering and construction projects are expected to perform and how they really perform is often stark. Inconsistent processes and low predictability throughout the projects lifecycle are yielding regular cost and schedule overages and sporadic business results. A new way of working is imperative, galvanized by an industry leading platform powered by and empowering Digital Transformation.
EcoSys Enterprise Project Performance software allows both owners and contractors to select the right projects to drive their business and growth objectives, and then deliver them as efficiently as possible.
What is Enterprise Project Performance Software?
Enterprise Project Performance software is project portfolio management, project controls and project management software all in one platform. EPP software provides an enterprise-wide perspective into what drives project success and integrating key processes throughout the full lifecycle of projects and portfolios.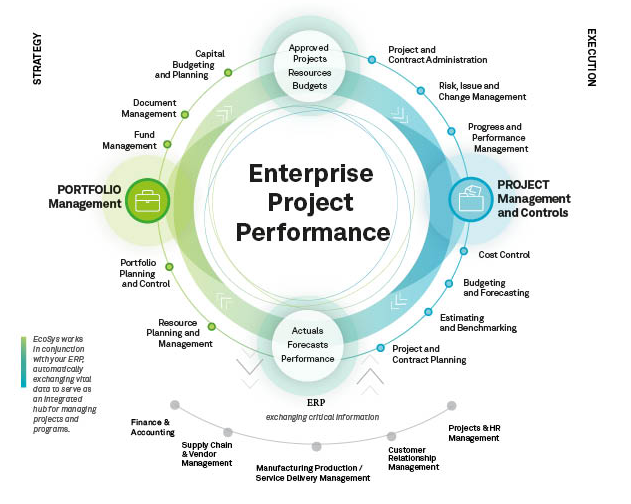 Our Solutions:

Successful Project Portfolio Management (PPM) requires alignment of organizational strategy and project delivery. Identifying projects that meet company objectives and can be delivered with available resources is crucial to world-class performance.
EcoSys is a unique cloud-based PPM software solution because it allows you to manage project portfolios with insights from actual project data. By bringing strategic planning and project execution together, EcoSys eliminates guesswork and allows you to confidently and effectively optimize your project portfolios, identifying the right timing, capacity and resources.

Good project management and project controls help you deliver projects on schedule and within budget. However, disconnected manual processes, siloed data, inconsistency and lack of transparency are often major barriers to success.
EcoSys helps you overcome these barriers with a single software solution for project management and project controls. Make informed decisions quickly and with confidence. Automate and standardize work processes to deliver projects consistently. Spend less time on compiling data and more time on forecasting and analysis. Control and manage projects more effectively to lower risk and optimize cost and schedule.
Benefits to our Customers?
| | |
| --- | --- |
| | A Single Solution for the Full Lifecycle: The process areas supported by EcoSys cover the full lifecycle of any project size or type. While robust enough to handle the most complex megaprojects, EcoSys also allows you to easily adopt best practices and standard processes appropriate for smaller projects. This means you can leverage the benefits of centralized data and real-time insights on every project in your organization. |
| | Efficiency: EcoSys provides a seamless information flow between processes for portfolio management, project controls and project management. This allows automated integration and, built-in analytics & reporting to replace manual processes. An easy-to-use user interface drives user adoption and productivity. |
| | Predictability: Built-in predictability metrics based on CII methods supports timely decisions. Key performance indicators (KPIs) help you spot trends and incentivize good behaviors. Leverage past project data to improve future project forecasting. |
| | Control: Using a single solution for all projects helps support governance and compliance initiatives. EcoSys improves the accuracy of variance analysis and monitoring, as well as the effectiveness of performance, risk and change management. Multi-currency and language capabilities make the software truly global. |
| | Technology & Architecture: EcoSys is the only solution on the market that provides the optimal experience for every user to ensure minimum effort – with tailored dashboards, spreadsheets, reports, workflows and more. |
EcoSys is the most flexible EPP platform on the market. It's no-code configurability means it can be configured and maintained by business users, not IT. EcoSys provides the ideal combination of rich out-of-the-box capabilities that often meet 90% of a customer's needs with the unrivaled ability to tailor the solution to deliver the remaining 10%.
Don't Miss Out!
We invite you to explore all the features and benefits of our solutions .The more you learn, the more you can impact project success across the entire project's lifecycle. Stay informed about the latest Enterprise Project Performance related products, trends, and news.
Partner Type:
Corporate Partner