18 January 2019 Project Controls News

Dear Planning Planet Member,

We hope that you find this adds value to your day and if you'd like 1.5 million views for your content, blog, product or service please check this out...
TALENT, NOT TECHNOLOGY, IS THE KEY TO SUCCESS IN A DIGITAL FUTURE
When it comes to translating technological innovations into real business results, technology is relatively easy to come by; it is talent that is often the limiting factor.

The article here depicts an evolution that's seemingly inevitable and that it bridges current businesses to the future through technological disruptors, AI, digitalizations and specializations. But through it all, the talent is still the core and what matters most. Research uncovered six strategies to employ to ensure they accelerate digital innovation. Read the article...
LEARN MORE ABOUT INTEGRATED COST RISK ANALYSIS
Why is this important?

Why won't older legacy risk applications do this?

What are the benefits of an integrated approach?

How do you get your organisation started?

Safran, in cooperation with Phil Shatz, would like to invite you to a short workshop to explore this topic, look at the latest tool – Safran Risk – available to achieve this, and answer questions about why this is so important. Are you a risk professional, and would you like to increase the maturity of risk awareness in your own organisation? Then you will love the new risk assessment tool – produced in cooperation with Dave Hulett - that is available free to test the maturity of your own risk processes in your organisation.

Glenn Jarrad, the CTO at Safran Software Solutions, (formerly at Pertmaster), will be running an interactive workshop on true integrated schedule cost risk analysis in London on the morning of the Tuesday the 12th of February. Topics included will be:

Possibilities and benefits with integrated cost risk analysis - Integrating costs and schedule risk properly in a single environment really opens the door to endless analytical possibilities. In the workshop Glenn will show a full range of use - from maintaining a simple list of risks in a spreadsheet to performing a detailed quantitative risk analysis, for both schedule risk and cost risk, with full scenario analysis across all risk variables. No more "translating" cost information into a format the schedule can understand, but welcome to an immediate integrated seamless experience.
A full schedule risk assessment - To power these analytics it is also necessary to have access to an embedded full scheduling engine – see Glenn demonstrate the power that this unlocks in Safran Risk, powered by full Safran Project.
And all this comes with a best practice risk process - New users can easily perform schedule risk analysis by following the built-in process. The interface eases product adoption and dramatically helps to simplify what would otherwise be a complex process, to guarantee a healthy analytical result.
You will leave with a 30-day fully functional trial - and access to the David Hulett's risk assessment survey!

Apply now – spaces limited!

Capital projects, shut-down and turnarounds, maintenance – whatever the project, there's a product to help. Safran PROJECT and Safran RISK...
RISK MATURITY ASSESSMENT
This FREE assessment will measure your level of risk preparedness across four sectors: scheduling competence, risk awareness, qualitative and quantitative risk analysis.

Upon completion, your results will be analysed by one of Safran's risk professionals, who will contact you with recommendations customer-tailored to your organization. Our risk maturity assessment is completely free-to-use. Click to Access the Assessment Tool & Get Free Report...
5 TACTICAL SCHEDULE ANALYSIS TECHNIQUES THAT EVERY PROJECT LEAD NEEDS TO KNOW
| | |
| --- | --- |
| | Whether you are a client, consultant, or contractor, it is necessary to constantly analyze the health of your projects schedules regardless of what phase the project resides. In order to optimize the best schedule analysis, an understanding of how a project evolves is essential. During this webcast, Cesar Ramos will provide you his methodology of schedule analysis and share with you five tactical schedule analysis techniques that you need to follow in every schedule review. Read more or Register... |
WHAT SKILLS ARE NEEDED TO MEET THE CHALLENGE OF TODAY'S CHANGE MANAGEMENT?
The first session of our complimentary e-learning webinar program will cover how project and work managers roles are shifting and what new skills are needed to meet the challenge of today's change management.

Join this session to learn:

How to ensure that deliverables will be successfully adopted and become part of the new 'business as usual'
What expectations and widened activities are now placed upon today's agents of change (and what to do about it)
What processes, standards, structure and reports are successful teams currently using to effectively foster change

This master class will be lead by Melanie Franklin, expert-level change practitioner and co-chair of the Change Management Institute.

Details

Wednesday, January 30, 2019 - 10:00 AM PST | 1:00 PM EST | 6:00 PM GMT - Register Now
PROJECT CONTROLS CONFERENCES YOU DON'T WANT TO MISS
What Project Controls conferences have you attended?

Which one was the best?

Was it the best because it created a positive impact on you?

To help you find the best conferences and events in Project Controls, Shohreh Ghorbani has put together this blog post for you so you can benefit from attending these events. Read more...
7 BEST PRACTICES FOR OVERCOMING TEAMS WORKING IN SILOS
| | |
| --- | --- |
| | Across the enterprise work landscape, the idea of completely eliminating the existence of silos is more of an idealistic aspiration than a realistic goal. However, the good news is that there are practical ways to overcome teams working in silos. Here are seven best practices to keep in mind and apply as needed. Read more... |
SIX STRATEGIES FOR DEALING WITH DIFFICULT SUPPLY CHAIN VENDORS
| | |
| --- | --- |
| | Relationships have a mutual correlation to your success. If you do well, they do well and if they don't perform as you need them to, then it will cause you major headaches. Just because you're doing business with a vendor, doesn't mean you're necessarily getting the most out of the relationship. Minor delays can lead to major holdups down the line and poor service can lead to frustration and low morale on your own team. Read more... |
THE SECRETS TO CREATING GREAT PROJECT SCHEDULES
ScheduleReader™ offers a more sophisticated way to view and communicate schedule data extracted from .xer, .xml and .xls files.

It dynamically presents well formatted and visually understandable schedule information that you can easily organize, filter, group and share with project Teams, contractors and stakeholders.

Get your 15 days Free Trial here...

| | |
| --- | --- |
| ScheduleReader™ - because efficient communication is vital for successful project completion. | |
FREE WHITE PAPER: GOLDEN THREAD OF CHANGE MANAGEMENT
What if–two years from now–you find the project you're engaged on is behind schedule or over budget? You will find yourself and others asking, "Why? How did we get here?". Without robust change management procedures, processes, and tools, you will not have the traceability to answer those questions. This is why the Golden Thread of change management is so crucial-- it can be followed from its current position back through all the change efforts and throughout the project's entirety.

Download our white paper to learn about the importance of the Golden Thread, the five factors of a successful implementation, and 5 major benefits of utilizing a powerful change management process.
SAFRAN PROJECT and SAFRAN RISK
EVA24 - THE IDENTITY OF PROJECT CONTROLS
This year EVA will focus strongly on the Identity of Project Controls and focusing on:

The people doing the job
Defining the community
Really understanding what the job is about and proving that you can do it
There are too many 'keyboard jockeys'. Too many people who know what each button does but don't know why!

Contract Steve Wake to Sponsor or Register
PREVENT PROJECT CHAOS
As scope increases chaos can creep in—this is especially true when you are juggling many moving parts and shifting priorities. So how can you keep project chaos from ruining your day. Clarizen streamlines and automates.

See how you can gain some well-earned peace by watching our brief, informative product tour...
"PROVEN PRACTITIONER" A PLANNING PLANET PRODUCT
Do you seek PROMOTION or do you want to better UNDERSTAND YOUR Stengths and SKILLS (in private) or do you seek that NEW ROLE?

Proven Practitioner provides ALL THE TOOLS YOU NEED

Go to Premium and sign up!
CAPTURING PROGRESS & UPDATING THE SCHEDULE
Guild Compendium Module 09.3 - Capturing Progress & Updating the Schedule - read the details...

Measure Physical Progress
Capture Actual Cost of Work Performed
Status and Update the Schedule With Progress
COMPETENCY MEASUREMENT REPORTS FOR YOU, YOUR TEAM or YOUR COMPANY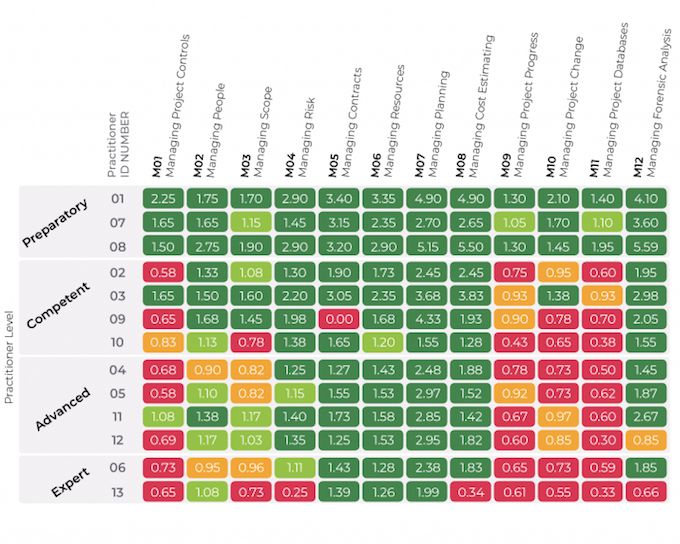 We are now offering CONFIDENTIAL Project Controls Competency Measurements for our members! From this report, you will receive a summary, similar to the one presented above, showing your teams, company's or projects "Competency Performance Index" across the full Project Controls capability arena. If you are interested in transforming Project Controls capability and team measurement, and would like to find out more, click here.
COME LISTEN TO THE HEAVYWEIGHTS
If you are in London, England - Come listen to two heavyweights in project controls and claims analysis.

Collectively they have 110 years of experience and are both in London to present the two interesting subjects.

When - London, February 5th, 19:00

Presentation by Raphael M Düa - Are your Project Governance processes akin to the Ostrich? "Head in the Sand" - Hear and learn how to provide effective Project Controls Governance by lifting your outlook into the sunshine
Presentation Mike Testro - Facts v Theory - Delay Analysis that works - a talk on why impacting events on a critical path does not work and an alternative that does work
Discussion & Networking in the Bar to follow

Interested? - Read more and RESERVE a seat at the Boardroom...
CONSTRUCTION CPM CONFERENCE OS NOW ONRETURNS IN 2019
San Diego, California - January 20 – 23, 2019

For 2019 the Construction CPM Conference returns to San Diego

We have booked six meeting rooms over three full days.

Two keynotes – Seventy-Seven breakouts – Five networking events – One conference

Our Best Rates for Speakers & Exhibitors is open to all – REGISTER NOW
PROJECT CONTROLS ROLE EXPECTATIONS

Have you taken a look at the Guild of Project Controls' Role Descriptors yet? - This is the perfect tool for those who want to find out the baseline knowledge required for their role and level of seniority - think of it as a job descriptor for all roles and levels of competence. Give it a try here, find out more here.
PROJECT CONTROLS TOOLBOX
Contact PPAdmin@planningplanet.com if you would like to learn about getting our Project Controls Toolbox for...

YOUrself,
your TEAM,
your PROJECT, or
your COMPANY
RATES, NORMS & DURATIONS
What is needed to come up with a production rate?

A duration of time, the manhours involved, and an amount of work produced this section of Planning Planet is here to document this.

What information do you have that you can share?
ALTERNATIVE TO PRIMAVERA AND ASTA?
A superior alternative to the "most popular" software for us as planners? Today it is used in 34 countries though most Spider Project customers are in Russia.

Spider Project offers numerous unique functional features and is the only PM software that optimizes resource, cost, and material constrained schedules and budgets for projects and portfolios.
INTRODUCTION TO MANAGING PROJECT CONTROLS
The 1,000 Metre Level Process Flow Chart for Guild Compendium & Reference Module 1- Managing Project Controls from both the OWNER and CONTRACTOR ORGANIZATION PERSPECTIVE provides an overall "Roadmap" or "Master Plan" or "Framework".

To address both the owner and contractor perspectives, the Guild has produced 4 levels of detail or granularity - go get the good stuff...
JACOBS JOBS
Opportunities await you. Jacobs has recently won a major contract, known as the Programme Delivery Partner (PDP) – for the provision of project management, project controls and integrated logistics support - with the Ministry of Defence's (MOD's) Defence Equipment and Support (DE&S) Agency, based in Bristol. DE&S is seeking our support at their offices across the UK and we are, therefore, keen to identify people who are interested in working for Jacobs, and being involved in PDP, across the UK.
Join our team and say "Hello" to a whole new future.
GET IN FRONT OF ONE POINT FIVE MILLION PROJECT CONTROLS PEOPLE
| | |
| --- | --- |
| | If you would like your product, service or software or yourself to be put in front of the global (or local) Project Controls Community then you should consider subscribing to the Planning Planet Project Controls Market Place. |
ARE YOU FOLLOWING US ON SOCIAL MEDIA?
Let's get social!

Build your network and keep up to date by following us on social media, just click the icons to get started.
THE GUILD OF PROJECT CONTROLS COMPENDIUM AND REFERENCE
The Compendium and Reference (CaR) is a document which forms The Guild Standards.

We have where possible offered advice as to previously written material which is in the public domain and proven to be of such quality that it can be used as a reliable reference of "best tested and proven practice".

The CaR is a living document being continually improved, supplemented and updated by the Guild community to reflect improvements to practices, opinions and methods in our chosen profession. The Guild is ready to receive suggestions at any time for updates to the CaR Standards.

Take a look here.

WOULD YOU LIKE TO ADVERTISE ON PLANNING PLANET?
We want to give more of our members the opportunity to advertise on our site. There are many reasons why this would be beneficial to anyone wanting to advertise their goods or services. We are offering two levels of interaction with our community, PP SILVER ADVERTISER and PP GOLD ADVERTISER.
Click here to get started!

WOULD YOU LIKE TO BECOME A GUILD OF PROJECT CONTROLS CORPORATE MEMBER?
This is our effort to help YOU - the employers of our community. With a Corporate Membership, you will have access to many of our services including Role Descriptors, Self Assessment, Competency Review with possible comparison with other organisations and Compendium Desk Reference and so many more.
Interested? Click here.
SKILL ASSESSMENT CENTRE
Have you tried the Guild of Project Controls' Assessment Centre?

From this tool you will be able to ascertain your strengths and weaknesses against the many years of research that the Guild has ascertained are the Standards required for your role.

Further, for the first time you will know how you stack up in terms of skills in the Project Controls industry whatever your role.

Give it a try here!
ARE YOU TAKING FULL ADVANTAGE OF PLANNING PLANET?
See who you know from within our 150,000+ membership pool!

Take a look at the worlds first and only competence based credentials supported by a career path, role descriptors, self-assessment tools and online compendium desk reference of best tested and proven tools and techniques for project controls practitioners.

Join other members who share their thoughts and ideas in the form of blog posts.

100,000+ questions and answers to the topics we struggle with (mostly software!) on a day to day basis.

A knowledge-base that can be contributed to or utilized by anyone with skills and/or interest in planning, scheduling or project controls. No Wiki page or article is owned by its creator or any other editor, and its content relies upon collaboration and teamwork. How can you contribute?

What is needed to come up with a production rate? A duration of time, the manhours involved, and an amount of work produced? Take a look and get involved.

This has been dusty and quiet place for some time now. We have been liaising with recruiters, headhunters and talent managers plus a ream of corporate leaders and very soon we will have the largest live repository of project controls jobs in the world. Check back soon.

Check out our Silver and Gold partners and see if you'd like to be included there also.
ARE YOU INTERESTED IN BECOMING A GUILD ENDORSED TRAINING PROVIDER?
Are you an experienced Practitioner in Project Controls? Or are you already involved in Project Delivery Training or Project Management software sales, support, and installation? We seek a cohesive delivery team for our training - email us at admin@guildofprojectcontrols.com to find out more.
THANK YOU FOR READING OUR MESSAGES
If you'd like to help the small but enthusiastic team of people helping with this newsletter please do get in touch with us via PPadmin@planningplanet.com We know we have a long way to go to make this informative and an anticipated bi-weekly "read" so do get in touch and get involved.
Regards... The Planning Planet Team
To unsubscribe please email ppadmin@planningplanet.com please ignore the unsubscribe link below