21 September 2018 Newsletter

Dear Planning Planet Member,

Please find below this weeks newsletter. We hope that you find it adds value to your day. Please visit our sponsors as they keep our servers running and without them, we will cease to exist...
"PROVEN PRACTICIONER" A PLANNING PLANET PRODUCT
Are YOU a Project Controls Practitioner - are YOU ambitious?

Do you seek PROMOTION or do you want to better UNDERSTAND YOUR Stengths and SKILLS (in private) or do you seek that NEW ROLE?

Proven Practitioner provides ALL THE TOOLS YOU NEED

Go to Premium and sign up!

Have the first month free NOW at this low INTRODUCTORY PRICE!
HOW TO HARNESS COLLABORATIVE EFFICIENCIES
| | |
| --- | --- |
| | Being an effective manager is about juggling a large number of responsibilities and duties that can make the most of your team and resources. One of the strongest traits among the leadership skills that distinguish the best from the "alright", though, is the ability to communicate effectively and efficiently while selecting and adopting new tools as one's organization evolves. Read... |
FORUM DISCUSSION - "AS LATE AS POSSIBLE (ALAP) CONSTRAINT BEHAVIOR QUESTION"
Planning Planet Forum Topic:

Here is an interesting discussion around how to implement As Late As Possible contraints in Microsoft Project, get involved.
HOLIDAYS AND HOW TO PLAN YOUR SCHEDULE AROUND THEM
| | |
| --- | --- |
| | The holiday season, whether during the summer or at the end of the year, can wreak havoc on you and your team's productivity and have negative impacts on your project. Be they missed deadlines, rushed work, instruction confusion or any number of other potential problems, planning around holidays is a minefield of risks for your project. As a PM, knowing how to plan for holidays is a rarely talked about but still important facet of 12-month project planning. Read... |
EFFECTIVE REPORTONG AND THE "ULTIMATE" DASHBOARD?
| | |
| --- | --- |
| | Reporting, effective reporting is key to a projects success during its life-span, while insufficient or incorrectly analyzed reporting dooms a project to failure. The author reviews several sources including "Guild of Project Controls GPCCAR", "DAU Gold Card" and "NDIA's A guide to managing programs using predictive measures" to determine the optimum metric content for a management dashboard for the oil and gas sector. Read... |
COMPETENCY MEASUREMENT REPORTS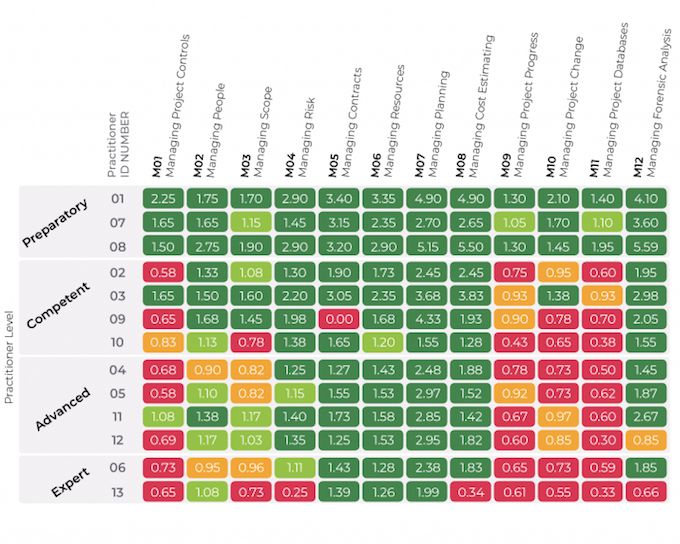 We are now offering Project Controls Competency Measurements for our members!

From this report, you will receive a summary, similar to the one presented above, showing your teams, company's or projects "Competency Performance Index" across the full Project Controls capability arena. This gives management a valuable and confidential insight to aid their internal career path development.

If you are interested in transforming Project Controls capability and team measurement, and would like to find out more, click here.
HOW TO MANAGE A TEAM THAT KEEPS GROWING…AND GROWING
| | |
| --- | --- |
| | As projects grow and change, it's not uncommon to find managers suddenly saddled with more growth than they can handle. But for a great manager, managing growth is part of the job. When thinking about how to build a team and encourage the best from your team members, consider a few tips for keeping your growing company clear-eyed, accountable and streamlined, no matter what the size. Read... |
FORUM DISCUSSION - "PREFERRED PROGRESS MEASUREMENT TECHNIQUE"
Planning Planet Forum Topic:

Here is an interesting discussion around the Preferred Progress Measurement Technique in P6; pros and cons of physical vs duration etc.

Would it make sense to build resources loaded schedule (labor non labor) if the duration is 15 months. Which method would be preferred over another if you have resources loaded in the schedule., get involved.
UPCOMING MEETINGS AND EVENTS
Our Project Controls Gatherings are a great opportunity for our members to discuss industry issues, share ideas and form new connections. Here is a list of our upcoming gatherings...

These meetings may just form the beginning of lasting professional relationships. Don't miss out! Follow the links above to sign up.

What should I do if I can't see a meeting near me?

If you don't see an event near you listed above, why not create your own? Just email james.williams@planningplanet.com to get started.

To make sure these events can be as successful as possible, please forward this to your friends and colleagues so they can also get involved.
INSTALL 2 VERSIONS OF PRIMAVERA P6 ON THE SAME PC - NEW IN VERSION 18
I used to think installing 2 different versions of Primavera P6 Professional on the same PC was impossible.

Well, impossible OR really, really difficult.

I used to have a complicated VirtualBox setup with a huge virtual machine that would crawl along with delayed mouse movements just so I could run an older version of Primavera P6 on my PC.

Read the full blog post here...
CONSTRUCTION CPM CONFERENCE RETURNS IN 2019
San Diego, California - JANUARY 20 – 23, 2019

For 2019 the Construction CPM Conference returns to San Diego

We have booked six meeting rooms over three full days.

Two keynotes – Seventy-Seven breakouts – Five networking events – One conference

Early Early Bird Rate Ends 15JUL18. Our Best Rates for Speakers & Exhibitors is open to all – until 16JUL18. REGISTER NOW for $825.
PROJECT CONTROLS ROLE EXPECTATIONS

Have you taken a look at the Guild of Project Controls' Role Descriptors yet?
This is the perfect tool for those who want to find out the baseline knowledge required for their role and level of seniority - think of it as a job descriptor for all roles and levels of competence.
If you are a Guild Member, do give it a try here, or if you would like to find out more about becoming a member of the Guild, click here.
PROJECT CONTROLS PLAN COMPONENTS
Have you ever been assigned to a project and were asked to develop a project related procedure, report, or presentation, but didn't know exactly how?

Wouldn't it be easier if you were given the structure and elements of your project report or procedure?

Read the full bog post here...
HOW CAN PROJECT SCHEDULERS BENEFIT FROM PRIMAVERAREADER?
Do you lose too much time on a daily basis, creating separate PDF documents for each project team that has no other way of receiving project schedule information created with Oracle® Primavera P6?

Find out how PrimaveraReader helps Project Schedulers in the biggest companies around the globe to improve the efficiency of their work.
ALTERNATIVE TO PRIMAVERA AND ASTA?
A superior alternative to the "most popular" software for us as planners?

Spider Project (SP) is a functional and powerful professional project management software.

Today it is used in 34 countries though most Spider Project customers are in Russia. Spider Project offers numerous unique functional features and is the only PM software that optimizes resource, cost, and material constrained schedules and budgets for projects and portfolios.

The unique features of Spider Project include Quantity Based Scheduling, Conditional Scheduling, Skill Scheduling, Optimal Resource, Cost and Material Leveling, Resource Critical Path Calculation, Cash and Material Flows Calculation and Management, Trend Analysis, Advanced Risk Simulation and Analysis, Calculation of Success Probability Trends, Calculation and Management of required Project Time and Cost Buffers, Application of Corporate Norms, Management of many Parallel Budgets, Multiple WBS and many others.

Spider Project was and is used for management of many large scale programs in Russia, including $51bln construction program for 2014 Winter Olympic Games preparation. Check it out here...

Planning Planet PREMIUM is the title we are giving a number of member only products we are developing to help you - our community of Project Controls Practitioners.
For £7.50 a month subscribers have access to online self-assessments where they can measure and visualise their skill levels. If subscribers wish to improve and fill knowledge gaps this subscription supplies tools that will help them improve and re-assess whenever they want to prove the improvement they have made.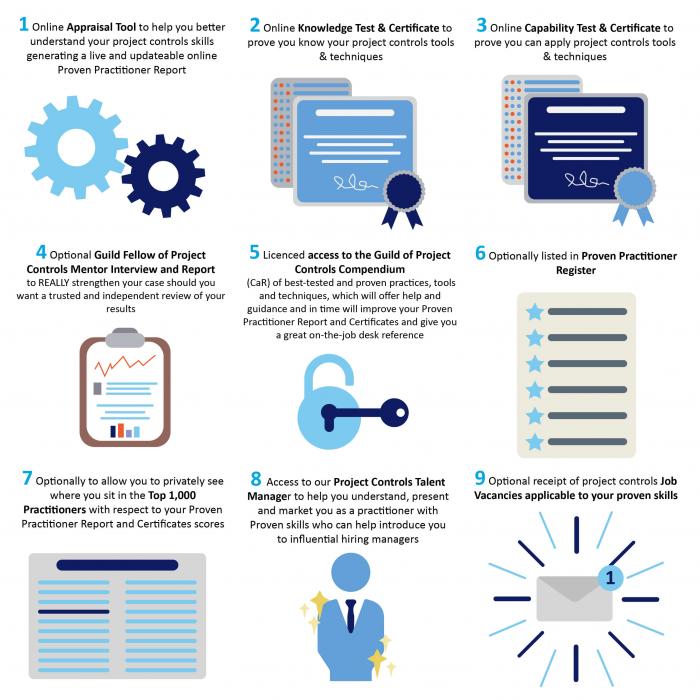 The subscription supplies a certificate proving you KNOW the tools and one proving you can APPLY the tools.
Get involved here!
SKANSKA / WALSH STREAMLINE SUBCONTRACTOR PAYMENTS ON A MEGA PROJECT
The Skanska/Walsh joint venture is managing construction of the $4 billion LaGuardia redevelopment mega project, which involves a huge number of subcontractors and major material purchase orders, entailing more than $2.3 billion in contracts.

Early on they recognized the need for an efficient, scalable subcontractor payment process including invoice review, waiver collection, and electronic payment.

Watch this on demand webcast to discover why they turned to Oracle Textura Payment Management Cloud Service to streamline and automate activities.

Here is your chance to join one of the largest project delivery organisations in the world! Following their purchase of CH2M Hill, Jacobs are an even more exciting place to work - and a true global leader - a 'must have' for your CV! Here is their advertisement...
We're hiring!
Opportunities await you. We are working on some of the most exciting, iconic projects around the world.
Jacobs has recently won a major contract, known as the Programme Delivery Partner (PDP) – for the provision of project management, project controls and integrated logistics support - with the Ministry of Defence's (MOD's) Defence Equipment and Support (DE&S) Agency, based in Bristol. DE&S is seeking our support at their offices across the UK and we are, therefore, keen to identify people who are interested in working for Jacobs, and being involved in PDP, across the UK.
The award of the PDP contract, estimated to be worth more than £250m over the next two years, with the option to extend this for an additional two years.
We invite YOU to bring your best self to work with us and progress your career on either this exciting new project or one of the other exciting projects and programmes Jacobs is supporting across the UK. Join our team and say "Hello" to a whole new future.
ARE YOU FOLLOWING US ON SOCIAL MEDIA?
Let's get social!

We'd love to connect with you on our social media platforms. Not only can you easily get in touch with us on our LinkedIn, Facebook, Twitter, and Instagram, we also share a lot of useful information including event alerts, news, job opportunities and interesting blog posts. Following us will also help to get you connected with others in the industry!

Build your network and keep up to date by following us on social media, just click the icons to get started.
THE GUILD OF PROJECT CONTROLS COMPENDIUM AND REFERENCE
The Compendium and Reference (CaR) is a document which forms The Guild Standards. We have where possible offered advice as to previously written material which is in the public domain and proven to be of such quality that it can be used as a reliable reference of "best tested and proven practice". The CaR is a living document being continually improved, supplemented and updated by the Guild community to reflect improvements to practices, opinions and methods in our chosen profession. The Guild is ready to receive suggestions at any time for updates to the CaR Standards.

Take a look here.

WOULD YOU LIKE TO ADVERTISE ON PLANNING PLANET?
We want to give more of our members the opportunity to advertise on our site. There are many reasons why this would be beneficial to anyone wanting to advertise their goods or services, including:
Advertise your webinars, blogs and seminars
Access to our large and growing community of over 150,000 members via our global newsletter
Full partner profile listing on our website
Logo and strapline listing on our main home page
A quarterly newsletter dedicated to you!
Banner advertisements in a chosen discussion forum
We are offering two levels of interaction with our community, PP SILVER ADVERTISER and PP GOLD ADVERTISER.
Click here to get started!
TRANSFORMING PROJECT DELIVERY - AN UPDATE ON ORACLE'S ACONEX
Aconex is now a part of Oracle Construction and Engineering. Since day one, the mission of Oracle's Aconex has been to transform project delivery by connecting project teams.

Watch this on demand webcast to hear Rob Phillpot, Aconex co-founder and Global VP, Product Strategy with Oracle's Construction & Engineering Global Business Unit, discuss the construction and engineering product vision and how Aconex fits into Oracle's project & asset lifecycle solutions.

WOULD YOU LIKE TO BECOME A GUILD OF PROJECT CONTROLS CORPORATE MEMBER?
This is our effort to help YOU - the employers of our community. Becoming a Corporate Member will allow you to:
Better understand your ENTIRE Project Controls environment in terms of workforce
Assess the competence of all your staff to fully understand their strengths and weaknesses
Use the experience of our huge community in order to run your team much more efficiently
Raise the morale of your staff as they will have much more confidence in their ability
Recruit the best possible personnel
Transform your profits!
All of the above is carried out with YOU in control!
With a Corporate Membership, you will have access to many of our services including Role Descriptors, Self Assessment, Competency Review with possible comparison with other organisations and Compendium Desk Reference and so many more.
Interested? Click here.
GUILD ASSESSMENT CENTRE
Have you tried the Guild of Project Controls' Assessment Centre?

From this tool you will be able to ascertain your strengths and weaknesses against the many years of research that the Guild has ascertained are the Standards required for your role.

Further, for the first time you will know how you stack up in terms of skills in the Project Controls industry whatever your role.

Give it a try here!
PROJECT CONTROLS EVENTS
We will be attending Project Controls events at these locations this year, if anyone wishes to attend or sponsor or speak or simply to come help us please do email james.williams@planningplanet.com and he will put you in touch with the relevant people. We look forward to meeting you throughout the year.

Abuja, Nigeria – Oct 24/25
Almaty, Kazakhstan – Oct 26/27
Moscow, Russia – Oct 31
PC Expo London – Nov 13-14
Melbourne, AU – Nov 28
Kuwait city, Kuwait – Nov 30
Rio, Brazil – December 06
Porto, Portugal – Mar 19

WOULD YOU LIKE TO BECOME A GUILD REGISTERED CONSULTING PARTNER?
This is our effort to help YOU and our community. It is about having a product in your portfolio that any organisation with a Project Controls environment will be interested in. This is a GLOBAL opportunity:
You represent GPC to the client - YOU are our REGISTERED PARTNER
There will have to be screening by us but essentially if you are an established consultancy OR have considerable skills and knowledge CALL US ON THE NUMBERS BELOW
Your client is yours - we recognise this and will protect your relationship if required
We have fixed costs - your margin and you total deliverables are up to you!
The Guild of Project Controls offers a solution - which evaluates a Project Controls environment by Assessing and grading the competency of individuals - a 'stake in the ground' - a report to document the actual competence of my team.
If you are interested in becoming a Guild Registered Consulting Partner, click here.
ARE YOU TAKING FULL ADVANTAGE OF PLANNING PLANET?
See who you know from within our 150,000+ membership pool!

Take a look at the worlds first and only competence based credentials supported by a career path, role descriptors, self-assessment tools and online compendium desk reference of best tested and proven tools and techniques for project controls practitioners.

Join other members who share their thoughts and ideas in the form of blog posts.

100,000+ questions and answers to the topics we struggle with (mostly software!) on a day to day basis.

A knowledge-base that can be contributed to or utilized by anyone with skills and/or interest in planning, scheduling or project controls. No Wiki page or article is owned by its creator or any other editor, and its content relies upon collaboration and teamwork. How can you contribute?

What is needed to come up with a production rate? A duration of time, the manhours involved, and an amount of work produced? Take a look and get involved.

This has been dusty and quiet place for some time now. We have been liaising with recruiters, headhunters and talent managers plus a ream of corporate leaders and very soon we will have the largest live repository of project controls jobs in the world. Check back soon.

Check out our Silver and Gold partners and see if you'd like to be included there also.
ARE YOU INTERESTED IN BECOMING A GUILD ENDORSED TRAINING PROVIDER?
Are you an experienced Practitioner in Project Controls? Or are you already involved in Project Delivery Training or Project Management software sales, support, and installation? Whichever your current situation here is a unique business offer for you!
The Guild of Project Controls (GPC) has released a comprehensive Certification in Project Controls covering ALL levels of Competency AND all areas of Project Controls - either individually in the form of Planning and Scheduling, Cost Management, Forensic Analysis and Project Controls itself.
Our unique offer to you is that this initiative is supported by Planning Planet (PP) the world's largest website catering for practitioners in Project Controls - we are part of the same Organisation. PP members (120,000+globally) invested their time in the Guild, tested and approved our Standards, Certification tests and maintain that the Guild reflects the operation and knowledge required to be proficient in Project Controls itself.
WE WILL UTILISE THE PLANNING PLANET WEBSITE TO PROMOTE YOU WHEREVER YOU ARE SAFE IN THE KNOWLEDGE THAT THERE IS A PP COMMUNITY IN YOUR AREA.
All this and our Guild COMPETENCY assessment tools where our ETP partners can offer potential clients a method whereby skills can be independently assessed and training requirements documented!
We do not seek thousands of Endorsed Training Partners (ETP), we seek a cohesive delivery team for our training. Click here to find out more and become a Guild Endorsed Training Provider!
Thank you for reading our short message.
If you'd like to help the small but enthusiastic team of people helping with this newsletter please do get in touch with us via PPadmin@planningplanet.com We know we have a long way to go to make this informative and an anticipated bi-weekly "read" so do get in touch and get involved.
Regards...
The Planning Planet Team
To unsubscribe please email ppadmin@planningplanet.com please ignore the unsubscribe link below