TILOS

Time-location planning software for managing linear construction projects; infrastructure projects in Road, Rail, Tunnel, Pipeline Industry

www.tilos.org Developed by Linear project GmbH and provides best solutions for the scheduling, monitoring and controlling of road, transmission line, rail, pipeline or tunnel projects in a single Time-Distance-Diagram.
Linear project GmbH delivers since 1999 based on its flag ship application TILOS a project management system based on the Linear Scheduling. This technique uses time distance diagrams also known as time location diagrams, line of balance diagrams, time chainage diagrams, march chart or French diagram.
BEST PRACTICE REPRESENTATION FOR LINEAR PROJECTS
While the rest of the world embarks on implem¬enting 4D or 5D planning solutions to integrate site data and schedules into one application, a time-distance-diagram provides a much easier solution for linear projects.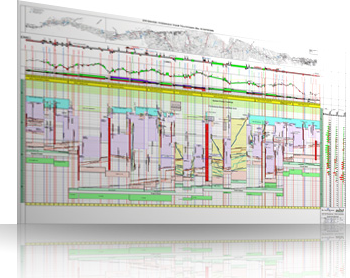 The TILOS 2D approach connects schedule and site information in one single plan, shows the movements of the crews and highlights problems on the first glance. Interactively, the schedule can be optimized and improved by seeing all constraints and issues in one diagram.
The site map highlights the right-of-way (ROW) and provides further data regarding elevation, quantities, soil classification, crossings, building sections or describes complexities, that influence the construction process. Specific planning features for each individual industry make daily tasks a lot easier:
[ Pipeline ]: Different crews work along the right-of-way doing a specialized job in a specific sequence. One has to follow the other. Clashes caused by inaccurate production sequences (overlaps) due to differential production rates and construction issues can be avoided from the outset. (Used on the Alberta Clipper pipeline in Canada, Keystone in the USA and the Nabucco pipeline in Europe).
[ Road building ]: Shows repetitive work at different locations (e.g. bridges or sewers) in combination with linear work for the layers (e.g. pavement work can commence when all sewers have been adjusted to correct height). (Used on E18 50 km Highway project in Norway).
[ Railway ]: Special features for calculating maintenance and support trains provide a high level of automated planning making TILOS ideal for short maintenance projects too. (Used on Gautrain,mass rapid transit railway, South Africa).
[ Tunneling ]: Drilling speed can be calculated based on geotechnical soil classification along the track. The meeting points for 2 crews can be calculated when working from different sites. (Used on Gotthard Base Tunnel project in Switzerland).
[ Overhead Power Lines ]: Special algorithms automatically create micro tasks based on the work plan for a special tower types. (Used on a project in Scotland).
USAGE AS A DISPLAY SYSTEM:
In the past, the sole use of TILOS in most cases was to monitor schedules generated in traditional planning tools like Primavera, MS Project or ASTA Powerproject. TILOS was favored here for its superior graphical strength compared with other time distance applications including excel based solutions.
TILOS has a layer system that allows for the control of the display of specific tasks. Multiple views can be created based on the same project data showing different scenarios, sections or construction phases.
Flexible XML based interfaces enable different sub plans, produced in different applications, to be fed into a single TILOS chart. The integration concept allocates globally unique ID's to each task. Even tasks that are exchanged between different programs are always identified as such and are updated accordingly. The flexible XML concept can be tailor-made without programming for the exchange of data based on the needs of the project.
USAGE AS A PLANNING SYSTEM:
To use the strength of Linear Scheduling the planning has to be performed in TILOS itself, at least the linear part and then be exported to the master planning system such as Oracle' s Primavera.
Each task has a specific quantity value that measures the amount of work. The length of the task influences the quantity. The longer the task is in meters, the longer the duration becomes. When planning repetitive work, a simple copy of one or more tasks to an alternative location with different lengths will result in the automatic recalculation of task duration and resource consumption.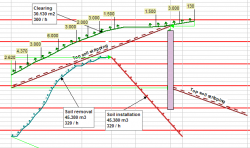 Quantity profiles provide the exact calculation of quantities imported from surveying programs. The line is extended into a curve displaying the exact position of crews in relation to time and neighboring work crews.
Enhanced link types for rescheduling help to identify and reflect site constraints. The distance based lag is a unique TILOS feature that will maintain a distance between the crews not only by time, but also by distance.
This applies to the entire length of the task and does not only control the start or the end. Although extended constraints are employed, a full CPM based schedule is provided, enabling TILOS to communicate with other project management solutions.
The slope (production rate) for tasks working in tandem can also be synchronized. Changing the work rate of the master task will see the other linked tasks follow suit accordingly.
Users can switch on the fly between time distance and Gantt chart views, always displaying the ideal environment for planning. For example, a bridge crossing is shown as a rectangle in a time distance view and is defined as a summary task. This summary activity can be opened in a new window displaying the building of the bridge in Gantt chart format.
In the Gantt chart, where tasks can be grouped freely to display, for example, the work for many sewers on a single bar line. The unique distance based Gantt chart shows, where the sewers are built, which one have already been carried out and which ones have still to be built.
MONITORING: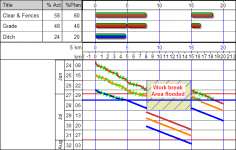 Progress can be recorded independent from TILOS using Excel tables or other applications. Imported into TILOS the as build line of balance is created and can be applied to the remaining schedule calculating the updated schedule.
Out of sequence work, work breaks, move arounds can ideally be documented along the ROW and builds the base for extended schedule analysis with various performance figures such as Earned Value and Schedule Performance Index.
FURTHER INFORMATION: