30 November 2018 Project Controls News

Dear Planning Planet Member,

We hope that you find this adds value to your day and if you'd like 1.5 million views for your content, blog, product or service please check this out...
WHAT IS THE DAVID HULETT RISK MATURITY ASSESSMENT
Designed it in partnership with Dr David Hulett, a leading voice in risk management, with over 25 years' experience in the sector, the FREE assessment will measure your level of risk preparedness across four sectors: scheduling competence, risk awareness, qualitative and quantitative risk analysis.

Upon completion, your results will be analysed by one of our risk professionals, who will contact you with recommendations customer-tailored to your organization. Our risk maturity assessment is completely free-to-use. Click to Access the Assessment Tool & Get Free Report...
WHY WAS / IS CRITICAL PATH MANAGEMENT SO SUCCESSFUL YET WE REVERT TO BAR CHARTS?
| | |
| --- | --- |
| | Why was Jim O'Brien so successful in promoting the concept of critical path management in the 1960s, and yet today many contractors would prefer to revert to bar charts? The bar chart – or Gantt Chart – was invented in 1910 as a vast improvement over prior art of making a to-do list and perhaps reordering roughly in a preferred sequence. A fine article by Fredric L. Plotnick, PhD that describes the mathematics and technology of Critical Path Method and its significance in today's construction management. Read the Article... |
A QUICK PROJECT CONTROLS TRIP TO BANGKOK
A heartfelt thank you to all who attended the Planning Planet and Project Controls Event "kick-off" in Bangkok on 17 Nov 2018, especially those who have travelled so many hours to reach this beautiful city in the heart of Asia. Driven by passion and perusal of excellence these like-minded practitioners gathered from various industries to continue with the vision of the founders of Planning Planet to make a positive difference in our industry.

From Left to Right: Stephan Martin, Juan van Aswegen, Son Dang Thai, Christiaan Grosskopf, Steve Paterson, Olivier Duclos, Flavio Sica, Robert Clark and Suramontri Rottong

During the discussion there was a huge focus on the challenges we face to deliver successful projects, especially considering disputes, which is a common feature of our industry. When a major construction project goes into dispute the impact is far reaching, manifesting itself in cost overruns, late delivery and in some instances, compromising the quality and scope of the project itself. Clearly, the risks involved are significant and are exacerbated in a market where projects are being aggregated into major programs, which themselves contain huge contractual and delivery risks. When a program experiences difficulties, arising disputes very often escalate into multi-billion dollars 'mega' disputes which prove extremely costly for all involved. Based on statistics compiled by Arcadis the main reasons for disputes during the past years are ranged as firstly failure to properly administer contrast, secondly, poorly drafted or incomplete and unsubstantiated claims and thirdly, employers/contractor, subcontractor failing to understand and/or comply with its contractual obligation.

To solve industry problems, specifically in the Asia region, we intend to build on the growing awareness of the Guild Project Controls and extend the knowledge sharing with follow-up sessions. The next session will be announced soon.

Regards from Juan van Aswegen and Christiaan Grosskopf our PP Gathering Facilitators
INVEST IN YOUR DIGITAL FUTURE WITH A.I DATA INTEGRATION
Utilised as a standalone intelligent CPM and CCM system or can bolt on to optimize P6 and other scheduling systems. Results typically are 20% resource loaded schedule improvement over current systems. With a field execution management tool that includes field progressing, timesheets, next gen HSE tools and competency management and "RTOP" - to make better decisions based on their potential impacts. RTOP is a next generation A.I. data integration and analytics platform that allows easy access to data buried within all your systems to become available to analyze live.

It will give you access to insightful, intelligent real time analytics and automated model scenario testing allowing for true decision impact analysis. Checkout the OnTrack Engineering solution...
A QUICK UNDERSTANDING OF PRIMAVERA'S P6 DATA STRUCTURE
Understanding Primavera XER Files leading to a Quick Understanding of Primavera's P6 Data Structure...

Question: How is Data stored in the P6 PMDB Database?

Answer: Primavera P6 stores data in a more then 170 tables, every tables contains fields, and every field stores Records. Read the full explanation...
A MESSAGE FROM THE PLANNING PLANET FOUNDER... CALLING ALL PMPers...
UPDATE: We are now well on the way to building that core of PMP holders so thanks for your support and encouraging words. Thanks for your interesting messages and discussions - james.williams@planningplanet.com

If you have a PMP and a SOLID EXPERIENCE profile contact me to get on the list to claim your Planning & Scheduling Professional Certification (PSPC) and Cost Management Professional Certification (CMPC) from the Guild of Project Controls in regognition of what you learned in your PMP.
EVA24 - THE IDENTITY OF PROJECT CONTROLS
This year EVA will focus strongly on the Identity of Project Controls and focusing on:

The people doing the job
Defining the community
Really understanding what the job is about and proving that you can do it
There are too many 'keyboard jockeys'. Too many people who know what each button does but don't know why!

Contract Steve Wake to Sponsor or Register
HOW DOES YOUR PPM ADOPTION IMPACT PMO PERFORMANCE?
So how do you put that knowledge to work?

Does successful project management drive better data quality, or does management demand for quality data drive better project management?

And what lessons can you take away to help improve your project delivery right now?
CREATING A RISK ASSESSMENT PLAN THAT WORKS
| | |
| --- | --- |
| | Being aware of potential risk, how it can affect your project and what you can do to mitigate and react to it are the considerable benefits of having a risk assessment plan. Prevention is better than cure as the saying goes and being aware of the potential problems for your project can save you a lot of headaches and potential project failure down the road. |
"PROVEN PRACTITIONER" A PLANNING PLANET PRODUCT
Do you seek PROMOTION or do you want to better UNDERSTAND YOUR Stengths and SKILLS (in private) or do you seek that NEW ROLE?

Proven Practitioner provides ALL THE TOOLS YOU NEED

Go to Premium and sign up!
PrimaveraReaderTM has grown into ScheduleReaderTM

A new charter lies ahead for the SchedulerReaderTM team.
The recent rebranding announcement of their viewer for XER and XML project schedules also announces the release of new software project utility solutions in near future.
PROJECT SCHEDULING BEST PRACTICE: 12 CRITICAL SUCCESS FACTORS
| | |
| --- | --- |
| | Schedules should be built according to acknowledged best practices, such as the US Government Accountability Office's Schedule Assessment Guide and the DCMA 14 Point Assessment. And health checks are another powerful tool in a project manager's arsenal, used worldwide by many businesses and governments to assess the credibility of the project schedule. |
THE IMPORTANCE OF PROJECT TOOLS
| | |
| --- | --- |
| | With the growing use of technology in all facets of modern life, it's no surprise that a huge range of project management tools have been developed which assist PMs in just about every aspect of their day-to-day work. The importance of project management tools is apparent for any project manager seeking to ensure project success. Here are just some of the benefits that they can bring to your work. Read the Blog... |
CASE STUDY: INCREASED VISIBILITY & EFFICIENCY AT BARRICK GOLD
Our case study explores how Barrick Gold Corporation, the world's top producer in the gold mining industry, is utilizing ARES PRISM enterprise project controls software to increase efficiency, provide effective reporting and data analysis, and provide visibility for stakeholders.

How Barrick is using PRISM is truly a story of integration and digitalization. Through ARES PRISM, Barrick integrates all of their project data in one place; it's their centralized source for project controls, authorization of expenditures, documentation and financial data. Read the Case Study...
THE DIGITAL TRANSFORMATION OF PROGRESS MEASUREMENT
| | |
| --- | --- |
| | The fundamental question that must be answered is this: Where are we today? Deceiving in its simplicity, this question often proves difficult to answer accurately. This webinar discusses trends and technology that are improving progress measurement, a vital input for determining project productivity and forecasts. Take a look... |
WHAT KIND OF A PLAN IS A PROJECT CONTROLS PLAN?
Have you ever been assigned to a project, where each member of a team had the same perspective of how Project Controls should be conducted in the project?

Have you ever experienced working in a project where there was a well-established Project Controls execution strategy in place?

Your answer is probably "No," isn't it? Read the blog...
COMPETENCY MEASUREMENT REPORTS FOR YOU, YOUR TEAM or YOUR COMPANY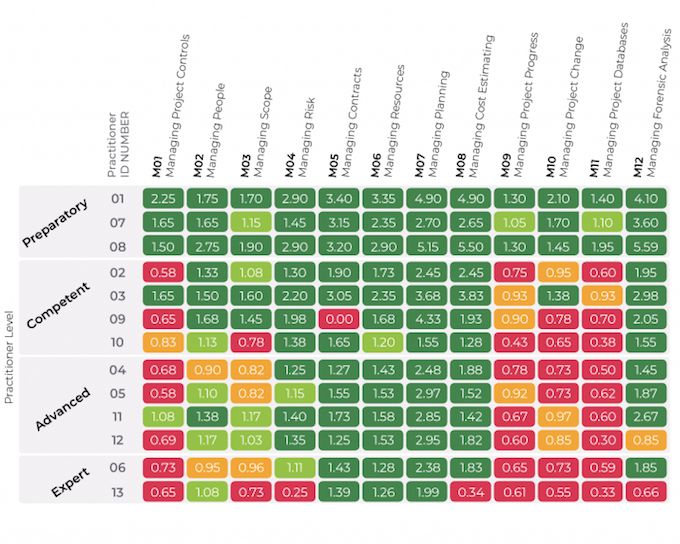 We are now offering CONFIDENTIAL Project Controls Competency Measurements for our members! From this report, you will receive a summary, similar to the one presented above, showing your teams, company's or projects "Competency Performance Index" across the full Project Controls capability arena. If you are interested in transforming Project Controls capability and team measurement, and would like to find out more, click here.
UPCOMING MEETINGS AND EVENTS
Our Project Controls Gatherings are a great opportunity for our members to discuss industry issues, share ideas and form new connections. Here is a list of our upcoming gatherings...

These meetings may just form the beginning of lasting professional relationships. Don't miss out! Follow the links above to sign up.

What should I do if I can't see a meeting near me?

If you don't see an event near you listed above, why not create your own? Just email james.williams@planningplanet.com to get started.

To make sure these events can be as successful as possible, please forward this to your friends and colleagues so they can also get involved.
CONSTRUCTION CPM CONFERENCE RETURNS IN 2019
San Diego, California - January 20 – 23, 2019

For 2019 the Construction CPM Conference returns to San Diego

We have booked six meeting rooms over three full days.

Two keynotes – Seventy-Seven breakouts – Five networking events – One conference

Our Best Rates for Speakers & Exhibitors is open to all – REGISTER NOW
PROJECT CONTROLS ROLE EXPECTATIONS

Have you taken a look at the Guild of Project Controls' Role Descriptors yet? - This is the perfect tool for those who want to find out the baseline knowledge required for their role and level of seniority - think of it as a job descriptor for all roles and levels of competence. Give it a try here, find out more here.
PROJECT CONTROLS TOOLBOX
Contact PPAdmin@planningplanet.com if you would like to learn about getting our Project Controls Toolbox for...

YOUrself,
your TEAM,
your PROJECT, or
your COMPANY
RATES, NORMS & DURATIONS
What is needed to come up with a production rate?

A duration of time, the manhours involved, and an amount of work produced this section of Planning Planet is here to document this.

What information do you have that you can share?
ALTERNATIVE TO PRIMAVERA AND ASTA?
| | |
| --- | --- |
| | A superior alternative to the "most popular" software for us as planners? Today it is used in 34 countries though most Spider Project customers are in Russia. Spider Project offers numerous unique functional features and is the only PM software that optimizes resource, cost, and material constrained schedules and budgets for projects and portfolios. |
THE NEW YEAR'S JOB RESOLUTION NO ONE GETS RIGHT
It's year-end and you're taking a hard look at your career. You're bored in your job. You hate your boss. Your co-workers are useless. And you don't see any light at the end of this tunnel.

This is it! You're finally going to go for that new job. In fact, you make it your #1 resolution. To get a jumpstart, you do a quick update to your resume and fire it off to a dozen or so online job postings. And you didn't even have to get off the sofa. Read the blog...
PLANNING PLANET PREMIUM is the title we are giving a number of member only products we are developing to help you - our community of Project Controls Practitioners.

For £7.50 a month subscribers have access to online self-assessments where they can measure and visualise their skill levels. If subscribers wish to improve and fill knowledge gaps this subscription supplies tools that will help them improve and re-assess whenever they want to prove the improvement they have made.

The subscription supplies a certificate proving you KNOW the tools and one proving you can APPLY the tools.

Get involved here!
JACOBS JOBS
Opportunities await you. Jacobs has recently won a major contract, known as the Programme Delivery Partner (PDP) – for the provision of project management, project controls and integrated logistics support - with the Ministry of Defence's (MOD's) Defence Equipment and Support (DE&S) Agency, based in Bristol. DE&S is seeking our support at their offices across the UK and we are, therefore, keen to identify people who are interested in working for Jacobs, and being involved in PDP, across the UK.
Join our team and say "Hello" to a whole new future.
QUICK TIP: HOW TO TRACE DRIVING LOGIC IN MICROSOFT PROJECT
After years of using Primavera P6 then recently started using Microsoft Project, I wanted to know how to trace the driving predecessor relationship logic between activities.

In Primavera P6 you can easily trace an activity's driving predecessor relationship logic by clicking the GoTo button of the Relationship tab of the Details form for the predecessor with the tick in, but in MSP? Here's how, read the blog...
ARE YOU FOLLOWING US ON SOCIAL MEDIA?
Let's get social!

Build your network and keep up to date by following us on social media, just click the icons to get started.
THE GUILD OF PROJECT CONTROLS COMPENDIUM AND REFERENCE
The Compendium and Reference (CaR) is a document which forms The Guild Standards.

We have where possible offered advice as to previously written material which is in the public domain and proven to be of such quality that it can be used as a reliable reference of "best tested and proven practice".

The CaR is a living document being continually improved, supplemented and updated by the Guild community to reflect improvements to practices, opinions and methods in our chosen profession. The Guild is ready to receive suggestions at any time for updates to the CaR Standards.

Take a look here.

WOULD YOU LIKE TO ADVERTISE ON PLANNING PLANET?
We want to give more of our members the opportunity to advertise on our site. There are many reasons why this would be beneficial to anyone wanting to advertise their goods or services. We are offering two levels of interaction with our community, PP SILVER ADVERTISER and PP GOLD ADVERTISER.
Click here to get started!

WOULD YOU LIKE TO BECOME A GUILD OF PROJECT CONTROLS CORPORATE MEMBER?
This is our effort to help YOU - the employers of our community. With a Corporate Membership, you will have access to many of our services including Role Descriptors, Self Assessment, Competency Review with possible comparison with other organisations and Compendium Desk Reference and so many more.
Interested? Click here.
SKILL ASSESSMENT CENTRE
Have you tried the Guild of Project Controls' Assessment Centre?

From this tool you will be able to ascertain your strengths and weaknesses against the many years of research that the Guild has ascertained are the Standards required for your role.

Further, for the first time you will know how you stack up in terms of skills in the Project Controls industry whatever your role.

Give it a try here!
PROJECT CONTROLS EVENTS
We will be attending Project Controls events at these locations this year, if anyone wishes to attend or sponsor or speak or simply to come help us please do email james.williams@planningplanet.com and he will put you in touch with the relevant people. We look forward to meeting you throughout the year.

Rio, Brazil – Dec 06
Porto, Portugal – Mar 19
MONEY FOR SENIOR AND INTERMEDIATE PLANNING ENGINEERS and MANAGERS
4 Planning Engineers and 3 Contractual / Commercial Consultants - woohey...

Here are some opportunities to be considered. If either of these take your fancy then email David for a chat.

Planning Engineers x 4 - Senior and Intermediate Planning Engineers, can be Freelance or Permanent. Based in the Midlands with International travel or permanently based in the Middle East on offering full benefits and 8 & 2 rotaion.
Contractual / Commercial Quantum Consultants x 3 Managers to work on various Construction international major projects. You must have experience in the preparation of Quantum reports & various forms of contract.

We have full details to discuss with you, LETS TALK if you want to develop your career or your ready to assist a leading consultancy and their clients either from the UK with travel or permanently in the Middle East.

Email David Logie...
ARE YOU TAKING FULL ADVANTAGE OF PLANNING PLANET?
See who you know from within our 150,000+ membership pool!

Take a look at the worlds first and only competence based credentials supported by a career path, role descriptors, self-assessment tools and online compendium desk reference of best tested and proven tools and techniques for project controls practitioners.

Join other members who share their thoughts and ideas in the form of blog posts.

100,000+ questions and answers to the topics we struggle with (mostly software!) on a day to day basis.

A knowledge-base that can be contributed to or utilized by anyone with skills and/or interest in planning, scheduling or project controls. No Wiki page or article is owned by its creator or any other editor, and its content relies upon collaboration and teamwork. How can you contribute?

What is needed to come up with a production rate? A duration of time, the manhours involved, and an amount of work produced? Take a look and get involved.

This has been dusty and quiet place for some time now. We have been liaising with recruiters, headhunters and talent managers plus a ream of corporate leaders and very soon we will have the largest live repository of project controls jobs in the world. Check back soon.

Check out our Silver and Gold partners and see if you'd like to be included there also.
ARE YOU INTERESTED IN BECOMING A GUILD ENDORSED TRAINING PROVIDER?
Are you an experienced Practitioner in Project Controls? Or are you already involved in Project Delivery Training or Project Management software sales, support, and installation? We seek a cohesive delivery team for our training - email us at admin@guildofprojectcontrols.com to find out more.
If you got this far please email us to tell us - we will include your profile in the next newsletter as our "Validated Super-Readers" :)

The quickest two members to come back to us were:

< get your name here >
< get your name here >
Thank you for reading our short message.
If you'd like to help the small but enthusiastic team of people helping with this newsletter please do get in touch with us via PPadmin@planningplanet.com We know we have a long way to go to make this informative and an anticipated bi-weekly "read" so do get in touch and get involved.
Regards... The Planning Planet Team
To unsubscribe please email ppadmin@planningplanet.com please ignore the unsubscribe link below