19 October 2018 Newsletter

Dear Planning Planet Member,

Please find below this weeks newsletter. We hope that you find it adds value to your day. Please visit our sponsors as they keep our servers running and without them, we will cease to exist...
A MESSAGE FROM THE PLANNING PLANET FOUNDER... CALLING ALL PMPers...
Just a short note to thank you all for your messages and questions about the PMP mapping to the Guild of Project Controls Certifications.

We are now well on the way to building that core of PMP holders so thanks for your support and encouraging words.

Regards... james.williams@planningplanet.com

If you have a PMP and a SOLID EXPERIENCE profile contact me to get on the list to claim your Planning & Scheduling Professional Certification (PSPC) AND Cost Management Professional Certification (CMPC) in regognition of what you learned in your PMP.
HOW TO PERFORM COLLAPSED AS BUILT IN PRIMAVERA P6
| | |
| --- | --- |
| | An Collapsed As-Built / As-Built But-For Schedule Delay Analysis is a retrospective CPM schedule delay analysis technique that determines the earliest date that the required project completion activity, or various milestone activities could have been achieved but-for the owner-caused delays that occurred during the project. Read more... |
UK SYNERGY CONFERENCE 2018

We are supporting the UK Synergy 2018 Conference and wanted to tell our UK members about it. We hope this adds value; it is called Scope & Benefits or Bust!
Where: Your Friends House 173-177 Euston Road London NW1 2BJ, Opposite Euston Station
When: Thursday 1 November 2018 And related workshops Wednesday 31 October 2018
Check out the Conference... Check out the Workshops...
"PROVEN PRACTITIONER" A PLANNING PLANET PRODUCT
Are YOU a Project Controls Practitioner - are YOU ambitious?

Do you seek PROMOTION or do you want to better UNDERSTAND YOUR Stengths and SKILLS (in private) or do you seek that NEW ROLE?

Proven Practitioner provides ALL THE TOOLS YOU NEED

Go to Premium and sign up!

Have the first month free NOW at this low INTRODUCTORY PRICE!
PRIMAVERAREADER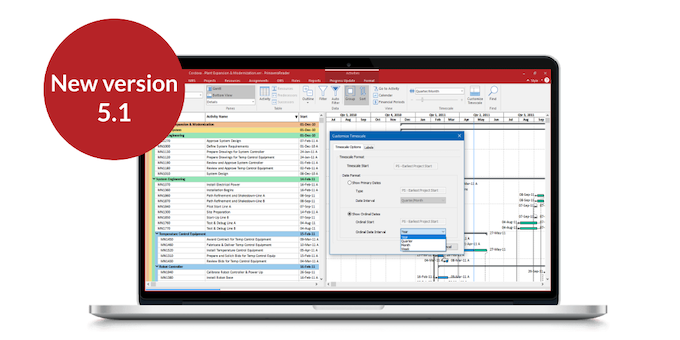 The new PrimaveraReader™ version 5.1 has arrived.
Featuring:
New customization improvements for better viewing the P6 schedule activities,
Upgrades to the Progress Update (Report back) feature
Support for the Japanese and Italian language.
A GUIDE TO PRIMAVERA P6 GLOBAL & PROJECT DATA
The concept of global and project data... it's a bit too much for some, and why should you even care? You seem to be able to use Primavera P6 just fine without any knowledge of Global or Project Data.

You can, but you can also get into trouble once you start moving data around, especially back and forth between databases.
CLEOPATRA ROADSHOW NORTH AMERICA and AUSTRALIA
Drive Project Success with Disruptive Innovation

In the era of digital disruption, delivering project success requires putting in place the right project cost management tool with intensive integration capabilities.

'Digital technologies, when applied comprehensively and efficiently, can reduce overall project costs by as much as 45 percent.' as a recent McKinsey analysis suggests.

However, 64 percent of technical projects still face cost overruns. Despite many challenges, companies applying integrated project controls complete their projects within time and budget and drive project success.Cleopatra Enterprise LLC will meet with various companies through the USA & Canada and Australia, showcase our state-of-the-art software Cleopatra, and discuss:

How to drive project success in today's challenging environment
The value of using a project controls software that integrates the disciplines cost estimating, scheduling, cost management and benchmarking
Best practices in project controls, which bring continuous improvement with Cleopatra Enterprise

USA & Canada

Date: 29 October - 9 November 2018
Location: Houston, Calgary, and Edmonton - Schedule a meeting in the USA & Canada

Australia

Date: 19 – 23 November 2018
Location: Melbourne, Sydney, and Perth - Schedule a meeting in Australia
LEAN AND CRITICAL PATH SCHEDULING: BRIDGING THE GREAT DIVIDE FOR EXCEPTIONAL OUTCOMES
Adoption of Lean or CPM leaves important opportunities for improving performance on the table
Successfully harnessing the power of both approaches drives significant competitive and operational advantage
Oracle Lean Scheduling is the first and only solution that unites Lean and CPM to deliver complete coordination and project command

Read the White Paper...
FREE EBOOK: HOW MODERN PROJECT CONTROLS CHALLENGES THE STATUS QUO
This eBook makes the case for why a modern approach to project controls is critical and explores five key questions to keep in mind as you evaluate project control systems.

Complexity is growing across all areas of construction — aligning field and office, depending on external teams, interpreting vast amounts of data, and making rapid decisions — all require innovation, to be successful. The legacy systems and spreadsheets used throughout the years to manage projects will not allow businesses to grow and adapt quickly in today's market.
HOW TO USE AN IPAD AS A SECOND MONITOR
This article recieved so much feedback we wanted to include it again.

As a planner, we usually need a second monitor to be more productive. If you have an iPad, you can easily make it a second monitor.

Follow the simple steps in this link and begin to increase your productivity.
COMPETENCY MEASUREMENT REPORTS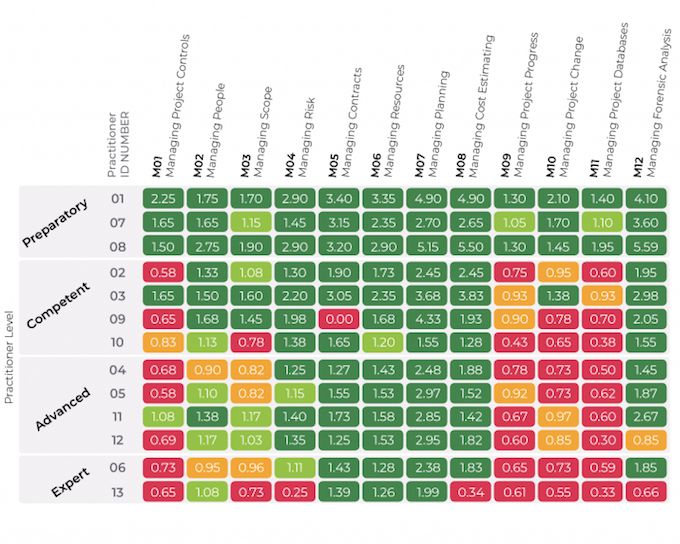 We are now offering Project Controls Competency Measurements for our members!

From this report, you will receive a summary, similar to the one presented above, showing your teams, company's or projects "Competency Performance Index" across the full Project Controls capability arena. If you are interested in transforming Project Controls capability and team measurement, and would like to find out more, click here.
PROJECT WORKFLOWS AND HOW THEY CAN HELP YOUR PROJECT
| | |
| --- | --- |
| | Depending on the field you are in, there can be many different types of workflows which will be more or less applicable in various situations. At the end of the day however, they all boil down to basically the same thing, workflows are processes of sequential steps or events which see tasks completed and responsibility transmitted forward to the next stage of the project. Read more... |
FORUM DISCUSSION - "PREFERRED PROGRESS MEASUREMENT TECHNIQUE"
Planning Planet Forum Topic:

Here is an interesting discussion around the Preferred Progress Measurement Technique in P6; pros and cons of physical vs duration etc.

Would it make sense to build resources loaded schedule (labor non labor) if the duration is 15 months. Which method would be preferred over another if you have resources loaded in the schedule., get involved.
UPCOMING MEETINGS AND EVENTS
Our Project Controls Gatherings are a great opportunity for our members to discuss industry issues, share ideas and form new connections. Here is a list of our upcoming gatherings...

These meetings may just form the beginning of lasting professional relationships. Don't miss out! Follow the links above to sign up.

What should I do if I can't see a meeting near me?

If you don't see an event near you listed above, why not create your own? Just email james.williams@planningplanet.com to get started.

To make sure these events can be as successful as possible, please forward this to your friends and colleagues so they can also get involved.
REINVENTING THE WHEEL WITH SPREADSHEETS
| | |
| --- | --- |
| | For a long time, too long in fact, spreadsheets have been the primary tool that organizations use for budgeting, planning and forecasting. It has become ingrained in the DNA of how organizations function, the foundation of everyday reporting and transmission of vital information. Some teams exchange hundreds of spreadsheets every day, this is despite the fact that nearly 90% of spreadsheets have errors. Read more... |
CONSTRUCTION CPM CONFERENCE RETURNS IN 2019
San Diego, California - JANUARY 20 – 23, 2019

For 2019 the Construction CPM Conference returns to San Diego

We have booked six meeting rooms over three full days.

Two keynotes – Seventy-Seven breakouts – Five networking events – One conference

Early Early Bird Rate Ends 15JUL18. Our Best Rates for Speakers & Exhibitors is open to all – REGISTER NOW
PROJECT CONTROLS ROLE EXPECTATIONS

Have you taken a look at the Guild of Project Controls' Role Descriptors yet?
This is the perfect tool for those who want to find out the baseline knowledge required for their role and level of seniority - think of it as a job descriptor for all roles and levels of competence. Give it a try here, find out more here.
PROJECT CONTROLS TOOLBOX
Contact PPAdmin@planningplanet.com if you would like to learn about getting our Project Controls Toolbox for...

yourself,
your team,
your project, or
your company
FORUM TOPIC: EARNING PROGRESS CREDIT FOR DELIVERABLE
I am working in Oil and Gas Sector on the Main Contractor Side. The senario here is we have a Contract with Cleint which says the Client Review period is 5 Calendar Days after Issue of Deliverable.

If the Client didnt respond back in 5 days I take the Deliverbale to be approved and take the full credit. So is it Ok to take the credit after the review period if the Client has not responded or should I wait till the Client responds to take the credit. Some times the Client takes 1 Month to respond. What is your view on this? Answer on the forum here...
RATES, NORMS & DURATIONS
What is needed to come up with a production rate?

A duration of time, the manhours involved, and an amount of work produced

This section of Planning Planet is here to document this.

What information do you have that you can share?
ALTERNATIVE TO PRIMAVERA AND ASTA?
A superior alternative to the "most popular" software for us as planners?

Spider Project (SP) is a functional and powerful professional project management software.

Today it is used in 34 countries though most Spider Project customers are in Russia. Spider Project offers numerous unique functional features and is the only PM software that optimizes resource, cost, and material constrained schedules and budgets for projects and portfolios. Check it out here...
PLANNING PLANET PREMIUM is the title we are giving a number of member only products we are developing to help you - our community of Project Controls Practitioners.

For £7.50 a month subscribers have access to online self-assessments where they can measure and visualise their skill levels. If subscribers wish to improve and fill knowledge gaps this subscription supplies tools that will help them improve and re-assess whenever they want to prove the improvement they have made.

The subscription supplies a certificate proving you KNOW the tools and one proving you can APPLY the tools.

Get involved here!
JACOBS JOBS

Opportunities await you. We are working on some of the most exciting, iconic projects around the world.
Jacobs has recently won a major contract, known as the Programme Delivery Partner (PDP) – for the provision of project management, project controls and integrated logistics support - with the Ministry of Defence's (MOD's) Defence Equipment and Support (DE&S) Agency, based in Bristol. DE&S is seeking our support at their offices across the UK and we are, therefore, keen to identify people who are interested in working for Jacobs, and being involved in PDP, across the UK.
We invite YOU to bring your best self to work with us and progress your career on either this exciting new project or one of the other exciting projects and programmes Jacobs is supporting across the UK. Join our team and say "Hello" to a whole new future.
ARE YOU FOLLOWING US ON SOCIAL MEDIA?
Let's get social!

Build your network and keep up to date by following us on social media, just click the icons to get started.
THE GUILD OF PROJECT CONTROLS COMPENDIUM AND REFERENCE
The Compendium and Reference (CaR) is a document which forms The Guild Standards.

We have where possible offered advice as to previously written material which is in the public domain and proven to be of such quality that it can be used as a reliable reference of "best tested and proven practice".

The CaR is a living document being continually improved, supplemented and updated by the Guild community to reflect improvements to practices, opinions and methods in our chosen profession. The Guild is ready to receive suggestions at any time for updates to the CaR Standards.

Take a look here.

WOULD YOU LIKE TO ADVERTISE ON PLANNING PLANET?
We want to give more of our members the opportunity to advertise on our site. There are many reasons why this would be beneficial to anyone wanting to advertise their goods or services. We are offering two levels of interaction with our community, PP SILVER ADVERTISER and PP GOLD ADVERTISER.
Click here to get started!

WOULD YOU LIKE TO BECOME A GUILD OF PROJECT CONTROLS CORPORATE MEMBER?
This is our effort to help YOU - the employers of our community. Becoming a Corporate Member will allow you to:
Better understand your ENTIRE Project Controls environment in terms of workforce
Assess the competence of all your staff to fully understand their strengths and weaknesses
Use the experience of our huge community in order to run your team much more efficiently
Raise the morale of your staff as they will have much more confidence in their ability
Recruit the best possible personnel
Transform your profits!
All of the above is carried out with YOU in control!
With a Corporate Membership, you will have access to many of our services including Role Descriptors, Self Assessment, Competency Review with possible comparison with other organisations and Compendium Desk Reference and so many more.
Interested? Click here.
GUILD ASSESSMENT CENTRE
Have you tried the Guild of Project Controls' Assessment Centre?

From this tool you will be able to ascertain your strengths and weaknesses against the many years of research that the Guild has ascertained are the Standards required for your role.

Further, for the first time you will know how you stack up in terms of skills in the Project Controls industry whatever your role.

Give it a try here!
PROJECT CONTROLS EVENTS
We will be attending Project Controls events at these locations this year, if anyone wishes to attend or sponsor or speak or simply to come help us please do email james.williams@planningplanet.com and he will put you in touch with the relevant people. We look forward to meeting you throughout the year.

Abuja, Nigeria – Oct 24/25
Almaty, Kazakhstan – Oct 26/27
Moscow, Russia – Oct 31
PC Expo London – Nov 13-14
Melbourne, AU – Nov 28
Kuwait city, Kuwait – Nov 30
Rio, Brazil – December 06
Porto, Portugal – Mar 19

WOULD YOU LIKE TO BECOME A GUILD REGISTERED CONSULTING PARTNER?
This is our effort to help YOU and our community. It is about having a product in your portfolio that any organisation with a Project Controls environment will be interested in. This is a GLOBAL opportunity:
You represent GPC to the client - YOU are our REGISTERED PARTNER
There will have to be screening by us but essentially if you are an established consultancy OR have considerable skills and knowledge CALL US ON THE NUMBERS BELOW
Your client is yours - we recognise this and will protect your relationship if required
We have fixed costs - your margin and you total deliverables are up to you!
The Guild of Project Controls offers a solution - which evaluates a Project Controls environment by Assessing and grading the competency of individuals - a 'stake in the ground' - a report to document the actual competence of my team.
If you are interested in becoming a Guild Registered Consulting Partner, click here.
ARE YOU TAKING FULL ADVANTAGE OF PLANNING PLANET?
See who you know from within our 150,000+ membership pool!

Take a look at the worlds first and only competence based credentials supported by a career path, role descriptors, self-assessment tools and online compendium desk reference of best tested and proven tools and techniques for project controls practitioners.

Join other members who share their thoughts and ideas in the form of blog posts.

100,000+ questions and answers to the topics we struggle with (mostly software!) on a day to day basis.

A knowledge-base that can be contributed to or utilized by anyone with skills and/or interest in planning, scheduling or project controls. No Wiki page or article is owned by its creator or any other editor, and its content relies upon collaboration and teamwork. How can you contribute?

What is needed to come up with a production rate? A duration of time, the manhours involved, and an amount of work produced? Take a look and get involved.

This has been dusty and quiet place for some time now. We have been liaising with recruiters, headhunters and talent managers plus a ream of corporate leaders and very soon we will have the largest live repository of project controls jobs in the world. Check back soon.

Check out our Silver and Gold partners and see if you'd like to be included there also.
ARE YOU INTERESTED IN BECOMING A GUILD ENDORSED TRAINING PROVIDER?
Are you an experienced Practitioner in Project Controls? Or are you already involved in Project Delivery Training or Project Management software sales, support, and installation? We seek a cohesive delivery team for our training - email us at admin@guildofprojectcontrols.com to find out more.
| | |
| --- | --- |
| | If you got this far please email us to tell us - we will include your profile in the next newsletter as our "Validated Super-Readers" :) |
Thank you for reading our short message.
If you'd like to help the small but enthusiastic team of people helping with this newsletter please do get in touch with us via PPadmin@planningplanet.com We know we have a long way to go to make this informative and an anticipated bi-weekly "read" so do get in touch and get involved.
Regards...
The Planning Planet Team
To unsubscribe please email ppadmin@planningplanet.com please ignore the unsubscribe link below