24 August 2018 Newsletter
Dear Planning Planet Member,

Please find below this weeks newsletter. We hope that you find it adds value to your day. Please visit our sponsors as they keep our servers running and without them, we will cease to exist...
COMPETENCY MEASUREMENT REPORTS
We are now offering Project Controls Competency Measurements for our members!
From this report, you will recieve a summary, similar to the one presented above, showing your teams, companys or projects "Competency Performance Index" across the full Project Controls capability arena. This gives management a valuable and confidential insight to aid their internal career path development.
If you would like to find out more, click here.
UPCOMING MEETINGS AND EVENTS
Our Project Controls Gatherings are a great opportunity for our members to discuss industry issues, share ideas and form new connections.

Here is a list of our upcoming gatherings...

These meetings may just form the beginning of lasting professional relationships. Don't miss out! Follow the links above to sign up.

What should I do if I can't see a meeting near me?

If you don't see an event near you listed above, why not create your own? Just email james.williams@planningplanet.com to get started.

To make sure these events can be as successful as possible, please forward this to your friends and colleagues so they can also get involved.
CERTIFICATIONS IN PLANNING/SCHEDULING
Have you ever considered attaining a professional certification in Planning/Scheduling?

Look at this blog post to learn various internationally recognized certifications you can acquire in planning/scheduling and the eligibility requirements for each certification.
QUICK TIP: SHADING NON-WORK TIME ON THE GANTT CHART IN ORACLE PRIMAVERA
What makes the Gantt Chart so essential is that it simplifies something that is complex. It gives us a snapshot and a trend that our brain can digest rather than just text and numbers. Getting the Gantt Chart to look the way you need it is a really key skill for Primavera users.

This article explains how to shade non-work time on the Activity Gantt Chart in Primavera P6, to show clearly what days are workable and which are non-working.
THE GUILD OF PROJECT CONTROLS' ROLE DESCRIPTORS

Have you taken a look at the Guild of Project Controls' Role Descriptors yet?
This is the perfect tool for those who want to find out the baseline knowledge required for their role and level of seniority - think of it as a job descriptor for all roles and levels of competence.
If you are a Guild Member, do give it a try here, or if you would like to find out more about becoming a member of the Guild, click here.
10% OFF ANNUAL SUBSCRIPTION TO TURBOCHART FOR PP MEMBERS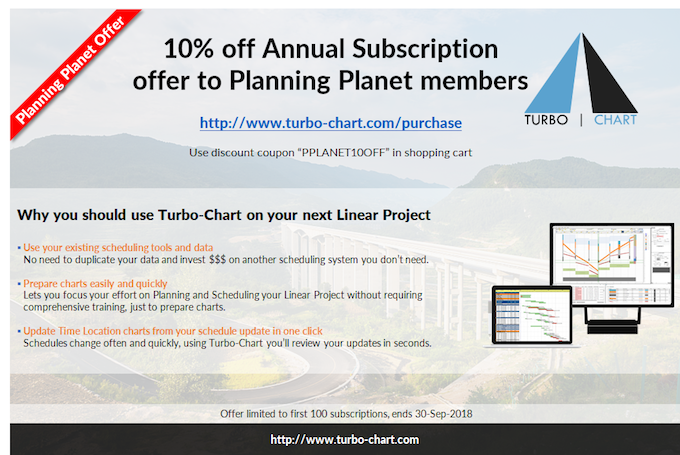 THROWBACK TO OUR PP PROJECT CONTROLS GATHERING IN PORTLAND, OREGON!
The first meeting of the Portland Oregon (USA) Planning Planet Project Controls "networking and social" group successfully took place on Saturday the 18th at a local pub in nearby Vancouver Washington. It was a small but enjoyable group of likeminded Project Controls professionals who participated in lively conversations centered around project controls, work history, and favorite beverages.

While it has yet to be formally scheduled, the next meeting will most likely involve strolling through a local evening street fair in the Pearl District of downtown Portland.

Started in 1986, First Thursday in the Pearl is a district-wide celebration that occurs on the first Thursday of each and every month. Originally a gathering of art collectors and dealers, the celebration has grown to a monthly event of over ten thousand people that includes art enthusiasts, wine aficionados, and scenesters looking to see and be seen. When you combine a rich and thriving art scene with some of the best happy hour menus found in Portland, you get an event that has quickly become the place to be in Portland each month!

Thank you David Doughty for sharing your experience! If you would like to share your PP Project Controls Gathering experience with us, or share any photos, please email them to James at james.williams@planningplanet.com.

Remember to keep an eye out on our events page for an event near you, or alternatively email James to set one up of your own!
HOW TO SHOW WHAT'S DRIVING YOUR SCHEDULE MILESTONES
Can you help with this query on our forum? You have a milestone in your schedule and you want it to reflect the earliest of it's predecessors rather than its last. Any idea how i can do this with Primavera 6?

Take a look here.

For £7.50 a month subscribers have access to online self-assessments where they can measure and visualise their skill levels.
If subscribers wish to improve and fill knowledge gaps this subscription supplies tools that will help them improve and re-assess whenever they want to prove the improvement they have made.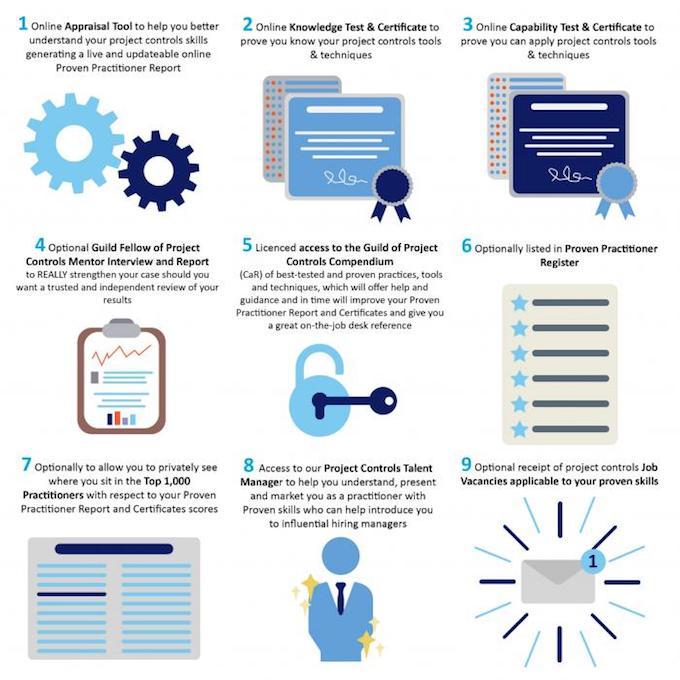 The subscription supplies a certificate proving you KNOW the tools and one proving you can APPLY the tools.
Get involved and check it out here here!
ENHANCE YOUR DECISION-MAKING PROCESS WITH PRIMAVERA READER PRO
By better visualising and presenting summaries of complex project information you can bring more informed decisions, manage project more efficiently and ensure their on time and on budget project completion. You can now accomplish all off this with PrimaveraReader PRO version's dynamic Graphical Reports that create rich visual data presentation with just one click of a button.

Watch the webinar recording to get acquainted with the new PrimaveraReader PRO.
TIPS FOR PLANNING FOR LONG-TERM PROJECTS
When it comes to long term project planning and management, several challenges and difficulties can arise which require a total rethink of the project's future or scope, all the way up to having to abandon it or adopt a whole new working approach. Loss of focus, the slowing of progress, a lack of immediate results, poor diligence and losses in productivity are only a few of the perils that can strike long-term projects. To avoid these, a good PM needs to be able to prepare for almost every eventuality successfully.

Although many will advocate that, "it's the journey that matters most, not the destination", in project management there is a need to achieve both: a productive journey and a successful arrival at the planned destination.

As difficult as it may seem, there are always a few useful tips that, when put in practice, can shed greater light upon your path and assist in planning for long term projects, delivering them on time and, most importantly, successfully.

Here are some ideas that can help.
ARE YOU FOLLOWING US ON SOCIAL MEDIA?
Let's get social!

We'd love to connect with you on our social media platforms. Not only can you easily get in touch with us on our LinkedIn, Facebook, Twitter, and Instagram, we also share a lot of useful information including event alerts, news, job opportunities and interesting blog posts. Following us will also help to get you connected with others in the industry!

Build your network and keep up to date by following us on social media, just click the icons to get started.
THE WHAT, WHY & HOW OF PROJECT MILESTONE PLANNING
| | |
| --- | --- |
| | Managing project milestones is one of the most important elements of project management success. Unfortunately, it's also among the most confusing and misunderstood. This is because milestones aren't just simple "sign posts" along the project life cycle. They're pivotal checkpoints that trigger evaluations, updates, reports, payments and other key events and decisions. Download our complimentary "The What, Why & How of Project Milestone Planning". Click here. |
THE GUILD OF PROJECT CONTROLS COMPENDIUM AND REFERENCE
The Compendium and Reference (CaR) is a document which forms The Guild Standards. We have where possible offered advice as to previously written material which is in the public domain and proven to be of such quality that it can be used as a reliable reference of "best tested and proven practice".

The CaR forms the knowledge domains and reference for all Guild Certifications and is a living document being continually improved, supplemented and updated by the Guild community to reflect improvements to practices, opinions and methods in our chosen profession.

The Guild is ready to receive suggestions at any time for updates to the CaR Standards.

Take a look at the Compendium & Reference here.
EFFECT OF ORGANIZATIONAL UNWRITTEN RULES ON PMO SUCCESS
Every organization has both a formal structure, shown by the organization chart, and in informal structure that forms the culture of how the organization works. This informal structure, the culture, is created by the unwritten rules of the organization, and it can have a significant impact on the success or failure of any internal project.

Read more here.

WOULD YOU LIKE TO ADVERTISE ON PLANNING PLANET?
We want to give more of our members the opportunity to advertise on our site. There are many reasons why this would be beneficial to anyone wanting to advertise their goods or services, including:
Advertise your webinars, blogs and seminars
Access to our large and growing community of over 150,000 members via our global newsletter
Full partner profile listing on our website
Logo and strapline listing on our main home page
A quarterly newsletter dedicated to you!
Banner advertisements in a chosen discussion forum
We are offering two levels of interaction with our community, PP SILVER ADVERTISER and PP GOLD ADVERTISER.
Click here to get started!
HOW TO SOLVE PROBLEMS MID-PROJECT
One moment it's all coming in on-time and everything nicely to budget, then crash, it all hits the proverbial fan. Disagreements break out, deadlines get missed and stakeholders are far from pleased. Knowing how to solve problems can be difficult enough in itself, so having to do so while making sure the project stays on track can be even tougher. To help you get an idea of what kind of problems can arise mid-project and how they can be dealt with, we've decided to take a closer look at some common issues.

Read more here.
EXPORTING ACTIVITIES, INCLUDING THEIR WBS DATA FROM PRIMAVERA TO EXCEL
Primavera Import and Export...

After exporting activity table data from Primavera P6 into Microsoft Excel it's very hard to tell which activity belongs to which Work Breakdown Structure element. This is one way of fixing this tricky issue.

Read more here.
PROJECT SCHEDULE OVERRUNS: HOW TO PREVENT DELAYS FROM BECOMING DISASTERS
| | |
| --- | --- |
| | If you're at the helm of a project that has fallen behind schedule, then be assured that you aren't alone. Despite the fact that the science of project management has been around for decades and the profession is booming, most projects still fail to reach the finish line on time. In fact, a study published in Harvard Business Review analyzed nearly 1500 projects and found that a one in six had a schedule overrun of 70 percent! Read more here. |

WOULD YOU LIKE TO BECOME A GUILD OF PROJECT CONTROLS CORPORATE MEMBER?
This is our effort to help YOU - the employers of our community. Becoming a Corporate Member will allow you to:
Better understand your ENTIRE Project Controls environment in terms of workforce
Assess the competence of all your staff to fully understand their strengths and weaknesses
Use the experience of our huge community in order to run your team much more efficiently
Raise the morale of your staff as they will have much more confidence in their ability
Recruit the best possible personnel
Transform your profits!
All of the above is carried out with YOU in control!
With a Corporate Membership, you will have access to many of our services including Role Descriptors, Self Assessment, Competency Review with possible comparison with other organisations and Compendium Desk Reference and so many more.
Interested? Click here.
GUILD ASSESSMENT CENTRE
Have you tried the Guild of Project Controls' Assessment Centre?

From this tool you will be able to ascertain your strengths and weaknesses against the many years of research that the Guild has ascertained are the capability expectations required for your role.

Further, for the first time you will know how you stack up in terms of skills in the Project Controls industry whatever your role.

Give it a try here!
EARTHWORKS & EXCAVATION BUILD TIMES
What is needed to come up with a production rate, cycle time or build time (often called "norms"?

A duration of time, the manhours involved, and an amount of work produced?

Find out here.
PRIMAVERA TIPS AND TRICKS - TRACING LOGIC TO A TARGETED ACTIVITY USING PRIMAVERA P6
| | |
| --- | --- |
| | This post will show you how trace logic to a targeted activity on your project by utilizing Multiple Float Path functionality in Primavera P6. This will allow you to focus on the work that is leading up to the targeted activity, which may not be on the project's critical path. Let's say you have a major Stakeholder on your project that has a Grand Opening Planned for a new store that is depending your work in the area being completed. The Grand Opening is a major event and not something you want to slip. The traditional Longest Path and Multiple Float Path Gantt Charts are not useful as they focus on project completion and not this targeted activity. Read more here. |
SOLUTIONS IN HOW TO IMPORT MICROSOFT PROJECT FILES INTO PRIMAVERA P6
Can you help with this query on our forum?

I'm having a problem importing MS Project files (2007 format) into Primavera V7.0. Is there any workaround or fix on this thing? MS Project 2007 doesn't allow me to save in the MPX format and Primavera only accepts MPX and XML import formats.

Take a look here.
PROJECT CONTROLS EVENTS
We will be attending Project Controls events at these locations this year, if anyone wishes to attend or sponsor or speak or simply to come help us please do email james.williams@planningplanet.com and he will put you in touch with the relevant people. We look forward to meeting you throughout the year.

AACE Annual Conference and Expo June 16-19, 2019 New Orleans
Region 5: Symposium Nov 2-3 2018 Houston TX.
Region 6: Western Winter Workshop , Lake Tahoe CA 3/21- 3/24/2019

AACE Region 7, 8, 9, 10 Events supporting:

Tehran, Iran - Sep 02
Wuzhen, China - Oct 10-11
Abuja, Nigeria - Oct 24/25
Almaty, Kazakhstan - Oct 26/27
Moscow, Russia - Oct 31
PC Expo London - Nov 13-14
ICEC Sydney Australia – Nov 18 - 20
PC Expo Melbourne, AU - Nov 22
Kuwait city, Kuwait - Nov 30
Rio, Brazil - Dec 06
Porto, Portugal - Mar 19
Region 10: Lima, Perú - 19, 20 Oct Santa Cruz, Bolivia - Mar 2019
HOW TO EFFECTIVELY GENERATE CONFIDENCE IN PROGRAMME DELIVERY
We have to start off by asking if we are chasing a holy grail – there are plenty of examples of projects and programmes that did not generate confidence which readily spring to mind, but not so many examples that did generate confidence, if we are being honest!

Industry is becoming normalised to time and cost overruns, which simply can't be something we can tolerate. Railways, roads, power stations – nothing is immune.

This is not exactly news, but how or why it happens is often misunderstood... continue reading here.

WOULD YOU LIKE TO BECOME A GUILD REGISTERED CONSULTING PARTNER?
This is our effort to help YOU and our community. It is about having a product in your portfolio that any organisation with a Project Controls environment will be interested in. This is a GLOBAL opportunity:
You represent GPC to the client - YOU are our REGISTERED PARTNER
There will have to be screening by us but essentially if you are an established consultancy OR have considerable skills and knowledge CALL US ON THE NUMBERS BELOW
Your client is yours - we recognise this and will protect your relationship if required
We have fixed costs - your margin and you total deliverables are up to you!
The Guild of Project Controls offers a solution - which evaluates a Project Controls environment by Assessing and grading the competency of individuals - a 'stake in the ground' - a report to document the actual competence of my team.
If you are interested in becoming a Guild Registered Consulting Partner, click here.
ARE YOU TAKING FULL ADVANTAGE OF PLANNING PLANET?
See who you know from within our 150,000+ membership pool!

Take a look at the worlds first and only competence based credentials supported by a career path, role descriptors, self-assessment tools and online compendium desk reference of best tested and proven tools and techniques for project controls practitioners.

Join other members who share their thoughts and ideas in the form of blog posts.

100,000+ questions and answers to the topics we struggle with (mostly software!) on a day to day basis.

A knowledge-base that can be contributed to or utilized by anyone with skills and/or interest in planning, scheduling or project controls. No Wiki page or article is owned by its creator or any other editor, and its content relies upon collaboration and teamwork. How can you contribute?

What is needed to come up with a production rate? A duration of time, the manhours involved, and an amount of work produced? Take a look and get involved.

This has been dusty and quiet place for some time now. We have been liaising with recruiters, headhunters and talent managers plus a ream of corporate leaders and very soon we will have the largest live repository of project controls jobs in the world. Check back soon.

Check out our Silver and Gold partners and see if you'd like to be included there also.
HOW CAN I USE A SINGLE RESOURCE THAT IS NEEDED FOR MULTIPLE CONCURRENT ACTIVITIES?
Can you help with this query on our forum?

The owner is requesting a schedule that has an "access" resource assigned to each activity, but the project requires that several activities will be performed from the same "access" concurrently in the same location. How would you go about assigning a single "access" resource to multiple activities that will be used concurrently? Take a look here.
EARNED SCHEDULE (ES) COMPUTATION METHODS
At the completion of a project which is behind schedule, Schedule Variance (SV) is equal to zero, and the Schedule Performance Index (SPI) equals unity. We know the project completed late, yet the indicator values say the project has had .perfect schedule performance!! A senior executive receiving the project performance report, minimally knowledgeable of EVM, cannot understand why he has an angry customer screaming, "Your product delivery is late!" This paper discusses the dilemma with the EVM schedule indicators, SV and SPI.

Read more here.
100'S OF WORKS BREAKDOWN STRUCTURE EXAMPLES
To support the subject of Scope Definition and Scope Management we came across this useful resource of sample Work Breakdown Structures (WBS) that might be of use to people.

See it here.
ARE YOU INTERESTED IN BECOMING A GUILD ENDORSED TRAINING PROVIDER?
Are you an experienced Practitioner in Project Controls? Or are you already involved in Project Delivery Training or Project Management software sales, support, and installation? Whichever your current situation here is a unique business offer for you!
The Guild of Project Controls (GPC) has released a comprehensive Certification in Project Controls covering ALL levels of Competency AND all areas of Project Controls - either individually in the form of Planning and Scheduling, Cost Management, Forensic Analysis and Project Controls itself.
Our unique offer to you is that this initiative is supported by Planning Planet (PP) the world's largest website catering for practitioners in Project Controls - we are part of the same Organisation. PP members (120,000+globally) invested their time in the Guild, tested and approved our Standards, Certification tests and maintain that the Guild reflects the operation and knowledge required to be proficient in Project Controls itself.
WE WILL UTILISE THE PLANNING PLANET WEBSITE TO PROMOTE YOU WHEREVER YOU ARE SAFE IN THE KNOWLEDGE THAT THERE IS A PP COMMUNITY IN YOUR AREA.
All this and our Guild COMPETENCY assessment tools where our ETP partners can offer potential clients a method whereby skills can be independently assessed and training requirements documented!
We do not seek thousands of Endorsed Training Partners (ETP), we seek a cohesive delivery team for our training. Click here to find out more and become a Guild Endorsed Training Provider!
ORACLE RELEASES PRIMAVERA P6 VERSION 18.8 - WHAT'S NEW IN THIS VERSION
Oracle has just released Primavera P6 18.8 and here's a look at what's new in Primavera P6 Professional version 18.8.

Take a look at the full post here.
PILLARS OF PROJECT PREDICTABILITY WEBINAR
High predictability, being as accurate as possible as early as possible, has historically been difficult and particularly in Engineering & Construction projects. Project complexity, limited visibility into performance, and human factors that obscure and delay forecasts have restricted the ability to proactively manage cost and schedule outcomes.

In this webinar, we look at the information, processes and tools necessary to unlock predictability and world-class projects performance.

Session 1: Wed, 5 Sept.
14:00 UTC / 10:00 ET
Duration: 1 hour

Session 12: Wed, 5 Sept.
14:00 ET / 11:00 PT
Duration: 1 hour
Thank you for reading our short message.
If you'd like to help the small but enthusiastic team of people helping with this newsletter please do get in touch with us via PPadmin@planningplanet.com We know we have a long way to go to make this informative and an anticipated bi-weekly "read" so do get in touch and get involved.
Regards...
The Planning Planet Team
To unsubscribe please email ppadmin@planningplanet.com please ignore the unsubscribe link below