GAO is Wrong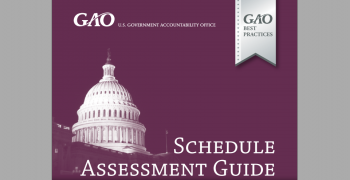 GAO IS WRONG:
Activities have hundreds of fields and many might still be active if you only change a few.
GAO Schedule Assessment Guide Best Practices for Project Schedules suggests keeping deleted activities and logic while setting duration to 0. See page 140 of 240.
http://www.gao.gov/assets/680/674404.pdf
GAO is wrong, leaving deleted activities as well as leaving the original logic in place is not best practice:
It is a poor workaround used when your software is incapable to show activities in included in one schedule version but not in another.
I am not surprised with GAO recommendations as they are biased in favor of software incapable of dealing with comparison of schedules with deleted activities.
Leaving deleted activities can distort cost loading if you if you miss to delete any fixed cost assignment.
Leaving deleted activities can be confusing and misleading
Incoming/outgoing remaining lags might need to be adjusted, mere change in activity duration do not tackle this issue.
Leaving deleted activities can lead to wrong logic; it is a lazy scheduler approach.
Spider Project allows you to display deleted activities on a conspicuous way when comparing schedule versions and without the risk of interfering with current schedule. Easy, everything is transparent, no need to tweak schedule versions. If your software lacks enough functionality it is no excuse to promote such misleading and error prone practice.