18 Oct 2019 Project Controls News

Dear Planning Planet Member,

We hope that you find this adds value to your day and if you'd like 1.58 million views for your content, blog, product or service please contact us...
4CASTPLUS JOINS THE PLANNING PLANET COMMUNITY!
We are 4castplus and we're very pleased to be joining the global Planning Planet community. As a world-leading provider of project cost management software solutions, we look forward to sharing our messages with you all.
4castplus is a Global Enterprise Project Cost Management Solution
4castplus delivers performance-driven project controls, construction procurement and construction cost tracking software on an integrated and cloud-based platform. We are committed to delivering game-changing technology that enables project-based organizations to unleash their innovative potential and to become more profitable and successful
From infrastructure and mining, to construction and energy, our customers around the world rely on 4castplus to free them from error-prone spreadsheets and disconnected systems, into an organized and robust software solution targeted at keeping their projects on budget, on schedule and under tight control. With 4castplus, our customers have the full power of project planning, execution and a breadth of key, real-time information at their fingertips.
We hope to share added value content with you so that you can deliver your major projects with increased certainty.
Get the Scoop on 4castplus
For product updates, news, announcements and informative blogs to guide your every day, we welcome you to follow us on Facebook, Twitter, LinkedIn and YouTube We also welcome you to visit 4castplus.com to learn more about our innovative software solution.
REAL CONTROLS-MANAGERS WANT A FACE-TO-FACE TO SEE IF YOU WILL FIT IN THEIR TEAM
We are REFRESHING our Top 100 list of Senior Project Controls Managers who have asked if we can help them find good planners and project controls practitioners.

We will start to SHARE that in the coming periods. Watch this space.

We know these men and women personally and each have said they will gladly have a face-to-face with anyone we RECOMMEND to them. Exciting times...
CAN YOU CREATE A GOOD POWERPOINT FILE?
| | |
| --- | --- |
| | Graphics Custodians WANTED - if you have an interest in graphics, reports, dashboards and would like to join the team of practitioners who are helping to shape (and improve) the 700 figures and reference graphics contains in the Compendium & Reference of Project Controls Tools & Techniques please get in touch as we need a few more keen practitioners to help and be rewarded. Admin@GuildofProjectControls.com |
OPERATIONAL EXCELLENCE, THE ALIGNMENT OF ORGANIZATION'S CULTURE AND CLIMATE
Operational excellence in an organization is a dependent of the alignment of organizational culture and organizational climate and driven by three enablers: continuous improvement, quality management, and capacity development.

The organizational culture impacts the way employees, interact, work, create value, resist changes, and share knowledge, lessons learned, and best practices. Read the Blog...
STANDARD OPERATING PROCEEDURES
We asked about this a few periods ago and received some good feedback but we "dropped the ball" on it and want to try again.

If you wish to help and be part of a small team of leading practitioners to help document some GENERIC standard operating procedures (SOP) for SCOPE, PLANNING, COST, RISK, PROGRESS, CHANGE, CLAIMS (etc.) we'd love to hear from you. PPAdmin@planningplanet.com
COST MANAGEMENT EXPLAINED IN 4 STEPS
Cost management covers the full life cycle of a project from the initial planning phase towards measuring the actual cost performance and project completion.

This article explains the 4 essential steps of project cost management in line with methods such as the Total Cost Management Framework of AACE and the Managing Cost Estimating & Budgeting Compendium & Reference of the Guild of Project Controls.
HOW TO MANAGE PREDICTABLE AND COST-EFFECTIVE SHUTDOWNS & TURNAROUNDS
Schedule delays and cost overruns are the #1 problem of Turnaround and Shutdown Management with only 32% of turnarounds completed on time and within budget. How can you overcome the challenges of managing TAs?

Digital technologies with big data analytics offer an excellent way to unlocking turnaround cost-efficiency. Our infographic gives you some easy tips to make your turnarounds more predictable, efficient, and cost-effective.

Get your infographic...

MEETINGS: Germany and Australia

Integration-enabled Project Success

Meet Cleopatra Enterprise Team in Germany and Austria to discuss your initiatives, challenges, and needs in cost estimating, scheduling, cost control and benchmarking, and take the first step into integrating these disciplines and teams.

Cleopatra Enterprise, the integrated project control systems, has been applied in many industries and businesses including our clients Bayer, Covestro, Wacker and OMV in Germany and Austria, where they have significantly improved cost and maximizing the capital investments.

Major gains include:

Accurate cost estimation
Timely and full cost control
Benchmarking with historical data for high-level decision making
Continuous improvement through integration between these disciplines/modules

You can also meet us at the after-work event on Thursday 7th November in Leverkusen. Schedule a meeting...
PROJECT INFORMATION FORM – AN EXTRACT FROM PLANNING AND CONTROL USING MICROSOFT PROJECT 2013, 2016 & 2019 BY PAUL E HARRIS
The Project Start date of a Microsoft Project schedule may be changed in the Project Information form, which is opened from the ribbon by selecting Project, Properties group, Project Information.

This article is an extract from the book Planning and Control Using Microsoft Project 2013, 2016 & 2019 by Paul E Harris and explains how these dates and fields operate, click here to read the article.

To see more explanations like this then please consider purchasing this book which is available in many formats, paperback, spiral, Kobo, Kindle and iTunes. These books are intended to be used:

As a self-teach book and user guide, or a training manual for a two-day training course.
PowerPoint slide shows are available for training companies to purchase and free pdf versions are available to educational organisations.

More information and links to sellers at this web site

Eastwood Harris Pty Ltd, Planning books and training material publishers for Microsoft Project, Oracle Primavera P6 and Elecosoft Powerproject https://www.eh.com.au
WHY MANY CONTRACTORS PREFER TO REVERT TO BAR CHARTS, by Fred Plotnick
| | |
| --- | --- |
| | Why was Jim O'Brien so successful in promoting the concept of critical path management in the 1960s, and yet today many contractors would prefer to revert to bar charts? The bar chart – or Gantt Chart – was invented in 1910 as a vast improvement over prior art of making a to-do list and perhaps reordering roughly in a preferred sequence. It allowed users to create a true "schedule" of tasks or "activities" including estimated duration, preferred (usually early) start and finish dates. Read the blog... |
HOW TO LEARN FROM PROJECT FAILURES
So, with project failures being so potentially disastrous, what silver lining can actually be drawn from something that goes horribly wrong? Well, knowing how to learn from project failures can actually be very beneficial on personal, team and company levels.

As writer and speaker Denis Waitley has artfully suggested, "Failure should be our teacher, not our undertaker." Read the blog...
BLOCKCHAIN APP – REALISATION AND REVOLUTION IN THE WORLD OF PROJECT MANAGEMENT

Did you catch the Blockchain presentation last Thursday at Digital Construction Week from our Technical Services Director, Dave Hurren? If not, don't worry, we've just posted it on our blog! Read his insights on how this emerging technology is poised to transform project management - read more...
ITS HERE - CHINESE GOVERNMENT USE OUR GUILD OF PROJECT CONTROLS STANDARDS IN CHINA
The Chinese Government have translated the Guild of Project Controls' Compendium of Best Tested & Proven Practices to enable their national desire to deliver COMPETENCY certifications in Project Controls in Beijing.

Now live...

The official first eddition is being distributed and practitioners are now been competency certified.
RESOURCE MANAGEMENT & WHAT IT MEANS FOR YOUR TEAM
| | |
| --- | --- |
| | Your resources are whatever is needed to complete a project, including people, finances, technology, physical space and time. Resource management is thus planning the usage of those resources in such a way that will guarantee project success. While it may be common enough to give individual employees license to manage their own time better, managing overall resources is ultimately a responsibility which falls on the shoulders of management. Read more... |
REVIEW OF DELAY ANALYSIS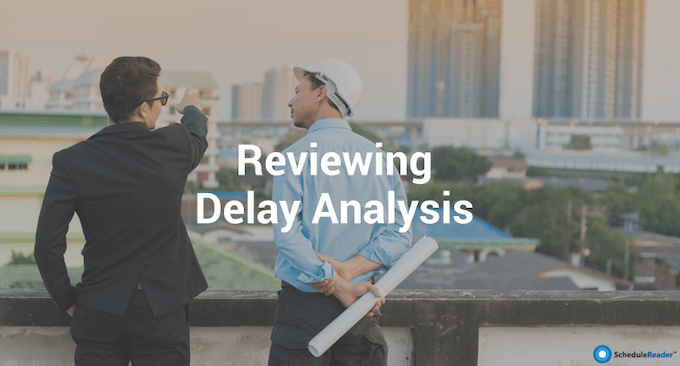 Construction attorneys now have a simpler and more comfortable way to review delay analysis.
Interested to learn how?
Read the article to find out more here...
SCHEDULE READER
Discover how you can get better analysis and view of your Primavera P6 projects with ScheduleReaderTM.

Join the ScheduleReaderTM and Systec Solutions Live Webinar.

Tuesday, October 22 | 10:00 AM Mexico City | 12:00 PM Buenos Aires Time.

Note: The webinar will be held in Spanish.
YOU CAN PLAN 1 YEAR IN ADVANCE - REMEMBER THIS
Construction CPM Conference next event is 19-22 January 2020 at Disney World Florida.

Three Full Days Where Professional Planner Schedulers Gather to Discuss and Improve Critical Path Method Analysis Knowledge.

More information at www.ConstructionCPM.com.
HOT FORUM POSTS
HELLO, HAVE YOU CHECKED OUT OUR JOBS PAGE LATELY?
We have lots of colleagues who keep asking if we can recommend good people, so it may be worthwhile checking the project controls job listings our team are collating.

There's a few good project controls and planning opportunities which might interest you... alternatively - let us know if you need someone new for your team and we will put you in touch with some proven practitioners.

Read more...
"PROVEN PRACTITIONER" A PLANNING PLANET PRODUCT
Do you seek PROMOTION or do you want to better UNDERSTAND YOUR Stengths and SKILLS (in private) or do you seek that NEW ROLE?

Proven Practitioner provides ALL THE TOOLS YOU NEED

Go to Premium and sign up!
WHAT IS PROJECT SCOPE MANAGEMENT?
| | |
| --- | --- |
| | The project scope statement is one of the most basic cornerstones upon which every project is built. Basically, the statement lays out what needs to get done, under what conditions and how completion will be measured. Though that might all seem perfectly logical, unfortunately, project scope management also seems to be one of the most difficult things for PMs to have to get to grips with. Read the blog... |
PROJECT CONTROLS MENTOR TOOLBOX
RATES, NORMS & DURATIONS
What is needed to come up with a production rate?

A duration of time, the manhours involved, and an amount of work produced this section of Planning Planet is here to document this.

What information do you have that you can share?
ALTERNATIVE TO PRIMAVERA AND ASTA?
A superior alternative to the "most popular" software for us as planners?

Spider Project offers numerous unique functional features and is the only PM software that optimizes resource, cost, and material constrained schedules and budgets for projects and portfolios.
SURVIVING AND THRIVING THE VUCA WORLD SYNERGY NOVEMBER 7 LONDON EUSTON

Surviving and thriving in a VUCA world (look it up) is like searching for the perfect wave. You are in a world that is enormous,complex and could collapse around you at any moment. You have to know how to stay upright. How to control the board. How to respond to the constant movement of the sea. If you fail it's a wipeout. And you have to find the will the motivation the strength to keep going and get back on the board. You "Do it Again" just like the Beach Boys. You do it again until you do it without thinking without knowing. It becomes who you are. And if you do it right you will find the perfect pipeline and ride your way out to perfection. And you will "Do it Again and again". Like Status Quo. It becomes your status quo. Til the next time. That's how you survive and thrive in a VUCA world. You ride the wave the wave does not ride you.
The Synergy event 2019 is once again at the spectacular Light venue Euston London.
There's a party afterwards too. Join us and together we will find out how to ride the wave as a person a team and an organisation.
Better than all the rest. And cheaper!! For more info.
ARE YOU FOLLOWING US ON SOCIAL MEDIA?
Let's get social!

Build your network and keep up to date by following us on social media, just click the icons to get started.
THE GUILD OF PROJECT CONTROLS COMPENDIUM AND REFERENCE
The Compendium and Reference (CaR) is a document which forms The Guild Standards.

The CaR is a living document being continually improved, supplemented and updated by the Guild community to reflect improvements to practices, opinions and methods in our chosen profession. The Guild is ready to receive suggestions at any time for updates to the CaR Standards. Take a look here.
INTEGRATED PROJECT CONTROLS WEBINAR
Integration in project controls is a powerful concept, but many organizations still struggle with data silos, disjointed systems, manual data entry, or risk-prone spreadsheets. With ARES PRISM, it's possible to seamlessly integrate your estimate, cost and schedule data and share the results in an executive business intelligence dashboard. Watch this 24-minute webinar which discusses integrated project controls and shows the user journey from a simple BOQ to building a performance measurement baseline in an integrated approach.
This webinar demonstrates the power of integration between PRISM Estimating, PRISM G2 , Schedule (Primavera P6), and PRISM Dashboards. No need for any Excel imports or manual inputs; it is all automated! Read the content...
WOULD YOU LIKE TO ADVERTISE ON PLANNING PLANET?
We want to give more of our members the opportunity to advertise on our site. Click here to get started!
ARE YOU TAKING FULL ADVANTAGE OF PLANNING PLANET?
See who you know from within our 150,000+ membership pool!

Take a look at the worlds first and only competence based credentials supported by a career path, role descriptors, self-assessment tools and online compendium desk reference of best tested and proven tools and techniques for project controls practitioners.

Join other members who share their thoughts and ideas in the form of blog posts.

100,000+ questions and answers to the topics we struggle with (mostly software!) on a day to day basis.

A knowledge-base that can be contributed to or utilized by anyone with skills and/or interest in planning, scheduling or project controls. No Wiki page or article is owned by its creator or any other editor, and its content relies upon collaboration and teamwork. How can you contribute?

What is needed to come up with a production rate? A duration of time, the manhours involved, and an amount of work produced? Take a look and get involved.

This has been dusty and quiet place for some time now, BUT we have been liaising with recruiters, headhunters and talent managers plus a ream of corporate leaders to try to help us.

Check out our Silver and Gold partners and see if you'd like to be included there also.
THANK YOU FOR READING OUR MESSAGES
If you'd like to help the small but enthusiastic team of people helping with this newsletter please do get in touch with us via PPadmin@planningplanet.com We know we have a long way to go to make this informative and an anticipated bi-weekly "read" so do get in touch and get involved. If you are reading this I am impressed, ha ha....
Regards... The Planning Planet Team
To unsubscribe please email ppadmin@planningplanet.com please ignore the unsubscribe link below