Operational Excellence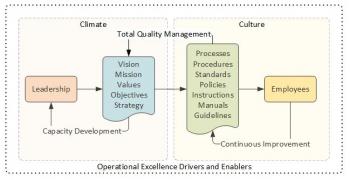 Operational Excellence, the alignment of organization's culture and climate
By Arash Dowlatshahi, Director of Project Services, Aegion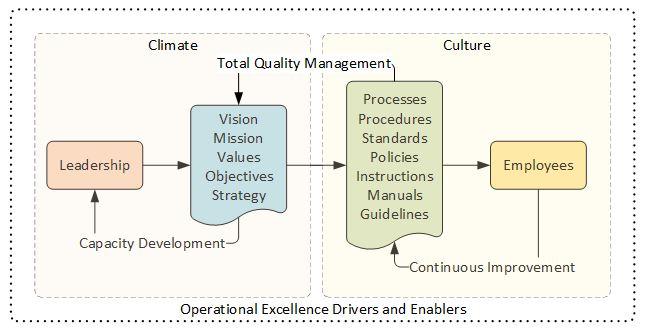 Operational excellence in an organization is a dependent of the alignment of organizational culture and organizational climate and driven by three enablers: continuous improvement, quality management, and capacity development.
The organizational culture impacts the way employees, interact, work, create value, resist changes, and share knowledge, lessons learned, and best practices. That is why continuous improvement, a key component of operational excellence, is a culture value and a mindset. Processes, procedures, standards, and policies are the requirements and promoters of continuous improvement mindset in organizational culture.
Organizational climate is employee's perception of the work environment including relationship between the organization and its employees, quality and fitness of the work environment, and the support that employees receive from the organization. Organizational climate is influenced by organizational structure and it is an indication of the extent of employee's motivation.
Organization climate is established through organization vision and mission, values and objectives, and business strategies. Leadership is in control of climate. Through management of organizational climate, another key component of operational excellence, capacity development, can be cultivated.
Capacity Development impacts organization operations, employee's performance, and it supports the continuous improvement mindset through promoting the positive cultural values.
The alignment of culture and climate will enable another key component of operational excellence, the total quality management. If the climate is established to support the culture and promote continuous development, culture will adopt the climate and support the capacity improvement through better application of work processes and providing timely feedback. This loop will create a dynamic organization that will embrace positive changes.
The total quality management, an output of climate and culture alignment, will support the business strategy by continuously improving performance at every level, and in all areas of responsibility. It will align the fundamental management techniques, existing improvement efforts, and specialized technical tools under operational discipline structure with focused on continuously improving all processes.
There are many schools of thought regarding how organizations can achieve operational excellence, but in my opinion, the first step is to recognize and understand the difference between Culture and Climate, and the second step is to activate the three enablers: Continuous Improvement, Capacity Development, and Total Quality Management