Risk, What are You? Children's Book for all Professionals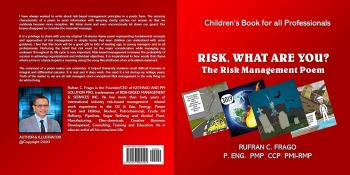 I am happy to announce the official publication of my fifth book titled "Risk, What are You? The Risk Management Book, Children's Book for all Professionals." Written and illustrated for children of reading age (with some guidance), young leaders, future managers and all professionals. See the Youtube Book Video Introduction below to learn more. It is now available in Amazon and various international outlets.
Click the image below to watch the book introduction video.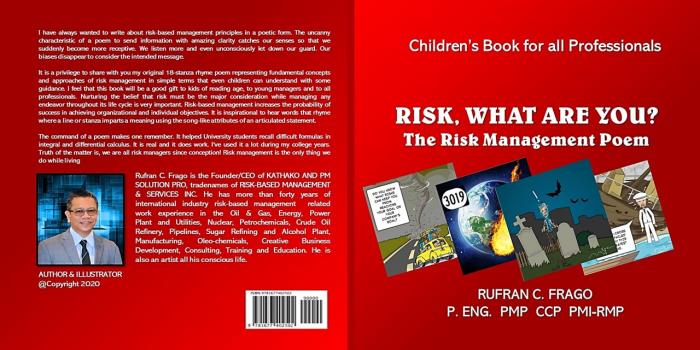 It is inspirational to hear words that rhyme, uplifting our being when a line and a stanza impart a meaning using the song-like attributes of articulated statements. The uncanny characteristic and power of a poem to send the intended message with amazing clarity catches our senses. Amazingly, we suddenly become more receptive. We tune in, listen more and even unconsciously let down our guard. Our biases disappear and we embrace the message to fully consider the substance.
Today, I am excited to publish an original 18-stanza rhyme poem of (8-6-8-6 metric) in a fully illustrated 8.5" x 8.5" children's book for kids of reading age, future young leaders and present day professionals.
Thanks to my dearest wife and all those who supported me in this project!

Rufran C. Frago-Author & Illustrator
About the Author:
Rufran C. Frago is the Founder of PM Solution Pro, a Calgary consulting, product, and training services firm focusing on project and business management solutions. He is passionate providing advice, mentorship, education and training through consultation, collaboration, and what he uniquely calls, student-led training.
BOOKS AUTHORED BY RUFRAN FRAGO