Phantom Schedules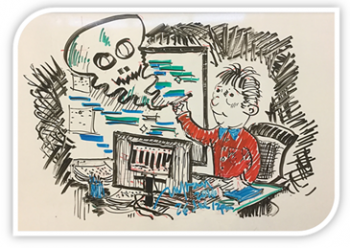 Construction planner and scheduler Frank Lee was at it again. He was in the process of creating and developing another phantom project schedule for the Project Control Manager. The initiative started when the Project Manager complained to the Project Controls Manager.
"You've got to be kidding me," he said, "… this schedule forecast and progress report is garbage! It has been almost a year and their report still does not make much sense."
"Can you see the pattern? They were just multiplying all commodity quantities, reporting progress using a common factor! It is a piece of crap! It is completely useless!"
Frank has heard this kind of talk many times in his life as a professional scheduler and he guessed it right what comes next. The PC Manager, Mike Itright, called him into his office. He looks serious and sullen.
"Frank, as you probably know, we have ongoing issues with the contractor's construction schedule. It is not reliable."
"We need to develop a more reliable schedule we could throw our hats into," Mike opening the conversation."
"How about the current and baseline schedules that the contractor is working on? Would not we create a contention point that could end up in dispute? Maybe, even litigation if we are not careful?" Frank opined.
"Don't worry. We will not let them know that we have such a schedule. This is our own secret tool to validate the schedule forecast they submit to us. We will catch them if they are actually making a fool of us."
"We will not share our scheduling information to anyone of them. We have to be on top of this. We have to stop this contractor from playing around. We know what is going on. I need you to start on this right away!" Mike continues.
Project Management Jargon
Before we proceed further, let us discuss some special words and expressions used in the planning and scheduling profession. These terminologies are not new to the practitioners but can be difficult to understand by beginners.
Figure 1 - Phantom Schedule
I got used referring to the schedule as phantom schedule instead of ghost because of a British friend of mine. While working in an oil installation in Africa, we got involved with one and he kept referring to it as phantom schedule.
A phantom schedule (ghost schedule) is a non-official schedule prepared behind the official scheduling scene. Commonly used as an audit tool to validate or crosscheck the contract schedule.
To his credit, the literal definition of the word phantom fits perfectly which is - "an illustration, part of which is given a transparent effect so as to permit representation of details otherwise hidden from view (Dictionary.com, 2016.Phantom)." This type of schedule has received multiple names in the construction industry through the years.
In this article, we will use the term phantom schedule interchangeably with ghost schedule, validation schedule, crosscheck schedule, parallel schedule, audit schedule, and background schedule.
It means that the soundness of the current contract schedule can be validated using the phantom schedule as the backdrop.
The timing of its creation can be anywhere between project start date to completion. The urgency governing its creation depends largely on the specific purpose and necessity to which it was created.
Caution: A manager must understand clearly what he is trying to embark into. Many actions brought by dissatisfaction and discontent that leads to heartache were borne from not understanding the process in place. It is between ignorance and arrogance that the landscape of mutual understanding change colors. A scheduling dilemma ensues next.
A contract schedule is the legal and official project schedule from which all reports and progress shall be based from
It comes in two forms: 1) the current contract schedule (contract forecast schedule) and 2) contract baseline schedule.
"Now, the fun begins. It gets even more exciting when two opposing poles get near each other debating project change notices and non-compliance reports. Arguments usually boil down to the definition of a schedule baseline and the right way to manage it. If there is no governing prior agreement, it becomes difficult to reconcile, as the expected answer has to satisfy both clients and contractors (or whichever party is involved). The perennial argument revolving around schedule baseline management is probably as old as when the term was first coined. It is sad to detect that many, especially project managers just kept on missing the points of control (Frago, R., 2016.Schedule Baseline Dilemma Part 1)."
Purpose of a Phantom Schedule
A client or contractor may develop it individually with each one, believing that it is more reliable than the current official schedule and/or the existing baseline.
Construction contractor can come up with a more aggressive version of the contractual schedule to create some form of relief time zones. It creates some form of time buffer zones by using earlier schedule plan dates. The sub-contractor then sign on a more optimistic schedule with the contractor.
The contractor hides the already optimistic phantom schedule for background update. At this point, and just on the contractor-subcontractor side alone, there are already four schedules at play and being maintained separately; i.e. 1) subcontract schedule, 2) subcontract phantom schedule, 3) contractor phantom schedule, and 4) contract schedule.
A recent technical article rightly stated the same thing, that one of the reasons why a phantom schedule is developed is "when the client no longer has any faith that the contractor's contract schedule submittals are realistic (Beisler, S. & Zack, J., 2016.Cost Engineering. May\Jun 2016. p21).
Risks: Opportunities
The phantom schedule addresses the concerns of client and/or contractor that the contract forecast schedule (current) versus contract schedule (baseline) are no longer useful in making project decisions.
To each one, the phantom schedule represents their in-house assessment of the execution plan, strategy, sequencing, and time estimate they could live with.
It provides them the confidence that they now have a current schedule with a realistic forecast that fits squarely into their company objectives. They now have a schedule that makes sense and leads to good, sound, and effective decisions.
Note however, that this is an opportunity usually appreciated only by the sponsoring organization and not by all stakeholders (see threats).
"A person's perspective depends on which side of the fence they are sitting on. With that in mind, a risk can be a threat or an opportunity. Your business sees a threat and your competitor sees an opportunity. It is as simple as that.
Each individual player within the risk universe will see things a bit differently compared to the next person, with some people interpreting things in exactly the opposite fashion (Frago, R., 2015.Risk-based Management in the World of Threats and Opportunities.p3. ISBN 978-0-9947608-0-7 Canada)."
It is believed to help increase the probability of desired outcome from happening. It helps to make effective management decisions. It enhances consequence, providing a good handle of the future. It can assist in schedule enhancement such as acceleration, resource optimization, and just-in-time what-if analysis.
Managers believe it will help prevent/avoid, and mitigate risks. Good forecast provides a good handle of the threatening future. Presents an opportunity to act in advance of what will happen. It can assist in schedule analysis such as delay analysis, resource analysis/leveling, and time impact analysis.
Risks: Threats
Although more common than anyone thinks, it is not surprising how astonish the other party seems to learn that the schedule was being analyzed for months not using a common schedule.
Interpretation is in the mind and eyes of the beholder: "It is a document intending to highlight a brewing distrust and subterfuge of one contracting parties, easily viewed as an insult, if not a slap to the contractor or client's intellect and integrity," someone commented.
If one makes the mistake of openly using the phantom schedule as a contrast tool versus the contract schedule in any client-contractor update/progress meeting, the contention will start and might eventually gravitate to long standing debates, arguments, disputes, work stoppage, and ultimately, claims and litigation.
The aforementioned is a certainty unless resolved quickly by levelheaded leaders, perhaps through an acceptable realignment proceedings, a schedule re-baseline, or, though highly unlikely, acquiescence by one of the contending party.
Figure 2 – Phantom Schedule can be a point of Contention
Warning: A phantom schedule can work against its proponents in the end if sponsors are not careful.
Ghost schedule removes time management focus from the officially approved contractual schedule. Complications start when this happen.
Client cannot effectively use the phantom schedule in officially discussing path forward with the contractor. It is not an acceptable driver to get the contractor going another way. After all, this schedule does not exist.
In view of this limitation, the strategy is to use the weight of the contract schedule. Analyze it using the gleaned driving information from the phantom schedule and identify the gaps in the contract schedule. Use questioning attitude to point flaws to the current contract schedule and request changes more attuned to what the phantom schedule prescribed.
This is the only viable and more acceptable way. Everyone still has to use the contract schedule as the working schedule in all matters of planning, forecast, and progress to avoid adversity and ill feelings.
Secrecy overtakes transparency and works against the
"concept of integration
." This is a dark cloud. It grew from the seed of distrust so it is something that will work against good contractual relationship. An adversarial relationship looms on the horizon!"The use of integrated data helps the project to identify potential risk/s. The mere mention of integrated data underlines correlation; i.e. we have to associate correctly one datum to the next, or one set of information to the others, for them to be of value.
That can prove rather impossible when we have nothing to start with. Remember, it is a secret schedule!
How do one start working on something he does not know? The executing party can only begin to scratch the surface of knowledge once knowing starts (Frago, R., 2015.Risk-based Management in the World of Threats and Opportunities.p18. ISBN 978-0-9947608-0-7 Canada)."
Typical attributes of a phantom schedule
Secret (unknown to the other contracting party)
Simplified version of the contract schedule
Considered more reliable and accurate
Figure 3 – Typical Attributes of a Phantom Schedule
4. Viewed as a validation schedule that provides better forecasts.
5. Updated in the background by sponsoring party
6. Decision-making tool by sponsoring party. Management decisions are no longer based on the forecast of the current contract schedule.
7. It is an auditing tool; i.e. to check soundness of the current contract schedule using the phantom schedule as the backdrop.
8. Located in a separate scheduling database
9. Access to the scheduling database is restricted
10. All phantom schedule users are sworn to secrecy
Developing a Phantom Schedule
Confirm the purpose of the specific phantom schedule in this case
Prepare an engagement plan. Plan the plan. Provide timeline of team review
Identify the level of details needed from the sponsor/s (idea generators)
Identify and connect with your in-house EPC/C&SU experts, senior planners, and estimators and schedule to sit down with them interactively, preferably in a group setting.
Figure 4 – Developing a Phantom Schedule (Frago, R., 2016)
5. Creation of our scheduling workspace in a Primavera database
Creation of EPS/OBS nodes for the main work space
Creation of other EPS/OBS nodes for all other reference schedules
Identify all expert resources who will give inputs to the validation schedule
Create the WBS framework
6. Get the latest copy of the current contract schedule and the corresponding baseline schedule. Import the file and all necessary attributes into the newly created workspace (see item 2- Section: Developing a Phantom Schedule)
7. Establish the reckoning data date. Start with the data date from the current contract schedule.
8. Create, development, and finalize the phantom schedule
Review execution plan and path of construction (POC)
Align all fundamental scheduling attributes to the contractual agreement; e.g. calendars, resources, priorities, WBS, Key Milestones, key interfaces, and others.
Series of meetings, interactions, expert's inputs and review
Involve select resources especially the commissioning and start-up experts
Review WBS scope, calendars, durations, POC, sequences, roll ups, critical path, system priorities, commissioning requirements, etc.
Bring schedule to a level of reliability acceptable to sponsors and in-house experts
Check and improve to an acceptable schedule quality. Adjust the schedule as needed.
Identify variances to existing contractual baseline
Evaluate what makes sense and what did not
Submit a final report
Orient dedicated planner & scheduler to the schedule together with the sponsors; i.e. PC Manager, Project Manager and in-house specialists
Turnover the schedule to the responsible project scheduler who will maintain the schedule going forward
Source: Frago, R. (2015).Plan to Schedule, Schedule to Plan (Draft Manuscript)\Section 20: Phantom Schedule.page 239 to 247.ISBN 978-0-9947608-2-1 (Canada).
Note: First posted/shared in LinkedIn Pulse and Wordpress on July 26, 2016 and July 28, 2016 respectively.
Rufran C. Frago – Author (26-Jul-16)
Disclaimer: The names used in this write up are fictitious. Any resemblance to persons living or dead is purely coincidental.
Rufran is the author of the book Risk-based Management in the World of Threats and Opportunities: A Project Controls Perspective.
Those who are interested, join Rufran at the following sites: