Have your say at Planning Planet's community gathering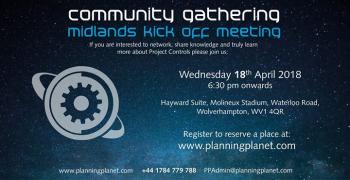 The Planning Planet Midlands Kick-Off Meeting will be taking place on Wednesday 18 April 2018 from 18:30 onwards and is available for like-minded Project Controls practitioners in our industry. If you are interested in networking, sharing knowledge and truly learning more about Project Controls then this is most certainly the event for you!
The event will be held at Hayward Suite, Molineux Stadium, Waterloo Road, Wolverhampton, WV1 4QR.
Included in the meeting we will have industry professionals discussing an array of topics. Speakers on the evening include:
Tim Fenemore, Head of Project Controls at National Grid. Over the past 30 years since completing his engineering apprenticeship at Rolls-Royce Aerospace, Tim has developed his approach to project management and control across IT systems development, telecoms, rail, construction, manufacturing, and power without ever becoming a consultant. He will give us a few insights on his approach to rapidly adapting to new cultures and quickly mobilising to make a difference.
James Williams Founder of Planning Planet and Co-Founder of Guild of Project Controls will be sharing a number of great slides that showcase why the Guild of Project Controls is a perfect fit for helping practitioners and employers understand their strengths and offering a means for them to demonstrate and validate their competence and prove their abilities.
Patrick Kennerson, Guild Fellow of Planning & Scheduling with extensive experience in implementing and overseeing complex technical programs with multi-million-pound budgets will be sharing his views on the need for schedule centric project controls.
Register yourself to reserve a place. You will need to be logged into Planning Planet to sign up for the event. Your email address will remain confidential and will not be shared with anyone. This will also allow us to provide parking and coffee etc.
To register visit: www.planningplanet.com/groups/events/635458
Hope to see you there!