06 Sep 2019 Project Controls News

Dear Planning Planet Member,

We hope that you find this adds value to your day and if you'd like 1.51 million views for your content, blog, product or service please check this out...
PROJECT CHALLENGE EXPO - 2019
Claim your free visitors pass - for further details and a full exhibitor list visit Project Challenge...
FREE MASTERCLASS: HOW TO GET A DELAY CLAIM TO THE FINISH LINE
If you have ever wondered what Forensic Schedule Analysis is and how you can effectively assess and present a delay claim, you are going to learn a ton from Chris Carson.

Chris is a thought leader on Forensic Schedule Analysis and is going to conduct a masterclass on "How to Get a Delay Claim to the Finish Line."

Don't miss it out. Limited seats are available. Read more...
A HEALTHY SKEPTICISM
As a fellow who spent over 15 years as an engineer/ draftsman on large Processing industrial plants and was with them through their construction I have my doubts on how much BIM has helped the construction phases of projects. I have a strong belief that BIM has great potential of aiding the concept and construction design phases of a project, but having been around construction for over 55 years see it significantly increasing construction efficiency and reducing construction problems.
Let's use a few random model drawings pulled from the Internet to discuss the subject a little further: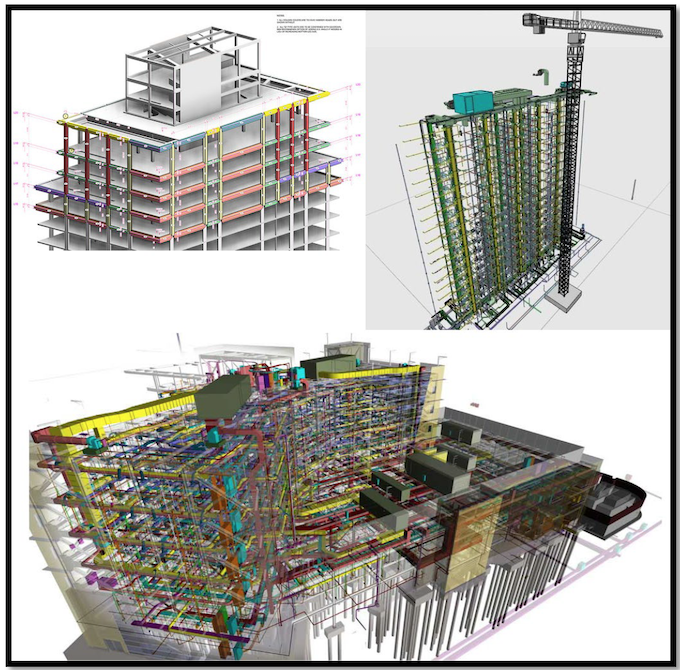 The above examples are without a doubt neat and would have ben a challenge to do on a drafting board.
However, they are of no help to those constructing this project, once the basic construction flow was decided.
What is needed to prove BIM usefulness is articles and white papers that show BIM examples that really help day-to-day construction and detailed examples showing how BIM accomplished helping construction flow and method.
I challenge those in the construction industry to fill the Internet with "Real Construction Examples" _not ads, not general non-descriptive rhetoric.
Show how BIM fits into the construction workflow and is integrated with the planning process. How BIM headed-off a problem or impact, a non-constructible workflow plan. Equipment, systems, ductwork, piping that was inadequately planned and detailed.
Truly show that BIM is a useful and needed tool.
Gordon H. Aronson, P.E.
President, Vision consultants, LLC
ASTA POWEPROJECT VERSION 15 BOOK AND TRAINING MATERIAL
Asta Powerproject was purchased by Elecosoft some time ago and with the release of Powerproject Version 15 the term Asta has been dropped from the name.

Eastwood Harris recently published by book and PowerPoint training material on Powerproject Version 15. Many people still know the software as Asta Powerproject, so I have retained the term "Asta" in the name of my book as this term is so well known, but I will drop this term in my next release of the book.

This book is intended to be used as a self-teach book and user guide, or a training manual for a two-day training course.

PowerPoint slide shows are available for training companies to purchase and pdf versions are available for free to educational organisations.

More information and links to sellers at this web site...

Published by Eastwood Harris Pty Ltd, Microsoft Project, Oracle Primavera P6 and Elecosoft Powerproject books and training material publishers.
3 REASONS WHY ENTERPRISES ARE UPGRADING FROM CA/CLARITY TO CLARIZEN
| | |
| --- | --- |
| | In enterprises, few things — not even the much-loved coffee machine — are permanent and unchanging year after year. Here are three core reasons why leading enterprises have elevated to Clarizen, and gone from facing daily struggles and setbacks, to enjoying massive collaborative work management improvements and ongoing performance excellence: Read the blog... |
PROJECT SCHEDULE BASELINES AND PERIODIC UPDATES
Reviewing Baseline and Updated schedules is similar in some ways but different in many ways. The baseline schedule is at the outset of a project where no actual construction or procurement facts are solidified.

It is essentially an educated guess..

Read more...
ORACLE PRIMAVERA CLOUD TO CAPTURE, ASSESS, MONITOR, AND MITIGATE PROJECT AND PROGRAM RISK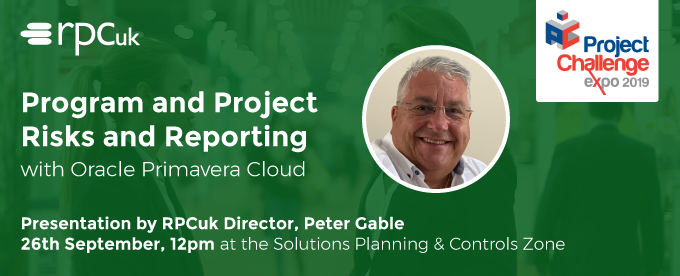 Are you attending this year's Project Challenge Expo? Stop by and see us on stands 45/46, and don't miss a fascinating presentation from RPCuk Director Peter Gable. He looks at how Oracle Primavera Cloud is used to capture, assess, monitor, and mitigate project AND program risk across the enterprise, avoiding delays or cost overruns and helping ensure successful outcomes. Details here...
ITS HERE - CHINESE GOVERNMENT USE OUR GUILD OF PROJECT CONTROLS STANDARDS IN CHINA
NEWS... NEWS... NEWS...

The Chinese Government have translated the Guild of Project Controls' Compendium of Best Tested & Proven Practices to enable their very first COMPETENCY certification in Project Controls in Beijing. Now live...

The official first eddition is being distributed to the committee members in August.
DEALING WITH NEGATIVE WORKPLACE BEHAVIOR
| | |
| --- | --- |
| | For managers, keeping a tight-knit team focused on the tasks at hand and pulling in the same direction is basically their job description. One thing that can completely destroy this team unity, however, is negative workplace behavior. This can range from making team members mildly uncomfortable to harassment and bullying, so for a start it's good to recognize that negative workplace behavior can encompass many things. Read more... |
HOW TO ERASE POBS DATA?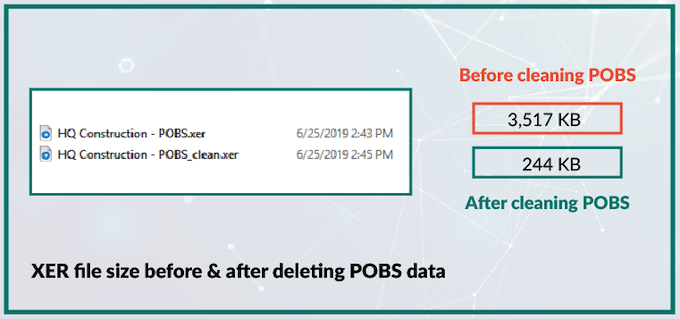 Find out how ScheduleCleaner can quickly help you remove all POBS data from you XER files: Read more...
ScheduleCleanerTM is a desktop application for Windows, which allows users to remove or anonymize sensitive or confidential data such as: costs, units, rates, project progress, POBS and more within XER project files.
WHAT IS SCHEDULEREADER? A FULL REVIEW
Are you a project scheduler, planner involved in construction and you need to review schedules exported from Primavera P6

Then you might be interested in learning more about the ScheduleReader application: Read more...
YOU CAN PLAN 1 YEAR IN ADVANCE - REMEMBER THIS
Construction CPM Conference next event is 19-22 January 2020 at Disney World Florida.

Three Full Days Where Professional Planner Schedulers Gather to Discuss and Improve Critical Path Method Analysis Knowledge.

Early bird rate of $825 is good through 20 Jun 19 More information at www.ConstructionCPM.com.
HOT FORUM POSTS
HELLO, HAVE YOU CHECKED OUT OUR JOBS PAGE LATELY?
We have lots of colleagues who keep asking if we can recommend good people, so it may be worthwhile checking the projectcontrols job listings our team are collating. There's a few good projectcontrols and planning opportunities which might interest you...

Read more...
"PROVEN PRACTITIONER" A PLANNING PLANET PRODUCT
Do you seek PROMOTION or do you want to better UNDERSTAND YOUR Stengths and SKILLS (in private) or do you seek that NEW ROLE?

Proven Practitioner provides ALL THE TOOLS YOU NEED

Go to Premium and sign up!
CAN A PROJECT HAVE TWO CRITICAL PATHS AND OTHER CP QUESTIONS
The critical path method is a common and extremely useful method for calculating the optimum order of completion of vital interdependent tasks.

As projects can be large and critical paths unwieldy, a question that's often asked of the method is can a project have two critical paths? In fact, it can have even more than two if necessary. Read the blog...
PROJECT CONTROLS MENTOR TOOLBOX
RATES, NORMS & DURATIONS
What is needed to come up with a production rate?

A duration of time, the manhours involved, and an amount of work produced this section of Planning Planet is here to document this.

What information do you have that you can share?
ALTERNATIVE TO PRIMAVERA AND ASTA?
A superior alternative to the "most popular" software for us as planners?

Spider Project offers numerous unique functional features and is the only PM software that optimizes resource, cost, and material constrained schedules and budgets for projects and portfolios.
GET IN FRONT OF ONE POINT FIVE MILLION PROJECT CONTROLS PEOPLE
If you would like your product, service or software or yourself to be put in front of the global (or local) Project Controls Community then you should consider subscribing to the Planning Planet Project Controls Market Place.

What is this?
ARE YOU FOLLOWING US ON SOCIAL MEDIA?
Let's get social!

Build your network and keep up to date by following us on social media, just click the icons to get started.
THE GUILD OF PROJECT CONTROLS COMPENDIUM AND REFERENCE
The Compendium and Reference (CaR) is a document which forms The Guild Standards.

The CaR is a living document being continually improved, supplemented and updated by the Guild community to reflect improvements to practices, opinions and methods in our chosen profession. The Guild is ready to receive suggestions at any time for updates to the CaR Standards. Take a look here.
WOULD YOU LIKE TO ADVERTISE ON PLANNING PLANET?
We want to give more of our members the opportunity to advertise on our site. Click here to get started!
ARE YOU TAKING FULL ADVANTAGE OF PLANNING PLANET?
See who you know from within our 150,000+ membership pool!

Take a look at the worlds first and only competence based credentials supported by a career path, role descriptors, self-assessment tools and online compendium desk reference of best tested and proven tools and techniques for project controls practitioners.

Join other members who share their thoughts and ideas in the form of blog posts.

100,000+ questions and answers to the topics we struggle with (mostly software!) on a day to day basis.

A knowledge-base that can be contributed to or utilized by anyone with skills and/or interest in planning, scheduling or project controls. No Wiki page or article is owned by its creator or any other editor, and its content relies upon collaboration and teamwork. How can you contribute?

What is needed to come up with a production rate? A duration of time, the manhours involved, and an amount of work produced? Take a look and get involved.

This has been dusty and quiet place for some time now. We have been liaising with recruiters, headhunters and talent managers plus a ream of corporate leaders and very soon we will have the largest live repository of project controls jobs in the world. Check back soon.

Check out our Silver and Gold partners and see if you'd like to be included there also.
THANK YOU FOR READING OUR MESSAGES
If you'd like to help the small but enthusiastic team of people helping with this newsletter please do get in touch with us via PPadmin@planningplanet.com We know we have a long way to go to make this informative and an anticipated bi-weekly "read" so do get in touch and get involved. If you are reading this I am impressed, ha ha....
Regards... The Planning Planet Team
To unsubscribe please email ppadmin@planningplanet.com please ignore the unsubscribe link below