23 Aug 2019 Project Controls News

Dear Planning Planet Member,

We hope that you find this adds value to your day and if you'd like 1.51 million views for your content, blog, product or service please check this out...
PROJECT CONTROLS PROCEDURE - GENERIC
EXCITING NEWS - We have been asked by two large employers (UK and USA) to provide our thoughts in relation to Best Tested & Proven Project Procedures. Our initial workshops have concluded we need to work on Planning, Cost, Reporting, Scope & Change, Risk and Resources. Perhaps even Claims and to point out what we all do.

If you have any experience and would like to help us shape these GENERIC procedures then please email us via PPAdmin@planningplanet.com and tell us why you need to be a part of this. Your contribution will be advertised.
THE ESSENTIAL ELEMENTS OF ANY PROJECT TOOL
| | |
| --- | --- |
| | Online project tools and software have been absolute game-changers for project teams and their managers since they began to be widely adopted. But, as with many elements of the tech revolution, one ground-breaking innovation is immediately followed by dozens of imitators looking to ride the coattails of the original's success. Read the blog... |
FREE LIVE WEBCAST: THE JOURNEY TO EXCELLENCE IN PROJECT CONTROLS
Free Webcast:

If you are in Project Controls, the journey to excellence in Project Controls might look vague to many.

Join this upcoming webcast on the Journey to Excellence in Project Controls to gain insights as to what you need to do today to take your career to the next level of success tomorrow.
UNDERSTANDING P6 - WHEN ACTIVITIES USE RETAINED LOGIC, PROGRESS OVERRIDE AND ACTUAL DATES
Asta Powerproject was purchased by Elecosoft some time ago and with the release of Powerproject Version 15 the term Asta has been dropped from the name.

Eastwood Harris recently published by book and PowerPoint training material on Powerproject Version 15. Many people still know the software as Asta Powerproject, so I have retained the term "Asta" in the name of my book as this term is so well known, but I will drop this term in my next release of the book.

This book is intended to be used as a self-teach book and user guide, or a training manual for a two-day training course.

PowerPoint slide shows are available for training companies to purchase and pdf versions are available for free to educational organisations.

More information and links to sellers at this web site...

Published by Eastwood Harris Pty Ltd, Microsoft Project, Oracle Primavera P6 and Elecosoft Powerproject books and training material publishers.
THE MOST COMMON MISTAKES IN PROJECT MANAGEMENT & HOW TO AVOID THEM
| | |
| --- | --- |
| | Though in project management, like in most professions, practice makes perfect, it is often the simplest project management mistakes which can keep causing problems. This can easily happen when trying to find the incremental gains that will give you an extra two percent productivity but losing sight of the basics that costs you 20 percent. |
ARES 5 PILLARS OF PROJECT CONTROLS
This white paper explores the fundamental elements required to deliver a mature, effective and robust project controls capability. The aim of every project controls team should be the delivery of actionable information, at the right time, in the appropriate format and correctly contextualized. This information is the basis for decision making and is critical for all types of projects regardless of size and complexity.

Read more...
GETTING TOP-TO-BOTTOM BUY IN
Our clients' Senior Sponsors and Planning Managers are all actively involved in these meetings, confirming the current state of the project and processes, the overall design, desired outcomes, and risks for the Primavera solution going forward. It's often these senior staff who are the hardest to get to the meetings but they're so important for getting crucial executive buy-in when process change needs to happen. They might think they're too busy to sit in on this and that their time is best spent elsewhere, up at the strategic level of meetings, but their presence is invaluable at the early stage.. Read more...
ROADSHOW AUSTRALIA
Is Australia ready for the future of Project Controls?

Australia is having a big project boom that was unimaginable a few years ago. With the increasing population of the big cities, projects multiply in construction, infrastructure, oil & gas, and process industries.

However, without the right project cost management system, major projects could lead to huge cost overruns.

Cleopatra Enterprise accelerates project success by providing an integrated project cost management solution for the entire project lifecycle. Integrated cost estimating, scheduling, cost management, and benchmarking helps you build the project controls capabilities needed to stay on time and within budget.

3 project control events in Australia...

To learn more about our integrated approach, schedule a meeting immediately with us in Australia or attend one of our learning and networking events.

Sydney | Cleopatra Lunch & Learn

Topic: Metrics & KPIs in Project Cost Management - How to use and communicate.

23 Aug 12:00 - 1:30 pm

In collaboration with TBH Read more...

Perth | Afterwork Networking and Learning

Topic: Integrated Software Based Project Controls on Major Capital Projects.

29 Aug 5:30 - 7.00 pm

An AACEI event Read more...

Melbourne | 2 Day Cost Estimating & Project Control Foundations Course

Instructors: Laurie Bowman CCP PSP EVP DRMP Principal, Synchrony.

Gideon Klipstein Vice President Cleopatra Enterprise.

5 - 6 September

Hosted by Engineers Australia Read more...
ITS HERE - CHINESE GOVERNMENT USE OUR GUILD OF PROJECT CONTROLS STANDARDS IN CHINA
NEWS... NEWS... NEWS...

The Chinese Government have translated the Guild of Project Controls' Compendium of Best Tested & Proven Practices to enable their very first COMPETENCY certification in Project Controls in Beijing. Now live...

The official first eddition is being distributed to the committee members in August.
CLEOPATRA PROJECT BENCHMARKING
Compare the performance of projects. Improve the accuracy of the future cost estimates.

Tracking the performance of your projects, Cleopatra Benchmark serves as 'corporate memory' for high-level decision making.

With Cleopatra, you can extract metrics from executed and running projects, discover trends in key cost drivers and ratios, compare performance of projects and common assets, and improve the accuracy and reliability of the future cost estimates. Request a demo...
REMOVE OR ANONYMIZE COSTS, PRICING/RESOURCE RATES, NAMES AND OTHER DATA FROM A GROUP OF XER FILES WITH SCHEDULECLEANER.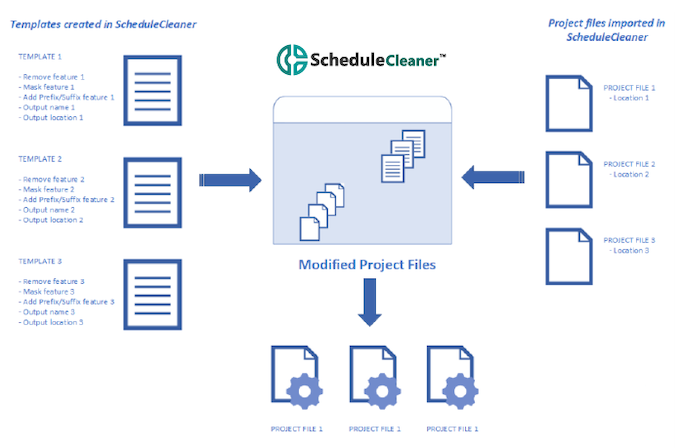 The "Batch Clean" allows you to clean a single or group of XER files by applying different modifying settings from multiple templates.
All templates can be previously created, saved and reused, which reduces repetitive steps and saves valuable time.
See Video...
NOW AVAILABLE – PRISM GO ON-DEMAND WEBINAR
Watch our 30-minute webinar showcasing PRISM Go to see how this web-based extension to PRISM G2's enterprise project controls software allows remote access into the core data set. Explore how users can easily update project data in real-time to improve project efficiency, accuracy, and increase visibility to management.

Read more...
HOW TO SELECT THE BEST PROJECT CONTROLS SOFTWARE
Considering a large amount of data that needs to be processed in projects, Project Controls software is essential. It allows the processing of extensive information that can be retained for analysis, reporting, and benchmarking. But the question is which Project Controls software is the right fit for your projects? Check this video tutorial to learn the 5-step process in choosing the best project control software.

Read more...
5 REASONS WHY SCHEDULEREADER IS THE PERFECT COMPANION TOOL TO USE ALONGSIDE PRIMAVERA P6
SchedulerReader is a truly great XER file viewer that fills many gaps for organizations using Primavera P6 Professional planning & scheduling software.

Michael Lepage, Primavera P6, Chief Learning Officer at Plan Academy Inc. shares 5 helpful features offered in ScheduleReader that are not available in Primavera P6.

View the blog post...
YOU CAN PLAN 1 YEAR IN ADVANCE - REMEMBER THIS
Construction CPM Conference next event is 19-22 January 2020 at Disney World Florida.

Three Full Days Where Professional Planner Schedulers Gather to Discuss and Improve Critical Path Method Analysis Knowledge.

Early bird rate of $825 is good through 20 Jun 19 More information at www.ConstructionCPM.com.
HOT FORUM POSTS
HELLO, HAVE YOU CHECKED OUT OUR JOBS PAGE LATELY?
We have lots of colleagues who keep asking if we can recommend good people, so it may be worthwhile checking the projectcontrols job listings our team are collating. There's a few good projectcontrols and planning opportunities which might interest you...

Read more...
"PROVEN PRACTITIONER" A PLANNING PLANET PRODUCT
Do you seek PROMOTION or do you want to better UNDERSTAND YOUR Stengths and SKILLS (in private) or do you seek that NEW ROLE?

Proven Practitioner provides ALL THE TOOLS YOU NEED

Go to Premium and sign up!
HOW TO IMPORT PRIMAVERA P6 DATA INTO POWER BI
Here Mannix Carney provides another great video blog...

The is a video guide of how to take data out of Primavera P6 and create a Power BI dashboard.

We hope you thinkthis adds value...
PROJECT CONTROLS MENTOR TOOLBOX
RATES, NORMS & DURATIONS
What is needed to come up with a production rate?

A duration of time, the manhours involved, and an amount of work produced this section of Planning Planet is here to document this.

What information do you have that you can share?
ALTERNATIVE TO PRIMAVERA AND ASTA?
A superior alternative to the "most popular" software for us as planners?

Spider Project offers numerous unique functional features and is the only PM software that optimizes resource, cost, and material constrained schedules and budgets for projects and portfolios.
GET IN FRONT OF ONE POINT FIVE MILLION PROJECT CONTROLS PEOPLE
If you would like your product, service or software or yourself to be put in front of the global (or local) Project Controls Community then you should consider subscribing to the Planning Planet Project Controls Market Place.

What is this?
ARE YOU FOLLOWING US ON SOCIAL MEDIA?
Let's get social!

Build your network and keep up to date by following us on social media, just click the icons to get started.
THE GUILD OF PROJECT CONTROLS COMPENDIUM AND REFERENCE
The Compendium and Reference (CaR) is a document which forms The Guild Standards.

The CaR is a living document being continually improved, supplemented and updated by the Guild community to reflect improvements to practices, opinions and methods in our chosen profession. The Guild is ready to receive suggestions at any time for updates to the CaR Standards. Take a look here.
Project Controls Global are the leading supplier of technically competent Project Controls, Cost, Claims, Risk, Commercial (Quantum), Quantity / Surveying & planning engineering (delay & Forensic) candidates.
We are not the same as the average agency. Our unique new approach enables you all to benefit, clients & candidates alike.
Working in various collaborations, we deliver what others cannot we live & die by our associates & partners.
PCGlobal are currently working with Pinnacle Recruitment in association with Planning Planet & utilising the great work on offer by Guild of Project Controls
Why:
We are adding value to clients when introducing candidates managing their "technical knowledge" & competency.
With our clients, we offer much more than just a name on a CV. We are working towards raising the planning levels by eradicate poor planning. Our clients projects are secure in the knowledge that our candidates are technically assessed & screened comprehensively by Guild of Project Controls.
With our candidates, we offer support vehicle's to assist professionals develop their knowledge to acceptable levels in turn opening doors for in your career.
If you are a client looking for any Project Controls, Cost, Claims, Risk, Commercial (Quantum), Quantity / Surveying & planning engineering (delay & Forensic) please contact us for a review conversation.
If you are a candidate looking for that next step in your caree , get in touch, lets see what we can do all do together
Or
david.logie@projectcontrols.com
David Logie
0207 401 8886
Here to help our planning community.
WOULD YOU LIKE TO ADVERTISE ON PLANNING PLANET?
We want to give more of our members the opportunity to advertise on our site. Click here to get started!
ARE YOU TAKING FULL ADVANTAGE OF PLANNING PLANET?
See who you know from within our 150,000+ membership pool!

Take a look at the worlds first and only competence based credentials supported by a career path, role descriptors, self-assessment tools and online compendium desk reference of best tested and proven tools and techniques for project controls practitioners.

Join other members who share their thoughts and ideas in the form of blog posts.

100,000+ questions and answers to the topics we struggle with (mostly software!) on a day to day basis.

A knowledge-base that can be contributed to or utilized by anyone with skills and/or interest in planning, scheduling or project controls. No Wiki page or article is owned by its creator or any other editor, and its content relies upon collaboration and teamwork. How can you contribute?

What is needed to come up with a production rate? A duration of time, the manhours involved, and an amount of work produced? Take a look and get involved.

This has been dusty and quiet place for some time now. We have been liaising with recruiters, headhunters and talent managers plus a ream of corporate leaders and very soon we will have the largest live repository of project controls jobs in the world. Check back soon.

Check out our Silver and Gold partners and see if you'd like to be included there also.
THANK YOU FOR READING OUR MESSAGES
If you'd like to help the small but enthusiastic team of people helping with this newsletter please do get in touch with us via PPadmin@planningplanet.com We know we have a long way to go to make this informative and an anticipated bi-weekly "read" so do get in touch and get involved. If you are reading this I am impressed, ha ha....
Regards... The Planning Planet Team
To unsubscribe please email ppadmin@planningplanet.com please ignore the unsubscribe link below