13 July 2018 Newsletter
Dear Planning Planet Member,

Please find below this weeks newsletter.

We hope that you find it adds value to your day...
WHATS BELOW...
Upcoming Meetings and Events
Practical Approach towards Project Control Systems Using EVM & CCPM Integration
Primavera Reader and the DCMA 14-point Schedule Assessment
How To Control Cost: Earned Value Management Basics
Four Steps To Breathe Life Back Into A Dying Project
Benefits of using Primavera P6 in Delay Analysis
Comparison of Construction Delay Analysis Methods
Value of Visual Inspection
Five Tips for Working Smarter, Not Harder
Role of "Daily Diary" in Construction Projects
Developing a Scoring Model using the GAO's Schedule Assessment Best Practices
Expert Witness Duties to the Court and Instructing Clients
How to Assess the Accuracy of Your Cost Forecasts with TCPI
Construction CPM Conference returns in 2019
Closing The Gap Between Actual Progress And Actual Payment; Globally, Who Are The Late Payers?
Change Management & Claims Avoidance
How to Forecast the Cost at Completion of a Project
Project Performance Audit – A Methodology
4 Bad (Planning) Habits to Kick this Year
Oracle Primavera P6 Professional – Get Filter Savvy
Forecasting – An Insight on Project Planners Vs Old School Managers
UPCOMING MEETINGS AND EVENTS
PRACTICAL APPROACH TOWARDS PROJECT CONTROL SYSTEMS USING EVM & CCPM INTEGRATION
Despite widely-accepted project control systems utilities & ways of doing things being used to watch (for changes, unusual things, etc.) the project performance, it was seen/obvious that a large number of projects do not complete on time & within budget (For every $1 billion invested in the United States, $122 million was wasted due to missing project performance.

It's very important to successfully identify the good Projects control systems... Read the full blog.
PRIMAVERA READER AND THE DCMA 14-POINT SCHEDULE ASSESSMENT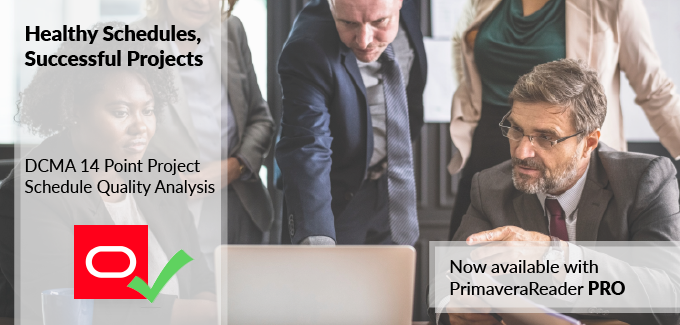 THE DCMA 14-POINT SCHEDULE ASSESSMENT is a project management guideline based on 14 metrics for qualitative and quantitative evaluation of the project schedule.
As a handbook originally developed for the purposes of the defense industry, today it is widely used to evaluate the health of project schedules by identifying and analyzing areas that are critical and can potentially create issues that obstruct the project.
HOW TO CONTROL COST: EARNED VALUE MANAGEMENT BASICS
| | |
| --- | --- |
| | Cost is one of the triple constraints in project management and one of the most important of every project. While challenging to manage and control, not impossible and there are many tools and methods out there to help you. One of the most accepted tools is the Earned Value Management (EVM) process that can capture project health and performance easily. The process incorporates project progress, schedule and costs, so you can project and analyze how the overall project is performing... Read the full blog. |
FOUR STEPS TO BREATHE LIFE BACK INTO A DYING PROJECT
| | |
| --- | --- |
| | While it is obviously a last resort, there are times when it's necessary to gracefully kill a project vs. allow it to continue its terrifying one way journey towards oblivion. However, well before that becomes a possibility, project managers need to pull out the jaws of life, grab a defibrillator, and administer some CPR — because if the project management gods are on their side, they'll be able to breathe life back into a dying project. Here are five steps that could pave the way to resurrection and recovery... Read the full blog. |
BENEFITS OF USING PRIMAVERA P6 IN DELAY ANALYSIS
These are some benefits of using Primavera P6 in Delay Analysis. Here are four simple steps to help you get started:

Filter which activity affects the Milestone
Filter which activity is on the Critical Path
Compare the Impacted Schedule with the Baseline
See the effect of one Delay Event or the combined effect of several Delay Events

To find out more about how you can use Primavera P6 in Delay Analysis, read the full blog.
COMPARISON OF CONSTRUCTION DELAY ANALYSIS METHODS
According to the Project Management Institute over 70% of the projects are not delivered in time due to several reasons. Different delay analysis methods and programming methods have been identified by different organizations and authors for carrying out delay analysis. The need for improved methods of programming construction projects to reduce the number of unjustified claims and better understanding of delays is essential. In this paper a case study project from Sanders, M. C. (2012), is selected.
The selected project has used five different methods from AACEI's Method Implementation Protocols (MIP) methods for forensic delay analysis... Read the full paper.
VALUE OF VISUAL INSPECTION
In this data-rich environment, the value of old-fashioned, visual inspection is enhanced, and not diminished. Visual inspection gives us the opportunity to corroborate what the data is telling us.

It also provides us with a tactile understanding of how our projects are progressing... Read the full blog.
FIVE TIPS FOR WORKING SMARTER, NOT HARDER
| | |
| --- | --- |
| | Working smarter (not harder) could mean the difference between a so-so project and a successful one–this article will explore five tips for working smarter, not necessarily harder. The phrase, "work smarter, not harder" seems like an obvious piece of work advice. Who wouldn't want to use their brains to deliver increased success along with more free time, it sounds so simple. But what does working smarter actually mean? Read the full blog. |
ROLE OF "DAILY DIARY" IN CONSTRUCTION PROJECTS
Often neglected, the subject document is an important piece of paper for construction projects. The document can be used in a variety of ways to improve the project performance and dispute resolutions. I have often seen that the project team believes the document as a burden and useless effort and thus the document is either not maintained properly or in some worse cases, the document even doesn't exist.
However, if maintained and recorded properly, these documents can be integral. To find out about the benefits of using a daily diary and what to include in one, read the full blog.
DEVELOPING A SCORING MODEL USING THE GAO'S SCHEDULE ASSESSMENT BEST PRACTICES
In the current Oil and Gas (O&G) economic climate, the multi-national Oil giants are holding back development of new facilities, and those being sanctioned as viable need to be managed effectively and efficiently. These viable projects require a 'Best in class' schedule increasing their chances of success.

The GAO's Schedule Assessment Guide was developed by the US Government to address the numerous projects that were over-running in both schedule and cost, projects that were funded by public money... Read the full blog.
EXPERT WITNESS DUTIES TO THE COURT AND INSTRUCTING CLIENTS
All good expert witnesses that practice in the English and Welsh courts should know that the Civil procedure (CPR) rules apply to their work. In addition to the Civil procedure, experts should know about the case law on the duties of experts as this gives guidance on what the courts expect and the possible sanctions that may arise if they do not meet their obligation to their instructing client and the court.

Despite these being essentials for any competent witness it is apparent that some of those holding themselves out as experts know nothing of the law, rules, regulations and good practice that they should comply with... Read the full article.
HOW TO ASSESS THE ACCURACY OF YOUR COST FORECASTS WITH TCPI
How do you evaluate the accuracy of your cost forecasts?

Not long ago, a powerful EVM metric called TCPI (To Complete Performance Index) was introduced as a forecasting metrics. TCPI used primarily to determine if an independent estimate at completion (EAC) is reasonable.

Watch this video to learn how you can use the TCPI metric to assess the feasibility of your cost forecasts.
CONSTRUCTION CPM CONFERENCE RETURNS IN 2019
San Diego, California - JANUARY 20 – 23, 2019

For 2019 the Construction CPM Conference returns to San Diego

We have booked six meeting rooms over three full days.

Two keynotes – Seventy-Seven breakouts – Five networking events – One conference

Early Early Bird Rate Ends 15JUL18. Our Best Rates for Speakers & Exhibitors is open to all – until 16JUL18. REGISTER NOW for $825.
CLOSING THE GAP BETWEEN ACTUAL PROGRESS AND ACTUAL PAYMENT; GLOBALLY, WHO ARE THE LATE PAYERS?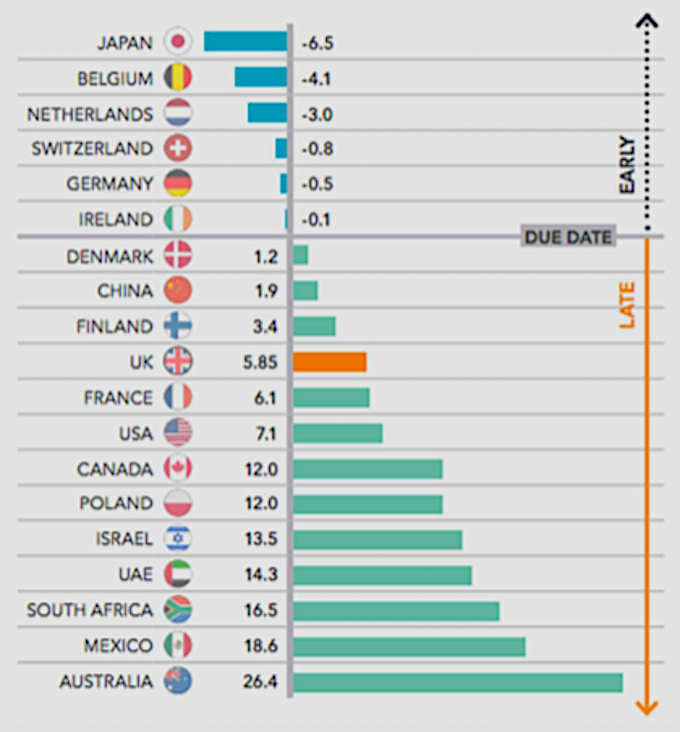 In relation to the ongoing issue of "the gap between actual progress and actual payment for that progress" this analysis is quite interesting.
Figure 2 (page 14) of the link below provides a global comparison of all industries payment times across countries compared to the baseline due date for payment.
As can be seen, in Australia payments are on average overdue by 26.4 days, compared to the next worst performer, Mexico, with an average overdue period of 18.6 days. The best performing country, Japan, paid its invoices on average 6.5 days before the due date.
Read the full report here.
CHANGE MANAGEMENT & CLAIMS AVOIDANCE
| | |
| --- | --- |
| | Most of us have heard of the saying, "The only thing in this universe that does not change is the word change itself". In the realm of projects, change shall mean anything that deviates from the originally agreed scope, terms and condition of the contract. So, what happens to the perceived changes that falls through the cracks in the change management process? As well as those items that concerned parties couldn't agree on entitlement? Read the full blog. |
HOW TO FORECAST THE COST AT COMPLETION OF A PROJECT
How do you forecast the cost at completion of your projects? What cost forecasting methods do you use?

There are various methods to cost forecasting: Risk based methods, regression based methods, and performance based methods. Check out this video to learn the "performance-based cost forecasting methods" using Earned Value Management.
PROJECT PERFORMANCE AUDIT – A METHODOLOGY
Management consultants, by the nature of their business, live in a world where winning the work means survival of their firm, and improvements to their salary. Some will do whatever it takes to win the work. Others genuinely care about the service they provide. The two are not always mutually exclusive.

After analyzing over seven hundred audit reports, the answers to the two questions were clear. Work was being won by other firms because they were able to price their services very low. However, in order to do so, they were reducing scope to the bare minimum required. Read the full paper.
4 BAD (PLANNING) HABITS TO KICK THIS YEAR
| | |
| --- | --- |
| | After being on the road these last two weeks presenting at project planning conferences and talking to hundreds of project practitioners, I have come to a simple realization...we have accepted and implemented some poor planning habits in our industry that prevent us from producing accurate and achievable plans, faster. |
ORACLE PRIMAVERA P6 PROFESSIONAL – GET FILTER SAVVY
| | |
| --- | --- |
| | Building a filter where all the conditions are either 'And' or 'Or' between each row is pretty straight forward. However, if you want to mix them up a little it's not so obvious how you should do that in Oracle Primavera P6 Professional. This article will show you how. |
FORECASTING – AN INSIGHT ON PROJECT PLANNERS VS OLD SCHOOL MANAGERS
| | |
| --- | --- |
| | Forecasting is an important skill and since the beginning, folks have been using different techniques and procedures to better predict the future. As the technology evolved over time, new techniques and procedures have revolutionized the forecasting capabilities. Forecasting using previous experience is one of the widely used old school methods. This method is good as it is quick and general but precision becoming more and more important in modern projects necessitates the developments of modern forecasting techniques... Read the full blog. |
Thank you for reading our short message. Let us know if you got all the way down to here, we really enjoy reading your messages :)
If you'd like to help the small but enthusiastic team of people assisting with this newsletter please do get in touch with us via PPadmin@planningplanet.com
We know we have a long way to go to make this an informative and anticipated bi-weekly "read" so do get in touch and get involved.
Regards...
The Planning Planet Team
To unsubscribe please email ppadmin@planningplanet.com please ignore the unsubscribe link below