23 Mar 2018 News
Dear Members,

Please find below this weeks' newsletter we hope you find it to be of value. We get about 100 emails each time we send these out offering advise and suggestions so do please keep them coming. This is sent to ~130,000 people globally.
PLANNING PLANET has a new LONDON OFFICE location: call us for a chat - us: +44 1784 77 97 88
Passionate members of the community are arranging for networking / meetings sessions to be implemented around the world.

Please check out the links below:

Wolverhampton, England - April 18, 2018 - 18:30 onwards - read more
Johannesburg, South Africa - April 21, 2018 - 10:00 onwards - read more
Singapore, Singapore - venue being sourced now
Dubai, United Arab Emirates - venue being sourced now
Doha, Qatar - venue being sourced now
New Jersey, New York, United States - venue being sourced now
London, England - venue being sourced now
Kuwait city, Kuwait - venue being sourced now
Your Location NOT HERE? - contact us - ppadmin@planningplanet.com
WHY USING EXCEL TO MANAGE YOUR PROJECTS IS LINING YOU UP FOR FAILURE
When it comes to projects, Excel spreadsheets are one of the most popular tools on the market.

It comes included with your Microsoft Office license and is flexible enough to create highly specific functions from scratch. So, what's the catch? While spreadsheets can be powerful, they come loaded with an inherent risk of error and tend to become complicated and unmanageable as projects grow.

This white paper dives into the risks you face when using spreadsheets as your primary tool.
INTRODUCING PROJECT CONTROLS GLOBAL TALENT MANAGEMENT
| | |
| --- | --- |
| | If you are a prospective EMPLOYER with VACANCIES you'd like to fill or a PROJECT CONTROLS PRACTITIONER ready to take on the challenge of a NEW ROLE then please GET IN TOUCH for an initial discussion so we can demonstrate to you how we can help where others cannot. |
| | |
| --- | --- |
| | NEWS FROM ORACLE PRIMAVERA |

How BIM Can Enable Construction Scheduling in 4D
The concept of 4D schedule simulation holds significant promise to improve project delivery by marrying highly detailed scheduling to building information models (BIM). Unfortunately, this approach has been difficult to implement, as the constantly changing nature of the models, activities, and other schedule data used makes it difficult to share information across project teams. But Oracle and Assemble Systems are working to change that.
Oracle Construction and Engineering and gold-level partner Assemble Systems recently announced integration between Assemble and Oracle's Primavera P6 Enterprise Project Portfolio Management. This integration enables construction managers to combine the schedule and BIM data to communicate construction sequencing to owners and other partners. Users can easily create simulations and manage project changes.
"By merging the BIM model and scheduled activities, managers can watch a project being built virtually to validate the accuracy of planned sequences within the schedule," says Mark Jenkins, Oracle product management director. "If there's an error when moving from one project element to another, it will stick out like a sore thumb."
The Assemble integration will be showcased at Oracle Industry Connect 2018 this April in New York City.
Digitize Lean Construction with Oracle Prime Projects
Now available on-demand
The Lean task management capability in Oracle Prime Projects provides a set of tools to improve the detailed coordination, planning, and execution of work between planners, supervisors, and field workers. It enables field workers to decide the best way to execute their work with maximum efficiency and minimal waste. Get an in-depth look at the Work Plan interface, which allows planners, supervisors, and field workers to easily define, plan, and sequence their work according to the near-term objectives defined by the project schedule. LastPlanners® create tasks in the hopper for each activity in the planning period. Tasks are then dragged to the weekly planning board or future weekly bucket, using the project schedule's activities as a reference.
Each webcast includes a live Q&A session that connects you directly to Oracle Product Directors and Solution Consultants.
Watch the first two webcasts in our Oracle Prime Projects series on-demand and learn about the upcoming live event. Register today!
BASIS
Proper Project Risk Analysis - It's Not About Monte Carlo

If you know me, you know that I have spent a great deal of my career building project risk analysis software - Pertmaster (PRA) and Acumen Risk. I am grateful these tools made a positive impact in helping most organizations and project teams improve their schedules and forecasting. When I invented Acumen Risk in 2012, the objective was to design a tool that would literally put me out of a job facilitating project risk workshops. I believed the complexities of traditional Monte Carlo and risk modeling should not be left solely to internal or external risk experts. Instead, the tool should act as a pseudo-facilitator that simplified the entire process and enabled the team to build their own risk models.

Fast forward to today, while it's fair to say that the likes of risk reporting have rapidly progressed through innovative tools, the task of capturing a team member's expert opinion as an input into a risk model is still a treacherous process. Scheduling is a tricky thing, and the underlying concept of using a duration range as an input isn't sufficient to truly capture the realism of a plan.

Don't get me wrong, risk software tools are good, in fact, they are really good, but it's our underlying philosophy towards risk modeling that needs a nudge in the right direction.

"The estimate is aggressive, but I will finish early."

I recently facilitated a schedule risk workshop using the accepted approach of a 5-point scale for capturing uncertainty (from very conservative through realistic to very aggressive). When talking through the categorization for construction, a team member adamantly stated that the scope was aggressive (i.e., required more time) and so we made the necessary adjustments to the model showing that the duration would more often than not take longer than planned. WRONG. What the team member really believed was that he was actually going to finish his scope in less time but that it was going to be difficult/aggressive for him to do so. So, in fact, the risk model was backwards because we had forced him to think in terms of duration uncertainty whereas in reality, he thought in terms of 'where am I really going to land?'

Dates or Duration? The Complexity of Knock-On

Let me give you another example. For those of you that have facilitated risk workshops, you will know that schedule uncertainty ranges are duration-based and not date-based. How many times have you had to remind the team to think in terms of duration and not dates? Don't flag construction as aggressive because the finish date is going to be later than the plan suggests. Construction may take less time than planned but may finish later than planned due to delayed preceding scope such as engineering (i.e., knock-on).

In order to get your risk model right, you have to model in terms of duration. That's all very well, but project team members inherently think in terms of dates, not duration. They plan by dates; their performance is tracked by dates; they live and die by dates, and yet we force them to convert dates to durations when capturing their opinion. Add to the mix the complexity of CPM knock-on-effect with logic paths, and the whole thing starts to get a bit silly. Oh, and by the way, when trying to think in terms of duration, make sure you convert working time to remaining Gregorian-based time...seriously?

Risk Events versus Uncertainty

We invented the concept of separately identifying uncertainty and risk events so that upon completion of analysis and reporting, we can understand whether it's the plan itself that is unrealistic, or external risk events are impacting our ability to execute on time.

Again, back to the risk workshop scenario, how many times have you been reminded to try and categorize the uncertainty of duration without taking into account the impact of risk events (as these will be accounted for in the risk register)? Sounds simple, but in reality, it's really hard to do. Team-members think in terms of "I am more likely to be early/late (dates) because of poor estimates...or risk events...or knock-on from preceding work." Trust me; you will get a few raised eyebrows if you really think you can look this team member in the eye and ask them to separate this out into an uncertainty range, and a risk event with a probability and impact value.

Pre-mitigated versus Post-mitigated Risk Models (a.k.a. Keeping it real)

A project executive once taught me a very valuable lesson about 'keeping it real.' I was trying to explain to him the difference between a pre-mitigated and post-mitigated risk scenario that I had built for him. Halfway through my delivery about cost-benefit of risk mitigation, he cut me off and said "Dan, I pay my team to mitigate. Why are you even presenting this scenario to me? My team members are experts in the field, and their job is to inherently mitigate." I tried to explain that if the team does nothing about the risk, then their exposure would be greater. Putting my risk modeling pride aside, I knew he was right – I was trying to be too clever and arguably too academic with him, rather than giving him a model that reflected reality. Pre-mitigated risk models show extreme risk exposure ranges and aren't helpful. When capturing uncertainty and risk event impacts from team members, we shouldn't insult them by asking "What is the range without mitigation?". We should simply ask, "Based on your expertize and plans in place, do you believe the planned work is achievable?"

What are we really trying to establish in a Risk Workshop?

I have come to the conclusion we should simply be trying to capture team members' expert opinion on the realism and achievability of the plan. It boils down to buy-in versus push-back. Risk workshops aren't risk workshops; they are realism or confidence workshops. End of story. It's the subsequent analysis and reporting that gives us insight into risk exposure and drivers, etc. Risk workshops are all about establishing how much (or how little) team members buy-in to the plan.

If we can somehow capture team member expertise and convert this into the inputs that a CPM and risk analysis tool require, then we get the best of both worlds:

We accurately capture team member opinion without forcing them through a complex process (and just let them think in terms of dates)!
We still get the benefit from the tried and trusted analysis and powerful reporting that Monte Carlo tools such as PRA and AcumenRisk offer.

Make it Easy for Team Members (those that are experts in the work, but not CPM)

So, let team members think how they naturally think. Let them buy-in or push back on dates and not duration. Let them flag concerns and then back this up with reasoning (schedule realism, risk event, or knock-on effect).

Let's also take into account consensus (or lack thereof)! Wouldn't it be valuable to know the differences in opinion of team members? In fact, shouldn't those differences in opinion drive the range of uncertainty that we then plug into our risk model

This is why we created BASIS

To help with this process, we have developed a tool called BASIS. BASIS is designed to both calibrate and validate project plans and risk models.

Calibration through AI (Artificial Intelligence)

BASIS uses captured planning knowledge (e.g., previous projects or standards) to calibrate your plan, establishing a realistic baseline that the team can then review during a risk workshop. Through some very clever Artificial Intelligence, BASIS literally benchmarks your plan in real-time so that you can be confident that the plan you are about to run a risk analysis on is as realistic as possible. Not only that, but it also tells you where you should focus your efforts on identifying risks. Using historical experiences, it makes suggestions as to common risks relative to the scope of work. Pretty clever stuff and very useful in terms of making sure you don't miss anything in your risk workshop.

Validation through HI (Human Intelligence)

Once you've established that your plan is a realistic forecast, you then need your team to review it and either buy-in or push back. This then becomes the basis for your risk model.

To make this process easy and meaningful, BASIS offers team members the ability to review and markup the schedule in their own personal markup layer. Not only that, they get to think in terms of dates, and not get caught up in the weeds of calendars, constraints, working time versus non-working time, etc.

Tied to this, BASIS then conducts an automatic consensus analysis enabling the project planner or risk facilitator to pinpoint areas of disagreement versus those areas where the team carry a consensus. It's okay to raise concerns about the schedule, but if the team members have wildly differing opinions, then you have a serious problem with buy-in.

Conclusion

As I stated in the introduction, today's risk analysis tools are really good at what they do – analysis. The challenge lies in the fact that risk analysis is built on CPM, and that in turn requires inputs (durations, logic, ranges, calendars) that are very different to how team members think and operate on a daily basis. What is missing is the 'translator' that enables team members to articulate their confidence or buy-in (or lack thereof) into a project schedule and have that translated into the building blocks that CPM/risk analysis tools require. That missing link is exactly what we are building in BASIS. Let CPM tools do CPM; let risk analysis tools run Monte Carlo simulations, but most importantly, let those who understand the project most articulate to you (in their terms) their belief or buy-in to the schedule.

Having such harmony between tools and team members will continue to improve the science of schedule forecasting.
PLANNING PLANET ARE ON TOUR AND WOULD LIKE TO VISIT YOU - read more here
The DIFFERENCE BETWEEN Activity type: TASK DEPENDENT and RESOURCE DEPENDENT in Primavera P6
by Khuong Do

In Primavera P6, there are 2 popular activity types:

Task Dependent and
Resource Dependent

So what is the difference? - Read Blog
WANT TO TEACH PREPARATORY or COMPETENT LEVEL PLANNING & SCHEDULING?
If you would like to help teach practitioners, or your team the fundamentals of Planning & Scheduling or Cost Management or even Managing Claims then please read this page.

You would be provided with a detailed syllabus and course content so all you would need to do is to be an experienced project practitioner and be able to develop some training slides to use with students.

We even advertise you and your courses and find you your students.
PROJECT SOFTWARE: 5 STEPS TO ONBOARDING SUCCESS
Evaluating and choosing new project management software can take anywhere from a few weeks to several months. But once a decision is made, there's another key challenge to overcome: on-boarding users.

To help enterprises take the shortest path to value — and enable their users to embrace rather than reject the new project management software — here are five steps to on-boarding success.

Read this exclusive post here to find out the 5 routes to on-boarding success. Why not take a moment to review our product tour and find out for yourself how Clarizen can help you?

To review Clarizen content and find out more about how we can help take a moment to visit our web page here.
[ Webinar Recording ]

HOW TO USE PrimaveraReader

Watch the Recording from our last week's Webinar, where we talk about the latest features, use cases and benefits of using PrimaveraReader.
If you have any additional question, we encourage you to ask them in our Forum section or contact us at contact@primaverareader.com
About PrimaveraReader™: PrimaveraReader is a project schedule viewer for Oracle® Primavera P6 schedules, that works with XER/ XML/ XLS files and replaces exporting plans and schedules in PDF to other Stakeholders. Learn more
TURBO CHART - Time Location Charts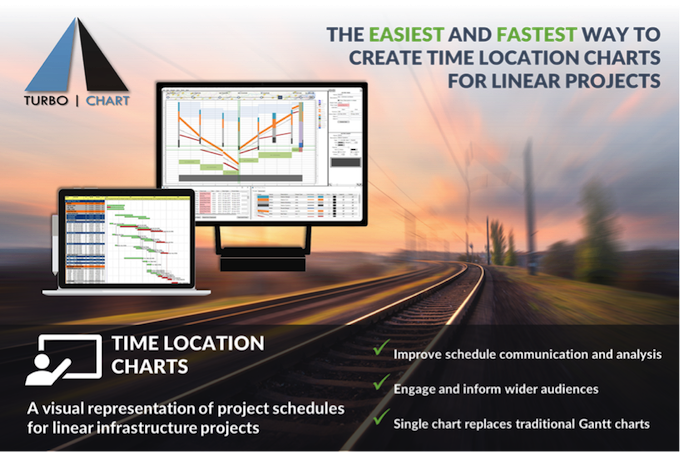 Turbo Chart is a new tool for creating Time Location/Chainage charts. It has been designed to work with your existing scheduling tools (MS Project, Primavera P6, Safran or any Spreadsheet ready data). With its uncomplicated features, you can create charts in minutes and update from your schedule in seconds. Visit Turbo-chart today and download a free trial version.
Here it is againin case you missed it :)

When it comes to project management, Excel spreadsheets are one of the most popular tools on the market. It comes included with your Microsoft Office license and is flexible enough to create highly specific functions from scratch. So, what's the catch? While spreadsheets can be powerful, they come loaded with an inherent risk of error and tend to become complicated and unmanageable as projects grow. This white paper dives into the risks you face when using spreadsheets as your primary project management tool.
CORPORATE or INDIVIDUAL MEMBERSHIP
| | |
| --- | --- |
| | Guild Partner Membership enables employers to assess AND manage their Project Control function much more effectively... your staff benefit by increased awareness of their roles and how to improve their skills with written guidance and a global community to call upon. Read about it here. |
That's all folks...

If you want to get involved and provide content for the next newsletter then please get in touch.
Legal Bit - to unsubscribe and be removed email ppadmin@planningplanet.com