07 Jul 2017 Newsletter
Dear Members,

This newsletter comes to you courtesy of one of our new Newsletter Team and is part of our initiative to do a better job of collating and presenting useful Project Controls data from around the internet.

| | |
| --- | --- |
| | THE LAST NEWSLETTER WAS READ BY 87,281 PEOPLE - thanks for all your support |
[EDITORS] INTRODUCING THIS WEEKS EDITORS
Big thanks to these practitioners for assistance in providing the information.

If you want to join the team to locate and provide useful content or if you want to organise the editors and format and publish the content please get in touch via PPAdmin@planningplanet.com and tell us about yourself.
[TRAINING] 3 DAY COURSE PREPARATORY PLANNING & SCHEDULING
We are finalising our Guild of Project Controls training offer and are delighted to write that Global Knowledge are organising a training course at their offices in Wokingham, England.

Who should attend?

Candidates should be individuals who qualify for Preparatory Level training in Planning and Scheduling, or
Individuals who may be interested in providing training themselves for Guild Certifications and wish to assess the quality of the course.

There is not much time! The dates are the 24th/25th and 26th of July 2017

The course includes heavily discounted Exam and Certification from the Guild - meals are provided - Wokingham is conveniently situated. Here is the link: Learn more

Contact admin@guildofprojectcontrols.com to reserve your place(s). We will confirm your place as quickly as we can.

Thank you.
[EVENTS] WANT YOURS LISTED HERE?
Registration open: The Hamdan Bin Mohammed Award for Innovation in Project Management was launched in 2015 under the patronage of H.H. Sheikh Hamdan bin Mohammed bin Rashid Al Maktoum, Crown Prince of Dubai and Chairman of the Dubai Executive Council. The award targets an international community of Project Management Professionals and Specialists to participate as Individuals, teams, or organizations involved with management of projects, programs, or portfolios. Deadline for registration - 14th July 2017. Learn More
Registration Open: PMO Symposium®: Where Leaders Meet - Join over 500 PMO leaders for advanced workshops on OPM strategies and executive-level networking. Session leaders and panellists come from leading global organizations across various industries and government sectors. Speakers from PMO Symposium 2016 included Microsoft, HPE, Mayo Clinic, Boeing, AT&T, TD Bank, First Gulf Bank, SPAWAR and more. Learn More
Registration Open: AMCIS (PMI affiliate event) brings together academics and industry professionals around the world to exchange knowledge related to the AMCIS 2017 theme, A Tradition of Innovation. Learn More
[CLAIMS ARTICLE] GHOST SCHEDULES – WHAT, WHY & WHAT'S THE RISK?
GHOST SCHEDULES – WHAT, WHY & WHAT'S THE RISK? Many Project Control Practitioners have been involved in projects where two or more sets of schedules were found during the process of preparing or defending a claim. One set of schedules was, inevitably, the baseline or as-planned schedule and updates to that schedule that were submitted by the contractor to the owner. A second, and sometimes even third, set of schedules, created by either the owner and/or the contractor, may also be found to exist on the project. These schedules are, generally, referred to as Ghost Schedules. What is the basis for the creation and use of Ghost Schedules? Are there issues and risks arising from the use of Ghost Schedules? Lean more.
[CLAIMS ARTICLE] TYPES OF SCHEDULE DELAYS IN CONSTRUCTION PROJECTS
TYPES OF SCHEDULE DELAYS IN CONSTRUCTION PROJECTS. A 2016 report on worldwide Construction Claims states the global average value of a construction delay dispute to be a staggering US$46million, a trend that has climbed upward from 2010. The report also indicates that the average dispute took 15.5 months to reconcile. You can read the full report from Arcadis here. Although claims and disputes are the inevitable result of delays to a project, for those new to project controls a good starting place is understanding the different types of schedule delays that can occur. The causes of delays on large-scale construction projects are many and varied; changes orders, financial issues, adverse weather, supplier delays, poor design, and lack of experience (owner or contractor) or unforeseen ground conditions. These are just a few of the most common causes of delay. However each cause corresponds to a particular type of schedule delay. The classification of delay types help us to understand if the delay will impact the project's delivery date or not, will impose unplanned expenses to the contractor or the owner (or not) or was caused by action (inaction) of 2 or more parties involved in the construction, typically the owner and the contractor. What are the Types of Schedule Delays in Construction? Let's go through the different types of schedule delays in Construction projects. Learn more
[JOB HUNTING] SOTERIA
We already have a number of global companies waiting for your applications.
The SOTERIA METHOD enables all parties in the recruitment process to benefit and it's straightforward read the link for more information and apply now! - read more here and stand out from the crowd.
[SPONSOR] ARES WHITE PAPER: INTEGRATION IN A PROJECT CONTROLS ENVIRONMENT
New White Paper: Integration in a Project Controls Environment

In a project controls environment, integration of project, program and portfolio data is essential to make key business decisions.

This white paper explores how to effectively integrate project controls data, defines service oriented architecture and its interactions with applications and discusses the benefits that can be realized by managing programs from a central point. Learn more
[METRICS ARTICLE] Management Metrics – Key to Success
Project Management Metrics – Key to Success to ensure the success of the project, it is mandatory to have systems to determine if everything is moving along smoothly. And this is where defining, setting up and continuously monitoring metrics and specific reports inherent to the project become paramount. Metric is defined as a Standard of measurement by which efficiency, progress, performance, quality and many other aspects can be assessed. Metrics can help organization's strategy and decision making as well as help in building predictability. Knowing which metrics types to leverage is an important consideration for the project manager. Metrics enable the project management to assess status of ongoing project in terms of schedule, cost and profitability, foresee any potential risks, nail down the problems much before they become severe, keep a check on project profitability, assess productivity of team and also assess quality of work products to be delivered. Different project management metrics are used depending on the nature and the complexity of the project.
Title: Five Project Management Metrics key to Successful Project Execution – Operational Excellence, Author: Kavita Verma, PMP. Learn more
Title: Project Management Metrics – Key Techniques, Author: Tom Tsongas, PMP. Lean more
[PRIMAVERA VIDEO] Building a Stacked Histogram in Primavera P6
Building a Stacked Histogram in Primavera P6 - A great way to see all your resource assignment levels comparatively over time is to use a Stacked Histogram in Primavera P6. It's a feature that is available in the Resource Usage Profile charting facility. The process to get this all working is a bit convoluted, so we're going to show you step-by-step the process. Learn more
[CLAIMS ARTICLE] SCHEDULE DELAYS – FIND OUT IF YOU'RE AT FAULT
SCHEDULE DELAYS – FIND OUT IF YOU'RE AT FAULT - All delays in a Construction schedule can have an impact to the project, whether it be to the cost, to the schedule or to the reputation of those involved. To help determine who is at fault, scheduling experts have devised an entire field under the heading "Forensic Schedule Analysis". A forensic schedule analyst is someone who can use forensic techniques to determine the root cause of the delay and to help assess responsibility. Want to learn more about Forensic Schedule Analysis? If you'd like to watch the recording of a free webinar on Forensic Techniques for Beginners, fill in the form at this link. Learn more
[PRIMAVERA QUICK TIP] Use Fill Down To Copy Data Across a P6 Schedule
Use Fill Down To Copy Data Across a P6 Schedule - As all of you know, when you want to develop a time schedule there are many attributes that should be assigned to activities and for this purpose we use Activity Detail bottom on the Activity Toolbar. Sometimes when you should assign very similar attributes in a schedule with heaps of activities in it, there is a function that helps you to assign some of the attributes easier with using columns instead of activity form. This function is called "Fill Down". This function is in Edit menu and most of the time is disabled unless you choose some data for using it. Let's see how easy and fast you can have complete activity assignments. Learn more
[SPONSOR] ONTRACKPM - A Guide to Funding Complex Projects in Ukraine...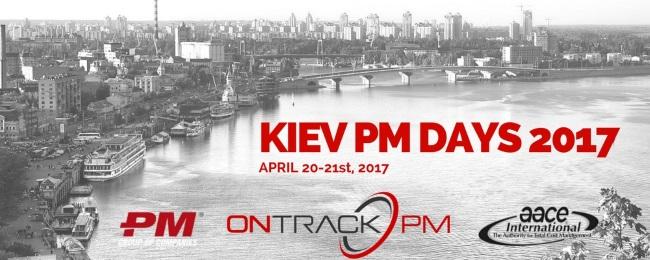 As a Project Management professional one should always keep in mind and have respect for the rather tedious and bureaucratic process that project owners undergo in their attempts to secure project funding. And while in the U.S. there are many useful information sources and standard practices in place, project funding procedure in the post-USSR area of the world up to this day remains rather vague and irregular. As thought leaders on all things regarding capital projects, OnTrack Engineering had the pleasure of hosting Kiev PM Days 2017, a conference where master minds of Project Management, Finance, IT & Law came together to discuss what it takes to see a successful project from A to Z. We would like to highlight two speakers that have given incredible insights on the subject of funding complex projects in Ukraine.
Naum Rikshpun, Partner at Traficon, Board Member at European-Ukrainian Energy Agency. One major hurdle in Ukraine, aside from project financing being a relatively new and exotic term, is that existing platforms have several key weaknesses. You may listen to his full presentation here.
Michelle Smith, Commercial Officer at U.S. Commercial Service. In her speech Mrs. Smith discusses types of financial organizations like OPIC that are interested in taking part financing projects in Ukraine, especially if that means creating jobs for Americans. Also, Michelle Smith mentions political risk insurance and ways of obtaining it. You may listen to her full presentation here.
If you have found this material interesting, please refer to our YouTube Channel for more and subscribe to our mailing list to receive a monthly letter on webinars and events in your area.
[RESOURCING STUDY] Ten Tips on Resource Planning
In this year's study, several noteworthy trends and statistics emerged: over 70% of organizations report they do not have enough resources to meet incoming project demand, while 55% have experienced a failed project in the past 12 months. These 10 tips may seem obvious, but they don't just happen naturally. It is important to make a conscious effort to include these as part of your resource planning strategy to help you maximize the use of your valuable resources.
[PM ARTICLE] Project Management 101: The Complete Guide to Agile, Kanban, Scrum and Beyond
Project Management 101: The Complete Guide to Agile, Kanban, Scrum and Beyond – An extract from an ebook by the Zapier team with authors content and freelance contributions. Full ebook available for free download in various formats.
[PETROCHEM ARTICLE] Shutdowns, Turnarounds, and Outages (STO) Project Controls
STO projects are a particular category of projects with very distinguished characteristics. They recurrence every 2 to 7 years with a similar base scope. Planning phase can be between 1 to 2 years before execution depending on the project complexity. They required extensive integration between Maintenance and Capital teams. Execution phase can be between 1 to 2 months and it is usually on a 24x7 calendar. Closing phase, which is the most important phase, is commonly neglected. Project controls plays a vital role in the success of the STO projects for the following reasons:
Every successful STO starts with a high quality and comprehensive close out report from the last executed project. This requires a well-defined document management system to enable capturing all the relevant data from the planning stages and execution phase. The close out consist of information such as last event base scope, scope changes, estimated cost, actual cost, planned schedule, actual schedule, list of contractors, equipment, and rate and many more data depending on the size and the complexity of the project. In more complex situations, interactive and individual lessons learned session with each contractor is necessary.
STO Projects involve many contractors in a very short period. These contracts need to be secured in advance to ensure resource availability in the time of the execution while locking the A players of the contractors. Also early involvement of contractors in validating the scope and estimates and optimizing the scheduling is very important. This requires a well-defined contract administration system.
Estimators play a very important role for STO projects. Estimates provide insight and feasibility for management of what need to be done and how it will be done and what will it take to happen. The preliminary estimate comes from the last event close out report. Than the current requirement will be added to the estimate. Finally, the performing contractor will validate the estimated. At every stage estimate need to be well-defined to depict labor, overhead and material, and equipment estimates. A successful project should be within +/- 5% of the estimate. The estimate will be fed to the schedule and also helps the company to understand the potential financial impact of the STO project since the down unit will not generate value.
STO projects burn between 100,000 to 1,000,000 direct man-hours. It is not possible unless a well-defined and plan and schedule is in place. Due to the nature of these projects, multiple critical paths are normal. In addition, since each section of the job can be completed independently, there is chance of having many open loops if the job is not planned right. Milestones are actively used to manage schedules. Reports can be published per shift at every shift change to ensure sound transition between teams. Prior to execution, many scheduling and planning interactive session will be conducted with different disciplines and contractors to examine the execution plan from every angle.
Most STO projects follow Front-End-Loading (FEL) process. At every phase of the FEL a cost estimate, need to be developed to feed the next phase while helping the company understand financial risk and impact of the project. These cost estimates are broken down into many different sections base on the CBS (Cost Breakdown Structure) and company's costs tracking requirements. In recent days, companies are more interested to see the cost estimates in more details and track cost with more specifics. Cost data is obtained from many sources including planning teams, contractors and suppliers, execution teams, and internal engineering and inspection teams. It is important that all these sources provide the data in a common format to help cost engineers calculate the direct, in-direct, overhead, material, equipment costs with precision.
During the execution, it is very important to provide accurate reports with a very good analysis of the job. This includes trend analysis, KPIs, earned values, headcounts, scope changes and many more factors to help project stakeholders understand the project status and trends. A forensic expert needs to understand how to capture the data from the execution site, and how to manipulate the data to provide a valuable insight and analysis of the project to different level of stakeholders.
All that was mentioned above can only happen through a well-established well-defined project controls office. Every element of project controls office is heavily linked/interlinked and involved in planning and executing a STO Project. A company invested in an independent project controls office that utilize this office to manage the above-mentioned processes will show better outcomes and predictions that are more reliable.
Written and provided courtesy of Arash Dowlatshahi, PMP
[CLAIMS ARTICLE] How to avoid CC, and what to do about them if they occur
How to avoid CC, and what to do about them if they occur. This is an old one, written in 1993, but a very interesting paper by Michael V. Griffin, P.E Senior Vice President, Hill International. Learn more
[SCHEDULING ARTICLE] Introduction to Relationship Diagramming method
Introduction to Relationship Diagramming method by Fredric L. Plotnick, CEO at Engineering & Property Management Consultants Inc. Learn more
[SPONSOR] PrimaveraReader – CUT MORE THAN 90% ON LICENSING COSTS
This cost-effective XER viewer is surely becoming a choice for the companies creating XER schedules.
Companies such as AIRBUS, ENI, HIGHWAYS ENGLAND, SARAS, and TECHNIP are some of the clients that already felt the benefits of such a viewer for team members than don't need a professional PM license.
REQUEST A QUOTE (special discount for PP members apply)
For more info: www.primaverareader.com

TOOLS
Best Excel productivity templates to keep your Project in control. Read more.
Legal Bit... to be removed please use this link which will send a mail to PPAdmin@planningplanet.com