THE CREDENTIAL APPLICATION PROCESS:
Each "box" from the CAREER PATH MATRIX graphic below represents a real-world job-role as well as a COMPETENCY CERTIFICATION - we have seniority levels and specialism streams so that you can DEMONSTRATE your COMPETENCY, KNOWLEDGE and CAPABILITY in respect to your REAL-WORLD JOB ROLE.
The process utilises a CERTIFICATION BOARD who are an INDEPENDENT PANEL of experienced practitioners, who are responsible for reviewing the findings and recommendations of GUILD ASSESSORS and either accepting or rejecting those recommendations and making the final decision as to whether a practitioner should be issued with the Certification that he / she has applied for.
You can also join as a NON-CERTIFIED if you wish too, so why not review our Guild Membership & Members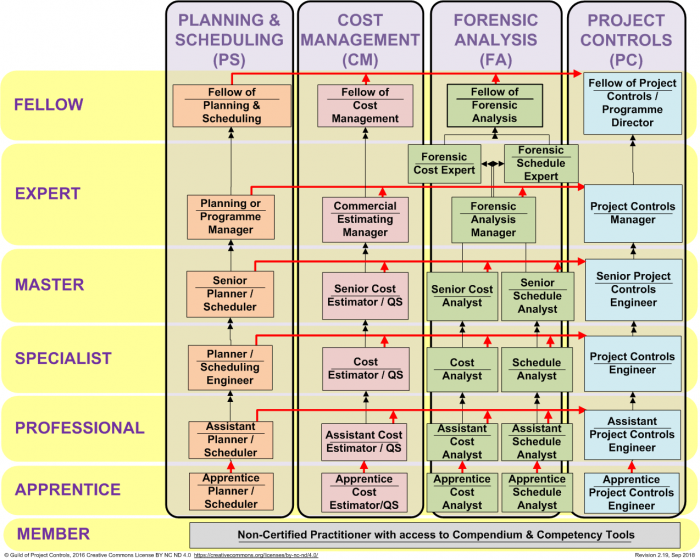 Note - document control aspects for the above practitioners has been embedded into each module i.e. document control for Planners & Schedulers has been included in the Planning & Scheduling modules and the same for Cost and Claims.
THE CERTIFICATION CAPABILITY EXPECTATIONS:

FELLOW
as an INNOVATOR, THOUGHT LEADER and ROLE MODEL
EXPERT
as a SUPERVISOR, MANAGER and MENTOR / FACILITATOR
MASTER
to ANALYZE, EVALUATE & CREATE relevant facts, concepts, procedures & critical thinking knowledge
SPECIALIST
to APPLY and ANALYZE relevant facts, concepts, procedures and critical thinking knowledge
PROFESSIONAL
to REMEMBER & UNDERSTAND relevant facts, concepts, procedures & critical thinking knowledge
THE KNOWLEDGE EXPECTATIONS:
Joining the Guild enables the candidate amongst other things, to have a version of the GPC CaR which is updated as necessary by the Guild -the CaR not only gives a reference which contains all the information required to pass the exam and can be referenced during the exam it also provides a reference for the member throughout their working life in Project Controls whatever their level of competency.
INFORMATION, TERMS & CONDITIONS - as a result of making your purchase you hereby agree to the following:
When using one of the "Buy It Now" buttons you will be asked for an email address which will be used to help you login to the exam system. You will need to login to the system in order to reserve a date and time for your exam.
After loging into the exam system and before starting your exam you will need to confirm your identity to the online Proctor via your computer webcam using a Passport or similar Government / Official Photo ID Card.
During your exam you will be observed by a remote invidulator / proctor to ensure that you are working alone.
During the test you can use the Compendium & Reference online or in hard copy format.
Your Certification will only be awarded after all of the above Certification Requirements have been met.
Any questions or disputes must be made in the first instance by email via admin@guildofprojectcontrols.com