23 Feb 2018 News
Dear Members,

Please find below this weeks' newsletter. We hope that you find it adds value to your day. Please visit our sponsors as they keep our 5 servers running and without them we will cease to exist. Thanks :)
PLANNING PLANET has a new LONDON OFFICE location: call us for a chat - us: +44 1784 779788
On the 6th and 7th of March PP will be at the Project Challenge Spring Show in Olympia, London. We're hoping some of you will come and meet us - we even have a drinks evening nearby in the evening of the 7th...

Why should you visit the stand?

Help and advice on Certification for career advancement
Recruitment
Corporate Guild involvement
Endorsed Training Partner opportunity
Be more involved in Planning Planet
Advertise yourself, goods, service or product to our community

JUST SOME OF THE REASONS - SEE YOU THERE!
Introducing Project Controls Global
| | |
| --- | --- |
| | If you are a prospective EMPLOYER with VACANCIES you'd like to fill or a PROJECT CONTROLS PRACTITIONER ready to take on the challenge of a NEW ROLE then please GET IN TOUCH for an initial discussion so we can demonstrate to you how we can help where others cannot - read about it here |
| | |
| --- | --- |
| | NEWS from Oracle Primavera |
Los Angeles Metro Helping Ready City for the Olympics

Throughout February, the world has been captivated by extraordinary displays of athleticism, dedication, and heart at the Winter Games in South Korea. As Oracle Construction and Engineering roots on these incredible Olympians from around the globe, we are also thrilled to highlight another impressive Olympic feat at this year's Oracle Industry Connect: the transformation of Los Angeles in preparation for the 2028 Summer Olympics.

Los Angeles County Metropolitan Transportation Authority, which manages the second-largest public transportation system in the US, is planning $160 billion in transportation upgrades as it readies the city to host the 2028 Olympics. Julie Owen, deputy executive officer, program management for Los Angeles Metro, will join us at Oracle Industry Connect this April in New York City to explore how her agency is leveraging technology to promote innovation and enhance the delivery of those and other projects. Key to such efforts is enterprise scheduling that provides project, portfolio, and program-level performance information for executives and constituents. In addition, the agency's centralized solution enables tracking of transit project risks, while capital project lifecycle management solutions integrate with corporate financials and executive dashboard analytics to ensure project delivery on time and within budget.

Julie, a Guild of Project Controls Certified Fellow of Planning & Scheduling and Cost Management is no stranger to extraordinary and inspiring projects. Read more about her career path and background in her candid Q&A in the Construction and Engineering blog here.

Learn more about Oracle Industry Connect and link to registration here.
Powerful Project Scheduling and Planning in Oracle Prime Projects Webcast
Now available on-demand
The schedule management capabilities of Oracle Prime Projects enable powerful-yet-easy project planning and scheduling in the cloud. Based on the technology of industry-leading scheduling software Primavera P6 Enterprise Project Portfolio Management, Oracle Prime Projects allows project managers to evaluate different schedule scenarios to arrive at the optimal project execution plan. Learn how project executives can evaluate resource demands across multiple projects to maintain optimum staffing levels across the organization. Oracle Prime Projects is the only solution that integrates Critical Path Method scheduling, Lean task management, and risk management — helping you deliver superior construction project outcomes.
Watch the first webcast in our Oracle Prime Projects series on-demand and learn about upcoming live events. Register today!
4 Bad (Planning) Habits to Kick this Year
After being on the road these last two weeks presenting at project planning conferences and talking to hundreds of project practitioners, I have come to a simple realization...we have accepted and implemented some poor planning habits in our industry that prevent us from producing accurate and achievable plans, faster.

If the overarching objective of project planning is to establish a model (in a timely manner) that best reflects what we believe will be reality, then why are CPM tools not enabling us to achieve this goal? Because the use of these tools has taught us some bad planning habits – habits that we need to kick if we want to build better plans - Read the full Blog.
What is the Resource Currency selection in Primavera P6 used for?
by Khuong Do

In Primavera's Resource window -> Details tab, there is an selection box called "Currency"......

What does it do?

I'll explain it in this article.

I'll show how to use it in this article. Read Blog
Want to teach Preparatory or Competent Level Planning & Scheduling?
If you would like to help teach practitioners, or your team the fundamentals of Planning & Scheduling or Cost Management or even Managing Claims then please read this page.

You would be provided with a detailed sylabus and course content so all you would need to do is to be an experienced project practitoner and be able to develop some training slides to use with students.

We even advertise you and your courses and find you your students - please read this page.
Construction CPM Conference 2019 will be held January 20-23 2019 in San Diego, CA, USA
Construction CPM Conference 2019 - this has been the Industry Gathering Place Since 2011.
Three Full Days of Study and Training in CPM the Critical Path Method of Planning & Scheduling Analysis. Check it out at Construction CPM
Place on your calendar now - follow details later. Consider helping us by sharing your knowledge and / or send an email to info@constructioncpm.com for more details.
Hello PPers,

Many organizations struggle to maintain consistency in how they handle complex approvals, projects and deliverables. Trying to align these activities with so many moving parts and keep everyone in the loop can be nearly impossible.

Some of the challenges you face may include:

Limited visibility into what stage a given project is in
Inconsistency in defining what work is complete
Poor collaboration/communication with key stakeholders

Join our webinar to discover how to do more with limited resources and gain greater flexibly and automation for your governance.


Details:
Wednesday, February 28, 2018
9:30 AM PST | 12:30 PM EST | 5:30 PM GMT
Register Here

Regards,
The Clarizen Team
On-Demand Webinar
Enterprise Projects Performance: Improving Returns with EcoSys 8

The EcoSys 8 software release introduces an expanded vision for managing the life cycle of projects -- Enterprise Projects Performance. Beyond project controls, this approach looks strategically across an organization spanning multiple programs, portfolios, or divisions -- with a mission to maximize returns and margins - view the webinar
In this session, we showcase the three products of the EcoSys Enterprise Projects Performance platform – EcoSys Portfolios, EcoSys Projects and EcoSys Contracts – and how their interaction creates unparalleled visibility.
Attendees will see how improved enterprise projects performance is driven by:
The alignment of strategic decision making with tactical, real-time project and contract intelligence
Proper prioritization, selection, and management of project portfolios from inception through execution to close out
Controlling projects and managing contracts through standardization based on best practices to avoid overruns and mitigate contract risk
High visibility of forecasts and trends via built-in dashboards, dynamically drilling down into underlying causes
About EcoSys:
EcoSys is the global standard for Enterprise Projects Performance software. Projects Performance goes beyond project controls to ensure all of your projects are identified, defined, delivered, measured, and recycled in one modern, fully integrated platform.
| | |
| --- | --- |
| | PrimaveraReader releases the new version 4.3. |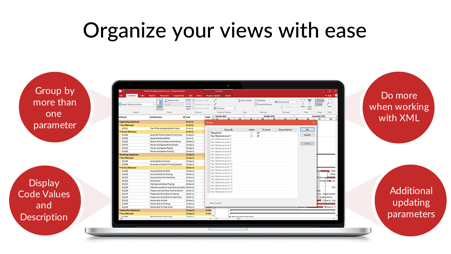 What is new in version 4.3 ( See short video )
Create Groups, Filters and Sort by combining multiple fields (e.g. WBS, Activity Codes, Primary Resource, UDFs and all the other fields)
Update Physical % Complete, Units % Complete; Duration % Complete; Remaining Duration
Import Baselines from XML file
Select to display Code Values or Code Description
New filtering criteria using Primary Resources, Activity Codes, WBS
Visit our section on Planning Planet's forum.
PrimaveraReader's discussion channel is a dedicated place where you can share knowledge, ask questions and also suggest features and improvements you would like to see in upcoming versions of PrimaveraReader.
How to structure Cost Data using Breakdown Structures
Working as a project controller, you will very likely encounter long lists of commitments, actuals, and other cost data that need to be reported on a frequent basis. To ease the job of structuring the project data, breakdown structures prove to be the answer. They allow otherwise flat data to be viewed from many angles, serving the needs of the various stakeholders in the project, e.g. management, clients, and engineers.

Read the full blog post here to learn more about how to structure Cost Data using Breakdown Structures.
Corporate or Individual Membership - read this
| | |
| --- | --- |
| | Guild Partner Membership enables employers to assess AND manage their Project Control function much more effectively... your staff benefit by increased awareness of their roles and how to improve their skills with written guidance and a global community to call upon. Read about it here. |
What's the difference between Primavera P6 PPM and Primavera P6 EPPM?
Which Primavera P6 program should you purchase? Primavera P6 EPPM or Primavera P6 Professional? If you need to purchase the software, you had better understand which Primavera P6 is best for you. Primavera P6 software is costly, and you don't want to make the wrong choice.

Navigating the Primavera suite of applications isn't exactly straightforward. So I thought I should clear up what Primavera P6 EPPM does that Primavera P6 PPM doesn't and vice versa. Read the Full Plan Academy Blog
That's all folks...

If you want to get involved and provide content for the next newsletter then please get in touch.
Legal Bit - to unsubscribe and be removed email ppadmin@planningplanet.com