Dear Planning Planet Member,

Please find below this weeks newsletter. We hope that you find it adds value to your day. Please visit our sponsors as they keep our servers running and without them, we will cease to exist....
WHATS BELOW...
Enterprises: How to Solve Chat App Chaos
Projects do not always go exactly as planned
Delay Analysis report in Primavera P6: Hide Baseline dates in Delay Event project
My Project Is Making No Progress!
Primavera P6 Certification Explained [Video]
How Reality Capture is Increasing Productivity and Accuracy in Construction and Engineering
Why The Construction Sector Must Embrace Data Science & Ai
Example Time Location charts produced with Turbo-Chart
"The Project Must Be Finished On This Date - Or Else!"
Networking, Project Controls Gatherings near you
Moving to the Oracle Cloud: Swinerton Builders Customer Case Study
Ensure your project's success by improving and implementing Project Controls, Governance and Capability
What Career Path do you have?
The all-new PRISM field management features
The CPI Stability Myth
Aberdeen Report: The Benefits of Project Portfolio Management for the Travel and Transportation Industry
Total Project Control with Clarizen
Five Things to Know About the Bottom Up Strategy
Meet the new PrimaveraReader PRO
Want your content here? please contact us
ENTERPRISES: HOW TO SOLVE CHAT APP CHAOS
Ah yes: chat apps. Those cool tools with all kinds of bells and whistles that promise to bring together distributed teams and enable real-time collaboration. But as many enterprises are experiencing, the reality isn't living up to the hype. Yes, people are frenetically sending messages back and forth. But they aren't necessarily advancing the work journey and getting things done on time, the first time. Here are some of the reasons why:

Chat Apps Dominate All Other Channels
Chat Apps Never Go Away
Chat Apps Trigger Distractibility
Chat Apps Don't Put Communication in Context

We've saved the most egregious gap for last: chat apps don't put communication in context — read the full blog post from Clarizen

[1]

.
PROJECTS DO NOT ALWAYS GO EXACTLY AS PLANNED
Some readers might have noticed that projects do not always go exactly as planned. Actually they never go exactly as planned. What's more, they have a tendency to go worse than planned more often than they go better than planned. Why is this?

Project plans are just forecasts, so the reason projects don't go exactly to plan is the same as the reason weather forecasts are not always correct. It is because our knowledge of the future is uncertain.

Yet mainstream project management systems expect project managers to give single-point estimates of how much each task will cost and how long it will take. The only thing certain about these estimates is that they will be proved wrong. Read the full blog

[2]

.
DELAY ANALYSIS REPORT IN PRIMAVERA P6: HIDE BASELINE DATES IN DELAY EVENT PROJECT
We have a report showing a Delay Event project and a Baseline project.

The Baseline project needs to show the Baseline dates so we can compare Baseline and Impacted data.

However we don't need to show Baseline dates in the Delay Event project. However, Primavera P6 always shows "something" in Baseline date column. We can hide those... Read the Full Blog post

[3]

.
MY PROJECT IS MAKING NO PROGRESS!
I had a situation recently where a client stated that despite his people working as fast and seemingly efficiently as they could, he was seeing next to no progress reflected in his performance reporting, his end date was pushing out, his efficiency was down, people were asking questions.

Now, it's not uncommon to see under staffed or under resourced projects falling behind schedule, the causes are usually pretty evident, but what about when you think you've done all the right things and still, there's no evidence of the progress you expect, despite your best efforts?

I'm going to outline three reasons that I've seen to cause this situation... read the full post.

[4]
PRIMAVERA P6 CERTIFICATION EXPLAINED [VIDEO]
After so many questions about how to get certified on Primavera P6 and the confusion around Oracle certification exams, Michael has decided to clear things up with an explanation of Primavera P6 certification for users of the tool.

Michael answers the following questions in this Ask Plan Academy video: watch the video [5].
HOW REALITY CAPTURE IS INCREASING PRODUCTIVITY AND ACCURACY IN CONSTRUCTION AND ENGINEERING
For years, building surveyors resorted to tackling projects using the same decades-old gear: a tape measure, a theodolite (an instrument for measuring horizontal and vertical planes), and a level—not to mention lots of calculations and patience.

Read our blog [6] to learn about how the "Digital Era" of construction has made construction surveying easier and more precise through innovative technologies that enable real-time analysis of construction jobsites.
WHY THE CONSTRUCTION SECTOR MUST EMBRACE DATA SCIENCE & AI
A different kind of management, where state-of-the-art technology converge with evidence-based best practices and benchmarks in project delivery services, is becoming more apparent to be inevitable.

The convergence of new technologies with existing best practice processes will give rise to a new discipline — total cost management analytics.

Read the full blog [7].
EXAMPLE TIME LOCATION CHARTS PRODUCED WITH TURBO-CHART
All examples shown are created from and linked to existing schedules...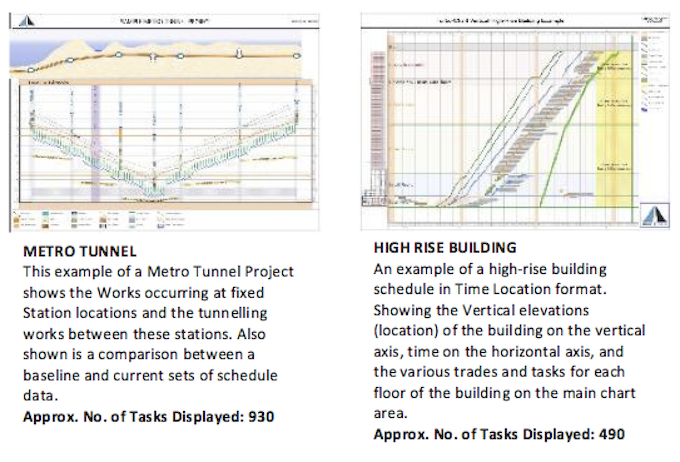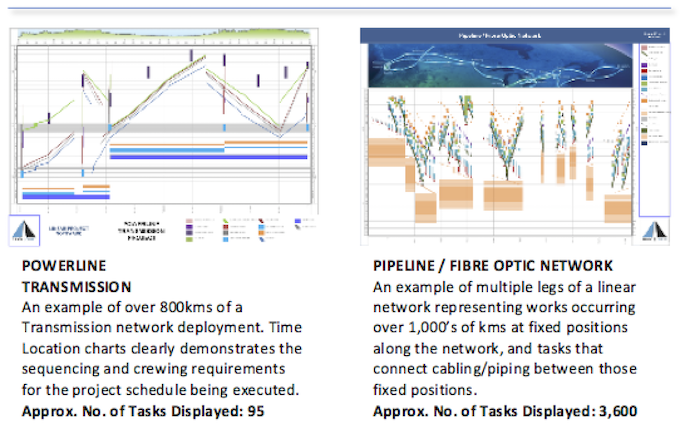 View our website

[8]

for full sized examples
Create Time Location charts in minutes and update from schedules in seconds
Lets you focus your effort on Planning and Scheduling your Linear Project without requiring comprehensive training, just to prepare charts.
Download [9] a full featured 14day trial today to see how easily you can create Time Location charts for your next linear project.
"THE PROJECT MUST BE FINISHED ON THIS DATE - OR ELSE!"
These are words of desperation, a client or senior manager who's got his back to the wall.

I was faced with this exact situation on a consulting job a few weeks back, the business owner, facing heavy penalties for late delivery was desperate for answers and didn't know a better way to react.

Unfortunately, what he hoped were a matter of weeks to completion, in my mind were more like months to completion! Surely he could see that? Read the full blog [10].
PROJECT MANAGEMENT or PROJECT CONTROLS - WHO DOES THE REAL WORK?
BRAINS versus BRAWN?

The age old question (or should I say "argument"?) of Project MANAGEMENT compared to Project CONTROLS.

I (James Williams) was asked to collate feedback in regard to the above question the team posted in the previous newsletter.

This was certainly a topical and provocative issue.

After deleting the rude comments I was left with about 200 emails to try to gleam some opinions and consensus from.

I think that the following summarises the general thoughts that were provided...

Some people thought that the answer relates to who makes what decisions as that is the measure of importance and a good comparator.
Some people say the comparison is similar to strategy and tactics. One cannot or should not exist without the other.
Numerous Project Managers stated that they are capable schedulers and can do both jobs.
Numerous Project Controllers stated that they are expected to have all the answers and brief the Project Manager to tell him what is important and what is not so that he can make a decision on what direction to go in and what to concentrate on.
Some Project Managers states that they are responsible for everything and have experts to advise them.

As you can see this is a provocative issue and something worthy of more discussion. What's next? Watch this space...
NETWORKING, PROJECT CONTROLS GATHERINGS NEAR YOU
We had a great response to our last mail abut this so we thought we'd include the message again below. If you would like to find out about a networking gathering in your area [11] or if you'd like to learn how you could create a networking group near you please do get in touch.

These meetings range from small social gatherings (in bars and restaurants) to after-work meets (in company meeting rooms) so do please contact us if you want to find out about attending or helping with one.

Please contact James via james.williams@planningplanet.com [12] who will get in touch to talk with you.
MOVING TO THE ORACLE CLOUD: SWINERTON BUILDERS CUSTOMER CASE STUDY
Moving to the Oracle Cloud:

Swinerton Builders Customer Case Study

Watch this webcast [13] to hear from Oracle Construction and Engineering customer, Swinerton Builders, on their experiences moving to the Oracle Cloud.
ENSURE YOUR PROJECT'S SUCCESS BY IMPROVING AND IMPLEMENTING PROJECT CONTROLS, GOVERNANCE AND CAPABILITY
Here is a very interestign paper and acompanying presentation from one of the Guild of Project Controls Fellows; Mr Raphael M. Dua...

Poorly run projects can be hidden behind soft budgets and schedules. Conflicts between functions can drive decisions to meet budget or schedule at the expense of the long-term viability of the assets being built. And well-run projects may be unfairly criticised for spending early or over-running when such actions may secure long-term value.

It is essential that from before the first day of a project starting that a proper Peer review of the project is carried out, to ensure there are no hidden mousetraps.

So, what really happens on projects? And how can governance be improved? We believe more attention is needed between the major review points and below the programme and Project Steering Groups to link governance with the reality of projects and facilitate timely, well informed decisions. Read the full article [14].
WHAT CAREER PATH DO YOU HAVE?
If you recognise yourself in one of the "boxes" in the chart below, why don't you take a look at the Guild of Project Controls and decide for yourself if this is something that you, or your company would like to hear about.
Literally hundreds of practitioners have given their input and helped to shape the Guild of Project Controls so there is merit in the subject. Click on the image to go look at the Guild of Project Controls [15]...
[15]
THE ALL-NEW PRISM FIELD MANAGEMENT FEATURES
Are you struggling with keeping your team, including contractors and sub-contracts, on track?

Do you know when your going over budget or falling behind schedule? Are you able to get real-time data from the field?

The ARES PRISM Field Management module has been redesigned to simplify the way you track project progress. Read the full post [16].

Simplification of Progress Tracking: All progress tracking now occurs against specific progress accounts. The Field Management module redesign comes with additional sub-panes and provides more information at your fingertips than ever before.
Punch Lists: Do you have a list of action items that are required to complete a progress item? A new sub-pane has been added to progress accounts to allow the recording of punch list items.
Field Meetings: Now you can record field meetings directly in ARES PRISM. Attendees and minutes can be recorded and affected progress items, changes, and even external document can be attached.
Safety Incidents: Recording safety incidents just became easier. You can simply record injuries, incidents, and even weather conditions along with any actions that need to be taken. Safety first!
Field Pictures: Connect pictures and other documents from the field to PRISM. Files with a picture format (BMP, JPG, etc.) will be displayed as thumbnails to give you a quick look at how your project is progressing.
Bid Documents: Easily associate bid documents to progress accounts.
ABERDEEN REPORT: THE BENEFITS OF PROJECT PORTFOLIO MANAGEMENT FOR THE TRAVEL AND TRANSPORTATION INDUSTRY
Organizational transformation is a major objective for operations within the travel and transportation infrastructure industries specifically, highways, airports and railways.

This report explores how top performers in the travel and transportation industry are better selecting and executing projects through project portfolio management. To read the report, click here [17].
THE CPI STABILITY MYTH
Undoubtedly the longest running 'urban myth' in circulation within the general project community, arising from US Defence based research from the early 1990s, that the Cost Performance Index (CPI) always stabilizes at the 20% completion and the final outcome will be within 10% of this value and usually worse...

Read the full blog [18].
TOTAL PROJECT CONTROL WITH CLARIZEN
Total Project Control with Clarizen - Clarizen is a collaborative work management solution designed for people who value their time, and for organisations that value cross-company engagement.

Built on a secure, scalable platform, Clarizen brings together project management, configurable workflow automation and in-context collaboration to create a meaningful engagement experience that allows everyone to work the way they work best.

Everyone involved can track projects, communicate effortlessly and participate on their terms. When employees can connect to a larger and more meaningful purpose, progress is not only clear, it's accelerated. Organizations of all sizes, across 79 countries already rely on Clarizen to help engage their people and move their business forward.

Find out for yourself by requesting a 30 day free trial [19] or alternatively take a moment to view our product tour [20] here.
FIVE THINGS TO KNOW ABOUT THE BOTTOM UP STRATEGY
| | |
| --- | --- |
| | A common debate in project circles is between the two styles of creating and executing a project plan, top down and bottom up. Top down strategy involves the management of a project, i.e. the project manager having complete control over the delegation of tasks and the setting of the project schedule and deadlines. On the other hand, the bottom up approach calls for more input from those who will be completing the tasks. Read the blog post [21]. |
MEET THE NEW PRIMAVERAREADER PRO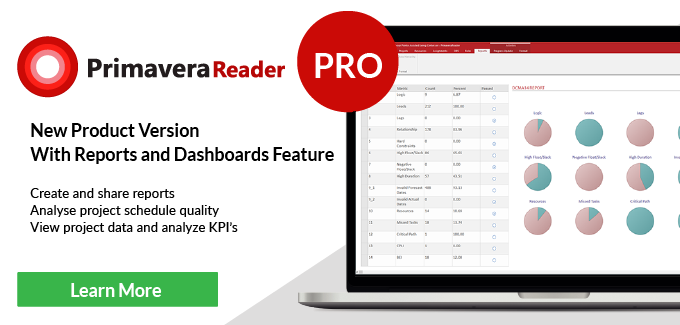 [22]
MEET THE NEW PRIMAVERAREADER PRO,
Designed to provide Schedulers, Planners, Project Controls and other Project Professionals with a solution to summarize their Primavera P6 project data into Reports and share it with all project stakeholders with few clicks of a button.
The reports and dashboards allow you to sum up, save and compare different parameters from the project schedule. They include:
DCMA 14 schedule assessment Report
Activity, Relationships and Constraint Metrics
Activity Status, Steps and WBS costs Reports
Custom Reports
Download your FREE TRIAL

[22]

today.
Thank you for reading our short message.
If you'd like to help the small but enthusiastic team of people helping with this newsletter please do get in touch with us via PPadmin@planningplanet.com [23]
We know we have a long way to go to make this informative and an anticipated bi-weekly "read" so do get in touch and get involved.
Regards... The Planning Planet Team
To unsubscribe please email ppadmin@planningplanet.com

[24]

please ignore the unsubscribe link below