Dear Planning Planet Member,

Please find below this weeks newsletter. We hope that you find it adds value to your day. Please visit our sponsors as they keep our servers running and without them, we will cease to exist. ...
WHATS BELOW...
Project Management or Project Controls - who does the real work?
General Data Protection Regulation (GDPR)
Networking, Project Controls Gatherings near you
Construction CPM Conference in San Diego
What Career Path do you have?
Estimating an Extension of Time claim using Forensic Delay Analysis
Renting Vs. Buying Construction Equipment: What You Need To Consider
What is Expected Finish Date in Primavera P6 used for?
What Are Some Common KPIs in Project Management?
Developing A Forensic Delay Claim
Here's How to End Excessive Status Meetings
Measuring Project Performance With Earned Value Management
Why you should use Turbo-Chart on your next Linear Project
The Power of Project Controls and Collaboration
Powerful Project Scheduling and Planning in Oracle Prime Projects
Primavareader free webinar on decision making
Primavera P6 SQL Server database slow loading data, performance issue
Want your content here? please contact us
PROJECT MANAGEMENT or PROJECT CONTROLS - WHO DOES THE REAL WORK?
BRAINS versus BRAWN? The age old question (or should I say "argument"?) of Project MANAGEMENT compared to Project CONTROLS.

Now if you are a project controls practitioner reading this you will appreciate what I am saying and be safe in the knowledge that it is you on the project who is expected to have all the answers and effectively be the brains on the project. It is you who needs to know what needs to be done and by when and what is important and what is not. You also need to know what things cost and how long we have to undertake them and also to know whether or not we are spending more or less than we planned and if we have the desired time and cost performance trends emerging.

You will also be expected to be able to tell the project manager what he / she needs to concentrate on so that he / she can look good. Sound familiar?

If you are a project manager you will surely disagree with the above?

This is not about "defining" what project management and project controls is, as there are many people trying to do that already, but if you have an opinion on this subject could you send it into our Founder at james.williams@planningplanet.com [1] as he would love to hear your thoughts. The best, or most "lively" or contraversial responses will be shared next time (anonymously or with your name... it is up to you).

Thanks :)
General Data Protection Regulation (GDPR) - we wanted to reassure our members that we have an updated Privacy Policy which sits at the bottom of every Planning Planet webpage. If you have any concerns or editing or deletion requirements please email us via PPAdmin@planningplanet.com

[2]

. We want you to be in total control of your personal data.
NETWORKING, PROJECT CONTROLS GATHERINGS NEAR YOU
We had a great response to our last mail abut this so we thought we'd include the message again below. If you would like to find out about a networking gathering in your area [3] or if you'd like to learn how you could create a networking group near you please do get in touch.

These meetings range from small social gatherings (in bars and restaurants) to after-work meets (in company meeting rooms) so do please contact us if you want to find out about attending or helping with one.

Please contact James via james.williams@planningplanet.com [4] who will get in touch to talk with you.
CONSTRUCTION CPM CONFERENCE, SAN DIEGO
Construction CPM Conference will be held in San Diego January 20-23 2019. We welcome our Planning Planet and Guild Members who have joined us each year to share knowledge, network. and enjoy our social events. Planning Planet leadership is expected to host a special event for the 20% of Attendees who are Members and to encourage other Attendees to join.
Conference "early early start" pricing of $825 is good until 16JUL18, so NOW is the time to get your budget request submitted for approval. More information on the program is at http://www.constructioncpm.com/

[5]

.
WHAT CAREER PATH DO YOU HAVE?
If you recognise yourself in one of the "boxes" in the chart below, why don't you take a look at the Guild of Project Controls and decide for yourself if this is something that you, or your company would like to hear about.
Literally hundreds of practitioners have given their input and helped to shape the Guild of Project Controls so there is merit in the subject. Click on the image to go look at the Guild of Project Controls [6]...
[6]
ESTIMATING AN EXTENSION OF TIME CLAIM USING FORENSIC DELAY ANALYSIS
One of the Guild of Project Controls Fellows provided this paper for the Guild Library which helps define the time necessary to investigate, analyse, prepare for and create a forensic delay analysis report.

Please take a look at this excellent White Paper.

The author (Mr. Raphael M. Dua) is further developing this paper and would be interested in comment from other experienced practitioners.

FOR EXAMPLE...

The client for whom the claim is to be determined has furnished the following files and formats

15 x Microsoft Project Files (between 750 and 1000 tasks)
24 x PDF's
35 x htm (Memos and other communications between Contractor and Developer)
5 x XLS (EOT and variation registers)
32 EOT's Event Claims
30 x Team Binder Files (could be Aconex)

These files are defined and the task is estimating how long it will take to perform the requisite analysis to provide a solution which has been arrived at rigorously and accurately will require time.

Read the full White Paper from the Guild of Project Controls Practitioner Library. [7]
RENTING VS. BUYING CONSTRUCTION EQUIPMENT: WHAT YOU NEED TO CONSIDER
Today's construction industry is so competitive that even the slightest additional cost can knock you off from that top bidder spot. Construction tools and equipment are buy and/or rent in certain instances, but the final decision depends on how frequent and how you can prorate some of these costs.

Renting or buying construction tools, what should you do? Let's look at some interesting point of views for you to consider. Read the full blog post [8].
WHAT IS EXPECTED FINISH DATE IN PRIMAVERA P6 USED FOR?
In Primavera P6, when you schedule the project and see the Activity Original Duration change, it's probably because of the Expected Finish Date.

So what is Expected Finish Date and how do we use it?

Read the Full Blog. [9]..
HERE'S HOW TO END EXCESSIVE STATUS MEETINGS
It is no secret that most employees don't just dislike excessive status meetings: they dread them.

A Clarizen-Harris poll of more than 2,000 employees revealed that 60 percent spend more time preparing for status meetings, than they do attending the actual meetings.

In addition, 46 percent would rather do any other unpleasant activity vs. endure yet another status meeting — with 18 percent opting for a trip to the DMV, and 17 percent choosing to watch paint dry. 35 percent consider status meetings "a waste of time."

However, despite being scheduled with the best of intentions, these blights on the workplace landscape continue to endure day after day, month after month…year after year. It's as if everyone knows the problem, but nobody can solve it. What's going on? Read the full Clarizen blog post [10].
WHAT ARE SOME COMMON KPIS IN PROJECT MANAGEMENT?
Good project controls and management should always involve clarity of direction for your team as well as transparency of progress for other stakeholders.

One of the most important ways of achieving both of these is by using key performance indicators (KPIs) to monitor project progress. There are many different kinds of KPIs for project management and they can either be industry specific or generally applied to all projects.

You can also break down your key performance indicators into various sections to allow you to get a broader view of how work is progressing. These may include: Costs, Timeline, Income, Variance etc. Read the full Clarizen blog post [11].

Total Project Control with Clarizen - Clarizen is a collaborative work management solution designed for people who value their time, and for organisations that value cross-company engagement. Built on a secure, scalable platform, Clarizen brings together project management, configurable workflow automation and in-context collaboration to create a meaningful engagement experience that allows everyone to work the way they work best. Everyone involved can track projects, communicate effortlessly and participate on their terms. When employees can connect to a larger and more meaningful purpose, progress is not only clear, it's accelerated. Organizations of all sizes, across 79 countries already rely on Clarizen to help engage their people and move their business forward.

Find out for yourself by requesting a 30 day free trial [12] or alternatively take a moment to view our product tour [13] here.
DEVELOPING A FORENSIC DELAY CLAIM
A sound baseline programme and a complete supporting network are essential to accurately monitor and assess progress for any form of forensic critical path delay analysis. When not available, experience and capability of interrogating contemporaneous records allows us to understand the delay issues and their potential impact. There are two major forms of analysis; which are known as: - a) Retrospective and b) Prospective.

This Guild of Project Controls paper explains the approach [14].
MEASURING PROJECT PERFORMANCE WITH EARNED VALUE MANAGEMENT
Earned value management provides an organization with an early warning system, so they can resolve issues before they become detrimental to the project's success. Significant cost and schedule variances are detectable when the planned work has reached as little as 10% completion on any portion of the project. It is far easier to make a small adjustment when you spot a potential problem early on, but it becomes chaos to deal with if you hit the problem head on without warning.

Read the full ARES PRISM Blog [15].
WHY YOU SHOULD USE TURBO-CHART ON YOUR NEXT LINEAR PROJECT
Why you should use turbo-chart on your next linear project?
Use your existing scheduling tools and data - No need to duplicate your data and invest in another scheduling system you don't need.
Prepare charts easily and quickly - Lets you focus your effort on Planning and Scheduling your Linear Project without requiring comprehensive training, just to prepare charts.
Update Time Location charts from your schedule update in one click - Schedules change often and quickly, using Turbo-Chart you'll review your updates in seconds.
How Turbo-Chart works...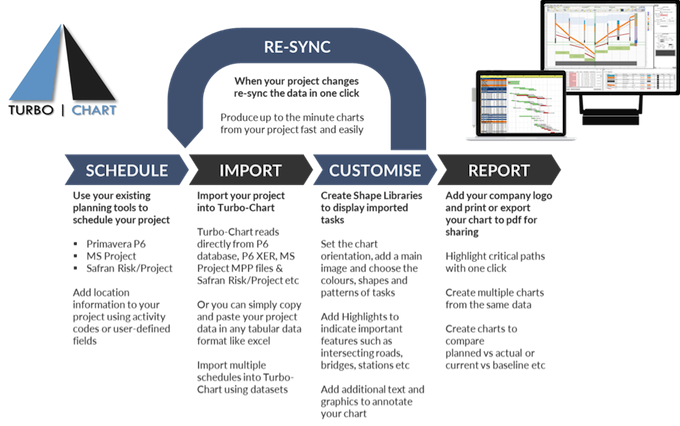 [16]
Download [16] a full featured 14 day trial today to see how easily you can create Time Location charts for your next linear project.
THE POWER OF PROJECT CONTROLS AND COLLABORATION FOR PUBLIC ENTITIES
Webcast | The Power of Project Controls and Collaboration for Public Entities
Although public sector agencies differ from state to state, all of these organizations have one common goal: completing projects on time and under budget.
Now is the time for your agency to embrace the power of project collaboration. Watch [17] this webcast where our Oracle Construction and Engineering solution experts tackle the steps and tactics to leveraging technology to drive collaboration and transparency across your organization.
Click here [17] to watch the on-demand webcast.
POWERFUL PROJECT SCHEDULING AND PLANNING IN ORACLE PRIME PROJECTS
Webcast | Powerful Project Scheduling and Planning in Oracle Prime Projects
The schedule management capabilities of Oracle Prime Projects enable powerful-yet-easy project planning and scheduling in the cloud. Based on the technology of industry-leading scheduling software Primavera P6 Enterprise Project Portfolio Management, Oracle Prime Projects allows project managers to evaluate different schedule scenarios to arrive at the optimal project execution plan.
Watch [18] this webcast to learn how project executives can evaluate resource demands across multiple projects to maintain optimum staffing levels across the organization. Oracle Prime Projects is the only solution that integrates Critical Path Method scheduling, Lean task management, and risk management — helping you deliver superior construction project outcomes.
Click here [18] to watch the on-demand webcast.
MAVERIK TURNS TO PRIMAVERA UNIFIER TO FUEL ITS AMBITIOUS GROWTH STRATEGY
To continue its growth trajectory, Maverik, a fast-growing chain of fuel and convenience stores throughout the Western United States, had to modernize its project management and construction processes, which were no longer sustainable or scalable for their current requirements. Read our blog [19] to learn about how they chose to achieve those objectives through their close collaboration with Oracle and the implementation of Oracle's Primavera Unifier.
PRIMAVAREADER FREE WEBINAR ON DECISION MAKING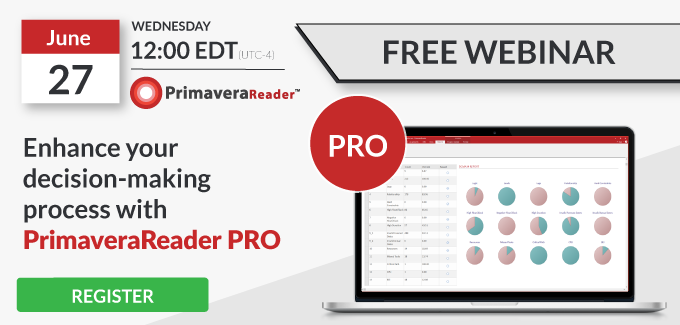 [20]
Join us for our upcoming free webinar!
See what's new in the latest PrimaveraReader version 5.0 and learn how the new PrimaveraReader PRO can save you time and allow you to accomplish more when working on different projects in Primavera P6.
Equipped with the new Reports and Dashboards feature, PrimaveraReader PRO allows users to quickly create reports, customize them, assess schedule quality and view important project metrics and KPIs.
Agenda
12:00 to 12:10: Introduction to the new PrimaveraReader 5.0 and PrimaveraReader PRO
12:10 to 12:20: Generating graphical reports, customization and sharing reports with project stakeholders
12:20 to 12:25: Assessing Primavera P6 schedule quality using the DCMA 14 framework dashboard
12:25 to 12:30: Q&A
REGISTER HERE [21]
PRIMAVERA P6 SQL SERVER DATABASE SLOW LOADING DATA, PERFORMANCE ISSUE
When using Primavera P6 with Microsoft SQL Server database, we can have problems like these:

Loading Data hangs at 98%.
Performance issues in SQL Server.
Opening projects is slow.
PM.exe not responding after entering username and password.
Project Management window disappears after loading data.
Cannot login to PM, no error.

Here is the solution to solve above problem

[22]
Thank you for reading our short message.
If you'd like to help the small but enthusiastic team of people helping with this newsletter please do get in touch with us via PPadmin@planningplanet.com [23]
We know we have a long way to go to make this informative and an anticipated bi-weekly "read" so do get in touch and get involved.
Regards... The Planning Planet Team
To unsubscribe please email ppadmin@planningplanet.com

[24]

please ignore the unsubscribe link below