infinitrac
Partner News:
THE INFINITRAC MISSION STATEMENT
Our mission is to create long-term value for clients, shareholders, and employees.
Our culture is based on an unwavering belief in integrity and fair dealings, treating clients and each other with dignity and respect.
We work hard to enhance our reputation, assure our success and profitability in the future.
We meet the needs of the markets we service.
We desire to be valued as an industry leader in product performance, client satisfaction, sales growth, financial strength and profitability.
Partner Strapline:
infinitrac, the Document and Project Management Platform
THE INFINITRAC PLATFORM
The Document and Project Management Platform - lean tools built to work! Proven results and savings!
DON'T CHANGE THE WAY YOU DO BUSINESS, IMPROVE THE WAY YOU DO BUSINESS.
This is the infinitrac motto and it is more than just words to us, it is the heart of all our business processes.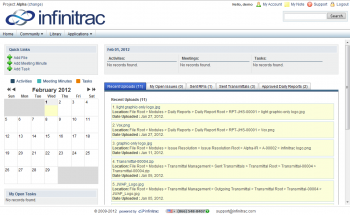 The core of infinitrac is our Project Management Platform. We started with an innovative and one-of-a-kind database design, built out over 2 dozen unique and Enterprise level Modules, and wrapped it all up in a browser-based platform.
Our platform is not only fully customizable and both horizontally- and vertically- scalable, but infinitrac is fully integratable with any other application, software, or solution: again, "fully integrable". We do not require you to change what applications you use, how you use them, or how often you use them. infinitrac is designed to wrap around and support your business process, not to force you into adopting your software vendor's idea of how you should run your business.
Each of our modules has been requested by and designed for our clients, because infinitrac is a client-centric organization, because we know that the client comes first. Feel free to test out the modules for yourself using our free DEMO site. If you need some help along the way, there are multiple user guides designed to walk you step-by-step through each module. You can also see a list of our modules HERE.
With the infinitrac Project Management Platform, leverage the benefits of effective communication, coherent task management, and a set of tools that easily conforms to the necessary work process.
infinitrac benefits:
Simple Web interface
Stable 24 x 7 monitoring
High Availability
Secure
Efficient
LAMP Framework
ORACLE Exastack Ready
Talk to an infinitrac representative today and let infinitrac be your vehicle for success.
Partner Type:
Trade Partner