EcoSys
Partner News:
Seminar and Reception: Project Controls Best Practices with EcoSys EPC
From industries spanning Oil & Gas and Utilities, through Transportation and Government Contracting, project controls play a vital role in improving project performance. More than just cost reporting, effective project controls help to deliver success throughout the entire project life cycle, from the very earliest stages of project selection and planning through project execution.
Date: Tuesday, March 21
Time: 5:30-7:00pm
Location: Hyatt Regency Denver Tech Center
Schedule: Registration and cocktails will begin at 5:30 p.m. The presentation is from 6-7:00 p.m. and will be followed by a reception with cocktails and hot/cold hors d'oeuvres.
Topic: Project Controls Best Practices with EcoSys EPC
Cost: The event is free of charge.
Registration link: Please visit this page
In this presentation, we introduce best practices in project controls that drive improved project performance. Through standardization of processes, integration of data, and automation of reporting, organizations realize a greater ability to:
Improve efficiency, accuracy, and effectiveness of project controls
Achieve visibility into project cost performance across an enterprise
Forecast outcomes and take corrective active sooner
Then, we'll demonstrate EcoSys, the industry standard for enterprise project controls software, and how the platform helps to realize best practices.
Partner Strapline:
EcoSys is the global standard for enterprise Project Controls software. Our easy-to-use web-based platform, EcoSys EPC, helps organizations worldwide plan and manage project portfolios, control project costs, and improve project performance.
EcoSys is the global standard for enterprise project controls software.
Our customers execute some of the world's largest projects and rely on EcoSys EPC to implement best practices for full lifecycle project controls including project cost management, project portfolio management (PPM), capital program management, budgeting, forecasting, estimating, workforce planning, and earned value management.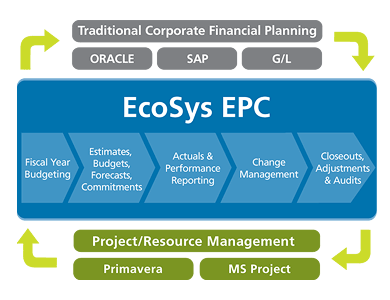 EcoSys was founded in 2000 by the original developers of Primavera's enterprise project management system (now known as P6). Our years of experience collaborating with leading individuals and organizations running the world's most demanding projects have taught us important principles to follow as the nature of projects and business constantly evolves:
Make complex projects more manageable through easy to use and efficient technology
Empower organizations to modify business practices and scale to keep up with growth and change
Work seamlessly with the systems and established practices within each organization through world class integration
These perspectives have greatly influenced the design and capabilities of EcoSys EPC (Enterprise Planning & Controls), the flagship web-based project controls software platform from EcoSys.
EcoSys EPC (Enterprise Planning & Controls) is a full lifecycle Project Controls software platform.
A web-based platform, EPC provides the deepest capabilities to support the complete spectrum of solutions within the Project Controls discipline – from project portfolio management and capital program management, through budgeting, forecasting, and performance reporting. EcoSys EPC bridges the gap that has traditionally existed between planning and managing project execution. EcoSys EPC is used by both the public and private sectors, and by owners and contractors alike.
EPC excels in three areas: (1) it delivers the ability to perform best practice project cost controls directly within the system. However, most organizations have good data in multiple systems. As such, EPC was designed to serve as (2) a world-class integration platform as well, facilitating the creation of a "single version of the truth" that encompasses data from schedules, cost actuals, commitments and contracts, timesheets, and more. With that data, EcoSys EPC leverages its (3) built-in reporting engine to provide automated, real-time reports and dashboards, controlled by end users rather than a reliance on IT or outside consultants.
We invite you to explore the features and benefits of EcoSys EPC, as well as the software platform's solutions for:
Thank you!
Partner Type:
Trade Partner