ConstructionPro Network
Partner News: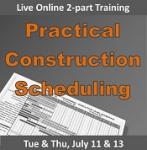 Two–part Recorded Webinar Series
Practical Construction Scheduling
Use of critical path method (CPM) scheduling is one of the few tools that actually help contractors and subcontractors improve efficiency and processes, plan better logistics and delivery of long lead items and help foresee and document possible delays.
Owners, CM and A/E Contract Administrators are well served when they can read and interpret contractor-submitted schedules, so they can understand the contractor's plan and know their own commitments to both the contractor and stakeholders.
Additionally, knowing how to read a schedule helps mitigate delays and address potential or actual delay claims. This introductory course is designed to help you become fluent in construction scheduling over a very dynamic, two-afternoon live webinar series from the comfort of your office or conference room. Learn more.
Partner Strapline:
The Most Comprehensive Online Resource for Construction Professionals
ConstructionPro Network provides a comprehensive set of online tools and benefits intended to help owners, contractors, subcontractors, project managers, construction managers, architects, engineers and project control personnel make better decisions that lead to improved project outcomes and thrive in today's challenging construction environment.
ConstructionPro Network's powerful resources help members:
• Avoid pitfalls and reduce risks with the weekly Construction Claims Advisor case summaries
• Train project staff on various contract management and construction law topics
• Find solutions to potential contract dispute situations through access to a comprehensive library of over 1,500 construction case summaries, including immediate access to the written decision to explore the case details
• Keep up to date with industry news and best practices on project controls, BIM, technology and green building
Best known for its Construction Claims Advisor and ConstructionProWeek newsletters, ConstructionPro Network now produces more than 50 expert-led online training webinars each year covering critical management and contract issues that are crucial for successful execution of construction projects, including:
• Construction Claims
• Design-Build
• Contract Law
• Lost Productivity

• BIM
• GMP Contracts
• Schedule Delay
• Schedule Acceleration

• Green Building
• Commissioning
• Retro-Commissioning
• Integrated Project Delivery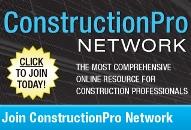 ConstructionPro Network has always been true to its mission: to provide valuable news and insight on the construction industry surrounding legal issues, green building, LEED, project controls, building information modeling, scheduling, contract documents and project management.Join your peers who are now benefitting regularly from ConstructionPro Network and receive unrestricted access to searchable content and training resources plus a growing library of more than 40 recorded webinars you can download 24/7. Click here to view the complete library.
What your colleagues say about ConstructionPro Network...

Michael Loulakis, Attorney Capital Project Strategies, LLC - I am always looking for quick updates on recent decisions and construction law developments that will help me in my practice. I have relied for years on Construction Claims Advisor to give me what I need ... it is an invaluable resource.
Bob Vecera, Manhattan Construction Co. - CCA summarizes complicated court decisions in terms that a contractor can understand and apply to improve ongoing operations.
Mitch Marshall, Manager Contractor/Developer/Construction Marshal-Group - Helps me keep from making decisions based upon a one-sided view of a problem.
Partner Type:
Corporate Partner