Compass International Inc
Partner News:
Our Cost Data Books contain all the "real world" construction cost data needed to develop preliminary & detailed estimates, prepare schedules and check change orders specific to 120 + countries. This year's editions have been fully updated to reflect 2017 costs and are now available!
These publications are used by major Oil, Gas, Pharmaceutical, Power & Mining companies and by large, medium and small EPC's, Architects & Consultants around the world. In today's volatile construction market, it is vital that estimators / quantity surveyors use the most up to date cost data available.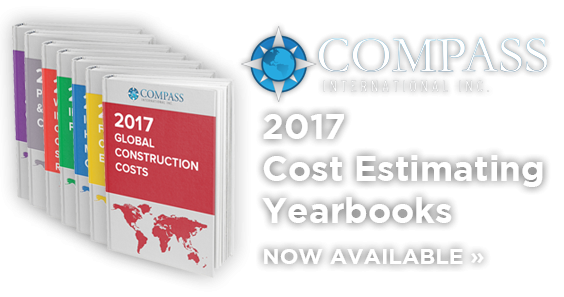 No cost library is complete without our books, get yours today! View Our Cost Books
Partner Strapline:
Current International Construction Cost Data (Labor rates, material costs, engineering costs, productivity) for 120 + Countries
Industrial / Commercial Construction Cost Estimating Data
Compass International, Inc. is a professional commercial construction cost estimating and consulting firm established in 1992 to provide services to Owners, Financial Institutions, Design Professionals and Construction Organizations.
Compass International services include the publication of seven annual Industrial and Commercial construction cost data yearbooks, project and construction management, estimation reviews, audits, and validation services, as well as value engineering, strategic planning, and in-house training for up to 25 mid-senior level staff.
We have skills in international and domestic CAPEX projects, construction productivity, open shop and union labor environments, the development of construction contracts, contractor selection, project procedures, evaluation of current estimating and project control practices, benchmarking, re-mapping, training, and mentoring. We also are experts in Front End and FEED economic studies, detailed design, procurement, and construction through plant start-up, reimbursable and lump-sum contracts, and independent estimates and validation services and audits.
Industrial / Commercial Construction Estimating Books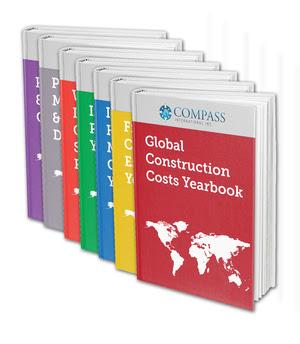 Every year, Compass International publishes seven annual books containing the most accurate, current, and up-to-date cost information applicable to 120+ countries. These books are used by some of the world's largest fortune 500 companies to help them quickly compile accurate and timely cost budgets and cost estimates, supported by "real" cost data, and can help you achieve the same.
To compile these books, Compass International's team of professional estimators, economists, and engineers track the continuous changes of construction prices for materials, labor, and equipment. With these books, you will be well-resourced with accurate, current, and up-to-date construction estimating information to use towards Industrial and Commercial construction applications. Compass International's annual publications stay well-informed of the international and domestic construction cost trends.
Overall, we provide "World Class" Estimating and Construction consulting services to Process, Manufacturing, and Pharmaceutical Owners and EPC firms. We support Owner companies in optimizing their global CAPEX and Capital Investment programs and efforts.
Books:
Newsletter
Stay informed of Global Construction News! Opt-in below to receive our Global Cost Newsletters - READ MORE
Free Estimating Template
Informative Blog
This real-world cost data format will help you in your estimating efforts. Check back regularly as we update these every few months! - READ MORE
Stay uptodate with our news and views - READ MORE
Partner Type:
Corporate Partner