Basis
BASIS
Plan Realism starts with BASIS
What is plan realism? A realistic plan fully incorporates the experience and knowledge of your organization. BASIS takes historical project experiences and organizational standards and applies them to the plan, ensuring it is calibrated by relevant benchmarks. BASIS then allows expert team members to contribute their feedback on the plan in an efficient interface that eliminates the need to understand the complexities of CPM.
Calibrate your plan by leveraging benchmarks from the BASIS Knowledge Library. Validate your plan by capturing feedback from your expert team. Knowledge-driven planning with BASIS.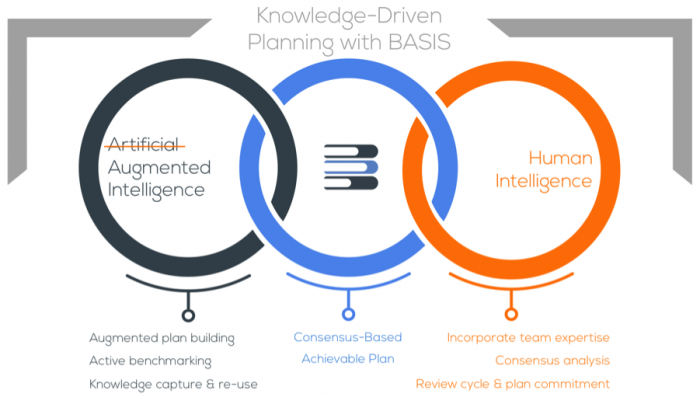 BASIS Knowledge Library
The BASIS Knowledge Library is the source of suggestions when calibrating your plan. Store previously completed schedules, planned or in-progress Primavera XER or MS project files, WBS dictionaries, risk registers, and more. Apply that knowledge to your plan in real-time ensuring a sound and realistic plan.
Artificial Augmented Intelligence
BASIS uses an AI inference engine to make intelligent suggestions from the Knowledge Library and give guidance by considering multiple attributes and aspects of a plan. It even automatically adjusts the weighting and importance of various attributes based on the characteristics and maturity of your project. For example, if you rely heavily on defining deliverables and quantities, BASIS will give more focus to these attributes when making suggestions. If you are instead planning in a less formal manner, then BASIS will adjust accordingly, not forcing you down an unnecessarily onerous planning route.
BASIS gets smarter with each plan you calibrate, learning and adjusting its recommendations. From your very first use of BASIS, it is capable of making intelligent recommendations without the need for large volumes of data in the Knowledge Library. Get value immediately and improve over time.
Human Intelligence
BASIS provides a fast and easy means for expert team members (non-planners) to buy-in or push back on the plan. Simply invite team members to give their feedback, including identifying and scoring risks, issues, and action items or providing suggestions for plan optimization. Team members markup in their own personal "markup layer," thus protecting the underlying BASIS plan.
As the lead planner, analyze team feedback and determine what expertise should be incorporated into your plan, thereby validating your plan with Human Intelligence. Even further, use this feedback as the inputs for your risk model, ensuring risk analysis performed in tools such as Acumen Risk or Primavera Risk Analysis is based upon sound and qualified information from your team and your knowledge library.
BASIS Framework for Plan Maturity
A project created in BASIS advances through four phases, each improving the maturity of the plan. Today, plans suffer from partial development based on incomplete knowledge. BASIS's maturity framework addresses this challenge.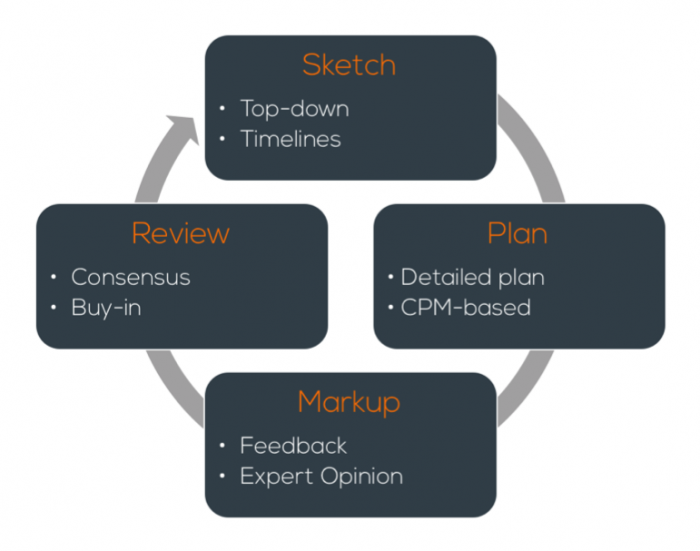 Sketch: Create a visual timeline for your plan while benchmarking against historical projects or standards.
Plan: Leverage BASIS suggestions as you detail plan, adding activities, logic, and risks. Calibrate existing plans against your Knowledge Library.
Markup: Capture feedback and 'buy-in' from your expert team driving to a consensus-based plan.
Review: Analyze team feedback and incorporate their expertise and suggestions while, in real-time, visualizing the impact on your plan timeline.
BASIS Integration
BASIS integrates with Oracle Primavera, Microsoft Project, and Deltek Acumen Risk to provide standard CPM and Risk Management tools with a better plan, ready for execution.
Learn More about BASIS
For more information, or to request a demonstration of BASIS, visit us at www.basisplanning.com.
Partner Type:
Trade Partner