15 Nov 2019 Project Controls News

Dear Planning Planet Member,

We hope that you find this adds value to your day and if you'd like 1.58 million views for your content, blog, product or service please contact us...
FREE: HOW TO PRODUCE AN ACCURATE FORECAST-TO-COMPLETE ON MAJOR CONSTRUCTION PROJECTS
Are you registered for our webinar, "How to produce an accurate Forecast-To-Complete on major construction projects"? It's happening at 9:30am MST on Wednesday, November 20th and is a can't miss for organizations that are searching for ways to increase efficiencies, reduce costs, increase productivity, collaboration and automation on their construction projects.
As a reminder, this webinar features a presentation from the CEO of 4castplus. During the free online event you will learn:
Planning for success: Steps to achieve better cost control and oversight of construction projects
Why forecast-to-complete is a critical aspect of project controls
Processes and methods required to deliver consistent, accurate results for predicting project costs over a timeline
Difference between forecast-to-complete (FTC) and estimate-to-complete (ETC)
Best practices for use of FTC and ETC
The need and ROI of predictive information
LAST CHANCE TO REGISTER: SIGN UP HERE!

SHOULD YOU ALIGN YOU CBS WITH YOUR WBS?
When it comes to project controls, budgeting and cost tracking, the Cost Breakdown Structure (CBS) plays an integral role in the management of construction projects. For many organizations, designing a standardized CBS can present a number of challenges, as there aren't a lot of models and standards out there to draw ideas from. The reality is, you're kind-of on your own to define how you want to break down your project's costs into logical buckets for careful management of its finance.
Often the finance group will have a Standard Code of Accounts which can provide a starting point in designing the CBS and other coding structures (such as resource codes for labor, equipment, materials). Accounting, however, typically doesn't break down the coding to the level of granularity needed for managing projects – especially big projects – so it's up to the project controls team to design what those code structures look like.
Click here to keep reading this feature blog and download a FREE VIDEO on Aligning the Project CBS with the WBS, where you will learn about the major differencesbetween cost code design for accounting versus cost code design for major projects, synchronizing the WBS with the schedule, mapping the CBS to the accounting code of accounts and more. Plus download a FREE VIDEO on Aligning the Project CBS with the WBS.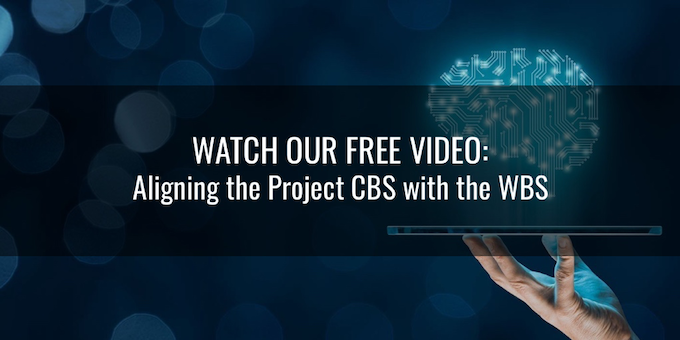 For product updates, news, announcements and informative blogs to guide your every day, we welcome you to follow us on Facebook, Twitter, LinkedIn and YouTube We also welcome you to visit 4castplus.com to learn more about our innovative software solution.
CONTROLS-MANAGERS WANT A FACE-TO-FACE TO SEE IF YOU WILL FIT IN THEIR TEAM
We are REFRESHING our Top 100 list of Senior Project Controls Managers who have asked if we can help them find good planners and project controls practitioners.

We will start to SHARE that in the coming periods. Watch this space.

We know these men and women personally and each have said they will gladly have a face-to-face with anyone we RECOMMEND to them. Exciting times...
PROJECT CONTROLS EXPO - MELBOURNE, AUSTRALIA
We recommend you checkout the below referenced event specifically organised for us Project Controllers...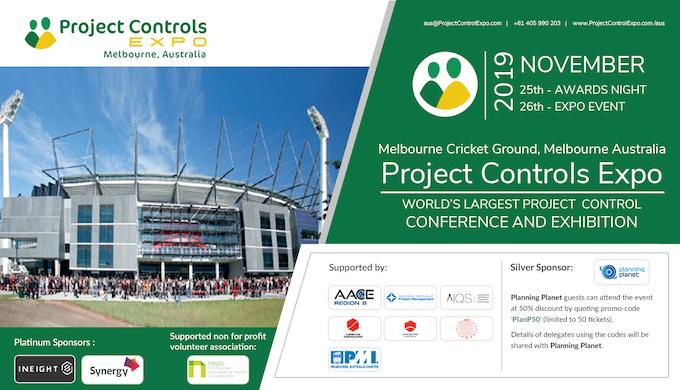 CAN YOU CREATE A WORLD CLASS POWERPOINT FILE?
| | |
| --- | --- |
| | Graphics Custodians WANTED - if you have an interest in graphics, reports, dashboards and would like to join the team of practitioners who are helping to shape (and improve) the 700 figures and reference graphics contains in the Compendium & Reference of Project Controls Tools & Techniques please get in touch as we need a few more keen practitioners to help and be rewarded. Admin@GuildofProjectControls.com |
STANDARD OPERATING PROCEEDURES
We asked about this a few periods ago and received some good feedback but we "dropped the ball" on it and want to try again. After our recent requests for help we have now almost completed compiling the group to work on this.

If you wish to help and be part of a small team of leading practitioners to help document some GENERIC standard operating procedures (SOP) for SCOPE, PLANNING, COST, RISK, PROGRESS, CHANGE, CLAIMS (etc.) we'd love to hear from you. PPAdmin@planningplanet.com
COST MANAGEMENT EXPLAINED IN 4 STEPS
Cost management covers the full life cycle of a project from the initial planning phase towards measuring the actual cost performance and project completion.

This article explains the 4 essential steps of project cost management in line with methods such as the Total Cost Management Framework of AACE and the Managing Cost Estimating & Budgeting Compendium & Reference of the Guild of Project Controls.
TOP 10 PROJECT COST MANAGEMENT MISTAKES AND HOW TO FIX THEM
With all that goes into managing a project, making sure things are done right, within budget, and on time is a challenge, especially when we fall victim to the same mistakes.

The Cleopatra Enterprise team is familiar with the good, the bad, and the ugly of projects based on over 20 years of experience in the field.

Therefore, we have compiled a list of the most common project cost management problems that we have seen and our proposed solutions to fix them.
HOW DOES MICROSOFT PROJECT CALCULATE DURATIONS IN DAYS – AN EXTRACT FROM PLANNING AND CONTROL USING MICROSOFT PROJECT 2013, 2016 & 2019
BY PAUL E HARRIS
Microsoft Project effectively records task durations in hours and the value of the duration in days is calculated from a parameter entered in the Options form.

This article is an extract from the book Planning and Control Using Microsoft Project 2013, 2016 & 2019 by Paul E Harris and explains how the duration in days is calculated.

Click here to read the article.

To see more explanations like this then please consider purchasing books by Paul Harris written on:

Microsoft Project,
Oracle Primavera P6 and
Elecosoft (Asta) Powerproject

These are available in many formats, paperback, spiral, Kobo, Kindle and iTunes.

These books are intended to be used:

As a self-teach book and user guide, or a training manual for a two-day training course.
PowerPoint slide shows are available for training companies to purchase and free pdf versions are available to educational organisations.

More information and links to sellers at this web site

Eastwood Harris Pty Ltd, Planning books and training material publishers for Microsoft Project, Oracle Primavera P6 and Elecosoft Powerproject https://www.eh.com.au
WHY SHOULD YOU USE EARNED VALUE MANAGEMENT?
| | |
| --- | --- |
| | Earned Value Management works by assessing work progress against a project baseline and covers technical, time and cost performance. It provides data which accurately defines where a project is going so that proactive managers can act, giving them greater scope for decision making. Read the blog... |
CLARIZEN - DELEGATION: A HOW-TO GUIDE
| | |
| --- | --- |
| | Without delegation, you can end up taking on far more work. This is bad news for your organization. Not only that, but by sticking to your comfort zone and doing tasks which could and should be delegated, you're not pushing yourself and spending your time, ability and experience in areas that will drive your career forward. Read the Blog... |
ITS HERE - CHINESE GOVERNMENT USE OUR GUILD OF PROJECT CONTROLS STANDARDS IN CHINA
The Chinese Government have translated the Guild of Project Controls' Compendium of Best Tested & Proven Practices to enable their national desire to deliver COMPETENCY certifications in Project Controls in and throughout China.

Now live...

The official first eddition is being distributed and practitioners are now being Competency Certified.
CLARIZEN - HOW TO ASSESS STAFF PERFORMANCE ACROSS DIFFERENT SKILLS
| | |
| --- | --- |
| | A modern project team will often contain team members with a range of different skills and competencies. This can naturally lead to problems for managers who want to perform a balanced performance assessment that will judge every team member fairly. Knowing how to assess performance isn't very easy when all the important metrics come in unequal units.. Read more... |
HOW TO SAFELY IMPORT YOUR PRIMAVERA P6 XER FILES WITH GLOBAL DATA INTO A P6 DATABASE AND AVOID POLLUTION
ScheduleCleanerTMis a desktop application that allows you to remove, convert or anonymize project data from Primavera P6 XER files before uploading them to a P6 database or before sharing them with other project stakeholders.

Convert Schedule Data:

Global to Project Resource Calendars
Global to Project Activity Codes
EPS to Global Activity Codes

ScheduleCleaner also allows you to remove or anonymize/hide values of data categories such as "Costs, Units, Rates, Pricing" and even erase POBS data, by creating re-usable templates with different modifying settings which can be applied to a single or a group of XER files.

Fast, simple and automated.
NEW SCHEDULEREADER VERSION 7.3 IS OUT. CHECK OUT THE 4 NEW FEATURES!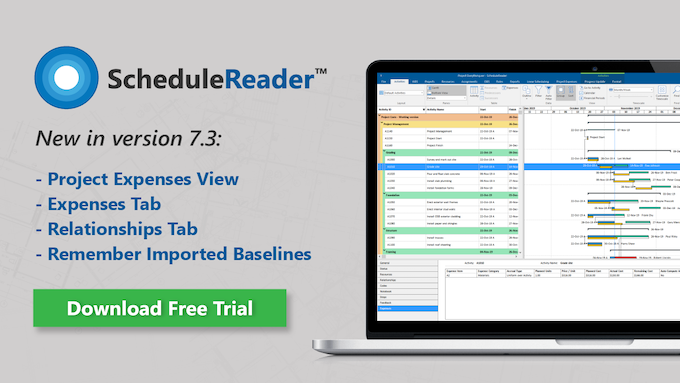 ScheduleReaderTMreleased a new version which brings four new major things: two new features dedicated to improving the view of Project Expenses, a new Tab to better view Activity Relationships and new functionality to remember/save the imported Baselines.
YOU CAN PLAN 1 YEAR IN ADVANCE - REMEMBER THIS
Construction CPM Conference next event is 19-22 January 2020 at Disney World Florida.

We have booked six meeting rooms over three full days. Two keynotes – Seventy breakouts – Six networking events – One conference Three Full Days where Professionals Gather to Discuss and Improve Critical Path Method Analysis Knowledge. Read the Full Detail... or see more at www.ConstructionCPM.com.
HOT FORUM POSTS
HELLO, HAVE YOU CHECKED OUT OUR JOBS PAGE LATELY?
We have lots of colleagues who keep asking if we can recommend good people, so it may be worthwhile checking the project controls job listings our team are collating.

There's a few good project controls and planning opportunities which might interest you... alternatively - let us know if you need someone new for your team and we will put you in touch with some proven practitioners.

Read more...
"PROVEN PRACTITIONER" A PLANNING PLANET PRODUCT
Do you seek PROMOTION or do you want to better UNDERSTAND YOUR Stengths and SKILLS (in private) or do you seek that NEW ROLE?

Proven Practitioner provides ALL THE TOOLS YOU NEED

Go to Premium and sign up!
CLARIZEN - HOW TO BE A MORE INCLUSIVE MANAGER
Foster diversity of thinking.
Ensure inclusion and not just diversity.
Achieve the qualities of an inclusive leader.
Clarify the organization's culture.
Empower diversity.
PROJECT CONTROLS MENTOR TOOLBOX
RATES, NORMS & DURATIONS
What is needed to come up with a production rate?

A duration of time, the manhours involved, and an amount of work produced this section of Planning Planet is here to document this.

What information do you have that you can share?
ALTERNATIVE TO PRIMAVERA AND ASTA?
A superior alternative to the "most popular" software for us as planners?

Spider Project offers numerous unique functional features and is the only PM software that optimizes resource, cost, and material constrained schedules and budgets for projects and portfolios.
ARE YOU FOLLOWING US ON SOCIAL MEDIA?
Let's get social!

Build your network and keep up to date by following us on social media, just click the icons to get started.
THE GUILD OF PROJECT CONTROLS COMPENDIUM AND REFERENCE
The Compendium and Reference (CaR) is a document which forms The Guild Standards.

The CaR is a living document being continually improved, supplemented and updated by the Guild community to reflect improvements to practices, opinions and methods in our chosen profession. The Guild is ready to receive suggestions at any time for updates to the CaR Standards. Take a look here.
INTEGRATED PROJECT CONTROLS WEBINAR
Integration in project controls is a powerful concept, but many organizations still struggle with data silos, disjointed systems, manual data entry, or risk-prone spreadsheets. With ARES PRISM, it's possible to seamlessly integrate your estimate, cost and schedule data and share the results in an executive business intelligence dashboard. Watch this 24-minute webinar which discusses integrated project controls and shows the user journey from a simple BOQ to building a performance measurement baseline in an integrated approach.
This webinar demonstrates the power of integration between PRISM Estimating, PRISM G2 , Schedule (Primavera P6), and PRISM Dashboards. No need for any Excel imports or manual inputs; it is all automated! Read the content...
PLANNERS WANTED
Senior Planning & delay consultants & associate directors.
Highlighted career choices.
Dispute Resolution opportunity offing £110,000 plus full benefits package.
Project Controls Global & Partners continues to deliver for global clients. This time the opportunities are established planning experts within construction and delay analysis.
The Job: Forensic investigation of project delays. The preparation of prospective and retrospective delay analyses across a wide variety of construction and engineering projects. This will include the assimilation of technical information along with evidence of delays and the presentation of information in both programmes and reports. The preparation of written reports for use in negotiation, as well as formal dispute resolution processes such as mediation, adjudication and litigation; prepared as either advocate or assistant to an independent expert. Preparation or defence of extension of time claims on behalf of employers, main contractors and sub-contractors & working independently or with client teams to carry out 'live' planning assistance.
Contact David Logie for a confidential conversation around this and your career options with planning & dispute resolution.
M: 07549 651 736
WOULD YOU LIKE TO ADVERTISE ON PLANNING PLANET?
We want to give more of our members the opportunity to advertise on our site. Click here to get started!
ARE YOU TAKING FULL ADVANTAGE OF PLANNING PLANET?
See who you know from within our 150,000+ membership pool!

Take a look at the worlds first and only competence based credentials supported by a career path, role descriptors, self-assessment tools and online compendium desk reference of best tested and proven tools and techniques for project controls practitioners.

Join other members who share their thoughts and ideas in the form of blog posts.

100,000+ questions and answers to the topics we struggle with (mostly software!) on a day to day basis.

A knowledge-base that can be contributed to or utilized by anyone with skills and/or interest in planning, scheduling or project controls. No Wiki page or article is owned by its creator or any other editor, and its content relies upon collaboration and teamwork. How can you contribute?

What is needed to come up with a production rate? A duration of time, the manhours involved, and an amount of work produced? Take a look and get involved.

This has been dusty and quiet place for some time now, BUT we have been liaising with recruiters, headhunters and talent managers plus a ream of corporate leaders to try to help us.

Check out our Silver and Gold partners and see if you'd like to be included there also.
THANK YOU FOR READING OUR MESSAGES
If you'd like to help the small but enthusiastic team of people helping with this newsletter please do get in touch with us via PPadmin@planningplanet.com We know we have a long way to go to make this informative and an anticipated bi-weekly "read" so do get in touch and get involved. If you are reading this I am impressed, ha ha....
Regards... The Planning Planet Team
To unsubscribe please email ppadmin@planningplanet.com please ignore the unsubscribe link below