26 July 2019 Project Controls News

Dear Planning Planet Member,

We hope that you find this adds value to your day and if you'd like 1.51 million views for your content, blog, product or service please check this out...
FORENSIC SCHEDULE ANALYSIS LESSONS FAQS
UNDERSTANDING HOW MICROSOFT PROJECT MILESTONES ARE CALCULATED
Understanding how Microsoft Project Milestones are Calculated – An extract from Planning and Control Using Microsoft Project 2013, 2016 & 2019 by Paul E Harris

Click on this link to read an article on how Microsoft Project Milestones are calculated:

To see more explanations like this then please consider purchasing this Microsoft Project book by Paul Harris which is available in many formats including paperback, spiral, Kobo, Kindle and iTunes. The book is intended to be used:

As a self-teach book and user guide, or a training manual for a two-day training course.
PowerPoint slide shows are available for training companies to purchase and pdf versions are available to educational organisations.

More information and links to sellers at this web site: https://www.eh.com.au/MSP2019.html

Published by Eastwood Harris Pty Ltd, Microsoft Project, Oracle Primavera P6 and Elecosoft Powerproject books and training material publishers.
THE DIFFERENT LEVELS OF TEAM DEVELOPMENT
| | |
| --- | --- |
| | Teams that are brought together can't be expected to immediately gel and perform at the height of their abilities. As a project practitioner, it is your role to ensure that positive team development occurs so that they can reach maximum productivity. Along with the competencies required for performing your own tasks, developing a team requires a considerable understanding of motivation and emotional intelligence... Read more... |
P6 PROFESSIONAL APPLIED WORKSHOPS IN LEEDS
This month, RPCuk launched their P6 Professional Applied Workshops in Leeds. After months of development, they welcomed their first delegates to this customised and practical approach to Primavera training. What did the people who attended the Workshops think? Read their honest feedback here...
FREE MASTERCLASS: CAN THE OWNER REQUIRE VALIDATION OF BASELINE DURATIONS DURING EOT REVIEW?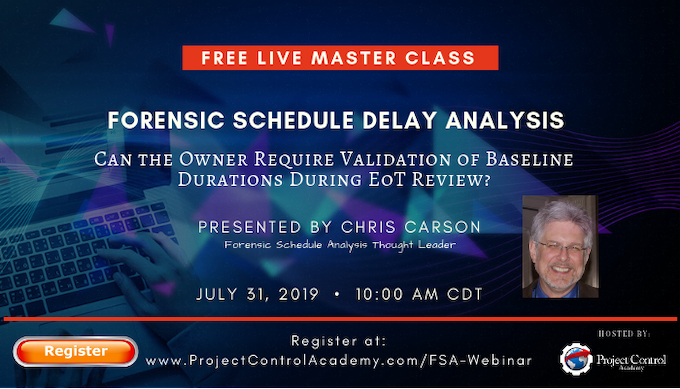 In this free masterclass, Chris Carson, a thought leader on Forensic Schedule Analysis, will provide you details on whether or not the Owner has the right to request validation of the Schedule Baseline Durations to support a request for Extension of Time (EOT).
If this is a topic of your interest, join us now. Enroll for free...
ITS HERE - CHINESE GOVERNMENT USE OUR GUILD OF PROJECT CONTROLS STANDARDS IN CHINA
NEWS... NEWS... NEWS...

The Chinese Government have translated the Guild of Project Controls' Compendium of Best Tested & Proven Practices to enable their very first COMPETENCY certification in Project Controls in Beijing. Now live...

The official first eddition is being distributed to the committee members in August.
HIGH END PLACEMENT WITH A LASER BEAM FOCUS?
Construction Futures was formed in 2018 as Bill Wynn wanted a more laser beam focus on offering a personal and exceptional service to those people and companies that he feels he can best help, without the distractions that running a large company often bring.

Read more...
CLEOPATRA PROJECT BENCHMARKING
Compare the performance of projects. Improve the accuracy of the future cost estimates.

Tracking the performance of your projects, Cleopatra Benchmark serves as 'corporate memory' for high-level decision making.

With Cleopatra, you can extract metrics from executed and running projects, discover trends in key cost drivers and ratios, compare performance of projects and common assets, and improve the accuracy and reliability of the future cost estimates. Request a demo...
CONVERT EPS TO GLOBAL ACTIVITY CODES WITH SCHEDULECLEANER
NOW AVAILABLE – PRISM GO ON-DEMAND WEBINAR
Watch our 30-minute webinar showcasing PRISM Go to see how this web-based extension to PRISM G2's enterprise project controls software allows remote access into the core data set. Explore how users can easily update project data in real-time to improve project efficiency, accuracy, and increase visibility to management.

Read more...
TIPS FOR NAILING YOUR DELIVERY TIMELINES… EVERY TIME
Delivery timelines are a part of every project plan and serve as essential milestones both to guide a project team and for determining project health.

They are also a signifier of the implicit agreement between you and the client or end-user, you say something will be delivered by a certain time, so they presume that that is when it will be completed. Read more...
SUSPENSION OF WORK ON CONSTRUCTION PROJECTS - FREE PROFESSIONAL PAPER AVAILABLE
| | |
| --- | --- |
| | A suspension of work typically occurs when an owner directs a contractor to stop working on all or part of a project. Work can also incur a full or partial suspension due to outside forces, such inability to have access to a site. The result of the suspension may or may not cause a delay to the project and there may or may not be compensable damages associated with the delay. These issues and more were recently discussed at Construction Claims, which is making available free construction expert Jim Zack's just-published paper that includes a 12-point test for recovery of damages. Read more... |
PCGLOBAL & PINNACLE RECRUITMENT
PCGlobal & Pinnacle Recruitment collaboration are back & we need Planning Engineers NOW.

We are working with magnificent clients in search of Planning Engineers based in London, Cambridge, Birmingham & Manchester.

If you are looking for a progressive career move, need assistance with where you want to go, we can help. PCGlobal & our partners help you grasp your ambitions and we deliver the right opportunities with a proven pathway for success.

Get in touch, give us a call 07549 651736, have a confidential conversation with a talent management expert.
ScheduleReaderTM released version 7.1 with new "Lookahead filter" and "Week of Year" view upgrade to the Timescale.

Learn More...

Try the fully featured PRO version of ScheduleReader Free For 15 days
YOU CAN PLAN 1 YEAR IN ADVANCE - REMEMBER THIS
Construction CPM Conference next event is 19-22 January 2020 at Disney World Florida.

Three Full Days Where Professional Planner Schedulers Gather to Discuss and Improve Critical Path Method Analysis Knowledge.

Early bird rate of $825 is good through 20 Jun 19 More information at www.ConstructionCPM.com.
HOT FORUM POSTS
HELLO, HAVE YOU CHECKED OUT OUR JOBS PAGE LATELY?
We have lots of colleagues who keep asking if we can recommend good people, so it may be worthwhile checking the projectcontrols job listings our team are collating...

There's a few good projectcontrols and planning opportunities which might interest you...

Read more...
"PROVEN PRACTITIONER" A PLANNING PLANET PRODUCT
Do you seek PROMOTION or do you want to better UNDERSTAND YOUR Stengths and SKILLS (in private) or do you seek that NEW ROLE?

Proven Practitioner provides ALL THE TOOLS YOU NEED

Go to Premium and sign up!
COMPETENCY MEASUREMENT REPORTS FOR YOU, YOUR TEAM or YOUR COMPANY
We are now offering CONFIDENTIAL Project Controls Competency Measurements for our members!

From this report, you will receive a summary, similar to the one presented above, showing your teams, company's or projects "Competency Performance Index" across the full Project Controls capability arena. If you are interested in transforming Project Controls capability and team measurement, and would like to find out more, click here.
PROJECT CONTROLS MENTOR TOOLBOX
RATES, NORMS & DURATIONS
What is needed to come up with a production rate?

A duration of time, the manhours involved, and an amount of work produced this section of Planning Planet is here to document this.

What information do you have that you can share?
ALTERNATIVE TO PRIMAVERA AND ASTA?
A superior alternative to the "most popular" software for us as planners?

Spider Project offers numerous unique functional features and is the only PM software that optimizes resource, cost, and material constrained schedules and budgets for projects and portfolios.
GET IN FRONT OF ONE POINT FIVE MILLION PROJECT CONTROLS PEOPLE
If you would like your product, service or software or yourself to be put in front of the global (or local) Project Controls Community then you should consider subscribing to the Planning Planet Project Controls Market Place.

What is this?
ARE YOU FOLLOWING US ON SOCIAL MEDIA?
Let's get social!

Build your network and keep up to date by following us on social media, just click the icons to get started.
THE GUILD OF PROJECT CONTROLS COMPENDIUM AND REFERENCE
The Compendium and Reference (CaR) is a document which forms The Guild Standards.

The CaR is a living document being continually improved, supplemented and updated by the Guild community to reflect improvements to practices, opinions and methods in our chosen profession. The Guild is ready to receive suggestions at any time for updates to the CaR Standards. Take a look here.
WOULD YOU LIKE TO ADVERTISE ON PLANNING PLANET?
We want to give more of our members the opportunity to advertise on our site. Click here to get started!
ARE YOU TAKING FULL ADVANTAGE OF PLANNING PLANET?
See who you know from within our 150,000+ membership pool!

Take a look at the worlds first and only competence based credentials supported by a career path, role descriptors, self-assessment tools and online compendium desk reference of best tested and proven tools and techniques for project controls practitioners.

Join other members who share their thoughts and ideas in the form of blog posts.

100,000+ questions and answers to the topics we struggle with (mostly software!) on a day to day basis.

A knowledge-base that can be contributed to or utilized by anyone with skills and/or interest in planning, scheduling or project controls. No Wiki page or article is owned by its creator or any other editor, and its content relies upon collaboration and teamwork. How can you contribute?

What is needed to come up with a production rate? A duration of time, the manhours involved, and an amount of work produced? Take a look and get involved.

This has been dusty and quiet place for some time now. We have been liaising with recruiters, headhunters and talent managers plus a ream of corporate leaders and very soon we will have the largest live repository of project controls jobs in the world. Check back soon.

Check out our Silver and Gold partners and see if you'd like to be included there also.
THANK YOU FOR READING OUR MESSAGES
If you'd like to help the small but enthusiastic team of people helping with this newsletter please do get in touch with us via PPadmin@planningplanet.com We know we have a long way to go to make this informative and an anticipated bi-weekly "read" so do get in touch and get involved. If you are reading this I am impressed, ha ha....
Regards... The Planning Planet Team
To unsubscribe please email ppadmin@planningplanet.com please ignore the unsubscribe link below