25 May 19 Introducing HKA
| | |
| --- | --- |
| We receive requests to promote vendors on our site and our criteria for doing so is simple: if we can see a real operational benefit to our members we promote it! We are confident in recommending the message below to you our global community - this is significant - check it out!" | |
DIGITISATION OF REQUIREMENTS, REGULATIONS, STANDARDS & COMPLIANCE CHECKING IN THE BUILT ENVIRONMENT
PMWEB FOCUSES ON ITS CLIENTS AND USERS
As PMWeb continues its global expansion, client usability has remained a top priority. PMWeb offers individual and group training which can be organized around clients' schedules at any stage of implementation or post-implementation. PMWeb clients are also given access to live webinars that walk through major software releases. These webinars give users the ability to ask questions and better understand new features in the application.

Perhaps the most anticipated opportunity is the Annual PMWeb User Conference, which provides user-specific training and session tracks, as well as networking events. Stay in the loop on future conferences and company news by following us on social media and PMWeb.com.

"We just want to send you a huge thank you for all that you and your teams do to help us out. We really appreciate the quick responses and the diligence from everyone at PMWeb to make sure we're completely taken care of."

–Haley Haskins & Ben Croft, AECOM TISHMAN
EXPANDING PRESENCE IN THE USA's PACIFIC NORTHWEST REGION
HKA-Tech and PMWeb are expanding their presence in the Pacific Northwest Region! New to the Vancouver Washington - Portland Oregon area is Karen Lassus, a member of the HKA-Tech team specializing in the implementation and administration of PMWeb.
As a member of HKA-Tech, she is part of a team of consultants dedicated to selling, implementing and supporting the PMWeb Solution utilizing an implementation methodology that combines traditional waterfall project management with elements of an agile approach. HKA-Tech uses this PMWeb Implementation Methodology to successfully configure, train, and roll-out PMWeb for both large and small clients globally.
For CMAA members, be sure to visit Karen at the HKA PMWeb booth during the CMAA Technology Night trade show event, being held from 6:00 PM to 8:00 PM at the DoubleTree by Hilton in Portland on June 13, 2019!
For more information or to schedule a demonstration of this best in class product, reach out today to Karen at KarenLassus@HKA.com or to Sales@HKA-Tech.com.
HKA UK/EU UPDATE
HKA Tech is pleased to announce the relocation of Michael Konieczka, Director of PMWeb services at HKA, to our HKA London Pilgrim St office, from where he will drive the PMWeb expansion efforts in the UK/EU region.

Following its success in other geographical regions, HKA Tech is excited to be partnering with Primaned (a Netherlands based PMWeb reseller) to expand and strengthen PMWeb's presence in the UK and Europe.
BRITISH-IRISH AIRPORTS EXPO JUNE 11TH AND 12TH
HKA and Primaned are pleased to announce their joint participation/exhibiting at the British-Irish Airports Expo June 11th and 12th. HKA Director Michael Konieczka will also be speaking about the use of technology in managing airport construction projects. Please join them at their booth H12. Read more
UK PROJECT CONTROLS EXPO 2019
PMWeb is pleased to announce their silver sponsorship at the Project Controls Expo 2019 in London, UK on November 19th.

Both HKA and Primaned will be attendance to discuss the value added to an organization through the use of PMWeb as their project controls platform. Read more
PROJECTS DON'T CAPITALISE ON OPPORTUNITIES. WHY IS THIS, AND WHAT CAN THEY DO TO CHANGE?
Andy Allen – Risk Management Lead for HKA Global Limited, provides an excellent overview of how there is a natural tendency towards mitigating threats over the pursuit of opportunities.

Working with contractors and clients across the construction industry, HKA has seen how loss averse cultures reward threat management at the expense of opportunity management, which hijacks decision-making, and harms projects' chances of success. We need to consider the non-financial consequences and indirect costs of threats, and must recognise the investment cost of opportunity management, but we must also recognise that projects are long-term endeavours where gains compensated losses.

Measured risk taking is valuable, worth investing in and worth rewarding. Read more
CONNECTING THE APPLICATIONS THAT BUILD THE WORLD
Morpheus Technology provides a Dynamic Integration solution that connects and optimizes ERP, PPM and other mission critical construction applications.
Discover how Joeris leveraged Morpheus' technology and 18+ years of experience to reduce change management time by linking their ERP and project management solutions to eliminate manual processes. Read the full case study….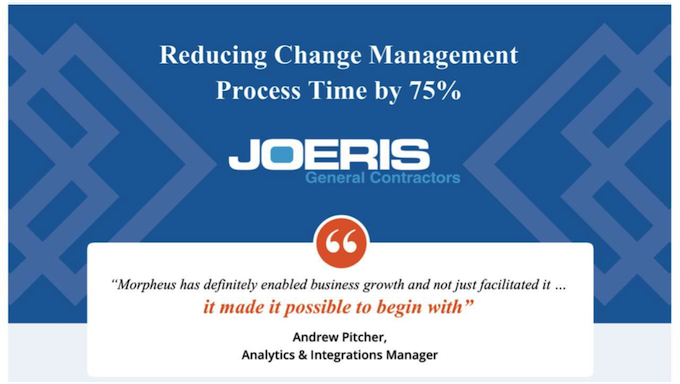 HKA TECH'S TEAM IN AUSTRALIA
HKA Tech's team in Australia has been busy on a range of activities that not only include PMWeb implementations and the support of PMWeb clients such as Transport for NSW, Endeavour Energy and the Northern Sydney Regional Organisation of Councils; but also the use of PMWeb for HKA's own assignments.

Shown to the right and below is the relocation a key Radar component of the Vessel Tracking System (VTS) for Sydney Harbour and Port Botany.

The HKA Tech Sydney team worked for the Port Authority of NSW to mange the relocation and its re-integration to the VTS - as well as installation of a new Radar facility in Circular Quay.

The existing Radar's location on the top of the AMP Centre, at a height of 188 metres, required the use of a helicopter to lower the Radar antenna to street level and involved a CBD road closure. HKA used its PMWeb facility to assist in managing the relocation.
MANAGING MASSIVE VOLUMES OF LEGACY DATA
The team from HKA Tech have partnered with ExtractIQ to expand PMWeb capabilities by leveraging AI to bulk load and manage large volumes of new and existing records into PMWeb.

Loading and maintaining large volumes of documents can be a daunting task. Manually loading over 300,000 records was not an option, so the Passaic Valley Sewerage Commission is utilizing ExtractIQ to automate the process of loading new engineering drawings and specifications to records dating back over 110 years. Read more…
USING DATA TO REDUCE DISPUTES
CRUX Research Program investigated the common causes of claims and disputes on 257 commissions valued at more than $400 Billion USD. The research shows an average of 13 interrelated causation factors per project. Read the CRUX report here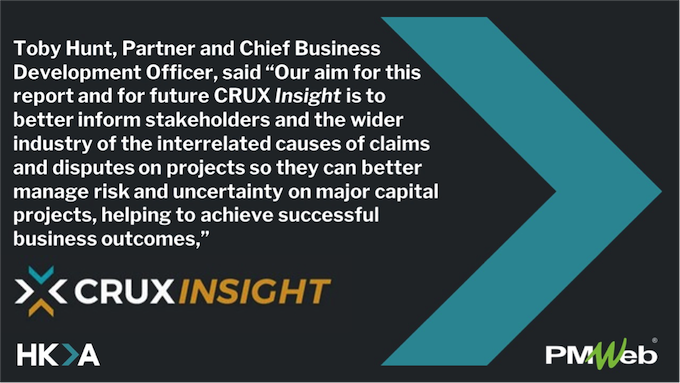 BIM CONTRACTUAL GUIDANCE
Dr David-John Gibbs, who leads HKA's BIM services, co-authored JCT's latest practice note 'BIM and JCT Contracts' providing guidance for using JCT contracts on projects where BIM is used.
BENEFITS OF PROJECT CONTROLS SOLUTIONS
Technology is an enabler for organizations to stay current with competitive industry forces. Managing programs and projects better, faster, and cheaper in today's demanding environment is not possible without comprehensive technologies and processes. PMWeb is a solution that will help an organization stay on top of inevitable issues and help manage the various contractors on their projects. Holding individuals and contractors accountable is critical for a project's success. The PMWeb solution provides a centralized database with information rich dashboards and reports for tracking and managing all of the information produced by programs and projects.
Choosing a solution that is complete and captures as much information in a single place provides key advantages. PMWeb offers a scalable comprehensive suite of capital planning, budget and cost control, document control, field management, asset management and collaboration functionality unmatched by other competitors. PMWeb addresses the complete Plan Build Operate lifecycle. PMWeb allows organizations to analyze and track detailed information to mitigate risk and have supporting data to dispute and avoid claims. Portfolio, Program, Project and business unit data is captured and managed enabling the managers to report on historical, current, and forecasted information.
PMWeb is scalable as well, the same features that are used on a single project can be rolled out across a global portfolio of projects. Through the use of the program management features, projects can be grouped under programs that could be defined by association such as project types or funding. For a global organization, program could instead be used to classify project by global regions. Each program could then be configured with business processes unique to each global region, allowing for greater flexibility and control in process management where varying rules, regulations, and user types will be employed. Further, PMWeb employs a language module to facilitate renaming features, fields and functions by language/location, further enhancing global flexibility, and allowing each user to navigate PMWeb in their native language.
When choosing any software tool, having trusted consultants with industry and technology experience that use proven implementation techniques produces positive results. HKA has developed specific processes which will help ensure a successful implementation of the PMWeb tool.
3 KEYS TO SUCCESSFUL PROJECT MANAGEMENT SOFTWARE IMPLEMENTATIONS
HKA's Tyler Monson, Director of Professional Services, outlines the three key success factors in implementing a Project Management / Project Controls software solution:
The right software solution is just part of the formula for successful Project Management Software Implementations. A seasoned implementation team with capital planning and budgeting software industry experts is crucial to achieve successfully Project Management Software Implementations.
Our HKA Tech team has been implementing program and project control systems for the last 15 years. HKA is the world's largest implementing reseller of PMWeb and has directly overseen over 200 implementations of the PMWeb software solution. While the implementations are as diverse as our clients, over the years we have identified a few common factors in all successful implementations.
Agility - We have an implementation approach that combines traditional waterfall project management methodologies coupled with agile concepts. One main component that we utilize is the idea of "sprints". A sprint is typically a 2-3 weeklong process where a specific feature or business process is scoped, defined, configured, tested, re-configured, and tested again. Multiple sprints are combined into "releases" which are deployed to end users. With this cycle, we can deliver finished portions of the implementation to end users more quickly. In turn the users can provide better feedback in each successive sprint because they understand how the system works early on.
Common Vision - We begin all implementations with an onsite Kickoff and Discovery Stage. During these Stages, we introduce more details of PMWeb to the team and most importantly begin to organize and prioritize the client requirements to create a clear picture and vision of how we will configure and roll out the solution. We agree on what a successful implementation will look like in the end, and just as importantly who is responsible for that outcome. Which leads to the final factor: the importance of a truly integrated team.
Integrated Team - Involvement by the client during the implementation is critical to its success. It is important that they understand that implementations are not a spectator sport. The level of involvement will vary, but the group of core team members (System Owner, Administrator, and Super Users), should expect to be working on the project on a daily basis. For the implementation to be truly successful they will need to be deeply involved in learning they system, testing, training, piloting and documenting. The more involved they are, the better feedback they can provide, but more importantly the better equipped they are to guide the rest of the user base through the difficulties of organizational and behavioral change.
The HKA/PMWeb Implementation Methodology incorporates these success factors to provide our clients with a proven process for successfully deploying software. Our approach provides a standardized method for managing the entire planning, testing and implementation process while building a solid foundation to help ensure successful deployment and adoption by their users.
We hope you find this to be of interest. Do let us know your thoughts :)
To unsubscribe please email ppadmin@planningplanet.com