22 February 2019 Project Controls News

Dear Planning Planet Member,

We hope that you find this adds value to your day and if you'd like 1.5 million views for your content, blog, product or service please check this out...
REGIONAL PROJECT CONTROLS GATHERINGS
We are arranging the next one in London, England for March so if you wish to do a presentation (on anything) do get in touch with james.williams@planningplanet.com for a discussion.

Motherwell / Glasgow - Read more...

If you want to help with one near you let us know - we have members planning them for New York, Peru, Singapore, Vancouver and Malaysia - so get involved.
RESOURCE MANAGEMENT: WHAT IT IS & HOW TO GET IT RIGHT
So, what are the resources a PCM has at their disposal? At a basic level the resources can be either physical such as equipment, technology, available space or cash or more intangible factors, such as time or an employee's skills. While the delegation of physical resources can be done quite logically, e.g. it takes X number of dollars and Y machine in 10 sq. foot of space to create the product Z, calculating intangible resources, on the other hand, are where a PCM's skill really gets tested - Read the full article...

TAKE A LOOK AT SOMETHING DIFFERENT?

Capital projects, shut-down and turnarounds, maintenance – whatever the project, there's a product to help. Safran PROJECT and Safran RISK...
WHATS THE POINT OF BEING A MEMBER? WHY BOTHER? DONT WASTE MY TIME?
We had a message from a practitioenr this week asking what the benefits would be of becoming a Member of the Guild of Project Controls. So we decided to list them to see peoples opinions. Below you will find a list of the toolsets you get access to when you are a Guild Member

Member Tools:

Career Path Matrix - a career path to allow us to understand where we are now and our options for enhancing our capabilities and our careers - view the matrix
Role Descriptors - a simple tool to help you understand what is expected of you in each / all of the roles described in the Career Path Matrix - view the tool
Compendium & Reference - an online, continually updated and improved body of knowledge that has been shaped and developed by us, the practitioners, that explains the tools and techniques we can / should know and understand in regard to the roles shown in the Career Path Matrix and the expectations set by the Role Descriptors - view the compendium
Online Study Guide - an online reference to help you work through the requisite tools & techniques associated with the role you are undertaking or role you would like to get promoted into.
Online Self Assessment - a simple tool to help you understand your strengths and weaknesses in regard to the Role Descriptors - view the tool
Capability Validation and SWOT Analysis - any / all practitioners can have their Self Assessment reviewed by senior Subject Matter Experts and be given a Strengths and Weakness and Opportunity Report
Online Invigilated Examinations - all of our exams are online and can be done at work or at home and are invigilated by a human proctor who ensures we are taking the exams ourselves and not being helped by others
Post-Examination Competency Assessment Interviews - to supplement our Online Invigilated Exams we each participate in a video conference with a Subject Matter Expert who provides us with a view of our Strengths and Weaknesses and proposes or rejects our request to be Competency Certified
360 Degree Capability References - a simple 5 minute template for our peers, superiors, clients and subordinates to annotate that help describe our working practices and abilities - view reference template
Guild Library - a place where Members place their information and professional "papers" for the use, enjoyment and benefit of other Guild practitioners - view the Guild Library
Find a Senior Mentor - the ability to connect with senior practitioners who are willing to help and coach your career progression; you put the effort in and they will support and encourage you as you grow
Competency Certifications - a fully comprehensive suite of certifications, based on the Career Path Matrix, Role Descriptors and Compendium that cater to practitioners from junior to senior levels in all industry sectors but above all that demonstrate that you can do the job; we all know that being able to do the job is very different to being able to pass and exam - view the competency certifications
Independent Certification Body - the approval to be Certified is made by a group of senior practitioners who collectively decide if we should be Competency Certified based on our Experience Profile, Online Invigilated Examinations, Post-Examination Interview, 360 Degree Capability References and Library Articles - view the Certification Board
Independent Benchmarking - to supplement this we run internal competency validation and bench-marking as well as being able to compare and contrast you, as a corporation, a team or an individual practitioner against other global companies, teams and individuals in similar sectors.
Training Anywhere in the World - we are working with (a growing) group of training providers who are offering training in regard to the expectations set by the Role Descriptors to assist companies and practitioners who want or need help in expanding on their current knowledge and capabilities
REPORT WRITING ENHANCEMENTS WEBINAR
| | |
| --- | --- |
| | For all your excel guru's and PRISM fans, here is a look at the new and improved PRISM Graphical Report Writer that utilizes a drag and drop layout method and the Dynamic Excel plugin for advanced formatting from multiple sources of data. PRISM comes with hundreds of standard reports out-of-the-box, but this intuitive report writing tool allows you to create your own reports depending on your requirements. And with the excel plugin, you get the best of both worlds – trustworthy data from a centralized data warehouse plus the flexibility to work in excel if you prefer. Read More... |
WORK BREAKDOWN STRUCTURE - DEMYSTIFYING THE WBS
Developing Effective Work Breakdown Structures

The Work Breakdown Structure (WBS) is an often misunderstood and underappreciated tool of project controls. Many would argue that it is a critical piece of the foundation of any project management methodology.

Many misconceptions exist about what a WBS is, how it is used and why it is such an important part of the project management process.

A WBS is a deliverable-oriented, hierarchical grouping of the work to be executed by the project team to accomplish the project objectives and create the required deliverables. It organizes and defines the total scope of the project. Each descending level represents an increasingly detailed definition of the project work (ie decomposition).

What should it NOT include?


No reference to WHO is doing the work
No reference to WHEN the work is being done
No reference to HOW the work is being done

Rules for WBS attributes:


Use NOUNS and ADJECTIVES to describe the work
No dependencies, durations, resource assignments

The WBS addresses the WHAT of a project. The next step in determining the HOW is the job of the Network Diagram. And finally, the Project Schedule will be used to determine WHEN and WHO will do the work. Read the full Blog Post...
RISK TRENDS THAT WILL DEFINE 2019
| | |
| --- | --- |
| | As we wish 2018 a fond farewell, now's the perfect time to look ahead and explore some of the biggest trends that risk management professionals should keep in mind for 2019 - Ongoing Political Uncertainty, Technology Will Enhance Human Decision-Making, Reputation Risk Management Becomes A Priority, Natural Disasters Are Becoming Commonplace. Read the Full Post... |
COST ENGINEERING ROADSHOW AUSTRALIA
In the era of digital disruption, delivering project success requires putting in place the right project cost management tool with intensive integration capabilities.

25 February - 8 March 2019, Sydney, Melbourne, Brisbane & Perth

Agenda: Cost Engineering Consultancy will visit Australia to meet with various companies, showcase our state-of-the-art software Cleopatra Enterprise, and discuss:


How to drive project success in today's challenging environment
The value of using a project controls software that integrates the disciplines cost estimating, scheduling, cost management and benchmarking
Best practices in project controls, which bring continuous improvement with Cleopatra Enterprise

'Digital technologies, when applied comprehensively and efficiently, can reduce overall project costs by as much as 45 percent.' as a recent McKinsey analysis suggests. However, 64 percent of technical projects still face cost overruns. Despite many challenges, companies applying integrated project controls complete their projects within time and budget and drive project success. Schedule a Meeting...
IF FLORIDA IS FOR YOU AND YOU CAN PLAN 1 YEAR IN ADVANCE - REMEMBER THIS
Construction CPM Conference next event is January 19-22 2020 at Disney World Florida.

Three Full Days Where Professional Planner Schedulers Gather to Discuss and Improve Critical Path Method Analysis Knowledge.

More information at www.ConstructionCPM.com.
HOT FORUM POSTS
| | |
| --- | --- |
| | Here are some Planning Planet Forum posts. Why not join the conversation? |
HOW TO DEAL WITH DIFFICULT TEAM MEMBERS
| | |
| --- | --- |
| | Everyone has worked with a jerk colleague before. Everyone. If you say you never have, then lucky for you, but take our word for it that it frigging sucks. There's little worse than working with a teammate who is, well, a jerk to everyone. However, being a jerk isn't the only way that it can be difficult to work with somebody. Many people are plainly nice and well-intentioned, but for whatever reason they do not function well in a team, which is a drag for everyone else. Read the full blog... |
READ AND ACTION YOUR XER
| | |
| --- | --- |
| ScheduleReader™ - because efficient communication is vital for successful project completion. Watch Video | |
SAFRAN PROJECT and SAFRAN RISK
EVA24 - THE IDENTITY OF PROJECT CONTROLS
This year EVA will focus strongly on the Identity of Project Controls and focusing on:

The people doing the job
Defining the community
Really understanding what the job is about and proving that you can do it
There are too many 'keyboard jockeys'. Too many people who know what each button does but don't know why!

Contract Steve Wake to Sponsor or Register
PREVENT PROJECT CHAOS
As scope increases chaos can creep in—this is especially true when you are juggling many moving parts and shifting priorities.

So how can you keep project chaos from ruining your day. Clarizen streamlines and automates.

See how you can gain some well-earned peace by watching our brief, informative product tour...
"PROVEN PRACTITIONER" A PLANNING PLANET PRODUCT
Do you seek PROMOTION or do you want to better UNDERSTAND YOUR Stengths and SKILLS (in private) or do you seek that NEW ROLE?

Proven Practitioner provides ALL THE TOOLS YOU NEED

Go to Premium and sign up!
CAPTURING PROGRESS & UPDATING THE SCHEDULE
Guild Compendium Module Module 07-4 - Create the Logical Relationships & Sequence Activities - read the details...

Logic Relationships Defined, Sequencing All Activities,
Predecessor and Successor Logic, Redundant Logic,
Incomplete and Dangling Logic, Summary Activities and Logic,
Date Constraints, Lags and Leads and Path Convergence
COMPETENCY MEASUREMENT REPORTS FOR YOU, YOUR TEAM or YOUR COMPANY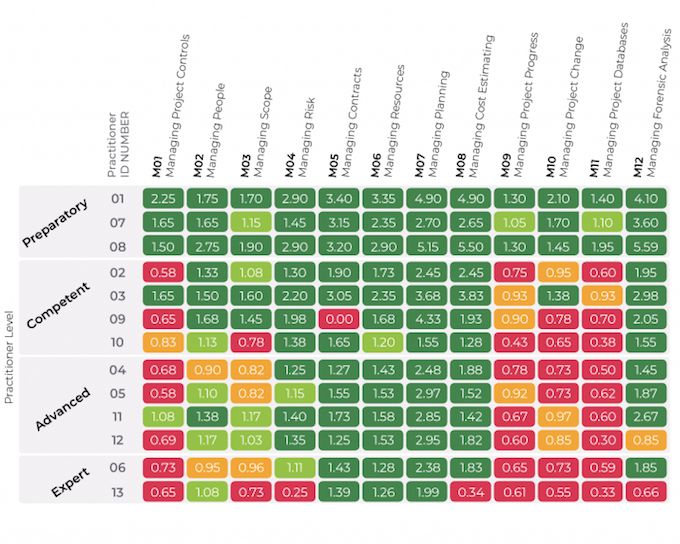 We are now offering CONFIDENTIAL Project Controls Competency Measurements for our members! From this report, you will receive a summary, similar to the one presented above, showing your teams, company's or projects "Competency Performance Index" across the full Project Controls capability arena. If you are interested in transforming Project Controls capability and team measurement, and would like to find out more, click here.
THE PROBLEM WITH PROJECT CONTROLS….
Preparing two presentations, one to the PMI Virtual Scheduling Conference last month, the other for ProjectChat in Sydney this week has started me thinking….

Why do so few project use effective project controls as a core input to project management decision making?

Read Pat Weavers post...
WHAT ARE PROJECT CONTROLS AND WHAT ARE THE BENEFITS?
| | |
| --- | --- |
| | Evaluating where you are in relation to where you're supposed to be is certainly part of the overall control and getting back on track is almost always a good strategy. But your primary mission is to deliver... Read the post... |
PROJECT CONTROLS ROLE EXPECTATIONS

Have you taken a look at the Guild of Project Controls' Role Descriptors yet? - This is the perfect tool for those who want to find out the baseline knowledge required for their role and level of seniority - think of it as a job descriptor for all roles and levels of competence. Give it a try here, find out more here.
PROJECT CONTROLS MENTOR TOOLBOX
Contact PPAdmin@planningplanet.com if you would like to learn about getting our Project Controls Toolbox for...

YOUrself,
your TEAM,
your PROJECT, or
your COMPANY
RATES, NORMS & DURATIONS
What is needed to come up with a production rate?

A duration of time, the manhours involved, and an amount of work produced this section of Planning Planet is here to document this.

What information do you have that you can share?
ALTERNATIVE TO PRIMAVERA AND ASTA?
A superior alternative to the "most popular" software for us as planners? Today it is used in 34 countries though most Spider Project customers are in Russia.

Spider Project offers numerous unique functional features and is the only PM software that optimizes resource, cost, and material constrained schedules and budgets for projects and portfolios.
ARES PRISM UK SEMINAR & HAPPY HOUR EVENT
ARES PRISM UK Seminar & Happy Hour Event

Date: Tuesday, 26 February 2019

Time: 2:00PM - 7:00PM

Location: Park Regis Birmingham Hotel

Make sure to mark your calendar!

Join ARES PRISM for a complimentary project management seminar and happy hour on February 26th. Network with other industry professionals and gain insight into what best-in-class organizations are doing to deliver their projects on-time and within budget. Limited seating is available, so be certain to register now to reserve your space!
PROJECT CONTROLS GATHERINGS NEAR YOU
If you wish to come to a project control gathering local to you please get in touch and we will share the details with you.

Email PPAdmin@planningplanet.com for details

We are holding meetings near you so do get in touch.
GET IN FRONT OF ONE POINT FIVE MILLION PROJECT CONTROLS PEOPLE
| | |
| --- | --- |
| | If you would like your product, service or software or yourself to be put in front of the global (or local) Project Controls Community then you should consider subscribing to the Planning Planet Project Controls Market Place. |
ARE YOU FOLLOWING US ON SOCIAL MEDIA?
Let's get social!

Build your network and keep up to date by following us on social media, just click the icons to get started.
THE GUILD OF PROJECT CONTROLS COMPENDIUM AND REFERENCE
The Compendium and Reference (CaR) is a document which forms The Guild Standards.

We have where possible offered advice as to previously written material which is in the public domain and proven to be of such quality that it can be used as a reliable reference of "best tested and proven practice".

The CaR is a living document being continually improved, supplemented and updated by the Guild community to reflect improvements to practices, opinions and methods in our chosen profession. The Guild is ready to receive suggestions at any time for updates to the CaR Standards.

Take a look here.

WOULD YOU LIKE TO ADVERTISE ON PLANNING PLANET?
We want to give more of our members the opportunity to advertise on our site. There are many reasons why this would be beneficial to anyone wanting to advertise their goods or services. We are offering two levels of interaction with our community, PP SILVER ADVERTISER and PP GOLD ADVERTISER.
Click here to get started!
SKILL ASSESSMENT CENTRE
Have you tried the Guild of Project Controls' Assessment Centre?

From this tool you will be able to ascertain your strengths and weaknesses against the many years of research that the Guild has ascertained are the Standards required for your role.

Further, for the first time you will know how you stack up in terms of skills in the Project Controls industry whatever your role.

Give it a try here!
ARE YOU TAKING FULL ADVANTAGE OF PLANNING PLANET?
See who you know from within our 150,000+ membership pool!

Take a look at the worlds first and only competence based credentials supported by a career path, role descriptors, self-assessment tools and online compendium desk reference of best tested and proven tools and techniques for project controls practitioners.

Join other members who share their thoughts and ideas in the form of blog posts.

100,000+ questions and answers to the topics we struggle with (mostly software!) on a day to day basis.

A knowledge-base that can be contributed to or utilized by anyone with skills and/or interest in planning, scheduling or project controls. No Wiki page or article is owned by its creator or any other editor, and its content relies upon collaboration and teamwork. How can you contribute?

What is needed to come up with a production rate? A duration of time, the manhours involved, and an amount of work produced? Take a look and get involved.

This has been dusty and quiet place for some time now. We have been liaising with recruiters, headhunters and talent managers plus a ream of corporate leaders and very soon we will have the largest live repository of project controls jobs in the world. Check back soon.

Check out our Silver and Gold partners and see if you'd like to be included there also.
THANK YOU FOR READING OUR MESSAGES
If you'd like to help the small but enthusiastic team of people helping with this newsletter please do get in touch with us via PPadmin@planningplanet.com We know we have a long way to go to make this informative and an anticipated bi-weekly "read" so do get in touch and get involved.
Regards... The Planning Planet Team
To unsubscribe please email ppadmin@planningplanet.com please ignore the unsubscribe link below