08 February 2019 Project Controls News

Dear Planning Planet Member,

We hope that you find this adds value to your day and if you'd like 1.5 million views for your content, blog, product or service please check this out...
PROJECT CONTROLS PEOPLE MET IN KENSINGTON, LONDON
| | |
| --- | --- |
| | On Tuesday of this week 32 of us met in a boardroom in Kensington and listened to two interesting and experienced speakers; Raphael M Düa on "Head in the Sand" and Mike Testro on Facts v Theory - Delay Analysis that works. I think it is fair to say that everyone found it an extremely useful and enjoyable evening. We are arranging the next one for mid March so if you wish to do a presentation (on anything) do get in touch with james.williams@planningplanet.com for a discussion. |
LEARN MORE ABOUT INTEGRATED COST RISK ANALYSIS
Why is this important?

Why won't older legacy risk applications do this?

What are the benefits of an integrated approach?

How do you get your organisation started?

Safran, in cooperation with Phil Shatz, would like to invite you to a short workshop to explore this topic, look at the latest tool – Safran Risk – available to achieve this, and answer questions about why this is so important. Are you a risk professional, and would you like to increase the maturity of risk awareness in your own organisation? Then you will love the new risk assessment tool – produced in cooperation with Dave Hulett - that is available free to test the maturity of your own risk processes in your organisation.

Glenn Jarrad, the CTO at Safran Software Solutions, (formerly at Pertmaster), will be running an interactive workshop on true integrated schedule cost risk analysis in London on the morning of the Tuesday the 12th of February. Topics included will be:

Possibilities and benefits with integrated cost risk analysis - Integrating costs and schedule risk properly in a single environment really opens the door to endless analytical possibilities. In the workshop Glenn will show a full range of use - from maintaining a simple list of risks in a spreadsheet to performing a detailed quantitative risk analysis, for both schedule risk and cost risk, with full scenario analysis across all risk variables. No more "translating" cost information into a format the schedule can understand, but welcome to an immediate integrated seamless experience.
A full schedule risk assessment - To power these analytics it is also necessary to have access to an embedded full scheduling engine – see Glenn demonstrate the power that this unlocks in Safran Risk, powered by full Safran Project.
And all this comes with a best practice risk process - New users can easily perform schedule risk analysis by following the built-in process. The interface eases product adoption and dramatically helps to simplify what would otherwise be a complex process, to guarantee a healthy analytical result.
You will leave with a 30-day fully functional trial - and access to the David Hulett's risk assessment survey!

Apply now – spaces limited!

Capital projects, shut-down and turnarounds, maintenance – whatever the project, there's a product to help. Safran PROJECT and Safran RISK...
NO, WORKING FROM HOME IS NOT REMOTE WORK…HERE'S WHY
As technology changes and planning and working with teams without any physical contact becomes more common, the entire dynamic of the workplace across many industries is changing irrevocably.

This is having an increasingly large impact on how managers deal with, oversee and get the most out of their teams.
FREE WHITE PAPER: GOLDEN THREAD OF CHANGE MANAGEMENT
What if–two years from now–you find your project is behind schedule or over budget? People will ask, "Why? How did we get here?".

This is why the Golden Thread of change management is so crucial. Download our white paper to learn about the importance of the Golden Thread, the five factors of a successful implementation, and 5 major benefits of utilizing a powerful change management process.
PLANNING DONE RIGHT - TEMPLATE
Message from Method123... The Planning Phase of any project is one of the most critical phases. It is where assumptions and estimates are made about what needs to be done, who will do it, and how long it will take. Dependencies and risk are factored into the development of the plan.

With greater certainty we are able to develop a realistic plan. Conversely, with more uncertainty the less realistic the plan will be.

But, how much time, energy and money should we put into the planning phase? At what point do we achieve diminishing returns? At what point must we admit that we are at such a level of uncertainty that we cannot make realistic estimates.

Looking at the Project Management Lifecycle chart below (click to download) we see that the planning phase certainly contains a lot of activities and deliverables. The key defining activity that will give the best guidance to how much planning should be done up front is the WBS.

In our September Newsletter (Demystifying the WBS) we cautioned project planners who ask how much decomposition should go into the WBS to "Stop when it starts to get silly"! This supports our feeling that there are diminishing returns on planning and its OK to pause at the point of reasonable certainty in the planning process. We suggest following these 3 steps:

Develop the WBS highest level to include all known scope
Decompose WBS element a few levels down where a solid level of understanding and reasonable certainty exist
Begin planning out those 'known' elements and reserve time in the near future to revisit and further elaborate and plan the rest as the picture becomes more clear

This approach is a bit agile-like because our goal is to deliver something useful more quickly and we acknowledge that the process will be somewhat iterative. While there is not bullet-proof metric to guide us on how much of a project needs to be fully planned before starting we would be comfortable having a solid plan for 25% of a projects duration. Thus, if we suspect a project is going to take 2 years to complete -- having the first 6 months planned out in detail should make us confident that we can begin the work.

It is important to understand, acknowledge and communicate to stakeholder that things will likely change! They always do. Our job is not to prevent change, but to adapt to it and deliver successful projects in an environment of constant change.

To help you plan better consider using the industries best template and project management methodology tools used by over 2 Million professionals since 2001.

PM Template Kit
Complete Lifecycle
Project Initiation
Templates Only
MPMM
Professional
Portfolio Management
Module for MPMM

$195
$49
$395
$195

Or bundle MPMM Professional and Portfolio Management Module for MPMM and save. With this Bundle you get a Complete Project Management Methodology in MPMM ($395 value) plus the PPM Module ($195 value) for Just $299
INTRODUCING PROJECT CONTROLS GLOBAL
| | |
| --- | --- |
| | If you are a prospective EMPLOYER with VACANCIES you'd like to fill or a PROJECT CONTROLS PRACTITIONER ready to take on the challenge of a NEW ROLE then please GET IN TOUCH for an initial discussion so we can demonstrate to you how we can help where others cannot. |
COST ENGINEERING ROADSHOW AUSTRALIA
In the era of digital disruption, delivering project success requires putting in place the right project cost management tool with intensive integration capabilities.

25 February - 8 March 2019, Sydney, Melbourne, Brisbane & Perth

Agenda: Cost Engineering Consultancy will visit Australia to meet with various companies, showcase our state-of-the-art software Cleopatra Enterprise, and discuss:


How to drive project success in today's challenging environment
The value of using a project controls software that integrates the disciplines cost estimating, scheduling, cost management and benchmarking
Best practices in project controls, which bring continuous improvement with Cleopatra Enterprise

'Digital technologies, when applied comprehensively and efficiently, can reduce overall project costs by as much as 45 percent.' as a recent McKinsey analysis suggests. However, 64 percent of technical projects still face cost overruns. Despite many challenges, companies applying integrated project controls complete their projects within time and budget and drive project success. Schedule a Meeting...
PROJECT CONTROLS CONFERENCES YOU DON'T WANT TO MISS
What Project Controls conferences have you attended?

Which one was the best?

Was it the best because it created a positive impact on you?

To help you find the best conferences and events in Project Controls, Shohreh Ghorbani has put together this blog post for you so you can benefit from attending these events. Read more...
WHEN A JOB INTERVIEW GOES VERY WRONG
| | |
| --- | --- |
| | A recent Tweet that went viral from a young job seeker is reviving the debate around the use of so-called "stress interviews" that seek to destabilize candidates by making them feel uncomfortable. Managers use the technique, such as asking impossible or bizarre questions, to see if the job seeker is able to handle pressure and unknown situations. Experts are divided as to their effectiveness; some say it can sometimes backfire with the employer losing an otherwise strong candidate. |
WHAT ARE THE BIGGEST TRENDS LIKELY TO IMPACT RISK MANAGEMENT TEAMS IN 2019?
Here are some thoughts on how the current world events will affect risk management in the coming year.

It also looks to explore some of the biggest trends that risk management professionals should keep in mind for 2019.
THE SECRETS TO CREATING GREAT PROJECT SCHEDULES
ScheduleReader™ offers a more sophisticated way to view and communicate schedule data extracted from .xer, .xml and .xls files.

It dynamically presents well formatted and visually understandable schedule information that you can easily organize, filter, group and share with project Teams, contractors and stakeholders.

Get your 15 days Free Trial here...

| | |
| --- | --- |
| ScheduleReader™ - because efficient communication is vital for successful project completion. Watch Video | |
THE IMPACTS OF MEGATRENDS ON FUTURE PROJECT PLANNING & SCHEDULING WORKFORCE
Have you ever wondered how the advancements on technology and other megatrends will impact the future of project planning & scheduling workforce?
Check this post to learn how you can design your career pathways to suit the job market of the future.
DELAY ANALYSIS IS MADE EASY
An invitation to a free live training webcast by Guild of Project Controls Fellow Chris Carson on "Delay Analysis is Made Easy".

This is the first of a series of complimentary Forensic Schedule Analysis live webinars that will address some of the very good questions. We see these as a way to provide more insight into a number of excellent forensic analysis topics.
SAFRAN PROJECT and SAFRAN RISK
EVA24 - THE IDENTITY OF PROJECT CONTROLS
This year EVA will focus strongly on the Identity of Project Controls and focusing on:

The people doing the job
Defining the community
Really understanding what the job is about and proving that you can do it
There are too many 'keyboard jockeys'. Too many people who know what each button does but don't know why!

Contract Steve Wake to Sponsor or Register
See below a list of some of our speakers and their topics:


TV Casting – Understanding your role (Didi Hopkins, National Theatre)
EVM on major infrastructure programmes– the challenges (Subash Tavares, Transport for London)
Given Half a Chance : Ten Ways to Save the World (Ed Davey, World Resources Institute)
Placing Teams and Data at the Heart of Delivery (James Lea, Jacobs)
Dead In the Water (Mott MacDonald)
Contingency and how to run it down in line with remaining risk (Mike Younger, Turner & Townsend - USA)
Agile delivery success relies on Project Controls (Cameron Stewart)
Creating a professional Cost Engineering discipline (Ben Fitzgerald, Submarine Delivery Agency)
A standard for the role of directors to prevent serious incidents (Bob Arnold, Multiplex Construction)
Change to Golden Threads (Professor Andrew Langridge, AresPrism)
Measure twice cut once (Iain Minns, Arcadis)
Disrupting the Force! (Stephen Carver, Cranfield University)
The End of the Keyboard Jockey is Nigh. Harmonising the Controls Community (Planning Planet)
What is the Value of Value Management? (Jason Hones, Highways England)
Project Managers Can't Swim (Mark Robinson, Airbus)
Building the Bridge with Skill (Engineering Construction Industry Training Board)
How Advanced Data Analytics will Transform Project Controls (Martin Paver)
Poetically Correct - Walking With Words - project managing the words we use. (Paul Lyalls Former Poet in Residence for the Roald Dahl Museum)
PREVENT PROJECT CHAOS
As scope increases chaos can creep in—this is especially true when you are juggling many moving parts and shifting priorities. So how can you keep project chaos from ruining your day. Clarizen streamlines and automates.

See how you can gain some well-earned peace by watching our brief, informative product tour...
"PROVEN PRACTITIONER" A PLANNING PLANET PRODUCT
Do you seek PROMOTION or do you want to better UNDERSTAND YOUR Stengths and SKILLS (in private) or do you seek that NEW ROLE?

Proven Practitioner provides ALL THE TOOLS YOU NEED

Go to Premium and sign up!
CAPTURING PROGRESS & UPDATING THE SCHEDULE
Guild Compendium Module 09.3 - Capturing Progress & Updating the Schedule - read the details...

Measure Physical Progress
Capture Actual Cost of Work Performed
Status and Update the Schedule With Progress
COMPETENCY MEASUREMENT REPORTS FOR YOU, YOUR TEAM or YOUR COMPANY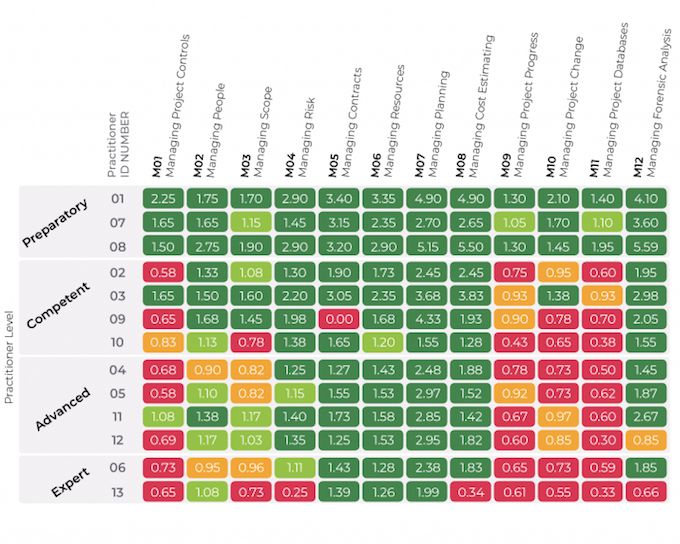 We are now offering CONFIDENTIAL Project Controls Competency Measurements for our members! From this report, you will receive a summary, similar to the one presented above, showing your teams, company's or projects "Competency Performance Index" across the full Project Controls capability arena. If you are interested in transforming Project Controls capability and team measurement, and would like to find out more, click here.
BANNING LAPTOPS IN MEETINGS
| | |
| --- | --- |
| | Laptops and phones have become virtually omnipresent in most professional spheres and it has become the norm for staff to take either one or both into meetings with them in case they have a need to use them. A growing movement has begun however that seeks to ban the use of these in meetings. |
RISK MATURITY ASSESSMENT
| | |
| --- | --- |
| | This FREE assessment will measure your level of preparedness across four sectors: scheduling competence, risk awareness, qualitative and quantitative risk analysis. Upon completion, your results will be analysed by one of Safran's risk professionals, who'll contact you with tailored recommendations. Click to Access the Assessment Tool & Get Free Report... |
PROJECT CONTROLS ROLE EXPECTATIONS

Have you taken a look at the Guild of Project Controls' Role Descriptors yet? - This is the perfect tool for those who want to find out the baseline knowledge required for their role and level of seniority - think of it as a job descriptor for all roles and levels of competence. Give it a try here, find out more here.
PROJECT CONTROLS MENTOR TOOLBOX
Contact PPAdmin@planningplanet.com if you would like to learn about getting our Project Controls Toolbox for...

YOUrself,
your TEAM,
your PROJECT, or
your COMPANY
RATES, NORMS & DURATIONS
What is needed to come up with a production rate?

A duration of time, the manhours involved, and an amount of work produced this section of Planning Planet is here to document this.

What information do you have that you can share?
ALTERNATIVE TO PRIMAVERA AND ASTA?
A superior alternative to the "most popular" software for us as planners? Today it is used in 34 countries though most Spider Project customers are in Russia.

Spider Project offers numerous unique functional features and is the only PM software that optimizes resource, cost, and material constrained schedules and budgets for projects and portfolios.
ARES PRISM UK SEMINAR & HAPPY HOUR EVENT
ARES PRISM UK Seminar & Happy Hour Event

Date: Tuesday, 26 February 2019

Time: 1:00PM - 5:00PM

Location: Park Regis Birmingham Hotel

Make sure to mark your calendar!

Join ARES PRISM for a complimentary project management seminar and happy hour on February 26th. Network with other industry professionals and gain insight into what best-in-class organizations are doing to deliver their projects on-time and within budget. Limited seating is available, so be certain to register now to reserve your space!
PROJECT CONTROLS GATHERINGS NEAR YOU
If you wish to come to a project control gathering local to you please get in touch and we will share the details with you.

Email PPAdmin@planningplanet.com for details

We are holding meetings near you so do get in touch.
GET IN FRONT OF ONE POINT FIVE MILLION PROJECT CONTROLS PEOPLE
| | |
| --- | --- |
| | If you would like your product, service or software or yourself to be put in front of the global (or local) Project Controls Community then you should consider subscribing to the Planning Planet Project Controls Market Place. |
ARE YOU FOLLOWING US ON SOCIAL MEDIA?
Let's get social!

Build your network and keep up to date by following us on social media, just click the icons to get started.
THE GUILD OF PROJECT CONTROLS COMPENDIUM AND REFERENCE
The Compendium and Reference (CaR) is a document which forms The Guild Standards.

We have where possible offered advice as to previously written material which is in the public domain and proven to be of such quality that it can be used as a reliable reference of "best tested and proven practice".

The CaR is a living document being continually improved, supplemented and updated by the Guild community to reflect improvements to practices, opinions and methods in our chosen profession. The Guild is ready to receive suggestions at any time for updates to the CaR Standards.

Take a look here.

WOULD YOU LIKE TO ADVERTISE ON PLANNING PLANET?
We want to give more of our members the opportunity to advertise on our site. There are many reasons why this would be beneficial to anyone wanting to advertise their goods or services. We are offering two levels of interaction with our community, PP SILVER ADVERTISER and PP GOLD ADVERTISER.
Click here to get started!
SKILL ASSESSMENT CENTRE
Have you tried the Guild of Project Controls' Assessment Centre?

From this tool you will be able to ascertain your strengths and weaknesses against the many years of research that the Guild has ascertained are the Standards required for your role.

Further, for the first time you will know how you stack up in terms of skills in the Project Controls industry whatever your role.

Give it a try here!
ARE YOU TAKING FULL ADVANTAGE OF PLANNING PLANET?
See who you know from within our 150,000+ membership pool!

Take a look at the worlds first and only competence based credentials supported by a career path, role descriptors, self-assessment tools and online compendium desk reference of best tested and proven tools and techniques for project controls practitioners.

Join other members who share their thoughts and ideas in the form of blog posts.

100,000+ questions and answers to the topics we struggle with (mostly software!) on a day to day basis.

A knowledge-base that can be contributed to or utilized by anyone with skills and/or interest in planning, scheduling or project controls. No Wiki page or article is owned by its creator or any other editor, and its content relies upon collaboration and teamwork. How can you contribute?

What is needed to come up with a production rate? A duration of time, the manhours involved, and an amount of work produced? Take a look and get involved.

This has been dusty and quiet place for some time now. We have been liaising with recruiters, headhunters and talent managers plus a ream of corporate leaders and very soon we will have the largest live repository of project controls jobs in the world. Check back soon.

Check out our Silver and Gold partners and see if you'd like to be included there also.
HOW TO HONESTLY RATE YOUR MEETING PRODUCTIVITY
| | |
| --- | --- |
| | Every month, people spend an average of 31 hours in unproductive meetings. Honesty is essential when rating meeting productivity but who doesn't want to give themselves top marks? The following are a few ways to stay on track and hold effective meetings that will get you closer to a 10/10. |
THANK YOU FOR READING OUR MESSAGES
If you'd like to help the small but enthusiastic team of people helping with this newsletter please do get in touch with us via PPadmin@planningplanet.com We know we have a long way to go to make this informative and an anticipated bi-weekly "read" so do get in touch and get involved.
Regards... The Planning Planet Team
To unsubscribe please email ppadmin@planningplanet.com please ignore the unsubscribe link below