14 December 2018 Project Controls News

Dear Planning Planet Member,

We hope that you find this adds value to your day and if you'd like 1.5 million views for your content, blog, product or service please check this out...
CASE STUDY: INCREASED VISIBILITY & EFFICIENCY AT BARRICK GOLD
Our case study explores how Barrick Gold Corporation, the world's top producer in the gold mining industry, is utilizing ARES PRISM project controls software to increase efficiency, provide effective reporting and data analysis, and provide visibility for stakeholders.

Through ARES PRISM, Barrick integrates all of their project data in one place; it's their centralized source for project controls, authorization of expenditures, documentation and financial data. Read the Case Study...
PROJCON FOUNDER ANIL GODHAWALE ON QUANTITATIVE SCHEDULE RISK ANALYSIS (QSRA)
Heading: ProjCon founder Anil Godhawale on QSRA

At Safran we focus on risk analytics and the management of complex schedules – and we have recently interviewed Anil Godhawale, the founder of ProjCon Consultancy and Project Controls EXPO itself – and his approach to risk management.

The interview can be viewed here.

Capital projects, shut-down and turnarounds, maintenance – whatever the project, there's a Safran product to help.
Checkout Safran PROJECT and Safran RISK...
RISK MATURITY ASSESSMENT
This FREE assessment will measure your level of risk preparedness across four sectors: scheduling competence, risk awareness, qualitative and quantitative risk analysis.

Upon completion, your results will be analysed by one of Safran's risk professionals, who will contact you with recommendations customer-tailored to your organization. Our risk maturity assessment is completely free-to-use. Click to Access the Assessment Tool & Get Free Report...
THE IMPORTANCE OF WORK PACKAGES (& HOW TO MAKE THEM EFFECTIVE)
| | |
| --- | --- |
| | Creating an effective work breakdown structure (WBS) is built upon the idea that the building blocks, i.e. the work packages that are used to create the WBS, have been measured and formulated to the same standards and methodology. The importance of work packages in project management, therefore, often leads to people searching for a good work package definition. This way, they can ensure that they are as precise, helpful and effective for their team as possible. Read more... |
WHY WAS / IS CRITICAL PATH MANAGEMENT SO SUCCESSFUL YET WE REVERT TO BAR CHARTS?
This has such a voluminous (nice word) response we thought we would keep it in for todays newsletter. So why was Jim O'Brien so successful in promoting critical path management in the 1960s, and yet today many prefer to revert to bar charts?

A fine article by Fredric L. Plotnick, PhD that describes the mathematics and technology of Critical Path Method and its significance in today's construction management. Read the Article...
WHITE PAPER: THE FIVE PILLARS OF PROJECT CONTROLS
| | |
| --- | --- |
| | This Ares Prism white paper explores the fundamental elements required to deliver a mature, effective and robust project controls capability. The aim of every project controls team should be the delivery of actionable information, at the right time, in the appropriate format and correctly contextualized. This information is the basis for decision making and is critical for all types of projects regardless of size and complexity. Read the Article... |
UK PROJECTS NEWS WORTH £600 BILLION IN THE PIPELINE AS GOVERNMENT GETS BRITAIN BUILDING
| | |
| --- | --- |
| | The UK Government's National Infrastructure and Construction Pipeline reveals the vast scale of public and private investment underway and expected by 2028. It includes schemes like the £28 billion national roads fund, as well as other flagship projects like East West Rail, upgrading the M6 to a smart motorway and Hornsea Project One – the largest offshore wind farm in the world. Jobs on the way? Read more... |
PRIMAVERA CHRISTMAS CARD FROM THE DO DUY KHUONG BLOG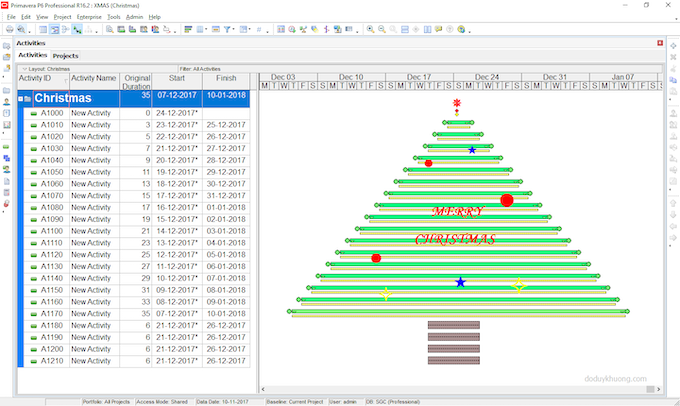 From Primavera P6 with love
PILLARS OF PROJECT PREDICTABILITY
| | |
| --- | --- |
| | Project complexity, limited visibility into performance, and human factors that obscure and delay forecasts have restricted the ability to proactively manage cost and schedule outcomes. In this webinar, we look at the information, processes and tools necessary to unlock predictability and world-class projects performance. Join Webinar... |
THE SECRETS TO CREATING GREAT PROJECT SCHEDULES
GETTING YOUR TONE RIGHT IN WRITTEN COMMUNICATIONS
| | |
| --- | --- |
| | Communication has always been a vital part of any manager's skill set. From resolving conflict and promoting team unity to delegating effectively and ensuring team members are aware of their responsibilities, among many other key functions, being able to get your message across concisely and in a professional tone can go a long way towards keeping things running smoothly while not taking up too much of your time. Read more... |
THE CLARIZEN HOLIDAY MOVIE GUIDE (WITH A FUN PROJECT MANAGEMENT TWIST!)
| | |
| --- | --- |
| | Another holiday season is here, which means it's time for holiday movies, holiday movies, and yet more holiday movies. At Clarizen, we want you have a great holiday season. To that festive end, here (in alphabetical order) are 10 seasonal movies — some classic oldies and some more recent entries — that we think you, your family and your friends will love (with a fun project management twist!). Read the good stuff... |
SAFRAN PROJECT and SAFRAN RISK
A MESSAGE FROM THE PLANNING PLANET FOUNDER... CALLING ALL PMPers...
UPDATE: We are now well on the way to building that core of PMP holders so thanks for your support and encouraging words. Thanks for your interesting messages and discussions - james.williams@planningplanet.com

If you have a PMP and a SOLID EXPERIENCE profile contact me to get on the list to claim your Planning & Scheduling Professional Certification (PSPC) and Cost Management Professional Certification (CMPC) from the Guild of Project Controls in regognition of what you learned in your PMP.
EVA24 - THE IDENTITY OF PROJECT CONTROLS
This year EVA will focus strongly on the Identity of Project Controls and focusing on:

The people doing the job
Defining the community
Really understanding what the job is about and proving that you can do it
There are too many 'keyboard jockeys'. Too many people who know what each button does but don't know why!

Contract Steve Wake to Sponsor or Register
PREVENT PROJECT CHAOS
| | |
| --- | --- |
| | As scope increases chaos can creep in—this is especially true when you are juggling many moving parts and shifting priorities. Research has proven that complexity is one of the root causes of project failure. So how can you keep project chaos from ruining your day. Clarizen streamlines and automates. See how you can gain some well-earned peace by watching our brief, informative product tour... |
SETTING UP A PMO
| | |
| --- | --- |
| | It's another of our 12 Stand Up for PMO Days Before Christmas and some insights from our first PMO Unconference from Manchester. With an Unconference the agenda of the day is set by the people who participate. When they arrived at the venue, they were asked to jot down their current challenges around the four areas – setting up a PMO; running a PMO; shutting PMO down and evolving and energising PMO. Read more... |
"PROVEN PRACTITIONER" A PLANNING PLANET PRODUCT
Do you seek PROMOTION or do you want to better UNDERSTAND YOUR Stengths and SKILLS (in private) or do you seek that NEW ROLE?

Proven Practitioner provides ALL THE TOOLS YOU NEED

Go to Premium and sign up!
CAPTURING PROGRESS & UPDATING THE SCHEDULE
Guild Compendium Module 09.3 - Capturing Progress & Updating the Schedule - read the details...

Measure Physical Progress
Capture Actual Cost of Work Performed
Status and Update the Schedule With Progress
COMPETENCY MEASUREMENT REPORTS FOR YOU, YOUR TEAM or YOUR COMPANY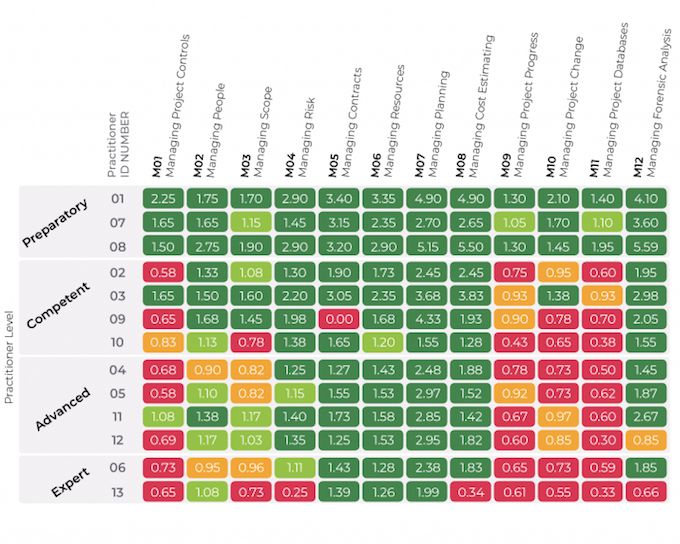 We are now offering CONFIDENTIAL Project Controls Competency Measurements for our members! From this report, you will receive a summary, similar to the one presented above, showing your teams, company's or projects "Competency Performance Index" across the full Project Controls capability arena. If you are interested in transforming Project Controls capability and team measurement, and would like to find out more, click here.
UPCOMING MEETINGS AND EVENTS
Our Project Controls Gatherings are a great opportunity for our members to discuss industry issues, share ideas and form new connections. Here is a list of our upcoming gatherings...

These meetings may just form the beginning of lasting professional relationships. Don't miss out! Follow the links above to sign up.

What should I do if I can't see a meeting near me?

If you don't see an event near you listed above, why not create your own? Just email james.williams@planningplanet.com to get started.

To make sure these events can be as successful as possible, please forward this to your friends and colleagues so they can also get involved.
CONSTRUCTION CPM CONFERENCE RETURNS IN 2019
San Diego, California - January 20 – 23, 2019

For 2019 the Construction CPM Conference returns to San Diego

We have booked six meeting rooms over three full days.

Two keynotes – Seventy-Seven breakouts – Five networking events – One conference

Our Best Rates for Speakers & Exhibitors is open to all – REGISTER NOW
PROJECT CONTROLS ROLE EXPECTATIONS

Have you taken a look at the Guild of Project Controls' Role Descriptors yet? - This is the perfect tool for those who want to find out the baseline knowledge required for their role and level of seniority - think of it as a job descriptor for all roles and levels of competence. Give it a try here, find out more here.
PROJECT CONTROLS TOOLBOX
Contact PPAdmin@planningplanet.com if you would like to learn about getting our Project Controls Toolbox for...

YOUrself,
your TEAM,
your PROJECT, or
your COMPANY
RATES, NORMS & DURATIONS
What is needed to come up with a production rate?

A duration of time, the manhours involved, and an amount of work produced this section of Planning Planet is here to document this.

What information do you have that you can share?
ALTERNATIVE TO PRIMAVERA AND ASTA?
A superior alternative to the "most popular" software for us as planners? Today it is used in 34 countries though most Spider Project customers are in Russia.

Spider Project offers numerous unique functional features and is the only PM software that optimizes resource, cost, and material constrained schedules and budgets for projects and portfolios.
INTRODUCTION TO MANAGING PROJECT CONTROLS
The 1,000 Metre Level Process Flow Chart for Guild Compendium & Reference Module 1- Managing Project Controls from both the OWNER and CONTRACTOR ORGANIZATION PERSPECTIVE provides an overall "Roadmap" or "Master Plan" or "Framework".

To address both the owner and contractor perspectives, the Guild has produced 4 levels of detail or granularity - go get the good stuff...
JACOBS JOBS
Opportunities await you. Jacobs has recently won a major contract, known as the Programme Delivery Partner (PDP) – for the provision of project management, project controls and integrated logistics support - with the Ministry of Defence's (MOD's) Defence Equipment and Support (DE&S) Agency, based in Bristol. DE&S is seeking our support at their offices across the UK and we are, therefore, keen to identify people who are interested in working for Jacobs, and being involved in PDP, across the UK.
Join our team and say "Hello" to a whole new future.
GET IN FRONT OF ONE POINT FIVE MILLION PROJECT CONTROLS PEOPLE
| | |
| --- | --- |
| | If you would like your product, service or software or yourself to be put in front of the global (or local) Project Controls Community then you should consider subscribing to the Planning Planet Project Controls Market Place. |
ARE YOU FOLLOWING US ON SOCIAL MEDIA?
Let's get social!

Build your network and keep up to date by following us on social media, just click the icons to get started.
THE GUILD OF PROJECT CONTROLS COMPENDIUM AND REFERENCE
The Compendium and Reference (CaR) is a document which forms The Guild Standards.

We have where possible offered advice as to previously written material which is in the public domain and proven to be of such quality that it can be used as a reliable reference of "best tested and proven practice".

The CaR is a living document being continually improved, supplemented and updated by the Guild community to reflect improvements to practices, opinions and methods in our chosen profession. The Guild is ready to receive suggestions at any time for updates to the CaR Standards.

Take a look here.

WOULD YOU LIKE TO ADVERTISE ON PLANNING PLANET?
We want to give more of our members the opportunity to advertise on our site. There are many reasons why this would be beneficial to anyone wanting to advertise their goods or services. We are offering two levels of interaction with our community, PP SILVER ADVERTISER and PP GOLD ADVERTISER.
Click here to get started!

WOULD YOU LIKE TO BECOME A GUILD OF PROJECT CONTROLS CORPORATE MEMBER?
This is our effort to help YOU - the employers of our community. With a Corporate Membership, you will have access to many of our services including Role Descriptors, Self Assessment, Competency Review with possible comparison with other organisations and Compendium Desk Reference and so many more.
Interested? Click here.
SKILL ASSESSMENT CENTRE
Have you tried the Guild of Project Controls' Assessment Centre?

From this tool you will be able to ascertain your strengths and weaknesses against the many years of research that the Guild has ascertained are the Standards required for your role.

Further, for the first time you will know how you stack up in terms of skills in the Project Controls industry whatever your role.

Give it a try here!
MONEY FOR SENIOR AND INTERMEDIATE PLANNING ENGINEERS and MANAGERS
Here are some opportunities to be considered. If either of these take your fancy then email David for a chat.

4 x Senior and Intermediate Planning Engineers, can be Freelance or Permanent. Based in the Midlands with International travel or permanently in the Middle East.
3 x Contractual / Commercial Quantum Consultants to work on various Construction international major projects.

LETS TALK if you want to develop your career either from the UK with travel or permanently in the Middle East.

Email David Logie...
ARE YOU TAKING FULL ADVANTAGE OF PLANNING PLANET?
See who you know from within our 150,000+ membership pool!

Take a look at the worlds first and only competence based credentials supported by a career path, role descriptors, self-assessment tools and online compendium desk reference of best tested and proven tools and techniques for project controls practitioners.

Join other members who share their thoughts and ideas in the form of blog posts.

100,000+ questions and answers to the topics we struggle with (mostly software!) on a day to day basis.

A knowledge-base that can be contributed to or utilized by anyone with skills and/or interest in planning, scheduling or project controls. No Wiki page or article is owned by its creator or any other editor, and its content relies upon collaboration and teamwork. How can you contribute?

What is needed to come up with a production rate? A duration of time, the manhours involved, and an amount of work produced? Take a look and get involved.

This has been dusty and quiet place for some time now. We have been liaising with recruiters, headhunters and talent managers plus a ream of corporate leaders and very soon we will have the largest live repository of project controls jobs in the world. Check back soon.

Check out our Silver and Gold partners and see if you'd like to be included there also.
ARE YOU INTERESTED IN BECOMING A GUILD ENDORSED TRAINING PROVIDER?
Are you an experienced Practitioner in Project Controls? Or are you already involved in Project Delivery Training or Project Management software sales, support, and installation? We seek a cohesive delivery team for our training - email us at admin@guildofprojectcontrols.com to find out more.
If you got this far please email us to tell us - we will include your profile in the next newsletter as our "Validated Super-Readers" :)

The quickest two members to come back to us were:

Mohammed Taher Netarwala, India
Jason Smith, London
Thank you for reading our short message.
If you'd like to help the small but enthusiastic team of people helping with this newsletter please do get in touch with us via PPadmin@planningplanet.com We know we have a long way to go to make this informative and an anticipated bi-weekly "read" so do get in touch and get involved.
Regards... The Planning Planet Team
To unsubscribe please email ppadmin@planningplanet.com please ignore the unsubscribe link below