03 Nov 2017 News
Dear Members,

Please find below this weeks' newsletter. We hope that you find it adds value to your day. Please visit our sponsors as they keep our 5 servers running and without them we will cease to exist. If you would like to join our team of bloggers and content providers then do get in touch.
HOW TO REMOVE ALL RELATIONSHIPS IN PRIMAVERA P6
Want to know a quick way to remove all relationships from a Primavera P6 project schedule?

It is often expeditious to use an existing schedule as a template for a new and similar project schedule. Most likely though you do not want to include the relationships that may appear as a mess of spaghetti.

It is possible to remove multiple relationships from multiple activities in Primavera P6 Professional

Read the full blog....
PRIMAVERAREADER AWARDED FOR GREAT USER EXPERIENCE AND RISING STAR SOFTWARE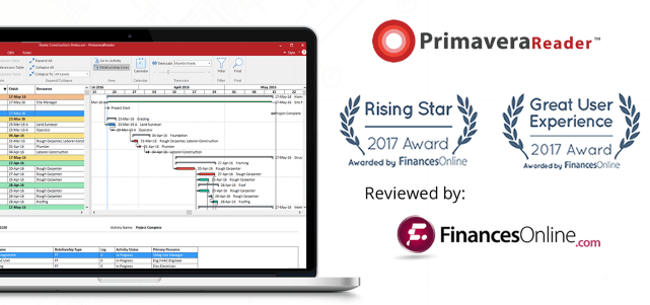 PrimaveraReader was awarded with two highly distinguished awards, the Great User Experience and the Rising Star Award, after a review by the team of renowned independent experts at FinancesOnline.com who have researched and evaluated thousands of software products on the global market.
With an overall score of 8 and a 100% user satisfaction mark, PrimaveraReader makes its place into the top 25 software products in the category of Visual Project Management software.
Take a look at the whole review here...
GUILD ENDORSED TRAINING PRACTITIONERS
Are you a practitioner who would like to help coach more junior practitioners and make revenue for doing it full time or part time?

Are you an experienced training provider who can deliver small or large scale training and want a new product set?

You are welcome to use the Guild of Project Controls Compendium and use your experience to help practitioners know and understand the tools & techniques associated with Planning & Scheduling, Cost Management, Forensic Analysis and Project Controls... become a trainer for the Guild.

If you would like to "get plugged in" and utilise this comprehensive competency based toolset then email us at PPAdmin@planningplanet.com
COST MANAGEMENT WEBINARS
Clarizen helps to close the gap that separates strategic decisions from project execution and extends the value and influence organisations beyond day-to-day project and portfolio management.

Taking full control of your projects and providing you with the visibility you need.

Take a moment to view our upcoming webinars here:

November 16th - Untangle the Complexity of Client Services Delivery

Find out how an enterprise-level professional services organization, with hundreds of projects in flight, stay on track, keep sales in the loop and maintain customer satisfaction?

November 21st - The PPM Revolution

Join this one hour highly interactive and engaging complimentary webinar with Thinkers 50 PPM guru Antonio Nieto Rodriguez, Tony Willers, Service Solutions Manager, SITA and Rapheal Kairy, Senior Solutions Engineer, Clarizen

Try Clarizen for free...

Find out for yourself by requesting a 30 day free trial or alternatively take a moment to view our product tour here.
GUILD LIFETIME MEMBERSHIP - LAST CALL, NEXT STEP YEARLY FEES
As we mentioned in previous news the Guild of Project Controls is going to stop offering a one-off lifetime payment for Membership...

After they close this any new members will have to pay the $150 USD every year rather than once in their lifetime.

Take advantage of this offer here - before they close it on us
CANADA-BASED NUCLEAR ENERGY ORGANIZATION SELECTS CLEOPATRA ENTERPRISE
One of Canada's most reputable Nuclear Power Generation firms has selected Cleopatra Enterprise as their Project Cost Management Software. Implementation of Cleopatra Enterprise is part of the organization-wide initiative to significantly improve the quality and the efficiency of the development of cost estimates.

Cleopatra Enterprise will help the Nuclear Power Organization with their several large extension and maintenance projects that will take place over the next couple of decades.

They will use Cleopatra to prepare solid and trustworthy cost estimates ranging from the very first conceptual estimate up to a definitive estimate.

The combination of powerful tools and cloud-based technology of Cleopatra will also allow the company to apply the 'anywhere anytime' approach – view the article…
HOW DOES "LEVEL RESOURCES" IN PRIMAVERA P6 WORK?
Here is another post from the Do Duy Khuong Blog...

How does "Level Resources" in Primavera P6 work?

Primavera have a function (called Level Resources) to solve the overload resource problem.

So the basic concept of Level Resources in Primavera is "push an activity start date later" so that resource will not be overloaded.

I will explain how it works in this article...
INTRODUCING THE CONCEPT OF PREDICTIVE PLANNING
By: Dr. Dan Patterson, PMP
Introduction
Do you remember the number of times you have had to manually check your Word document for spelling errors? How many times a day do you explicitly type a recipient's email address when compiling an email? How often do you mentally calculate how many miles a journey is when planning a road trip? The answer, of course, is never. Today, we rely on computers to store and, more importantly, recall knowledge, eliminating the need for us to carry out repetitive and mundane tasks.
Why then do traditional project planning tools provide next to no guidance to a planner when building a project schedule? Suggestions regarding durations, guidance on whether the sequence of work is correct, warnings about erroneous building blocks such as open-ended tasks, etc. For the past twenty years, project planning tools have been reactive – waiting for you to enter data – instead of proactively offering suggestions and helping users input meaningful data. Project planning needs an overhaul, and I believe that should be in the form of what I am going to call "Predictive Planning."
Think about predictive text for a moment. Predictive text is called predictive for a reason – as you type, the computer is predicting what you want to type based on what you've already typed. Well, why can't planning tools do the same? As I build out my plan and define activities, it shouldn't be beyond the realms of reasonableness for the planning software to at least make suggestions. If they are good suggestions, then I'll use them; if they are bad suggestions, I can tell the planning tool, and it should be able to learn from its mistakes in the same way we can train a spell checker to ignore certain words or use specific spellings.
For predictive planning to really be effective we need two key capabilities:
1. Ability to capture and store sufficient historical data in order to establish trends or benchmarks
2. Ability to search this data storage and extract relevant patterns and make accurate suggestions
Capturing Data
Traditionally, data storage has been expensive and limited to highly structured data (e.g., modeled in a relational database or the likes of Excel). Today, data storage is not only cheap but a lot more flexible in terms of storing less structured data, e.g., natural language.
Planning organizations pride themselves in hiring the smartest, most savvy planners, yet do little to try to capture and retain that expertise and knowledge. It really shouldn't be all that difficult to take historical as-built plans (that, of course, have that expertise embedded in them), or corporate standards and benchmarks, and develop a knowledge library.
If an organization can establish a knowledge library, and re-use the information in it, predictive planning is a no-brainer.
Making Sound Suggestions
For a computer or software tool to accurately predict an outcome (or in regard to predictive planning, make a suggestion to the planner), it firstly needs to understand context. In order to answer the question, "What is the weather going to be tomorrow?", we need to know the location, time of year, and the weather trend for the past few days. With these data points, we can then use experience, based on historical data, to predict and model what is essentially a future outcome – i.e., tomorrow's weather forecast.
In the case of building a project plan, knowing the size, scope, and type of project is a first step in giving the software some guidance as to where to focus its search when coming up with suggestions. When planning, you are predicting. You are trying to predict as accurately as possible a future outcome. This prediction is based on context and historical analogies.
Convergence of Technology Advancement and the Planning Discipline
In recent years, computing technologies have enabled the likes of neural networks and expert systems to return more accurate and sensible predictions. This approach today is coined under the already overused and ridiculously broad term: Artificial Intelligence. I believe our approach to planning should really be more along the lines of augmented intelligence. We shouldn't kid ourselves into thinking we can totally replace the expertise of a planner. However, we should be bold enough to embrace the fact that computers are smart enough now to assist during the planning process, make smart suggestions, and give guidance.
Mistakes Make Us Smarter
So, if a planning tool were able to store knowledge and subsequently provide suggestions based on that knowledge during the planning process, how would it get smarter over time? Well, that's easy. As the planning tool offers its suggestion, the planner either accepts or pushes back on the suggestion. This push-back or acceptance is how the tool learns – it can calibrate how often its suggestions are correct and adjust accordingly. The more interaction between the planner and the planning tool, the smarter the planning tool becomes.
Time to Replace the Planner?
Given such advancements are becoming more than just a vision, does that mean we can expect to see the demise of the planner role? Absolutely not. In fact, quite the opposite. As projects continue to face increased time and cost scrutiny, the realization that there is a big difference between a true planner and someone who can just drive a scheduling tool is growing.
Planners hold knowledge; they carry expertize – this knowledge and expertise needs to be captured and used in a meaningful way before the science of CPM-based planning dies a slow death.
I believe we are in the early stages of a much-needed revamp and leap forward in the science of project planning. Working "on the plan" not "in the plan" is a much better use of a planner's valuable time. Let's make that a reality.
Learn more at BasisPlanning...
SPIDER PROJECT - THE MOST POPULAR PROJECT, PROGRAM and PORTFOLIO MANAGEMENT TOOL IN RUSSIA
Spider Project software is most popular project, program and portfolio management tool in Russia. It has customers in 34 countries but still is not widely known abroad.

The first version of Spider Project was launched to the market in 1993 and since then its improvement based on its development team ideas and experience and users proposals and requirements never stopped. Today it has a lot of unique features that are not available in other tools. Look at the presentation here that describes some advanced scheduling functionality that is required in many projects but is absent in most tools.
Project models may be used as the decision making tools only if they reflect all existing dependencies and constraints. Let us know if you create project models that give reliable answers to any what if question and forecast future results. We'll be glad to discuss any issues with creating these models in Planning Planet Spider Project forum.
SPIDER PROJECT LONDON VISIT
Please be advised that Vladimir Liberzon from SPIDER PROJECT will be in London, England over the period 7th to 11th November.

If you or your company would like to meet with him to learn more about Spider Project then please email us at PPAdmin@planningplanet.com

Spider Project is widely recognised by subject matter experts to be one of the most TECHNICALLY ADVANCED project, program and portfolio management systems on the market and is the most widely used product in Russia.

Do get in touch if you feel you'd like to find time to say hello to our Russian friend.
US ROADSHOW - POWER OF INTEGRATED PROJECT CONTROLS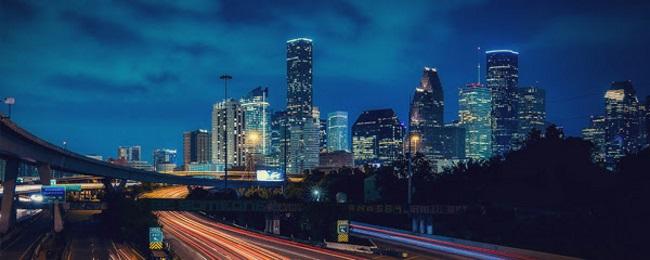 In today's market, companies operating in various industries, such as oil & gas, chemicals, offshore and construction, are faced with larger, more complex and more dynamic projects. This results in challenges for project controllers. Yesterday's techniques provoke large time and resources to manage projects.
Today's dynamic projects require a shift to an integrated approach of project controls, providing continuous improvement through the entire project life cycle.
Cost Engineering Consultancy will travel through the US to meet various companies and showcase our state-of-the-art software Cleopatra Enterprise.
Schedule a meeting with us to discuss:
How to improve project performance in today's challenging environment
The value of using a project controls software that integrates the disciplines cost estimating, scheduling, cost management and benchmarking
Best practices in project controls that drive continuous improvement with Cleopatra Enterprise
Date: 6 - 17 November 2017

Location: Houston area*
CONSTRUCTION CPM CONFERENCE, NEW ORLEANS, USA
New Orleans, Louisiana, at Mardi Gras
JANUARY 30 – FEBRUARY 2, 2018 with parades on Feb 2nd – 3rd – 4th
Hello Past, Present and Future Attendees of Construction CPM Conference
For 2018 we return to New Orleans at Mardi Gras. We have booked seven meeting rooms over three full days. Two keynotes – Ninety breakout sessions – Six networking events – One conference. We are now entering the fourth quarter. Budgets for education, training and marketing for 2018 should either be in place or being finalized.
Time to complete your plan to attend CCC18. Our early pricing of $925 will be available until November 4th.
We are still searching for speakers to discuss various areas of the theory of CPM and its application. We are still searching for speakers to share YOUR experience with the various software products available to our trade. No software product is perfect; presentations from HQ often leave out these issues; but we professional planners and schedulers must and do create functioning work-arounds to meet our needs. Share yours with your peers.
We are still accepting presentations featuring real life stories on how a project has been best brought in by innovative action of the scheduling team. Speakers (including plural speakers where applicable) are provided our subsidized rate of $825. Look at your successes (including mitigation of problem plagued projects) and share with our group of attendees – and send to info@constructioncpm.com.
ECOSYS 8 LAUNCHES

We invite you to the launch celebration for the release of the EcoSys 8 software! Come learn about what's new with EcoSys and stay for cocktails, hors d'oeuvres, networking with professionals in your industries, giveaways and more!
The EcoSys 8 software release introduces an expanded vision for managing the life cycle of projects -- Enterprise Projects Performance. Beyond project controls, this approach looks strategically across an organization spanning multiple programs, portfolios, or divisions -- with a mission to maximize returns and margins.
Come learn about the three products of the EcoSys Enterprise Projects Performance platform – EcoSys Portfolios, EcoSys Projects and EcoSys Contracts – and how their interaction creates unparalleled visibility. Attendees will see how improved enterprise projects performance is driven by:
The alignment of strategic decision making with tactical, real-time project and contract intelligence
Proper prioritization, selection, and management of project portfolios from inception through execution to close out
Controlling projects and managing contracts through standardization based on best practices to avoid overruns and mitigate contract risk
High visibility of forecasts and trends via built-in dashboards, dynamically drilling down into underlying causes
Thurs, November 9, 5:30pm - 8:00pm
Houston Marriott West Loop by the Galleria, 1750 West Loop South, Houston, TX 77027
Finally, we'll provide a demonstration of EcoSys, highlighting some of the core components of the platform as well as new features introduced in this release – and then on to the festivities! - Take a Look and Register
That's all folks...

If you want to get involved and provide content for the next newsletter then please get in touch.
Legal Bit - to unsubscribe and be removed email ppadmin@planningplanet.com