01 June 2017 Planning Planet News
Dear Members,

In this end May 2017 newsletter we are pleased to be able to send you some details from two of our Partner Sponsors.... ARES PRISM and ON TRACK PM. Help is also requested by our member Massimo please help him if you can!

Firstly though, we want to announce something that we will launch in a few days on PP
Planning Planet ...

Has over the years had many more requests for one subject over the years: JOBS.

In the next few days we will be launching a revolutionary solution for Project Controls as an entity: everything - roles, jobs, capabilities AND a methodology can be addressed by this initiative.

IF AS INDIVIDUALS YOU WISH TO BE INVOLVED EITHER AS A CORPORATE RECRUITER OR AS AN INDIVIDUAL BOTH PERMANENT OR CONTRACT - GET IN TOUCH NOW!

We will be announcing this solution very shortly on PP - IT IS UNIQUE !!!

Send your mail to ppadmin@planningplanet.com to register your interest.
Thank you and now for Massimo: He does have the same surname as the Godfather so we should do as he says!!!
Hello, I am Massimo Castiglione and I'm doing a study at the University of Palermo on the classification of Project Management software in a university thesis.
With this goal, I want to ask you if you could kindly fill in this short questionnaire asking to evaluate (with a score) the features that a Project Management software should have.
Thank you very much for your attention and for your help. Check Out the Information here.
Thanks for your time
Massimo
Planning Planet would like to introduce the latest evolution in project planning from the founder of Acumen and Pertmaster NA.

BASIS is Dr. Dan Patterson's newest venture and contribution to the project management community.
BASIS helps organizations build better plans, faster. Traditional CPM tools are good for tracking project execution, but don't support the upfront planning process. BASIS was created to help organizations build better plans in less time. Use your CPM tool to execute your project, use BASIS to ensure the plan being "executed" is actually achievable.
BASIS will be available in September. If your organization wishes to see BASIS in action before September, sign up for the Early Adopter program to gain insight and offer feedback on this evolutionary planning solution.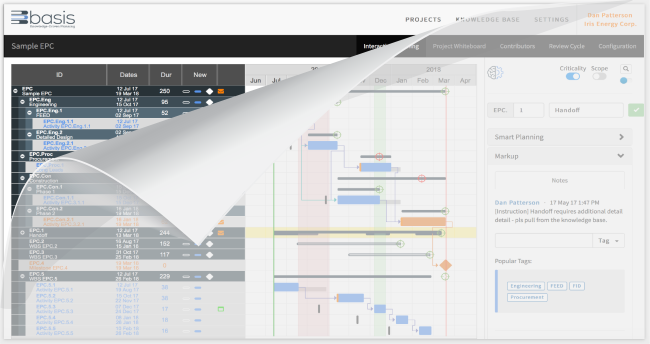 Visit www.basisplanning.com to learn how BASIS helps organizations build more achievable plans in less time.
| | |
| --- | --- |
| OUR FRIENDS AT ARES PRISM HAVE PROVIDED THIS NEW WHITE PAPER... | |

New White Paper: Realizing Project Potential with Enterprise Estimating Software

This white paper explores why it is important to investigate construction estimating software; what functionality should be sought after and, most importantly, how to achieve a successful implementation within the organization while delivering a good return on investment.

Read the White paper - using this link
HERE ARE SOME INFORMATIVE PAPERS FROM OUR FRIENDS AT ONTRACK PM...
OnTrackPM: Capital Project Management: The New Realities Webinar
A month ago with support of Fiatech, a global community with mission to advance technology and innovative practices, as a part of Fiatech Technology Tuesday Webinars, Dr. Sean T. Regan and CEO Matt Milinusic, OnTrack Engineering Ltd. discussed what challenges and realities we face in today's Capital project environment. Luckily, Capital Project Management: The New Realities! webinar is available for streaming via OnTrackPM YouTube channel.

Take this opportunity to learn why projects repeatedly fail, schedules blow out of water, lack of comprehensive training & knowledge transfer leads to subsequent negligence, and how full value integral package of PMO & software can enable you to reach that greener pasture of successful capital project delivery.

At OnTrackPM, we always look to address the most critical industry issues today and welcome your participation at our future webinars, workshops and other events. Hate to miss them? Sign up for our mailing list & meet the OnTrack Engineering team at the AACE Annual Greater Russia Annual Meeting, 16th Annual PM Soft Moscow Workshop or AACE International 2017 Annual Meeting in Orlando.
OnTrackPM: Kiev PM Days Conference Recordings
A month ago OnTrackPM had the privilege of hosting Kiev PM Days Conference. The purpose of the event was to motivate new and nurture current green-field or expansion projects through educating on complex projects funding, setup and support systems and establishing effective learning and knowledge transfer.

The topics concentrated around tools and best practices that expand and protect the spirit of successful project management culture globally and safeguard investor contributions.

Always looking to take on the most critical industry issues today, we are pleased to have started a dialogue regarding training between Ukrainian educational institutions and AACE Region 9 Director, Dr. Sean T. Regan.

Later that day, a representative of PMSOFT Ukraine, Pavel Kayuk covered project environments and answered some critical questions regarding PM software solutions. Luckily, the sessions of the conference are now available for streaming in Russian and English via OnTrackPM YouTube channel. Sign up for our mailing list & meet the OnTrack Engineering team at the AACE International 2017 Annual Meeting in Orlando.
OnTrackPM: TCM Implementation on International Projects by Dr. Sean T. Regan
Dr. Sean T. Regan has reviewed programs Internationally since 1995, through direct implementation of Project Control fundamentals. This has accounted for over $40 Billion of projects. Total Cost Management Framework (TCM) was the decided terminology of the AACE International. Certainly, TCM is the effective application of professional and technical expertise to plan and control resources, costs, profitability and risk.

In TCM Implementation on International Projects paper, Dr. Regan, International Operations President, OnTrack Engineering CZ s.r.o answers questions like: do all AACE Member and support companies fully implement TCM, what Software programs utilize TCM and what implementation of TCM means for an International project.

Also, Dr. Sean T. Regan stresses the importance of training & knowledge transfer, which is something all of us, at OnTrackPM inarguably stand by. So if you would like the opportunity to learn more about picking the software for correct application of TCM, avoiding common misconceptions in regard to comprehensive training and employee turnover, and avoiding reduction of cost in the near term, but an excessive cost increase in the future, you may download this paper below. Download here
Remember: we could promote your service or product - contact ppadmin@planningplanet.com for more information...
Legal Bit - to be removed please email PPAdmin@planningplanet.com and we will remove you