Synchro Professional
Synchro delivers innovation technology, designed to serve the construction delivery team, everyday, in real-time.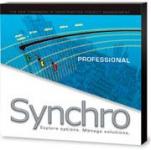 The Synchro Professional Pi Release provides complete construction visualisation, project scheduling, advanced risk management, synchronisation with design changes, supply chain management and cost allocation for comprehensive, virtual construction simulation.
Synchro Professional Pi enables consideration of alternative scheduling options, resource allocation, and time and cost savings to be evaluated.
Use Synchro Professional Pi to define and communicate to your entire construction project delivery team what, when and where work is occurring on your project.
Synchro Professional Pi can work either standalone – managing the project model independently – or in combination with Synchro Server in managing collaborative access to a centralised project model.
Here is a brief movie clip on YouTube that you may want to view as an introduction to the capabilities of Synchro.
To gain a better sense, you can preview this brief YouTube movie clip on 4D BIM for Delivery.
Where is Synchro Professional at work and how?
To see Synchro at The Glass Shard at London Bridge, simply click on this YouTube Video Clip.
For a more detailed Training view, we offer this Self-Taught Tutorial for Synchro 3.11.
We provide a User Manual, including comprehensive help files and a downloadable, self-taught tutorial with sample 3D and scheduling files.
We invite you to request a 10-day, free trial license of the latest version of Synchro.
---
PP Market Place:
EVA 18: Success is a Project; 11-12 June, London: EVA18 is the major UK event for Project Control knowledge, know-how and networking. EVA is a conference organised by a project management practitioner for project practitioners and stakeholders (Training Courses (Instructor Led)) Read more...
---