Tips on using this forum..
(1) Explain your problem, don't simply post "This isn't working". What were you doing when you faced the problem? What have you tried to resolve - did you look for a solution using "Search" ? Has it happened just once or several times?
(2) It's also good to get feedback when a solution is found, return to the original post to explain how it was resolved so that more people can also use the results.
Fixing criteria while Progress Updating
Hello there!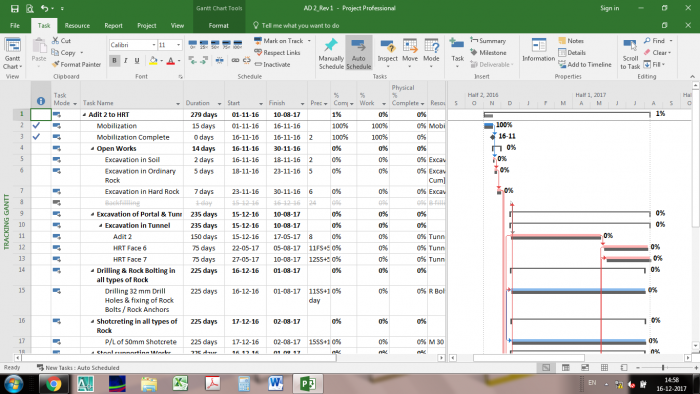 I am practicing MS Project 2016 for a construction project in which Activities are as shown in the attached picture.
Here, I have 4 Activities under the "Open Works" summary task. In a construction project, while preparing BoQ, we had kept Excavation of 3 types - Soil, Ordinary Rock, and Hard Rock. In the Execution phase, Activity 5, "Excavation in Soil" was encountered only 50% as planned and the Activity was completed after executing 50% of planned quantity / Duration. How do I show that in the MS Project ?? Is changing the Actual Work in the Resource Usage view the appropriate method ??
Now the next Activity 6, "Excavation in Ordinary Rock" was not encountered at all and the Activity 7 was encountered 100% as planned in the Schedule. What do I do with the Activity 6 now ??? Is Inactivating the Task an appropriate method ??
Here, I want to know about the best possible method which should be adopted by a planner in MS Project.