Tips on using this forum..
(1) Explain your problem, don't simply post "This isn't working". What were you doing when you faced the problem? What have you tried to resolve - did you look for a solution using "Search" ? Has it happened just once or several times?
(2) It's also good to get feedback when a solution is found, return to the original post to explain how it was resolved so that more people can also use the results.
Unable to Filter; Received Error Message: AVAA0-1669-0
As I've been implementing all the helpful advice members have been providing, I suddenly received an error message when attempting to filter: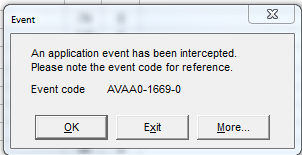 And it's not just this schedule; filtering no longer works in any of my schedules. In fact, the filter button has even been removed from the menu bar.
I had this happen once before, and the only solution I had was to redirect to a previously saved database (I am using a SQLlite database). Fortunately I recently saved my entire database, and I export the XER schedule often. (Although, I should be doing an XML export)
So I'm not devestated, just set back an hour or so.
Has this happened to anyone else?