CH2M Water Business Group
As global supply and demand for water intensifies, CH2M delivers projects across the entire water cycle to solve our clients' most complex water challenges with exceptional service and integrated, sustainable solutions.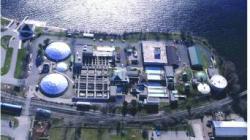 Our projects span industries, utilities and local communities, balancing social, economic and environmental priorities, ensuring people have access to safe, reliable water supplies.
CH2M has earned its ranking as the number one water company by staying on top of the latest technologies and developing new ones.
Whether it's treating, distributing or storing water, CH2M reaches across boundaries and collaborates to successfully deliver customized, innovative solutions.
In 2015, we worked with...

...5,000 clients from more than 50 countries...
...to positively impact more than 10,000 communities...
...and produced USD$5.4 billion in revenue.
But at CH2M, it's the impact we can achieve that we're most proud of:
24,000: The approximate number of employee livelihoods we impacted
USD$440 million: The amount of revenue we redistributed to local minority, women and veteran-owned small businesses
USD$1 million: the amount of money CH2M Foundation gives annually to STEM education and helping build sustainable communities
53% better: Our global safety performance compared to the U.S. industry average
8: Global employee network groups that promote diversity, equality, inclusion and career development for our people
8: The number of years in a row we have been recognized as one of the Ethisphere Institute's World's Most Ethical Companies
Come check us out -
Here at CH2M Water Group (WBG)
CAREERS AT CH2M
At CH2M, you'll use your experience and instinct to take on some of the world's most challenging projects. It's not just the projects that bring us to work every day, it's the people. We have fun working together knowing that what we do not only makes our clients happy but helps the world move forward - Read more...

Why work here - At CH2M, we're a family of people excited to solve tough challenges that have a positive impact on the world. We're always looking for like-minded people to join the CH2M family. Explore why we believe CH2M is the place to be.
Life at CH2M
- Are you a game changer? A problem solver? Dreaming of making a lasting impact? If you think you might be a kindred spirit, dive in to learn more about what life is like at CH2M for all types of teammates.
Partner Type:
Corporate Partner